Do Not Be Afraid! Hosting A Party Is Easier Than You Think
Let's face it: hosting a party in your own space is intimidating. Especially if you haven't done a lot of entertaining before, or you don't feel like your space is really suited to it. But there are times in every man's life when it's his turn to host.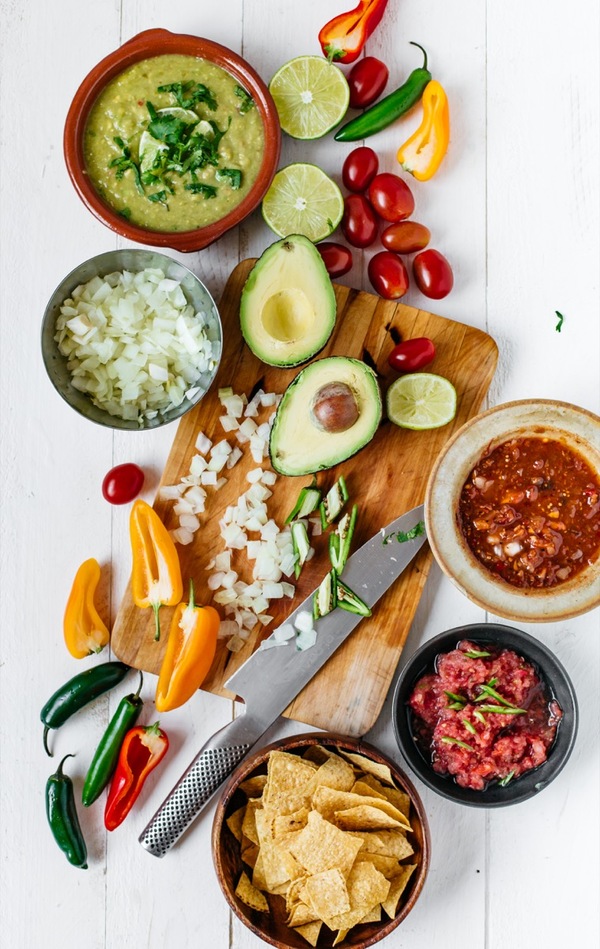 And when it's your turn, you're gonna have to feed people. So, to make it easy on yourself, our vote is to always, always feed people with stuff you made ahead of time. No one wants to be occupied with hot pans, dirty blenders, and dishes once the guests have arrived. But you don't have to serve a whole meal from soup to nuts, either. That's expensive, way too much work, and always unnecessary.
Some simple, tasty snacks will be just fine. This time of year, with warm temps and fresh and bold produce in abundance, go for the party classic: chips and salsa. Do it right with hand-made salsa, and your guests will be singing your praises.
And since nothing goes better with Mexican flavors than Mexico's signature spirit, we teamed up with Olmeca Altos Tequila to bring you three fresh salsa recipes and one tasty tequila cocktail to go with 'em.
Altos is exclusively produced in the heart of Los Altos highlands, 7,000 feet above sea level in the western state of Jalisco, Mexico. It's one of the only tequila brands in the world still using the 500-year-old traditional Tahona method as part of the process of crushing their roasted agave before distillation in small copper pot stills.
You can make these salsas a few days ahead, and pre-measure the cocktail ingredients before guests arrive. The salsas work great with chips or fresh tortillas, or you can use them to top grilled fish, meat, or vegetables for an actual meal. When your guests arrive, just open the chips, add the ice, and host the @#&! outta this thing.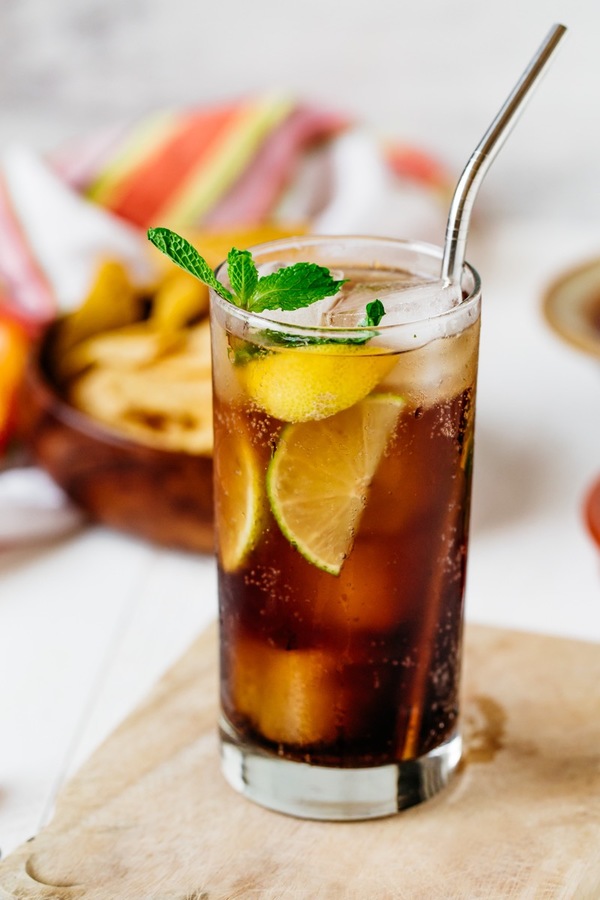 First up, the cocktail. We're calling this one La Chispa, which means "spark" in Spanish. It's bright, bold, and has a little sizzle, and features two (!!) kinds of tequila. What's not to like. Best of all, you can measure out the spirits and the citrus ahead of time in bulk, and then when it's time to hand one to a friend, just pour over ice, add the soda, and you're go.
La Chispa
Serves One
1 oz Olmeca Altos Plata Tequila
1 oz Olmeca Altos Reposado Tequila
1/2 oz. Cointreau
3/4 oz. fresh lemon juice
3/4 oz. lime juice
Pinch of salt
4 oz. Mexican Coke
Combine the tequila, Cointreau, citrus, and salt in a tall glass and stir to combine. Fill the glass with ice, then top with the Mexican Coke. Garnish with additional citrus wedges.
Now, let's eat!
Do you have to make your own chips? Nope. But don't just open a jar of salsa from the grocery store and put it on the table, either. Jarred salsas just can't compare to freshly made ones. The canning process requires adding way too much vinegar and acid, and the ingredients have to be cooked in the jar to make them shelf stable, which turns them mushy and dulls the flavor. You've tasted the salsas at your local taqueria, and know the jarred stuff seems like a different dish altogether.
The salsas are in order of heat and complexity, but seriously, make them all.
1. Salsa Fresca y Borracha: Fresca means exactly what it sounds like (fresh), and borracha means "drunk," or in this case, just a little tipsy from a splash of tequila. The ingredients are uncooked, but mashed just so to fit perfectly on a crispy chip.
5 roma tomatoes, coarsely chopped
1 handful of cilantro, finely chopped
Juice of 2 limes
1/4 cup Olmeca Altos Plata tequila
2 serrano chiles – seeded and chopped
1/2 cup of chopped white onion, rinsed under cold water for 30 seconds
Place the tomatoes, cilantro, lime juice, tequila, and chiles in a mortar and pestle, large work bowl, or food processor. Smash, crush, and chop the ingredients until they've broken down a bit, but still retain some texture. Stir in the onion, and enjoy!
2. Salsa Verde with Avocado: This one combines the bold tang of tomatillos and green chiles, but it mellowed out with avocado for a luxurious flavor and killer texture.
1 ripe avocado
5 medium tomatillos
1 serrano chile, seeded
1 handful of cilantro
1 tbsp of white wine vinegar
Salt and pepper
Cut avocado in half and remove the pit. Scoop out the avocado from the peel and put it in a food processor. Remove stem and husk from the tomatillos. Add them to the avocado along with the seeded serano, cilantro, vinegar, salt and pepper. Pulse to puree. Serve.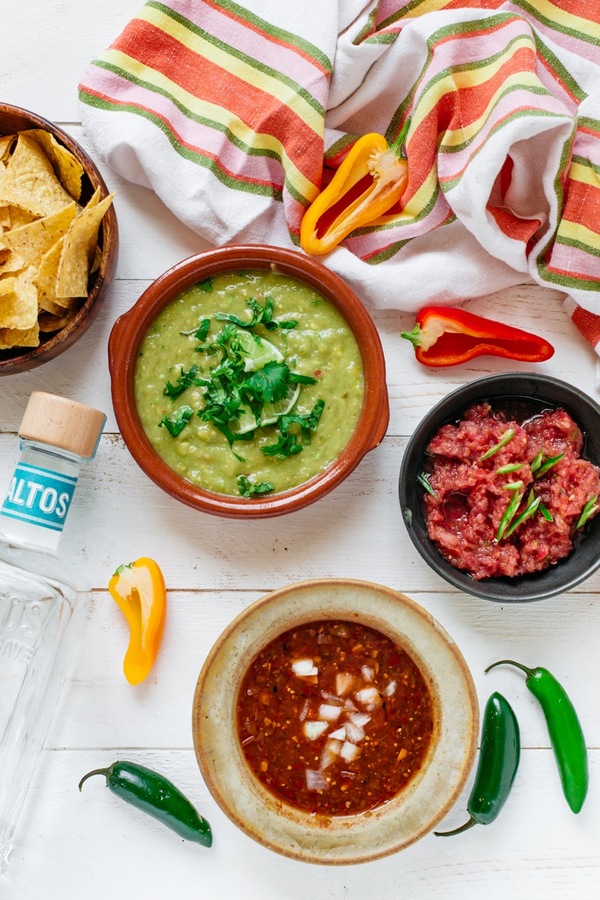 3. Smokey Chipotle Salsa: Intense, roasty, and incredibly satisfying, this one is probably our favorite of the bunch. This is truly the one that will have you leaving that jar on the shelf… for life.
8 medium tomatillos, husks and stems removed, and rinsed, then halved
1 small white onion

half cut into 1/2″ thick slices
half diced finely (1/4″)

6 medium cloves of garlic, paper-y skins intact
2 canned chipotles en adobo, seeded
Vegetable or canola oil
Spread the halved tomatillos, the thicker onion slices, , and garlic cloves on a sheet pan and toss with a bit of oil. Broil under high until the tomatillos have started to turn black, and the onions a golden brown with brown bits around the edges. You might need to remove the tomatillos and the garlic before the onions are done. Remove the garlic skins, and add the vegetables and the chipotles to a food processor and puree. Pour into a bowl, and add a little salt and water if necessary. Stir in the finely diced onion.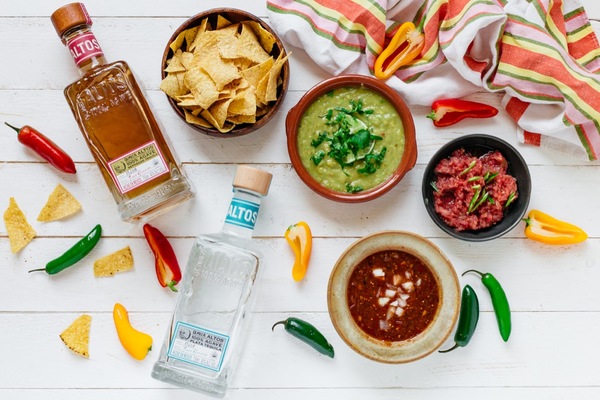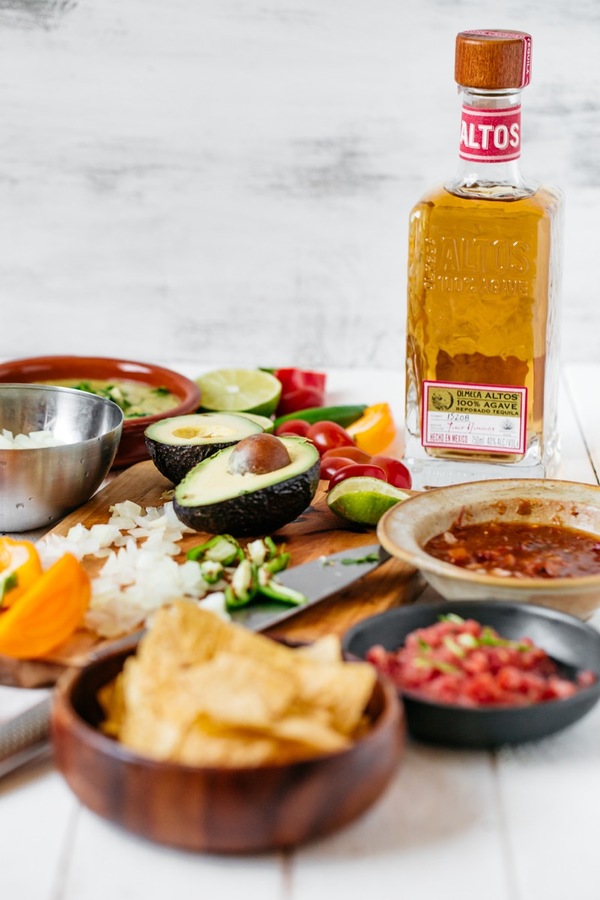 This post is sponsored by Olmeca Altos Tequila, but all opinions are mine alone. Thanks for supporting the brands that support ManMade.