8 Simple and Important Tools Anyone Who Rides Bicycles Needs to Own
Bikes, by their design, have moving parts. And as we know, anything with moving parts requires a little care and maintenance from time to time. If you, your friends, or your kids enjoy riding (and you should!), it's important to keep all those parts in good running order to keep everyone fast, make riding as easy as possible, and to stay safe on those roads.
This is the first in a series of posts about cycling, bike maintenance, and everything else related to bi-pedalism. Enjoy!
The good news is: you probably already own most of the tools you need to make minor adjustments. The same Allen keys, screwdrivers, wrenches, and hammers already in your toolbox work great on your bike. So if you're a dad who needs to make sure his kids bikes survived the winter, or your a regular commuter who rides for transportation and fitness, these are the simple tools your need to make sure things are running smoothly and safely.
So, once you've assembled the right basics tool kit for regular riding, it's time to learn to turn your garage (or living room) into the family bike shop.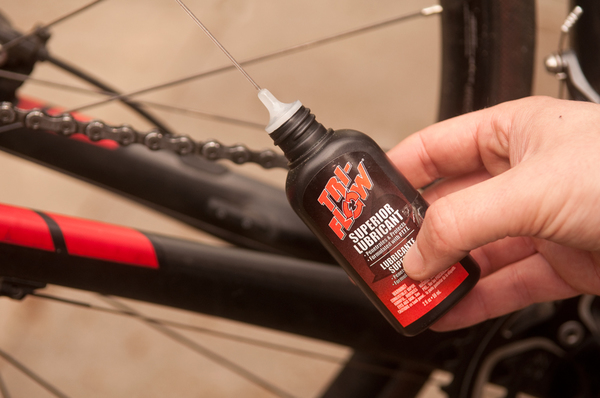 1. Chain lube: Hands down, the most important think you can do to keep a bicycle in good working order is to lubricate the moving parts, especially your drive train. For most riders, that means a quality lubricant designed, which includes penetrating oils to keep those hard to reach parts, and solvents to break apart existing dirt and grime.
If you ride in wet, muddy situations, consider a "wet lube" that's thicker and repels water, making it less likely to wash away. It's a good choice for mountain bikers and winter riders. But it attracts particulates and dirt, and you need to wipe all that debris away after each ride. So, there are trade-offs. Our vote is to stick with a high-quality dry lube until you have a reason not to. Go with our standard, Tri-Flow. The little applicator straw is amazing (don't lose it), and it smells like bananas.
ManMade Recommended: Tri-Flow TF21010 Superior Lubricant with Drip Bottle- 2 oz – $5.86
2. Floor Pump: A mini-pump is wonderful when you're out on the road or trail, but at home, a traditional floor-drive pump with an accurate gauge makes quick work of making sure your tires are where they need to be. Use it before every ride to seriously reduce your chances of a flat. Get one that can work with both Presta and Schrader valves for a variety of tires, and you can add a needle use it to pump up soccer balls and such.
ManMade Recommended: Lezyne Classic Floor Drive Pump – $70.00 or Topeak Joe Blow Sport II Floor Pump – $40.00
3. 3-Way 4,5,6 mm hex wrench – Your bike multitool will have all the hex wrenches you need to adjust everything on your bike, but most of the regular adjustments – squaring handle bars, adjusting seat height, etc, will be accomplished with a 4, 5, or 6mm. This 3-way, Y-wrench tool makes super quick work of loosening and tightening, and it's design gives you lots of torque and accessibility. When I reach for a hex wrench, 95% of the time, this one works. Great upgrade.
ManMade Recommended: Park Tool AWS-1 – $9.86
4. 6″ and 8″ adjustable wrenches – If you don't have a full set of dedicated metric combination wrenches, these sizes will work well for working with hardware. Often, kids bikes and some vintage and department store bikes will use threaded hex-head bolts instead of quick-release skewers to remove wheels or Allen screws for adjustments. These will help you keep things tight for safety.
ManMade Recommended: Stanley 87-367 6-Inch Adjustable Wrench and Stanley 87-369 8-Inch Adjustable Wrench
5. Citrus-based cleanser: No harsh chemicals need apply. Nothing cleans a bike – from lube-covered drivetrain to shiny polished wheelsets like a simple citrus cleaner. Use to remove grime, use to wash away mud, use it to keep everything clean. Just be sure to relube the necessary parts where you just removed all the oil.
ManMade Recommended: Simple Green 11001 Clean Building All-Purpose Concentrate Cleaner, 1 Gallon Bottle – $13.93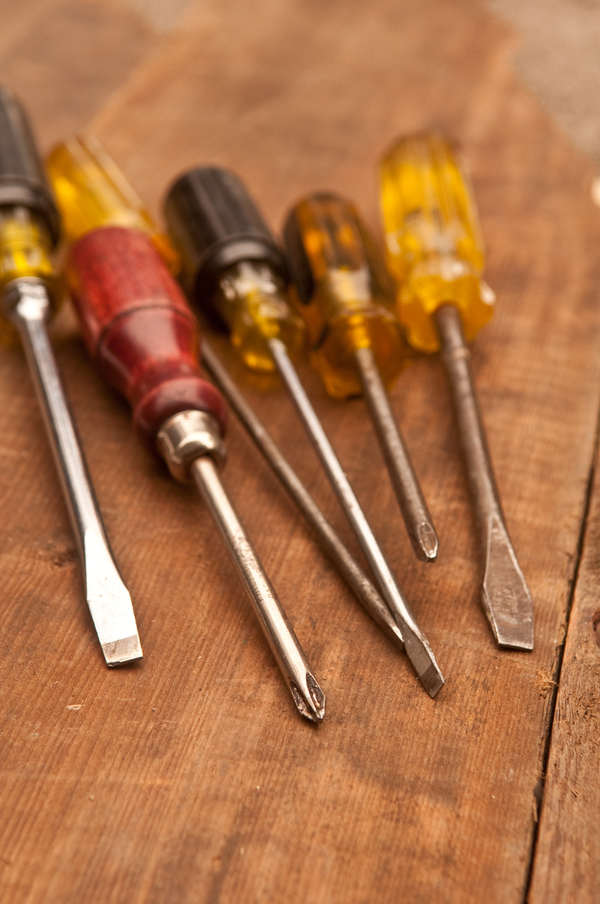 6. Assorted screwdrivers: There are plenty of slotted and Phillips head hardware on a bicycle. #1 and #2 drivers in both styles will get you where you need. Thankfully, you already own these. If not, it's time to invest in a set you love.
ManMade Recommended: Grace USA Home Care Screwdriver Set (6-Piece) – $39.99
7. Lots of cotton rags: Here's the thing when working with lubricated machinery: it's messy. Nothing beats dedicated shop rags for dealing with grease; the soft cotton won't scratch things, but the coarse weave soaks it right up. In my garage, I have a three-rag system: #1: no grease for cleaning the frame, #2: little spots of black for wiping up the chain stay and non-drive train parts, and then the #3: heavily greased rag for dealing with the messy stuff. Once the clean rag gets a little grease on it, it becomes rag #2, #2 becomes #3, and so on. Once they get really crazy, they can go in the washing machine.
ManMade Recommended: Cotton Auto-Mechanic Detailing Shop by Utopia Towel – $9.00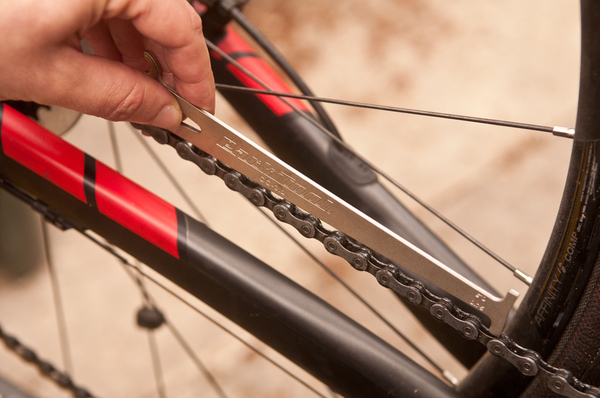 8. Chain Wear Indicator: This is the one speciality bike mechanic tool we recommend keeping on hand. Why? Because like oil in your car, your chain needs replaced to keep things smooth. After all, that's what propels your bike forward. Every 2,000 miles is a good rule of thumb, but unless you're tracking your mileage, you have no idea when that occurs. This simple go/no-go gauge only costs $10.00, and will last forever and can be used on any bike. That's much cheaper than a trip to the shop or the cost of replacing a chainring, cogset, or derailleur pulley. If the gauge drops in between the links, it's time to replace.
ManMade Recommended: Park Tool CC-3.2 Chain Wear Indicator $10.25
To learn more about the right tools for more advanced operations, check out our bike rider's intermediate tool kit and our advanced home mechanic's list.