Please Stop Making Margaritas Wrong – Here's How to Do It Right, Just in Time for Summer
Have you hit 90 degrees yet where you live? We have (yep – 92 on May 6 in Minneapolis, crazy), and I loved it. After months of snow and cold and slush and sweaters, I absolutely revel in the warmth. Maybe later in the summer I'll be crouched down inside next to the air conditioner, but not now. Right now, when it's warm out, I want to soak my bones in it.
The warm weather also means a change in the beverage seasons. Out with the heavy, comforting drinks of winter, and in with the light, bright, refreshing stuff. As part of our series of posts celebrating tequila (one, two), we've teamed up with Olmeca Altos to show you how to perfect the perfect drink for summer: the margarita.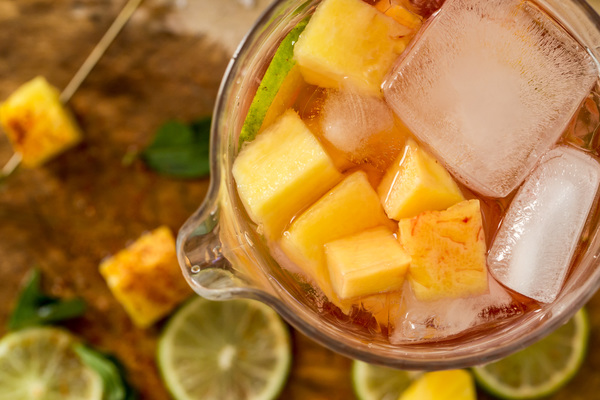 Olmeca Altos, if you haven't heard of it, is one of our favorite tequila brands. It's one of the only tequila brands in the world that still uses the ancient Tahona wheel as part of the process to crush their hand-picked, roasted agave. Altos Plata is fruity and bright, and bottled right after distillation, which makes it a good pick for use in a margarita.
Like many iconic drinks, the origins of the margarita are murky. Was it invented in 1938 in Tijuana for a spirit-allergic Broadway dancer, or at Hussong's Cantina in 1941 for Margarita Henkel, the German ambassador's daughter? Or is the margarita just a remake of a previously popular prohibition-era American drink called the 'Daisy'?
Pick whichever story you like. The important facts are the same: a margarita is an amazingly delicious, hugely popular mixed drink made with 7 parts tequila, 4 parts Cointreau, and 3 parts fresh lime juice, serve on ice, blended, or straight, and optionally in a salt-rimmed glass.
The sad truth is this: most margaritas suffer abuse at the hands of lazy, careless mixologists. If you've ever found yourself stirring some low-grade tequila into a slurry of 'sour' mixer, you know what I mean. Let's not doom the classic margarita to be the drink of cheap all-inclusive vacation resorts. Here are some rules you can follow:
1. Always use fresh lime juice. Look at the ingredients on that margarita mix bottle (I did this morning), and you'll be sad. Corn syrup? Yellow #5? Acesulfame potassium? Uh …. yeah … how about we just grab a bag of limes instead.
2. Use good tequila. Well, that's obvious, right? But seriously, how many times have you heard people say "I don't like tequila" when what they really mean is "I don't like crappy tequila"? We like the Altos Plata for margaritas, because of its straightforward taste and pure, agave flavor. It's bright and bracing and can hold up to the other flavors. When you're mixing your tequila with strong, bright flavors like lime and pineapple, there's no need to use an aged spirit.
3. Proportions proportions proportions. I said it above, but the classic margarita follows a 7:4:3 ratio (tequila:Cointreau/Triple Sec/lime juice). Like any drink, you can play with the flavors to please your palate. But start from that foundation.
4. Taste your lime juice before mixing your first drink. Limes vary widely in flavor, and if you have a really aggressive, acidic batch, you may want to adjust your proportions accordingly.
5. Shake it. You want this drink really cold, and nicely oxygenated. If you can shake it and then strain out the ice, you'll get the purest flavor, but it's not absolutely necessary.
6. The margarita is a great crowd cocktail. You can mix up a pitcher and leave it in the fridge to get really cold (don't add ice or it'll get watered down.
Two recipes to try
Today we're sharing two updated (and slightly unorthodox) versions of the classic margarita: Tommy's Margarita, and a hibiscus tea, pineapple, chili margarita we're calling the … well, I don't know what to call it. Maybe you guys can chime in with suggestions.
Anyway, find yourself a sunny spot to bask in, mix up one of these drinks, and enjoy:
Tommy's Margarita
Ingredients:
2 parts Olmeca Altos Plata tequila
1 part Fresh lime juice
1/2 part Agave nectar
Crushed or cracked ice
Technique:
Coat the rim of the glass with salt; roll the glass instead of dipping it in salt for a more even coating. Combine all the ingredients over ice and stir briskly.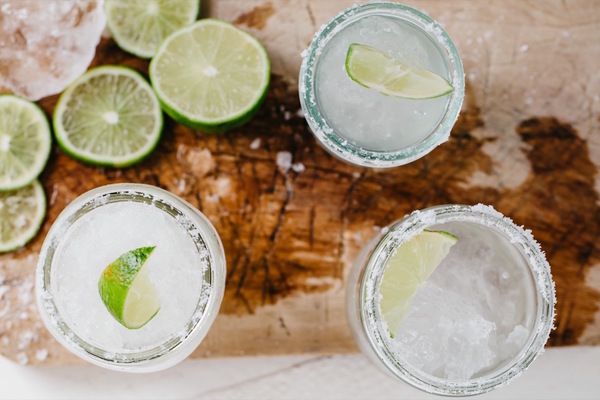 The Margarita That Needs a Better Name than 'Chili-Pineapple Hibiscus Tea Margarita'
Ingredients:
2 parts Olmeca Altos Plata tequila
1 part fresh lime juide
1/2 part hibiscus (jamaica) tea
Pineapple
Crushed or cracked ice
Technique:
Shake the tequila, lime juice, hibiscus tea and shake with lots of ice to get it well-blended. Shaking also introduces oxygen into the mix, making the drink feel lighter. Pour it into a salt-rimmed glass (it doesn't have to be a margarita glass … Mason jars work great for a crowd, and they're cheap), and garnish with a chili-dusted wedge of pineapple. It's a drink and snack in one!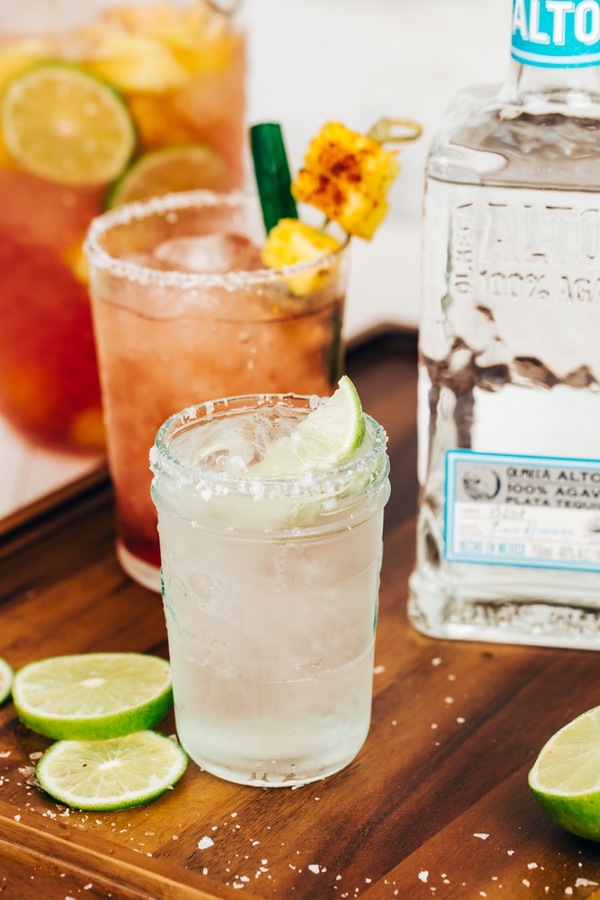 Enjoy your beverages responsibly! If it's raining where you live right now, and a margarita's not in the forecast, here are some more tasty images you can enjoy with your eyeballs: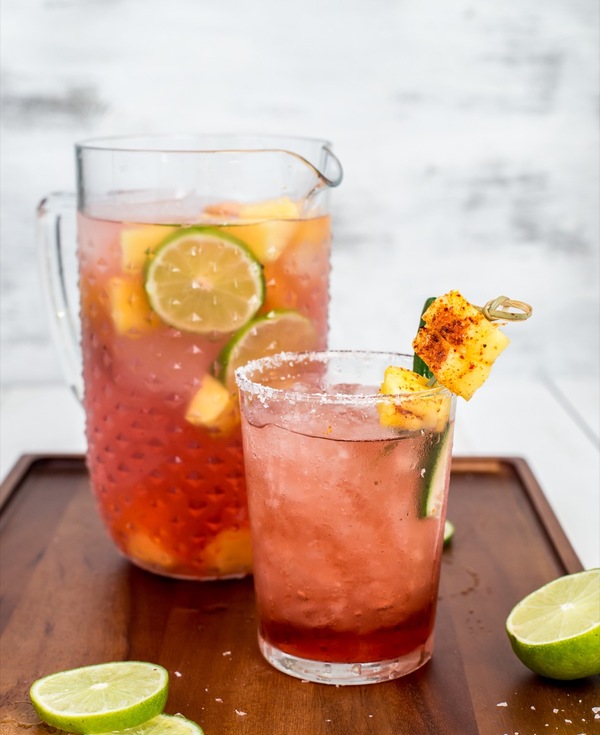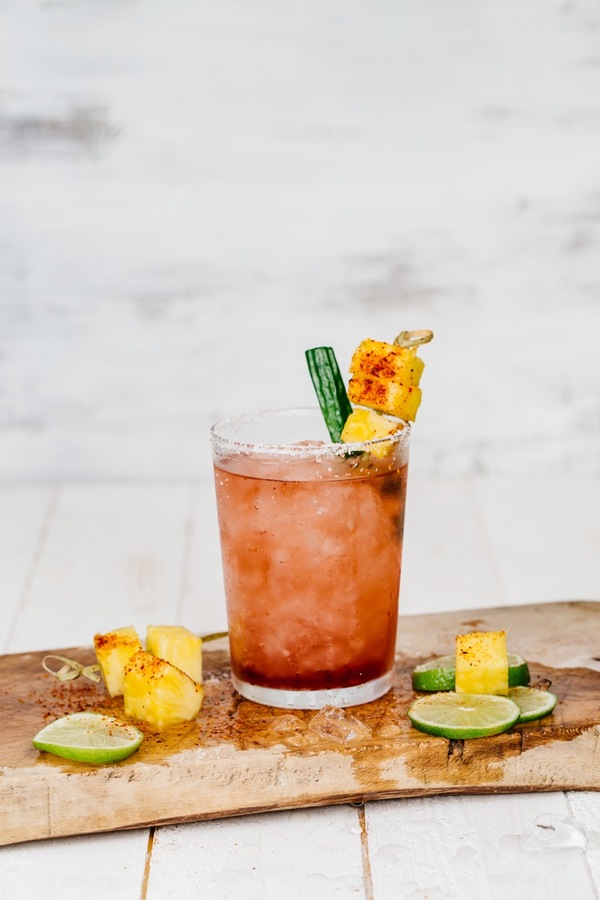 This post is sponsored by Olmeca Altos Tequila, but all opinions are mine alone. Thanks for supporting the brands that support ManMade.