DIY Atomic Nightstands with Hairpen Legs
Having worked on how-to publication over the last few months (win a copy here), I've been immersed in the world of DIY mid-century products. There's simply not a ton of these projects out there, and for good reason: The entire mid-century modern design movement emmerged from contemporary manufacturing technologies. These pieces are decidedly difficult to make by hand, in that they use factory techniques like bent plywood, fiberglass molding, and the like. which are innaccessible to most weekend warriors.
So, it's always exciting to see achievable mid-century inspired how-to projects. And these very atomic nightstands from Mid-Century-Modern.net fit the bill perfectly. "So now [that] the bed is complete, our next project was to build a pair of mid century modern inspired nightstands. Originally, I was going to buy a pair of nightstands. I wanted a pair of Paul McCobb nightstands that matches my dresser. I looked all possible sources, but could never find one within my budget. I saw an eBay listing for about $2,300 – WTF?! I only paid $10 for a matching McCobb dresser!!! I started to gather ideas to design my dream nightstands – something cute, functional and easy to build…My plan was to use the leftover oak plywood sheet from the bed project. When I bought the 4' x 8' sheet at a local hardware store, I had them cut into pieces. For legs, I used a set of vintage hairpin legs I already had. Each nightstand would have a storage space with a door and a separate storage area for books and/or knick-knacks."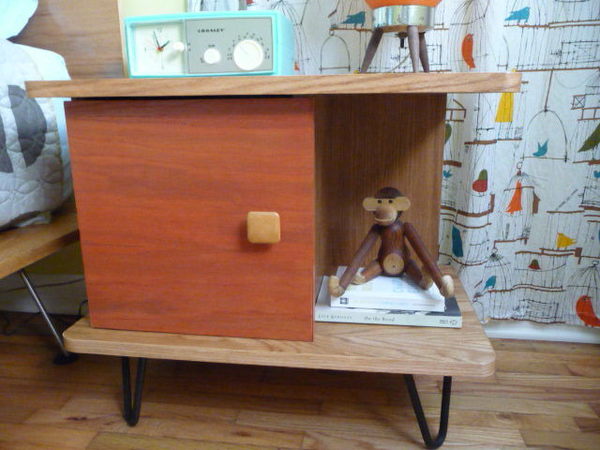 I think the square pulls really make the whole thing work. Post your thoughts in the comments below.