Essential Toolbox: A Reciprocating Saw is the Tank in Your Toolbox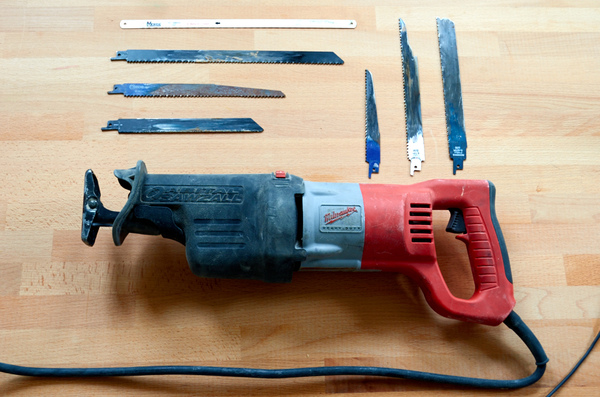 Cut galvanized pipe. Vibrate a concrete mold to get the air bubbles out. Re-set PVC plumbing. Shave down an LVL header. Strip nails from hundred-year-old lumber. Flush cut wood and metal. Plunge cut into walls and cabinets. Demolish a kitchen. Rip out a toilet. Cut a clawfoot tub in half so you can lower it out a second story window. Trim your trees. Cut down a Christmas tree. Free a horrible laminate countertop from its cabinet base.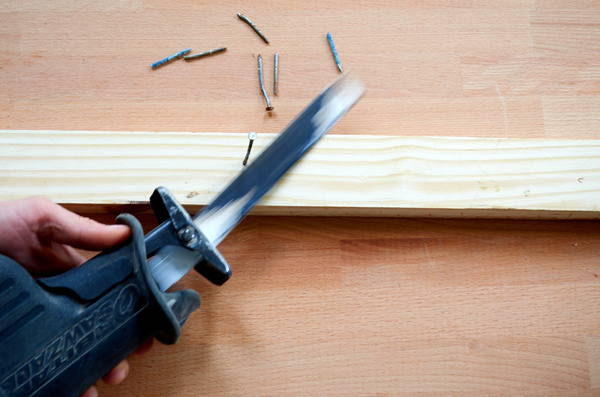 I have used my reciprocating saw (also known by it's brand name, Sawzall) for almost all of those things, and some more I can't even remember. Are there other tools for each of those things? Sure. Are there other tools that can do all of those things? Nope.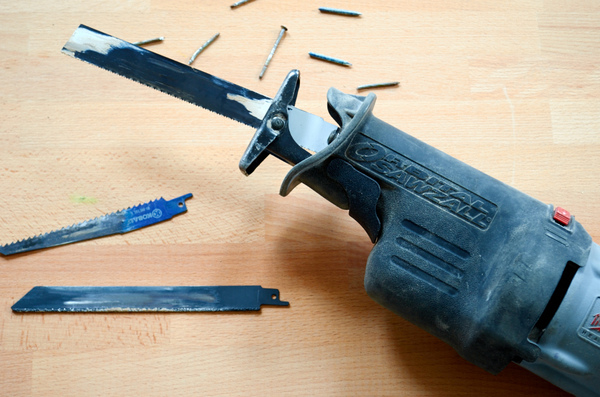 The reciprocating saw is the tank in your toolbox. It can do anything, and then some more things. It's not pretty. It's not elegant, or precise. But, by God, it is versatile and powerful and fearless.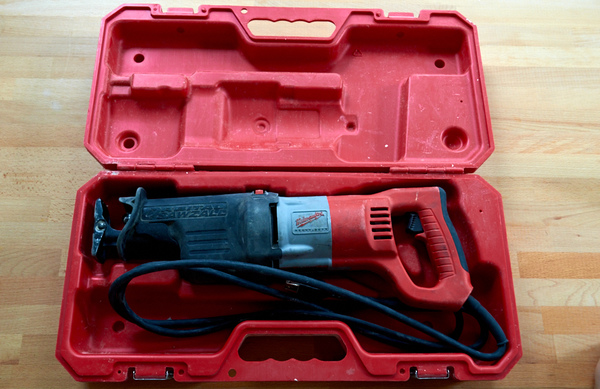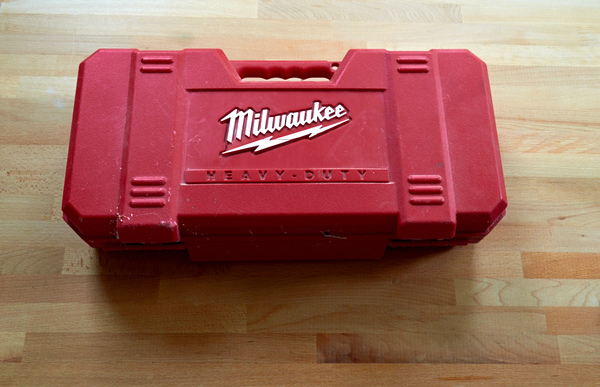 Why Do I Need One?
Were you listening when I said "tank", and "violent", and "versatile"? The reciprocating saw is safe in awkward locations (like on a ladder) than other tools. It fits into tight spaces other cutting implements can't go. It can flush cut, rip, cross-cut, and even sand.
What to Look For?
You'll need to decide on cordless vs. corded. Generally, corded models will be more powerful, and work better for long periods of time. If you see a big construction or demolition project in your future, I'd suggest the corded. Otherwise, for random jobs around the house and shop, a cordless one should be fine.
Look for:
– An easy blade-change mechanism (i.e. you shouldn't need an extra tool to swap blades)
– Option to switch to orbital cutting. This adds an orbital motion to the back and forth movement of the blade, speeding up certain types of cuts.
– Weight. It should feel – if not exactly light – comfortable in your hand. You'll never want to use this thing one-handed, so don't expect a featherweight tool.
– Easily adjustable shoe to determine cut depth
– Ability to flip the blade direction (comes in handy a lot)
– Variable speed with smooth
Which One Should I Buy?
The one pictured here is my own Milwaukee 6520-21 13-amp Sawzall with carrying case. (Note, on Amazon it's listed as 12-amp, but on Milwaukee's site it says 13-amp … I don't know who to trust). Oh look, here's a strong dude ripping up a perfectly good pretend wall: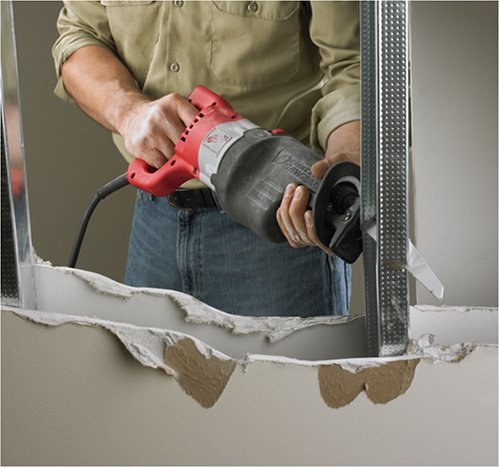 I love this tool (if you couldn't tell). I gutted my entire house with it (more on that here) and never broke a sweat. Well, I did, but the saw didn't.
Milwaukee 6520-21 Sawzall – $201.15 on Amazon
Cordless?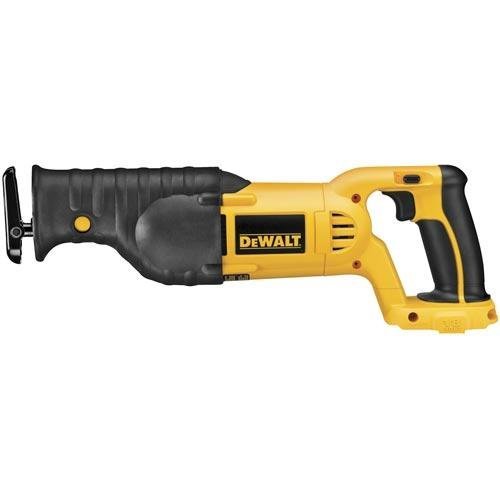 I don't own it, but the DeWALT Bare-Tool DC385B 18-Volt Cordless Reciprocating Saw gets great reviews, and I've had good luck in general with DeWALT tools. The battery's not included, so you'll need to get one (or use your existing, interchangeable DeWALT batteries). It should be an excellent entry-level, highly portable tool.
DeWALT Bare-Tool DC385B 18-Volt Cordless Reciprocating Saw – $99 on Amazon
Have another line of tools already, and want to stick with that brand of battery? Makes sense. Try the:
RIGID X4 18-Volt Cordless Reciprocating Saw ($119 at Home Depot)
or the:
Makita XRJ03Z 18V LXT Lithium-Ion Cordless Recipro Saw
What about blades?
Yeah, you will need 'em, and you'll destroy them. Don't get too attached.
I think the blade packs are always a better deal, unless you need something really specific, and you'll appreciate having a variety to choose from when something weird pops up.
The Milwaukee 12-Piece Kit is only $25, and includes wood and metal blades of various length and toothings (is that a word?). The 14-Piece Kit from Diablo is $26, is a little more versatile, and includes a carrying case. Diablo's my go-to brand for blades and sandpaper, so I'd go with that one.
ManMade Recommended: