Closer Look: You Should Watch Diresta's Cut Video Series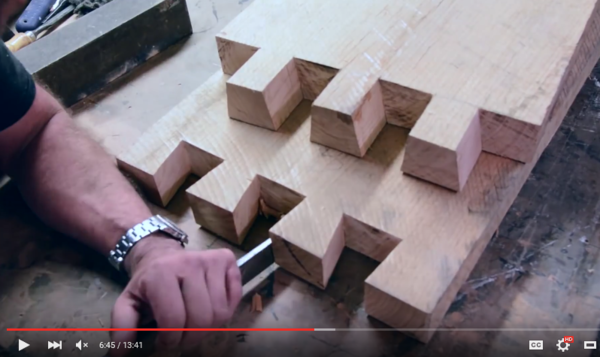 Jimmy Diresta is type of talented, creative maker we all want to be someday. His designs and methods are real, raw, and always come out impressive. Take a look at three projects from his new series here. One thing I love about watching Jimmy Diresta work is the variety of skills and tools he uses in the shop. I always come away with a few ideas for my own projects, and plenty of inspiration to get out and make something.
1. Live Edge Cedar Shelf – (rough cut, router sled, hidden wall mounts, natural finish) Jimmy headed out onto his homestead and sliced open a fallen cedar tree. The incredible beauty in the log was cut, planed, and polished up while still leaving the amazing live edge.
2. Massive Dovetail Bench – (dovetails, machining metal, welding, dark finish) This massive bench is made from an amazing slab of Oak with hand cut dovetails, a large metal stringer made from scratch, and a silky finish that still lets the rough-cut texture show through.
3. Vampire Spike Table – (machine and polish metal, hand-rubbed finish rough slab) This table started out as a round slab, and a metal rod. What Jimmy did to the raw materials is incredible, mostly useful, and all kinds of fun. While I'm not capable of working metal like that (yet!), there are still a few skills to pay attention to there.
By now you're likely inspired and amazed by Jimmy, so get out to the shop and go make something. Follow along at the Core77 YouTube channel.