How to: Make a Super Simple DIY Wreath Trio in Under 30 Minutes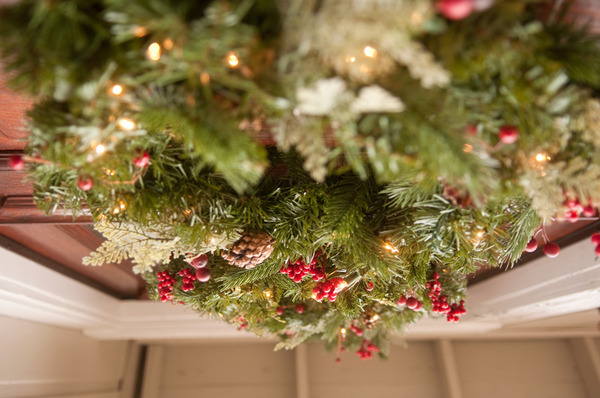 Okay. It's official. The sugarplum fairies have struck, and once again, the holiday season is back. And I'm looking for ways to embrace the spirit.
What's more festive than hanging a classic wreath on your door? Hanging three wreaths on your door. So, I teamed up with Home Depot for this simple, less-than-30-minute wreath trio using easy-to-find materials.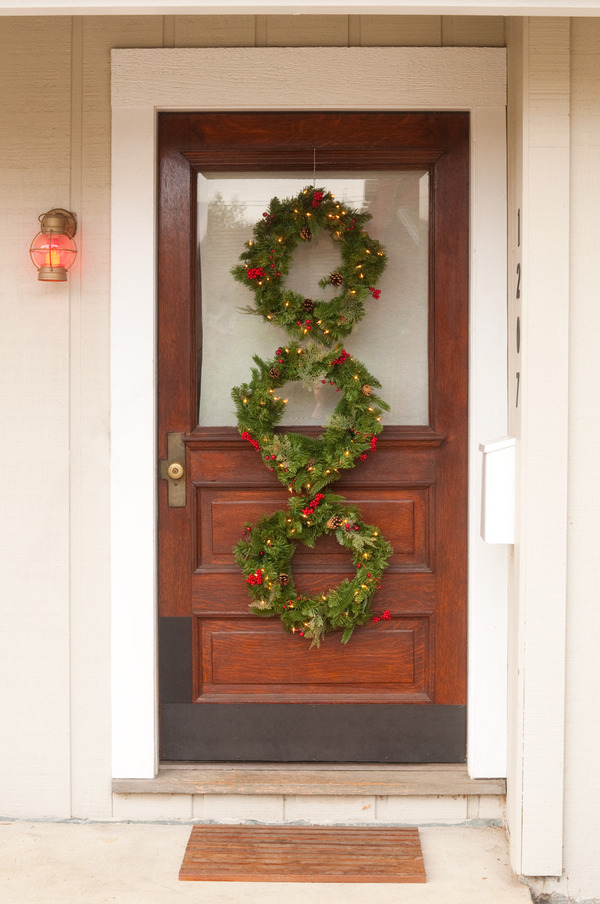 Oh! And get this
If you want to learn to make your own, you can sign for this free DIY Workshop at your local Home Depot. It's available at Home Depot locations all across the U.S., and it doesn't cost a cent to learn.
The DIY Wreath Trio workshop takes place this Saturday, November 21, 2015 from 10:00 – 11:30AM. You can find more details and register at the Home Depot Workshops page. I, Chris Gardner from ManMade, will be teaching the workshop in Portland, OR at the Beaverton Home Depot (Store #4018 4401 SW 110th Ave). If you're in the area, this is an awesome opportunity for me to meet and collaborate with ManMade readers, and I've love to hang out with you and be merry together.
Tools and Materials:
3x holiday wreaths – we used these lighted, decorated options from The Home Depot
Cutting pliers
Scissors or shop shears
Needlenose pliers
Electric drill
Wreath hanger
Assorted ribbon, ornaments, baubles, etc (optional)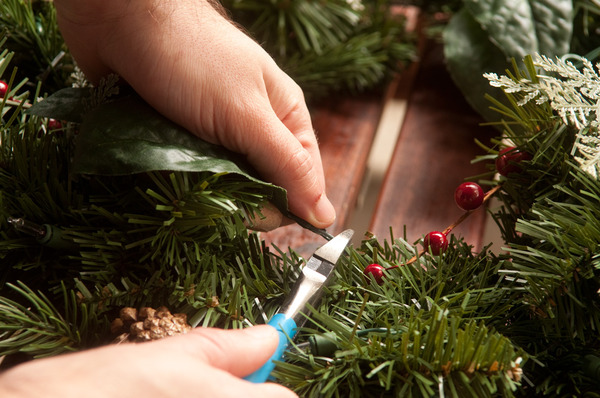 1. I'm much more of a natural cranberries and pinecones kinda of Christmas guy than the big red bow type. So, I was happy to find these Winslow wreaths that fit the bill perfectly. When you're looking for wreaths, find versions that have a nice balance of materials. You can always move or reorder the decorations. Here, we snipped off the big flat green silk leaves for a more streamlined look.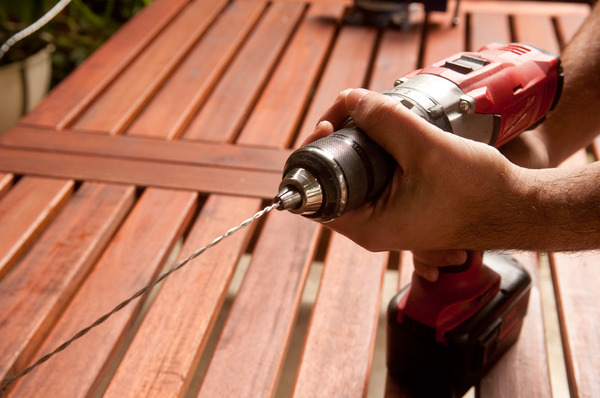 2. To attach the wreaths together, use a doubled-up twist of aluminum wire. The twist will help things stay flat, and won't take on any kinks or angles in the soft aluminum. To create the twist cut a looooooong length of wire (like 8 feet), and fold it down its middle. Attach the folded edge to a fixed point (or have someone hold it), and place the two ends in a drill chuck. Then, let the drill spin slowly to achieve a nice, even twist.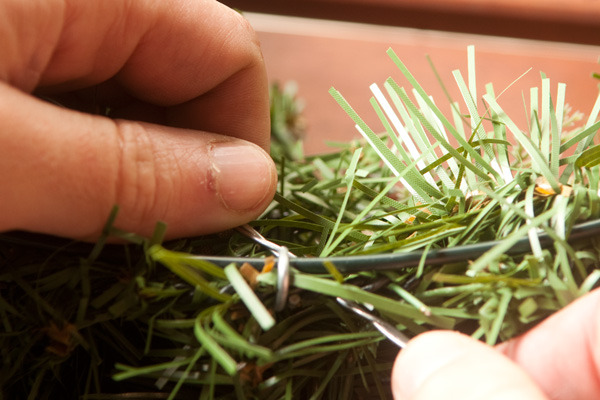 3. Begin by wrapping the edge of the twisted wire around the wreath's metal armature…
…then, wrap it around two full times…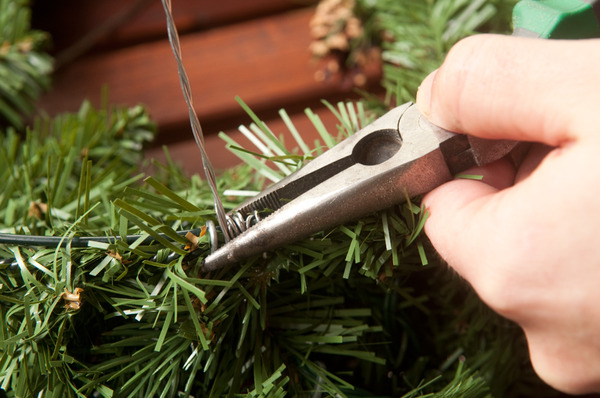 …and then pinch the wrap inside the jaws of some needlenose pliers. The multiple wraps helps the wreath to hang straight down, or at the angle of your choosing, not the wire's. Leave the wire just a little loose, so gravity will help find the natural resting place at the bottom of the arc.
Then, just repeat the process on the second wreath, and again for the third. Easy. Done in less time than it takes to watch A Charlie Brown Christmas.
Remember, if you want to learn to build your own, head to the Home Depot DIY Workshops page to sign up. If you're in Portland, I'll see you on Saturday!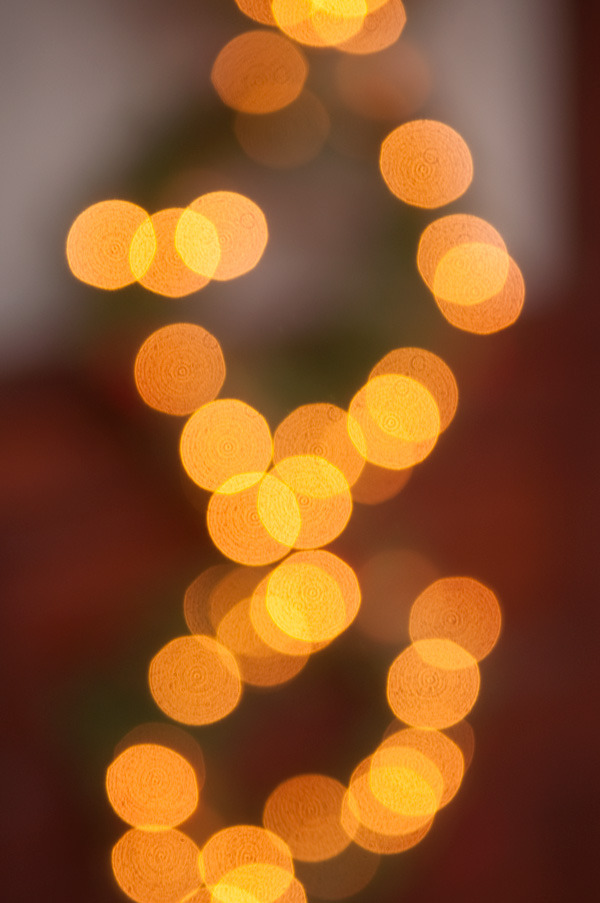 Thanks to Home Depot for sponsoring this post and making ManMade a partner for the 2015 DIY Workshop series. Thank you for supporting the brands that make ManMade possible.