Reflecting on a Season of Outdoor Adventures: What Makes It All Worthwhile for Me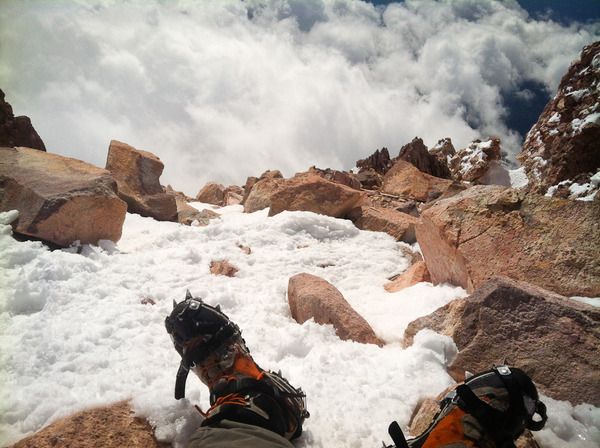 Around this time of year I often find myself in the basement, getting my backpacking gear ready for winter storage. It's a bittersweet ritual I go through as the season comes to a close. If you love the outdoors like I do, you probably get asked from time to time, "Why do you do it?" After all, mother nature can be a tough mistress. As I unrolled my packs and checked my tents for damage, here are some of the moments from the last year that help me answer that question:
The best backpacking trips are also the toughest (I mean, if climbing mountains were easy, why would you do it?). The payoff is that surge of emotion when when you reach the highest summit, or that tender moment you share with friends when you find the perfect campsite at the end of a long day. Of course, having the right food along the way makes a big difference.
Jerky is my favorite protein-packed trail food, so I was excited to try a new product from Ball Park ('yep, you know 'em from the hot dog stand). They sent me a box of their new Tough but Tender Ball Park Flame Grilled Jerky (it's on shelves now); it's flame grilled (instead of dried like most jerky), with a uniquely tender texture that stands apart from other jerky.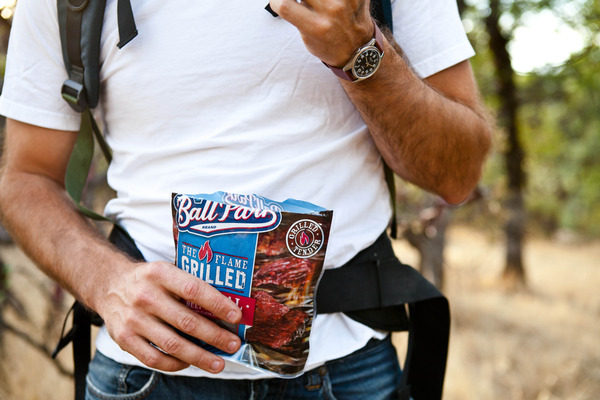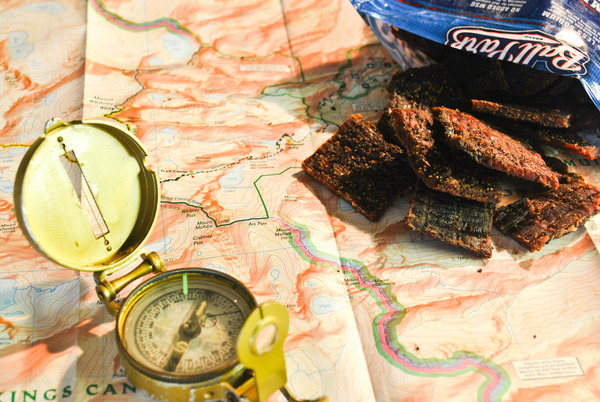 #toughandtender Ball Park jerky is available in 5 varieties: original beef, Bourbon BBQ beef, peppered, beef, BBQ pork, and teriyaki pork.
On Top of The World
Last winter I climbed California's Mt. Whitney, the highest peak in the lower 48 states. The air was thin and crisp as we wound our way above the tree line somewhere in the Sierra Nevada Mountains. Submitting a mountain is a relentless string of switchbacks, and the only direction is 'up'. But the breathtaking views around each turn are their own reward.
I'm not sure who had the idea that a winter walk up the mountain was a good idea, but I do remember my water bottles freezing solid within minutes. We left before dawn, and my toes were completely, disturbingly numb when the sun broke the horizon and we crested the rocky summit.
As I sat down and inhaled a bag of jerky between handfuls of trail mix, the feeling gradually returned to my feet, and I realized I was on top of my corner of the world looking all the way down to Death Valley miles below. At that moment, there was nowhere else I would've wanted to be.
Car Camping
Last spring, one Friday afternoon, I grabbed my lightweight gear and headed out to a local alpine lake for an overnight trek. Nature was waking up from under a winter blanket of snow, and the freshly greened landscape was the perfect backdrop for a great hike. The warm weather called for a cloudless night, so I left the tent behind and planned to sleep in my hammock under the stars. About 2 miles down the trail, I heard the pounding rain before I could see it. Massive dark clouds came over the ridge and I was caught in a quick storm cell that lasted just long enough to soak everything I had.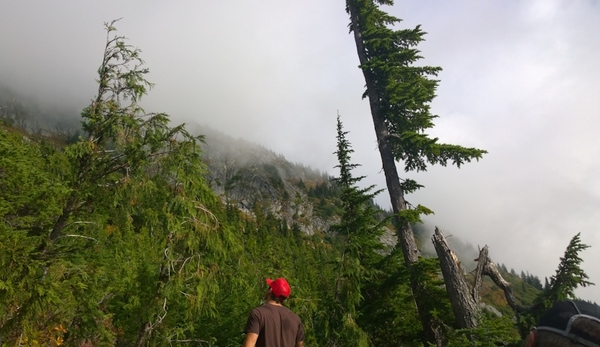 Backtracking the mucky trail, I ended up right where I had started an hour before, and spent the night sleeping in the car. Later that night, as I stared at the explosion of stars through the sunroof, I laughed at how a great adventure is never what you expect, but always worth the journey.
Close Calls
During a fall road trip a friend invited me on a hike at a ski resort in Utah. While most people prefer to play there in the winter, it's a completely different experience when the snow melts is gone. The wide open slopes offer amazing views, and the valley explodes with autumnal color.
The sky was full of high, fluffy clouds moving slowly across the expanse, so I packed a light jacket in case of a fall drizzle, and we set off up the trail. Packing light (thin jackets, shorts) made for a fast trip up the four-mile trail to the rocky ridge, where the soaring metal towers marked the end of the chairlift and the summit. We were stoked.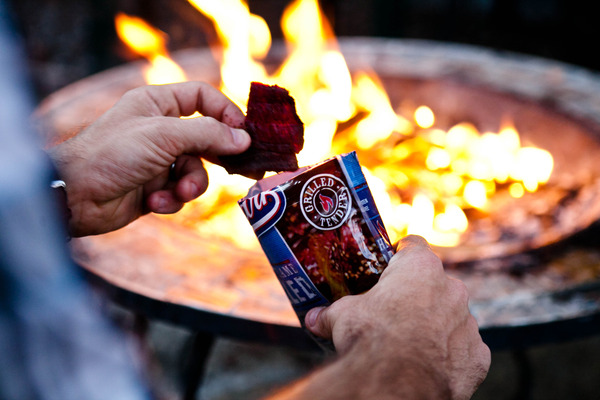 But as we crested the ridge and looked down into the next valley, the group's mood changed. The fluffy cumulous clouds had given way to dark, angry storm cells that engulfed us within a few breaths. As the rain and wind pelted us on the exposed ridge, we pulled out our flimsy summer jackets and hunched over to keep dry; that's when I first heard the rumble. It started off low, but was immediately punctuated by a flash of lighting a few ridges away. With metal towers and cables strung overhead on all sides, there just wasn't a safe way to retreat. For the next half hour we silently huddled under foot-high scrub brush, and passed around the last of the snacks. When the storm briefly broke, we ran down the rain-slicked path toward the safety of an alpine lodge, limping in with an a great story to tell, but an experience I don't ever want to repeat.
Those were just a few of my many (mis)adventures over the past year, and I'm looking forward to plenty more to talk about this time next year. But for now, here's my go-to day-hike gear list. I keep it on-hand when I head into the great outdoors, where things never go according to plan, but always turn out alright:
35 liter backpack – Look for something with pockets to stash your snacks within reach.
Lightweight hiking shoes – Day hikes don't require boots, keep them light and comfortable.
Rain jacket – Balance between light enough to pack small and coverage enough to fend off a storm.
Sunglasses – Don't bring your best pair, but polarized sure make the water look good.
Lighter or matches – Just in case you end up in need of some extra warmth
Flashlight – This can mean the difference between stumbling around and finding your way home.
Easy, portable food – Like Ball Park Flame Grilled Jerky (I liked the Bourbon BBQ Beef best) – you want high-energy foods you can eat while you walk.
First aid kit – Because you just never know.
Extra socks – A fresh set of socks is like a warm hug for your feet.
A watch – It's always good to keep track of the time when night comes on so fast in the woods.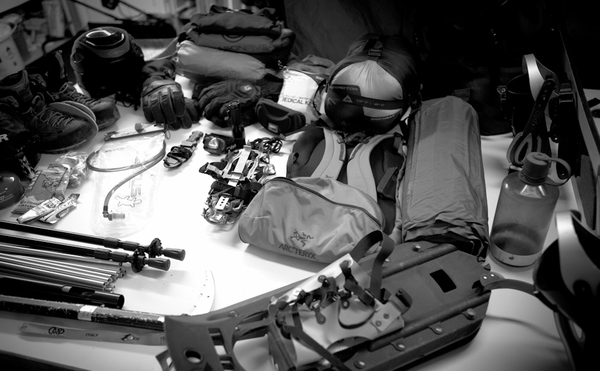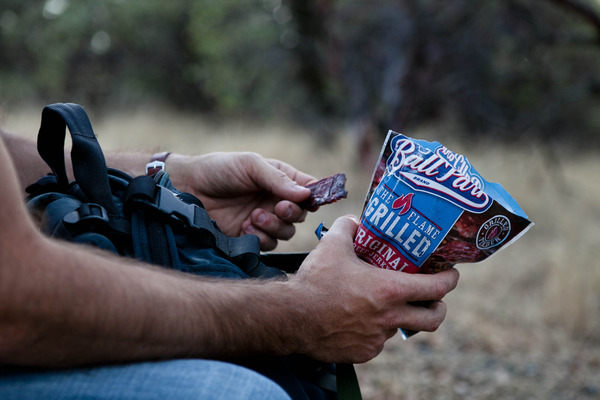 Do you have any stories of outdoor adventures that ended up being #ToughAndTender? Something that tested your mettle, but rewarded you in the end? What do you answer when people ask you why you love the challenges and adversity that can come with spending time in the great outdoors?
Leave us your comments and Ball Park will select a few readers to receive some free jerky! What's better than jerky in the mail?!
This post is sponsored by Ball Park. Thanks for supporting the brands that make ManMade possible.