How to Build a Better Barbecue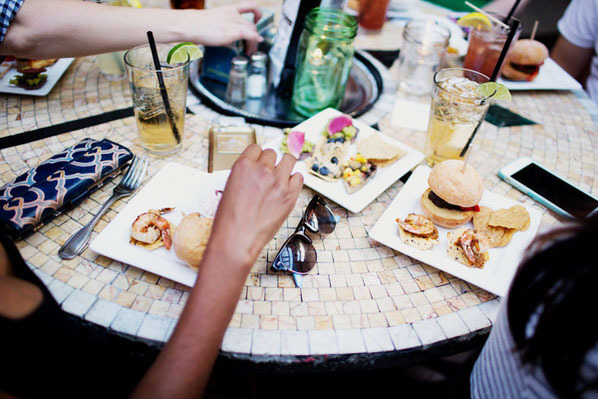 Fact: Food tastes better when enjoyed outside. It might not show up in a scientific journal, but all the anecdotal evidence supports the superior flavor of eating in the open air, whether it's a restaurant patio, your backyard deck, or a neighborhood block party. Also, fact: Food tastes better when enjoyed with people you like. That's why we teamed up with Food Should Taste Good to host our own barbecue right here in Portland, Oregon. Food Should Taste Good makes chips and snack crackers that are naturally simple, and made from the best quality ingredients. They bring sophisticated flavors to everyday snacking, and have been a staple in my home for years.
Our event was amazing, full of good times, good people, and great food. So I wanted to share some of lessons we learned from this awesome evening that you'll be able to apply to your next party. So, fill the coolers, light the grill, and let's hang out.
How to Design a Better Backyard Barbecue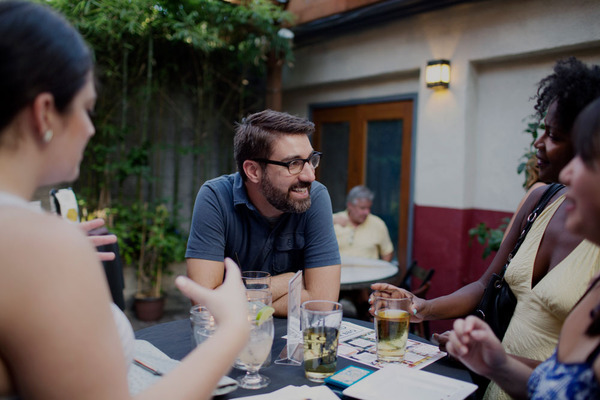 1. Always Play Music. Always. This goes for the whole process. Blare some high-energy tracks while you do your pre-party house cleaning, bring along some ear buds when you do the food and drink shopping, and definitely make sure there are tunes to match the tone of your party.
But, at the event, don't forget – no one's going to be scrutinizing your song choices, and most backyard barbecues or block parties aren't known for killer dance-floor sessions. There's no need to spend time crafting the perfect playlist.
Our vote: find a couple of existing channels or playlists you like on Pandora, Spotify, or your favorite streaming service, and just play that. Or! Use iTunes to select your top 100 most played tracks, and copy those into a new playlist, deleting any that don't make sense. The last option (if you don't have a streaming wi-fi enabled speaker system): just tune into the oldies station on your radio boombox, and rock the classics all night.
Then, keep the volume on low to medium; just loud enough for people to hear it, but not enough that it gets in the way of conversation. The music is there to give the space energy and keep things moving. Properly set, it'll do its job.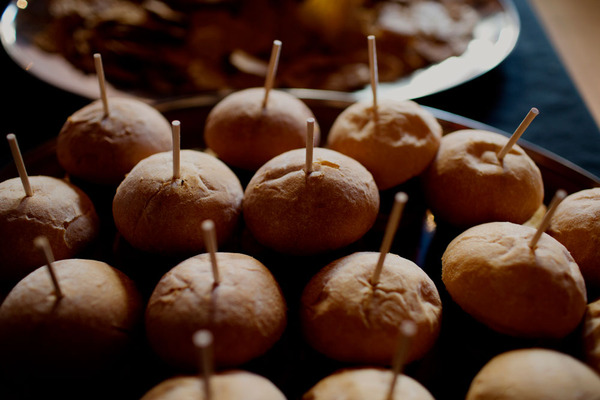 2. There's Nothing Wrong with Burgers and Hot Dogs, If You Do It Right. They're a cookout staple for a reason – it's a great way to please a crowd, they make great vegan and vegetarian versions, and folks can customize them any way they like. But take a tip from the modern high/low food mashup movement, and outfit your dogs and burgers with some killer toppings. Lettuce and ketchup, sure, but instead of tomato slices, what about a slow-cooked tomato jam or a spicy pico de gallo? Make a cilantro-lime-onion relish instead of simple onion moons. Skip the dill medallions and opt for pickled carrots or peppers.
For hot dogs, try giving them an international flair. Here are some fun combos:
kimchi, sesame seeds, and sriracha mayo
coleslaw and barbecue sauce
spicy corn relish and bacon
tzatziki with diced cucumbers, tomatoes, and mint
chili, shredded cheddar, and diced yellow onions
cream cheese mixed with chopped olives, red onion, and scallions
refried beans, green chiles, and thinly sliced red cabbage
nacho cheese sauce and crushed up potato chips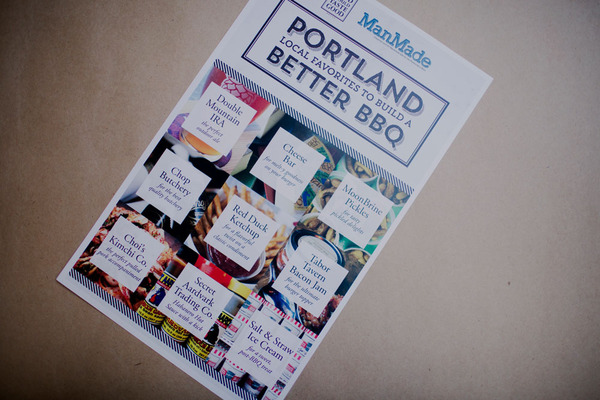 3. Pull in Your Local Favorite Products that Everyone Loves. You know those awesome local ingredients that give every city its own unique vibe? Have them at your event. Not only do they taste great and add a you-can-only-get-this-here feel to the meal, they make great conversation starters for guests who might not know each other yet. "Oh, hey. I'm Steve. Have you ever tried this roasted onion jam from that tavern on 7th? I love it; we keep it in the fridge and put it on everything…" See? Convos.
For our event with Food Should Taste Good, I put together a list of my favorite local goods, sauces, and resources to create an awesome event with a Portland vibe.
4. Let There Be [Lots of] Light No matter what space you're hosting in, it will improve with special lighting. That sounds like such a HGTV thing to say, but it's totally true. You want it to feel like a party, get some party lights.
Thankfully, they're really easy to come by. Most of the time, some simple string or cafe lights will do. Raid your holiday decoration box, and string 'em up wherever you can. Or, hit up IKEA or your local import store for good deals on paper lanterns with LEDs. This gives the space a festive feel, but also helps the event keep rocking well after the sun goes down.
Then, whenever possible, get some open flame. It could be as simple as tea lights or candles, but, if you can, try some tiki torches, citronella bucket candles, or even a small campfire. These help keep away the bugs, and bring along all kinds of atmosphere.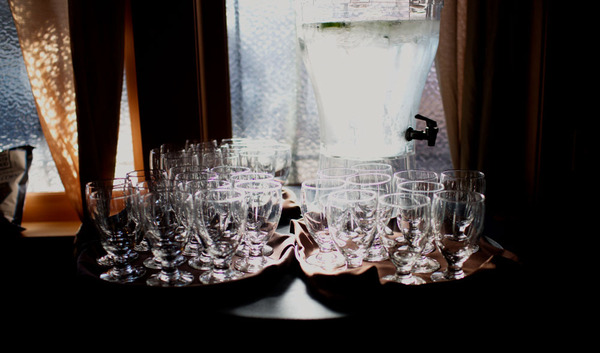 5. Self. Serve. Drinks. Welcoming guests, operating the grill, introducing new people to each other, being generally engaging and telling funny anecdotes – those are some of the host's many important jobs. Serving drinks is not one of them. Whatever you're serving, set it up so your guests can get what they want when they need it. Put bottled and canned drinks in ice, and just direct folks where they are. If you don't have enough cooler space, you can use a plastic storage bin, a wheelbarrow, or other large secure space (um … bathtub?). Or , you can premake batch cocktails and punches, and just let folks fill up their glasses as needed.
Whatever you're drinking, be sure to also include two things: pitchers or dispensers of ice water to keep everybody hydrated and safe, and somewhere to recycle empty bottles and cans, etc. There's no shame in just placing your recycling bin right there for everyone to use. Or, just lay out a couple paper grocery bags and ask your first guest to put their empties in there to set the trend. Everyone else will figure things out.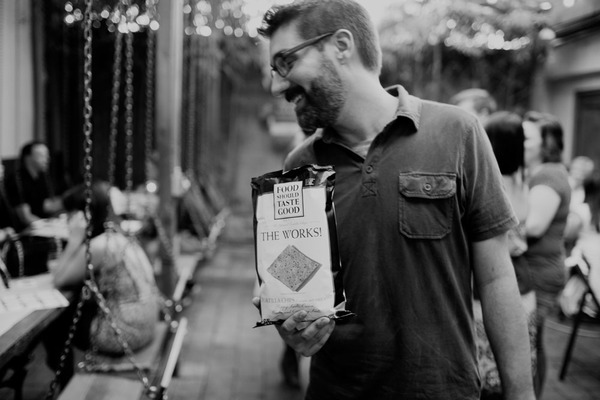 6. Chips and Dip, Baby. Chips and Dip. Chips are standard part of a backyard BBQ or block party. They're tasty, they're an easy way to feed a crowd, and folks come to expect them at an event.
Our vote is: yes, serve chips and dip, but serve some that actually taste good. Skip the greasy bowl of salty potato slices, and make the chip/dip component a thought-through part of the meal that actually compliments the rest of what's on the plate. Snacks and chips from Food Should Taste Good taste great, are made from real ingredients, and have a sophisticated flavor that satisfies the need for crunch. The variety they offer is amazing, and the different flavors make for a great base to get creative with the dips and toppings.
Here are two go-to recipes that'll be a hit with anyone, and can be made well in advance.
Roasted Poblano and Corn Salad with Shrimp
Serve with: Food Should Taste Good Multigrain Tortilla Chips
Salad:
2 medium poblano chiles
8 ears fresh corn (or 4 cups frozen)
1 cup finely diced red onion
1 cup chopped cilantro
1 can fire roasted diced tomatoes, juices drained
1/4 cup fresh lime juice (or more to taste)
1 teaspoon sugar
To serve:
1 pound cooked and cleaned medium shrimp
Food Should Taste Good Multigrain Chips
Roast the chiles over an open flame – either on your oven range or a grill. Alternatively, place them under the broiler. Roast for 5-8 minutes until skin is completely charred. Place in a cover dish to trap steam, and let cool for 10 minutes. Peel and seed the chiles.
Combine the chiles with the remaining ingredients and allow flavors to come together. When ready to serve, add shrimp to salad and serve with chips.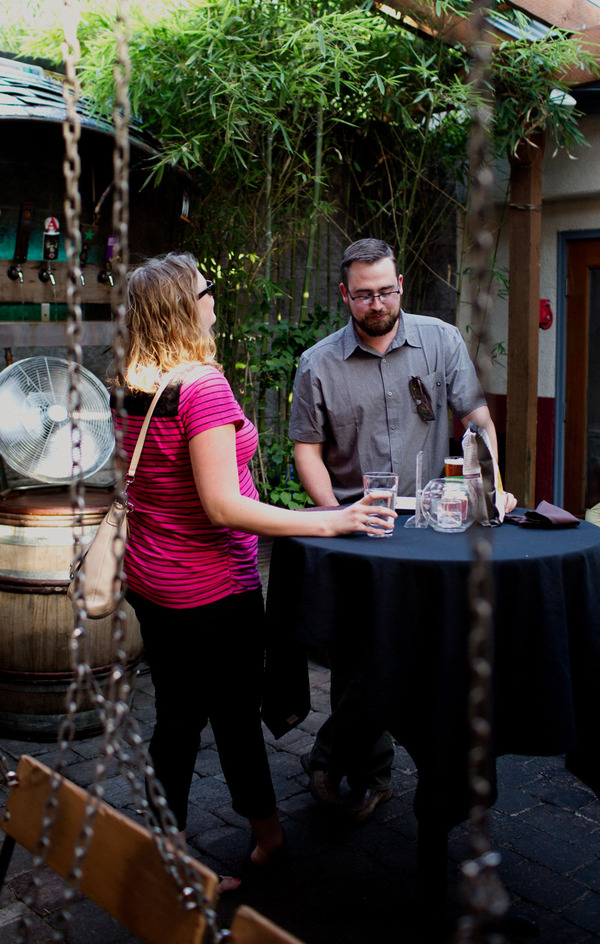 Grilled Portabello with Mango Salsa
Serve with: Food Should Taste Good The Works! Tortilla Chips

Mango Salsa:
2 ripe mangos, peeled and diced
1 ripe tomato, seeded and diced
1 small jalepeño, ribs and seeds removed, diced
3/4 cup diced red onion
1/2 cup cilantro leaves
1/4 teaspoon ground cumin
Salt and pepper to taste
Grilled Portabellos
3 portabello mushrooms, cleaned and stems removed
3 cloves garlic, minced
1/4 cup olive oil
fresh herbs, such as rosemary or thyme
Salt and pepper to taste
Combine salsa ingredients in a bowl and stir to combine. Mix the garlic, oil, and herbs together and add the mushrooms. Marinate for 1-4 hours. Preheat a grill to high, or stack hot coals on one side of the grill. Grill over high heat, flipping occassionally, for 10-12 minutes.
Cut the mushrooms into small triangles that will fill on the chips. Serve each The Works! Chip with a wedge of mushroom and spoonful of the salsa.
7. Seek Out High Quality, Affordable Ingredients. Try to make your budget work for you. Hosting an event can add up, so seek out ingredients and dishes that offer a lot of bang-for-the-buck flavors: low price, taste awesome. Your goal is make people feel full, happy, and a little indulgent, and that's easy to accomplish without breaking the bank.
How? Look for flavorful produce that's in season. In summer, sweet corn is a no-brainer. At only 25-50¢ an ear, it's a whole lotta seasonal flavor for the price. Hot chiles and peppers are super affordable, and provide lots of kick and color for just pennies. All year round, sweet potatoes and carrots are priced reasonably, and you can do a lot with them. Fresh herbs transform any dish, and are affordable, especially those sold in bunches like cilantro, parsley, dill, etc. (Those little plastic boxes are way overpriced).
And I'm putting in a final good word for cabbage. Yep, cabbage. It comes in at one or two dollars a head, and it's super easy to prep. Keep it raw, and finely slice some red cabbage with some grated carrot and onion, and dress it up anyway you like: cilantro and lime, sesame seeds and peanuts, etc… It's a great, simple, and colorful salad that you can prep way ahead of time, and keep everyone happy.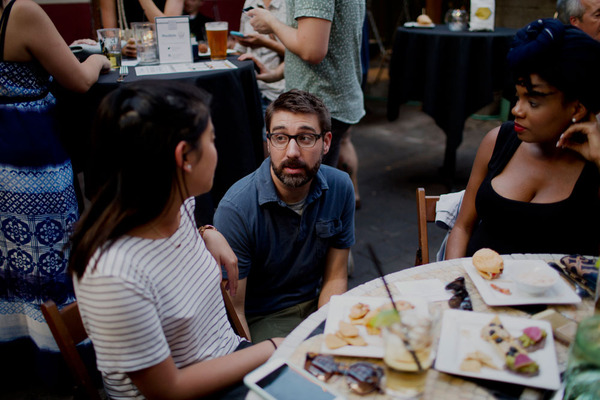 8. Don't Worry About Having Enough Seats. Sure, put out every chair you own. If you can sit on it and pick it up, employ it at your get-together. And ask your friends to bring some along. But, you have what you have, and chairs encourage people to sit down and stay put in one place. Parties are all about movement and conversation, so there's nothing wrong with having folks on their feet, leaning against walls, squatting down to chat, etc. Don't let seating prevent you from throwing a great bash. Good times are rarely had while seated.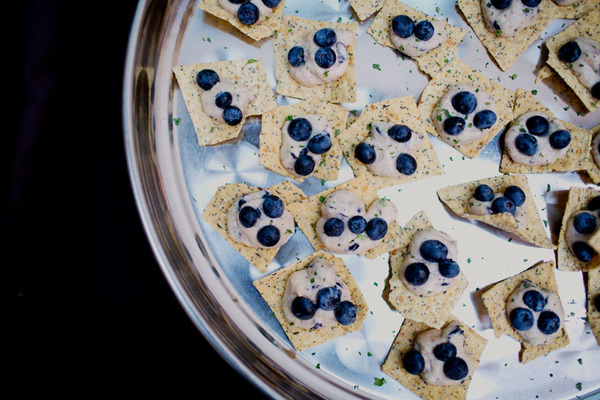 9. Make Everything Ahead of Time. Yeah, you can finish some stuff on the grill, but the great thing about party food is it can all be done in advance. Whip up all your dips ahead of time, so you only need to serve up the chips to finish things off. If you're serving hot food, use a warm oven (170°) and aluminum foil keep things ready to go. Aluminum trays filled with ice will keep things cool.
10. Prep Your House for Guests. Pick up, but don't scrub your house spotless. It's going to get chaotic with dishes and foot traffic before the evening is over. Instead, make sure your home is set up to welcome people. Make signs pointing to the bathroom. Make sure there's enough toilet paper, and that your hand soap dispenser is filled. Put out some extra hand towels. If you don't normally store your plunger next to the toilet, consider making it available for guests.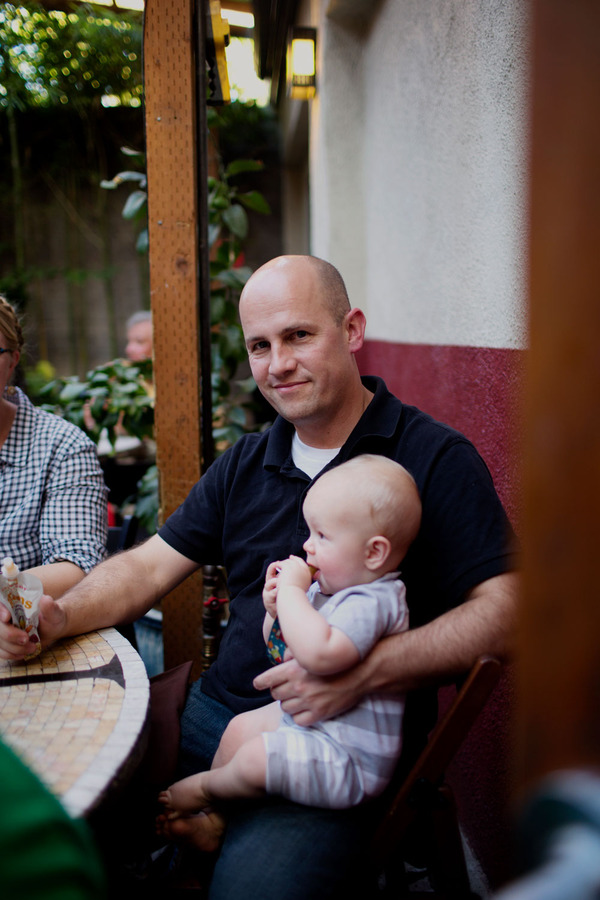 Be sure there's a small trash can in the bathroom (lined with a bag), and bigger spots for trash and recycling near the food table. Print up a few signs with the wi-fi password, and include a hashtag for the event to encourage people to capture the good times. Keep the fire extinguisher handy, as well as a broom and dustpan, so an embarrassed guest doesn't have to ask you to help them clean up that plate they dropped (they will).
Lastly, the golden rule of hosting any event: Get more ice than you think you need. You'll never regret it.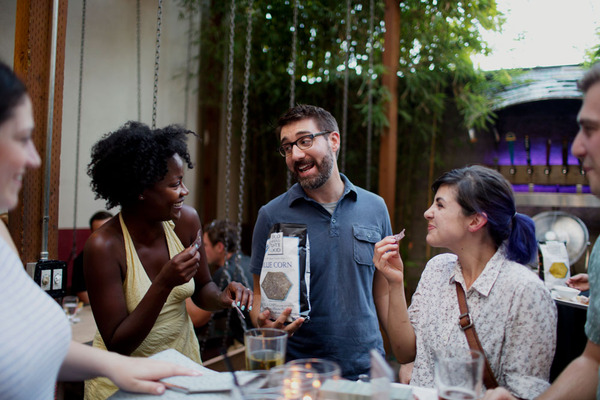 A little care, a little intention, some great food and ingredients, and you and your friends will have a seriously good time.
Cheers!
This ManMade post was sponsored by Food Should Taste Good, makers of high-quality snacks that are made with real ingredients. They're gluten and GMO free, with zero trans fats and no cholesterol. Thanks for supporting the brands that support ManMade.
All photos by Margaret Jacobsen.