Yes, Kolache are the Ultimate Breakfast Food. Here's How to Make 'Em.
Lately, I've been on a quest to find better breakfast foods. Without getting into much personal, and overbearing, health details, most breakfast foods just aren't all that great for you. Whether it's a pile of dried wheat or a sugary toaster pastry, grabbing something good on the go can be so dang hard! Well, no more! Kolache to the rescue!
I might be obsessed with these little guys. There's a great cafe here in Nashville that makes these, and it's not uncommon for me to grab one every Sunday. The kolach originates from the Czech Republic in the form of a sweet, fruit-filled pastry that can be found on most breakfast tables. In America, you can find their new origins in Texas as a spicy, smoked sausage and cheese filled dough. These are the ones we're going to focus on for your next breakfast! In honor of Breakfast Week here on ManMade, let's make some!
Recipe
1/2 ounce of Instant Yeast
1/2 c of warm water
1/2 c of butter
1/4 c of sugar
2 egg yolks
2/3 Cup of whole milk (make sure it's whole)
1.5 teaspoons of salt
4 cups of flour (can sub half with whole wheat)
1 package of diced fully-cooked smoked sausages
8 ounces of shredded cheese
1 sliced jalapeño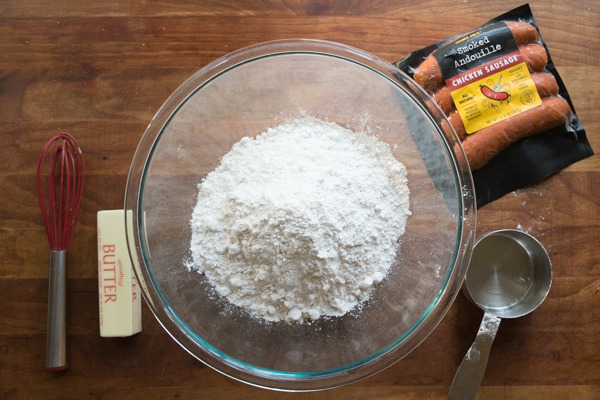 1. Make The Dough
Bloom the yeast by mixing it with the warm water. Set aside for 15-20 minutes.
Next, using a whisk or mixer cream together the butter and sugar.
Add salt, egg yolks, water/yeast mixture and milk.
Once everything is incorporated, add flour until it's a sticky dough ball.
Once it's formed into a ball, cover and let double in size for 1-2 hours. I like to let my dough mature in the fridge for a couple of days. This develops the flavor you might find in sourdough or a good pizza dough.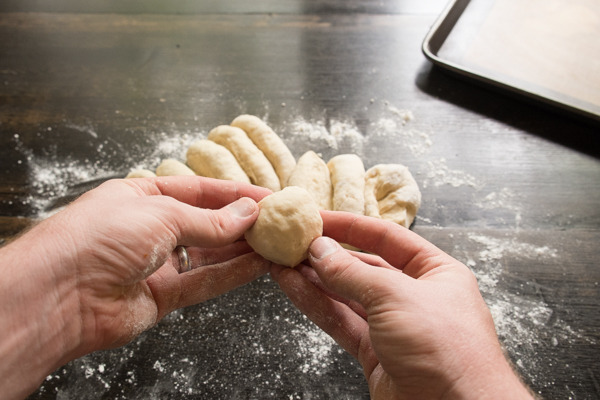 2. Make the Balls
When you're ready to make the kolache, preheat your oven to 425 degrees. After the dough has risen, pinch off and roll golfball sized balls. Set them on a greased tray to let rise again for another 30-45 minutes.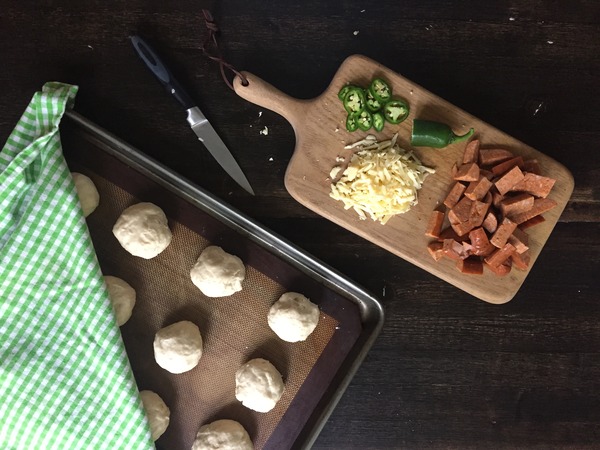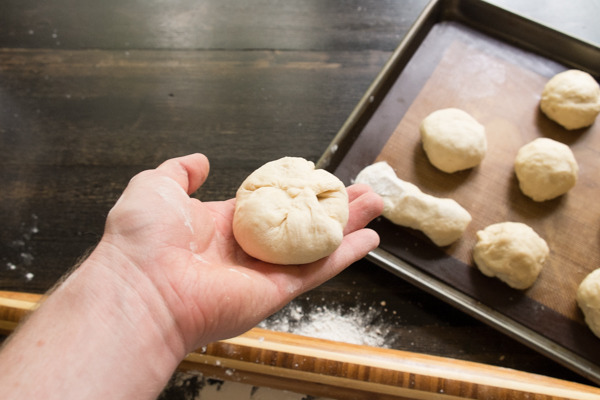 3. Fill them!
Roll out each ball into a small disk. Set it in the palm of your hand and fill it with a small helping of diced sausages, a teaspoon of cheese and a slice of jalapeño (if you like it spicy!). At this point, you can practically fill them with anything you want! I've used scrambled eggs and bacon, pepperoni and parmesan and breakfast sausage and cheese. The possibilities are up to you!
Once you've put your fillings in your palm, pinch up all the ends to make it look like a small pouch. Set the ball on your baking sheet seam side down.
Be sure to signify which ones have jalapeños in them. You don't want that to be a surprise one morning! I placed a small slice on the top.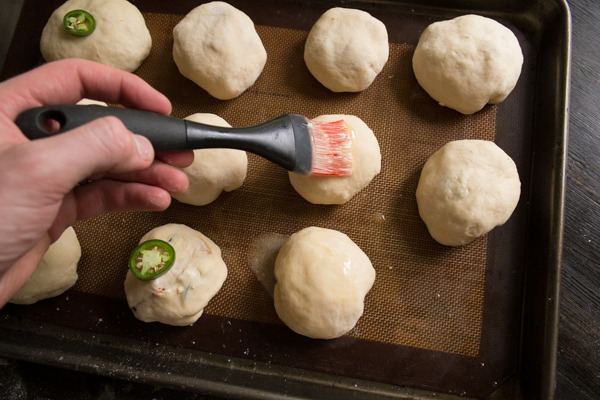 4. Bake!
Brush each kolach with melted butter and stick in a 425 degree oven for 8-10 minutes.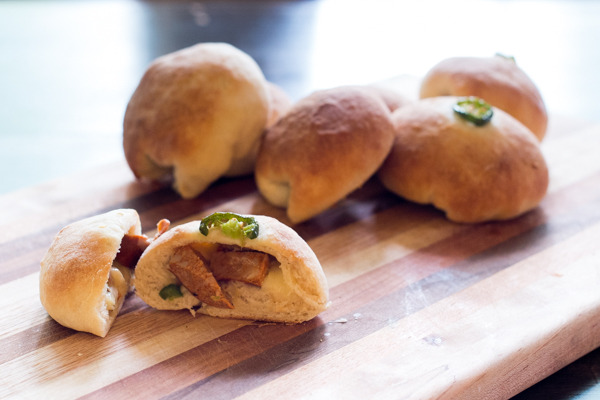 5. Eat!
If you can keep yourself from eating every one of these you can place the rest in a storage container and put them in the fridge for breakfast the next day. Now you're set up for an entire week of breakfasts!