Great Cooking is All About Good Technique and Ingredients. Here are Two Solid, Standby Recipes to Win Dinner Every Time

By the time you're thirty, there are a few things you really should know how to do, like fixing a flat tire, fixing a leaky faucet … and fixing a meal. You don't have to be an amazing cook, but every man definitely needs some standbys to pull out when guests are coming around. A dish or two he knows well, with ingredients and techniques he understands.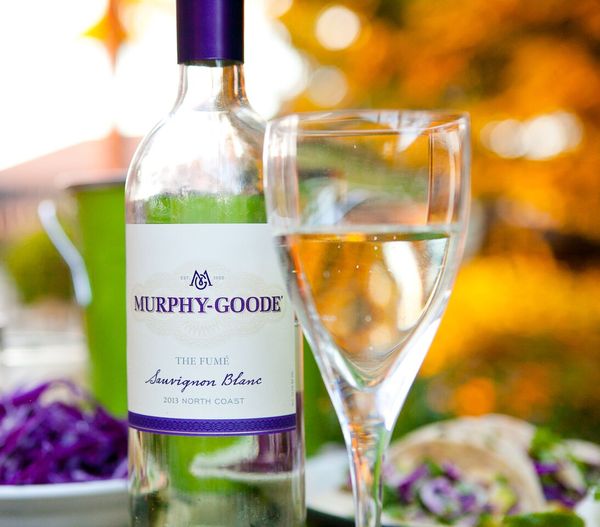 To share our picks, we teamed up with Murphy-Goode Winery, who are enjoying their 30th anniversary this year. We chatted with their winemaker, David Ready Jr., to come up with two go-to dishes that pair easily with Murphy-Goode's classic backyard wines, one white and one red, that you count on to be a hit with any guest.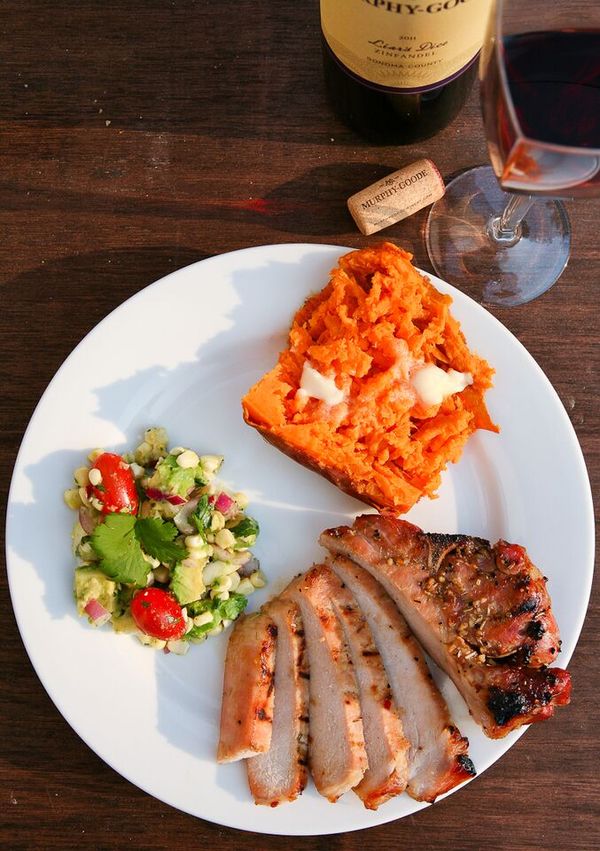 Grill-Smoked Glazed Pork Chops
Think of this as your go-to recipe when you want to eat outside, or bring the flavors of summer to a cold, dark winter evening. Serve with a bold red "cookout" wine like the Murphy-Goode Liars' Dice Zinfandel.
Prep Time: Start 1-3 days ahead if possible; if not, they'll still be great.
Cook Time: 2 ½ hours total, 45 minutes active
Meat:
2 cups apple wood (or similar) chips
2-4x bone-in pork chops, 1 1/2-2″ thick
Kosher salt and black pepper
Glaze (yields about 1 ½ cup):
1 cup apricot jam or jelly
1 tbsp olive oil
1 tbsp Brown Sugar
½ tsp Cayenne Pepper
½ dried thyme
Water as needed
This recipe has two skills that transfer well to other meals – smoking and glazing on the grill. Adding a light, smoky flavor imparts a rugged dimension to the meal, and a depth to otherwise lean pork. Layering a glaze at the end adds a succulent finish and texture.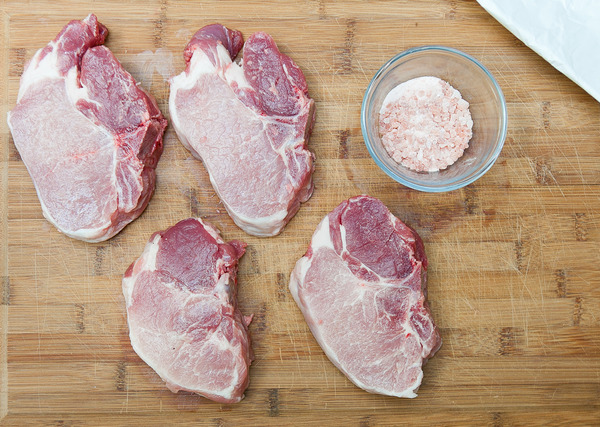 Choosing the Meat – If you can get them, always grill with a bone-in cut (chops, loins). Smoking meat can dry out the cuts due to the long cooking time, so start with thicker cuts of meat (about 1 ½ – 2″ thick). If you don't see thick cuts in the case, ask the butcher to cut a few fresh from the loin. They'll be happy to oblige.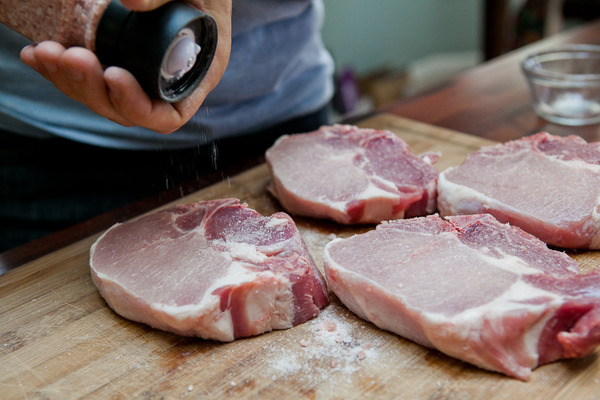 The Dry Curing Process – Pork is an ideal meat for "salting" (also known as dry brining), which flavors the meat Add a healthy layer of salt to both surfaces, and place uncovered in the refrigerator for 1-3 days. When it's time to cook, take the meat out and pat dry, brushing away any extra salt. Any seasonings or flavor added after this step shouldn't contain salt, as it can overpower the meat. You can always add more.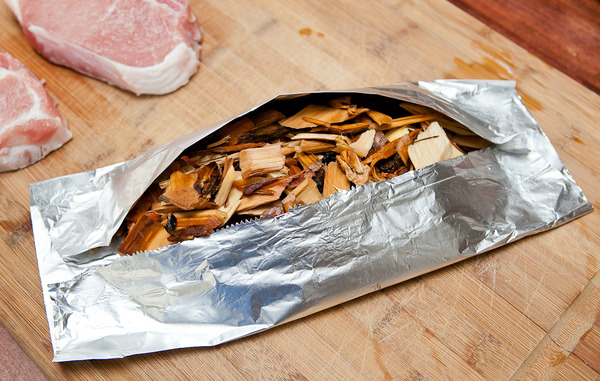 Smoking on a Gas Grill – Just because you own a gas grill doesn't mean the hearty flavor of smoking is out of reach. I've used a few different methods to add smoke to my grilling adventures on a gas grill, including fancy smoke boxes. But, the easiest method is just a simple foil packet (or foil pan) packed with soaked fruitwood chips.
To prepare the package, soak some apple, cherry, or similar fruit tree chips in a bowl of warm water for at least 45 minutes (or up to 3 hours). Once the chips are soaked, take a doubled up piece of foil about 12" wide and place 2 cups of drained chips in the middle in a wide strip. Fold up the ends, and fold each side over loosely. Poke 4-5 slits with a knife on the top to help the smoke escape. Take the entire packet and place on the grill over medium-high heat for about 45-60 minutes before adding the meat. Don't expose the packet directly to the flame, as it will burn up and lose all the chips. The goal is to get a sustained smoke that will last for hours, so let it heat up slowly.
The same technique can be applied to a charcoal grill. You can scatter the soaked wood chips directly on the hot coals.
Smoking the Meat – The key to a good smoked meal is to take things slow, so the smoked flavor has time to penetrate before it hits final temperature. The grill should stay about 225- 250 degrees Fahrenheit for up to 2 hours until the meat is 130 degrees Fahrenheit in the center. The cook time will vary so check often to avoid overcooking.
The best way to get smoke going without overheating the grill is to place the smoke packet on one side with the heat, and place the meat on the opposite side, without direct heat underneath, known as two-zone cooking. Flip the meat once or twice, and check the temperature every 15 minutes to make sure the grill heat stays consistent.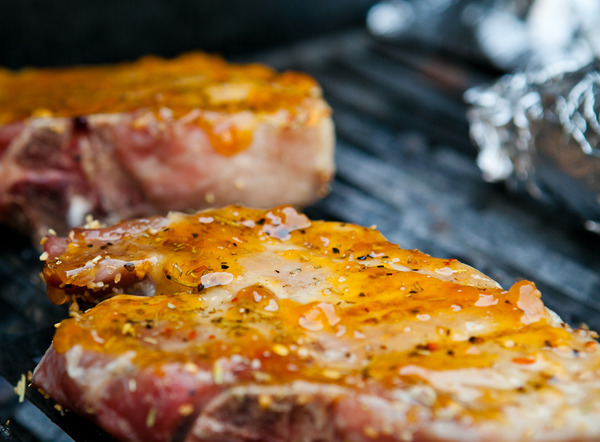 Adding a Glaze – Glazing meat is a great way to add a final layer of savory flavor. To make the glaze, mix together a fruit jam or jelly like apricot (or peach) with just abit of oil, water, and additional flavorings like herbs or chili powder. The goal is a mixture that's thick enough to stay on the meat without running off, but thin enough to spread well (think BBQ sauce).

Once the meat has reached an internal temperature of 130° F, place the chops over direct heat medium and apply a thick layer of the glaze. Let the glaze cook for about 5 minutes, flip the meat, and repeat. Cook to an internal temperature of 140° F. Then, remove the meat from the heat and let it rest wrapped in foil for 10 minutes. During this time, carry over heat will take the final temp to 145° F.
Fish Tacos
For our white wine recipe, we're going with some amazing fish tacos. They're simple to prepare but big on flavor, and go great with refreshing, light white wine like Murphy-Goode's Fumé Sauvignon Blanc.
Prep Time: 20 min
Cook Time: 20 min
I don't remember the first time I tried fish tacos, but I certainly remember the best I've ever had. We were in Baja, Mexico, and after a long day on the water, we watched the sunset with a bottle of wine and two plates piled high with cilantro-laden tacos and plenty of laughter. These days, it's still one of my favorite meals to share with good friends. One of the best parts of a taco spread is the ability for everyone to customize the meal, and it keeps the host with his guests, without spending too much time in the kitchen. Pair it with a well-chilled bottle of white for a relaxing meal everyone will remember.
Sauce:
1 tsp dill seed
1 tsp cayenne pepper
1 tsp cumin
1 tsp dried oregano
½ cup Greek yogurt
½ cup mayonnaise
2 tsp capers, minced
.5 oz (1 lime) fresh lime juice
1 jalapeño chile, seeded and minced
Tacos:
soft corn tortillas
2 lbs fish fillet (Cod, Snapper) (go for ½ lbs per person)
4 cloves garlic
1 tsp grown cumin
1 Tbsp butter
1 lime, juiced
1 head red cabbage (chopped thinly)
1 bunch cilantro, finely chopped (about 1 cup)
Avocado Salsa:
2 ripe avocados
1 cup diced red onion, rinsed under cold water for 20 seconds
1 lime
1/2 tsp cumin
½ tsp Bay Seasoning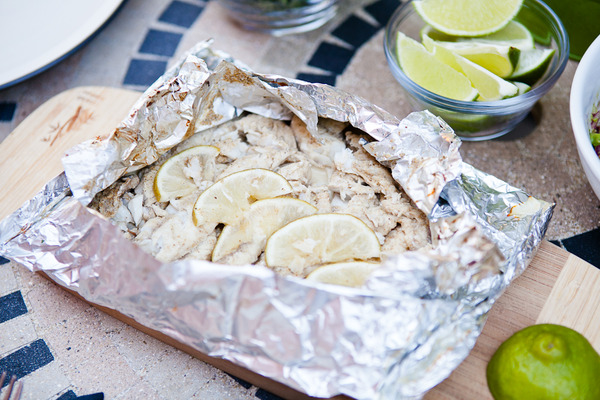 Choosing the Meat – Snapper is a light, flaky fish that falls apart easily and doesn't have a strong seafood flavor. Grill in foil or bake it. This fish takes the seasoning well and cooks fast. Cod is a more solid filet with a more pronounced "fishy" aroma, but in a good way. (They are fish tacos, after all). It holds up well for grilling and frying, but the texture can get a bit rubbery if overcooked. Choose 4-6" fillets for best results. Fish is best fresh, but frozen fillets will do in a pinch.
Preparing the Sauce – First, mince the jalapeño and capers. Then mix the dry ingredients in a small bowl (dill seed, cayenne pepper, cumin, oregano) to integrate well. In a separate bowl, add all other ingredients until blended well.
Add the dry ingredients into the mix and lightly blend together. Be careful not to over-blend, as the sauce can go from creamy to runny in a blink.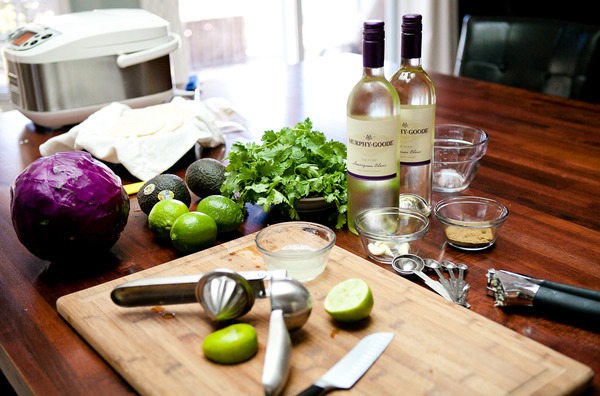 Preparing the Fish – Rinse the fish and pat dry, then place in the middle of foil. Fold up the ends and add seasoning (lime juice, cumin, bay seasoning, garlic and butter). This can also be done up to one day before, but place fish and seasonings in a Ziploc bag and place in the refrigerator until ready to cook, and then transfer to foil.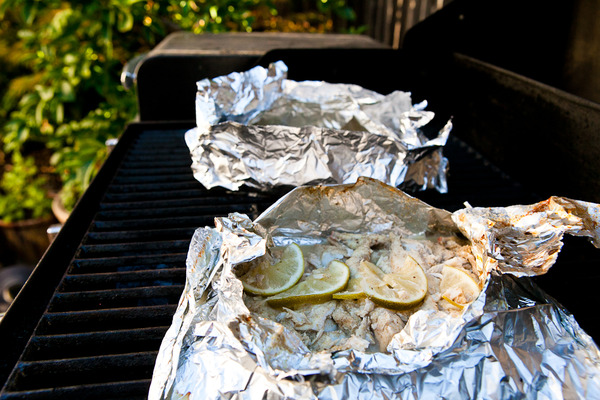 Cooking the Fish – After everything is prepared, take the foil-wrapped fish and put it on a grill heated to about 350° F. The key is to cook it fast to an internal temperature of 145° F, which should be easily flaked with a fork (about 20 minutes). Bonus for the grill – it keeps the heat and smells outside.
Another easy method if it's a bit cold or wet outside, is to bake the fish for about 20-25 minutes in the oven at 375 degrees Fahrenheit. This method comes out a bit softer with less of the flaked goodness that the grill provides, but the taste is still perfect for loading up the tortilla. The last technique, in my book, is frying the fish with a battered coating. This method is a bit time-consuming, but the flavor is bold and the texture crunchy, and the likelihood of leftovers is close to zero. Whichever method you choose to cook the fish, the toppings will stay the same. So, try it out, and see which method you like best.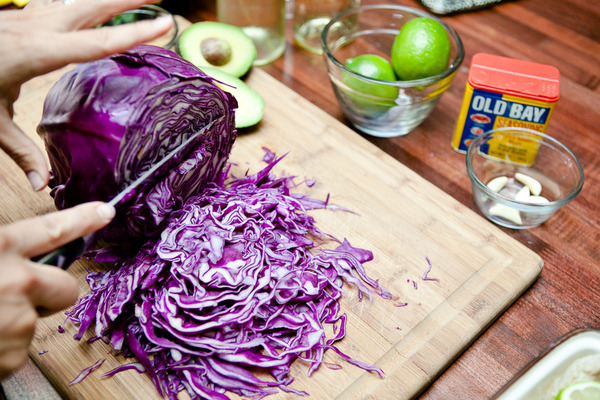 Preparing the Toppings – I like all my toppings to be finely shredded, but not too that they lose their texture. This is finger food, so being able to load up the taco means keeping most toppings large enough to easily manage.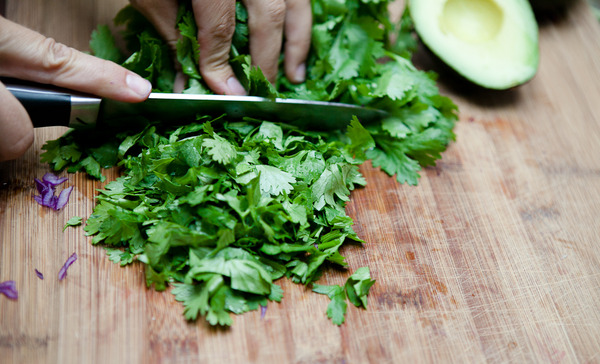 Chop up the cabbage, cilantro, onions, and avocado. Section out the cabbage and cilantro into separate bowls and mix the remaining ingredients together.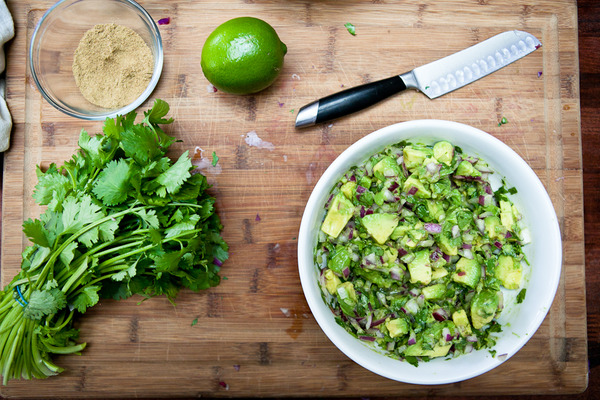 We make an avocado-cilantro salsa that adds a nice zip of lime. It has the crunchy bitterness of fresh red onion that holds up well with large chunks of buttery avocado. Add together the onion, avocado, cumin and ½ cup of the cilantro in a single bowl and loosely mix; season with salt to taste. While chopping everything up, the tortillas can be heated in a moist towel on the side of the grill (not on direct heat). Toss them in a cast iron pan to keep them from burning (or throw them in the microwave).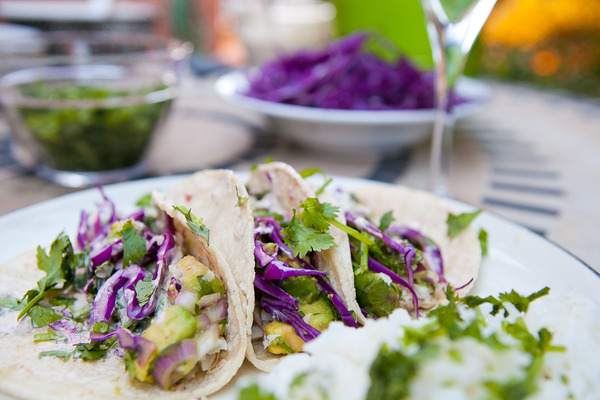 A few notes:
This sauce is great on almost anything. Try it with grilled vegetables, chicken, or even baked potatoes.
If you want to add more heat, add 1-2 canned chipotles and 1 tsp adobo sauce to the mix.
The best way to reheat corn tortillas for a crowd: wrap them by the dozen in one damp paper towel. Slide the stacks into a one gallon ziptop bag, and place, unsealed, in the microwave. Microwave for 1:30 per dozen at 75% power. Store in a clean tea towel or basket.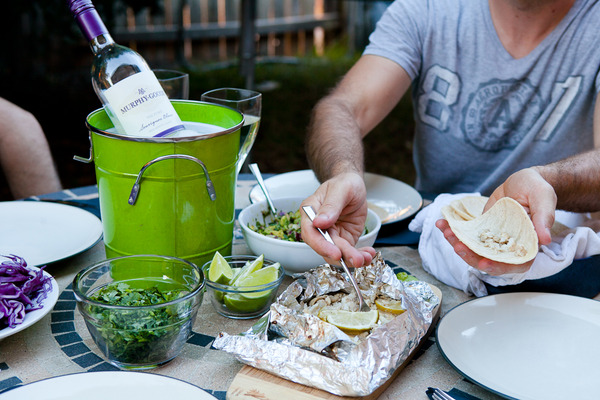 Both of these recipes work great during this late summer/early fall season, when its still nice to eat outside. But really, they're simply delicious, and an awesome option any time you want some great wine, great food, and great friends.
Cheers.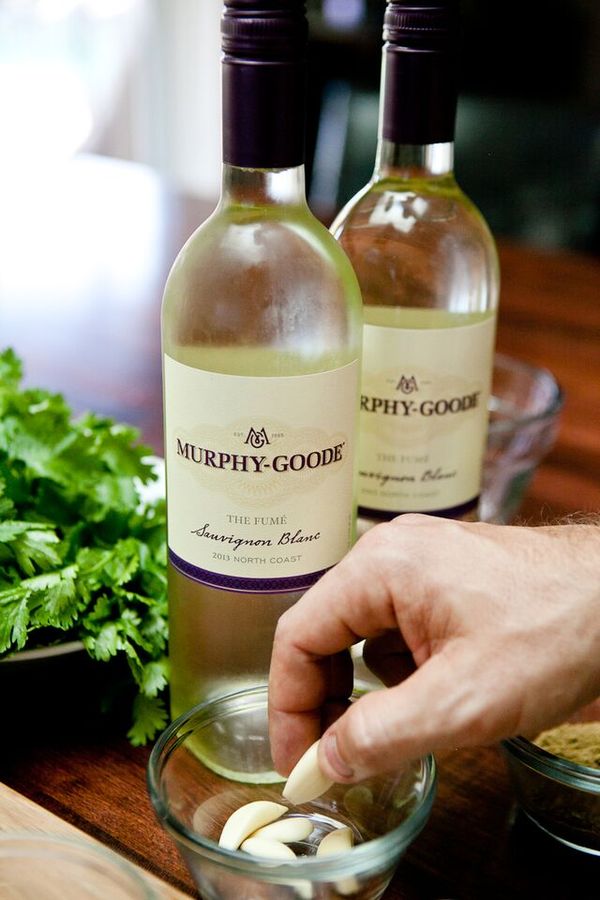 This post was sponsored by Murphy-Goode Winery. Thanks for supporting the sponsors who support ManMade!