How To: Make Melty, Amazing S'mores…Sans Campfire.
I'm so crazy pumped for my camping and canoeing trip this holiday weekend that I can barely sit still. And, oh, buddy, you better believe I'll be making some smokey and toasty s'mores over the campfire. See, I live in the city, and city with very strict open flame laws (I think it's actually illegal to light a match on the sidewalk), so a blazing campfire is quite a treat. I get to be around one around once a year, which is about how many s'mores a year I can stand, so it all works out.
If you wanna join me on my trip, I'll gladly make you one with my reknown two level heat technique, but if you're staying urban this summer – don't worry. Here's two tricks for making great melty s'mores that are totally worth the calories, at home.
In the Oven (Pictured above)
Alisa Burke offers this double-bake technique (melt marshmallows first, then add the chocolate on top) that sounds like it gets the texture right on!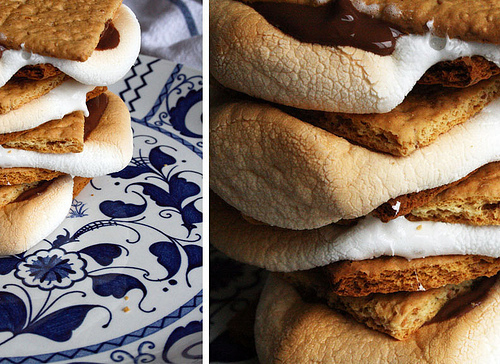 On the Grill
Don't forget – if you've got a grill, you've got fire! The next time you fire up your BBQ, throw some 'shmallows and grahams on top of some foil, and roast away. This recipe from Kraft will do the trick.
How do you make your s'mores at home? Microwave? Gas cooktop?
Let us know in the comments!