Shopping Guide: 7 Spring Style Essentials for the Modern Guy
Hibernation season is officially officially over and it's time to transition into the warmer months of the year. So, we've gathered a few essentials that will help you feel like yourself while staying cool. After all, spring is all about renewal of life..and looks! Oh, and allergies…but at least your look sharp.
1. A stepped-up t-shirt: For those times when you need to keep cool, but when the three-to-a-shrink-pack options won't do, even in solid. Look for something simple and cotton, with a finer knit. Neutrals work well as layers, and appear dressier than your standard crayon-colored shirt. This one's the Field Knit Tee from J.Crew.
2. Neutral Fitted Pants: by "fitting" we don't mean skinny and tight, we mean that should be YOUR SIZE. Lots of guys tend to buy pants that are a size or two larger (for some odd reason) thinking they'll be more comfy they end up looking puffy and it's actually super uncomfortable considering they'd be falling down all the time. Find a nice pair of neutral cotton pants, which you can wear casually with a t-shirt OR a bit more formal with a jacket or light sweater. This pair is from Bonobos.
3. A Smart Looking Sweater/Jersey: time to put away the parka! Get a slim-shape sweater for cooler mornings and nights. By keeping the color and pattern classic you can mix and match with different pieces without clashing styles. This one is from Mr. Porter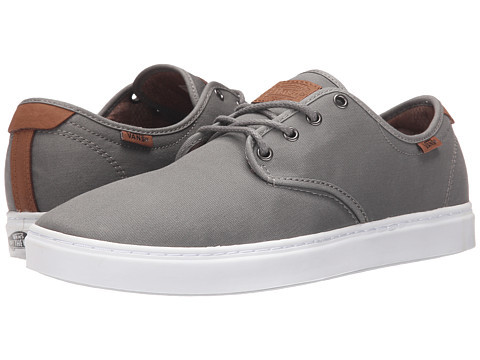 4. Versatile Shoes: get a pair of shoes that can be worn in different situations. This pair of Vans are the perfect example; you can wear them to the beach, to work, and with dressy pants you can wear them for dinner. Different looks, one pair. You can find them at Zappos.
5. A hat with a brim: If you're a hat guy, now's the time. it might not be 1000 degrees outside yet, the sun can get a bit intense during the day. Baseball cap, broad brim, whatever works for your head. Get a grown up cap that you can carry around to wear whenever needed. Just avoid any shiny/bedazzled stuff, fedoras, and anything with a flat brim. Unless you're a fifteen year old kid with a skateboard, in which case, welcome to ManMade, youngster! Hat by Clay and Bros
6. Appropriate Fitness Wear: While it may be OK to lounge around in your PJs, it's definitely not OK to work out or run about wearing heavy fabric pants that will make you sweat like a pig. Get a pair of loose cotton shorts that can be worn in the house and also for running errands. Make sure to choose something without pattern so you can mix and match with all your t-shirts. This shorts are found here
7. Windbreaker or Lightweight Rain Coat: April showers don't stop on May 1. Whether you're heading to the bookstore or the hiking trail, get a windbreaker.. They're light and will work as a great shell to protect you from chilly wind and rain. This one is from Obey
Don't be afraid to try something new! 'Tis the season for new things, dude.