Holiday Guide: 7 Last Minute Things to Do Before Hibernation
Freaking out because you haven't finished everything you need to do on your list? No worries! We have some last minute tips for you.
Cause…it's okay. It happens to the best of us: we get caught up in the holiday frenzy and, you know, we forget. So, we're sharing some last minute ideas and tips that will help you (and us!!) get through it with minimal damage.
1. Decor: Either DIY it or wait 'til the very last minute:
It's kinda late to go on a ornament shopping spree and chances are you'll get stressed out and spend more than you need to so, you have 2 options. DIY IT: Go to the discount store, buy plain ornaments and spray paint them. Done, or WAIT: Stores have HUGE sales close to Christmas Day, so you may leave your tree ready and go hunting for ornaments a few days before…it'll be hectic, but it'll be affordable.
2. No time for a feast! Just make one mighty dish.
Cooking a turkey from scratch? Preparing the gravy? Roasting the veggies? Ain't nobody got time for that! Well, you would have, if you prepared. But you didn't, you're not spending the whole day in the kitchen. So, here's an easy way out of that: make ONE mighty dish that'll drive everyone nuts. The rest you can buy it from the store and dress it all fancy in a plate.
Try this recipe of homemade s'mores – it's wintery, easy to make, and a crowd pleaser! Make sure you feed your guests that dish right at the end so it's the last thing they remember. Happy memories for all!
3. No time for gift shopping! Just dollar-rama-it
Oh crap, you haven't even started with your list, have you? Ok, don't panic. Just go to the dollar store, pick up a few mugs, grab a stencil and some paint and follow the instructions in this easy DIY mug project. Stuff it with chocolates or tea and you're done! Best of all, you can make a big batch of these mugs so you can be done in one evening, rather than having to drive around the city hunting down for last minute gifts.
If you want to get extra crafty, you could even make some rustic tote bags for all of your friends (considering that you are good at working with fabric and you know what you're doing). Here's a good tutorial for bags.
4. If you're expecting company, make some quick goodie bags to lessen the blow of "I forgot to buy you a real present"
This idea is for A: people that forgot to get something for their friends and/or B: people that didn't think of bringing a hostess gift.
Get a few paper bags and fill them up with goodies – include some candles (even better if you can washi tape them to look more custom), chocolates, coffee, and some cookies. You may not excel at getting all the details together, but you are a pro at making people feel awesome.
5. When everything else fails, create a distraction! Like this super cool DIY printed tree
Dang son, you didn't get a tree, which is quintessential for hosting a holiday party, what were you thinking!?
You should be thankful that there are some people in this world like Molly from Almost Makes Perfect that have some great ideas to save the day, like this DIY printed tree! How cool. It costs no more than $20 bucks and it totally brings the holiday cheer into your place. There, done and done – oh and bonus points of this project: no messy clean up!
6. Get everybody really drunk and be responsible about it
Not that we advocate drinking like a fish, but hey, if that's the thing to save the occasion, then why not do it?! Make sure to stock up your bar REALLY well and ask your friends before hand if they'd like something in specific. A few cocktails make a big difference! Remember though, you have to be responsible about it, after all, you want to enjoy yourself, right?!
Here are a few tips to take care of your friends:
Reserve a few cabs in advance so your friends don't have to drive
Get your inflatable mattress out in case a couple friends need to crash your place
Pick a designated driver if someone brought their car
Use apps like Uber to schedule any additional transportation
Know when to say "that's it for you, buddy"
Make sure to figure it our BEFORE you get your cocktails on, that way you can all enjoy the holiday buzz in a responsible way.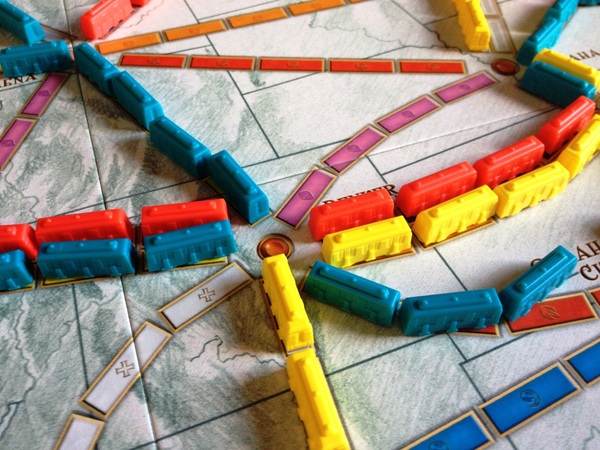 7. Getting bored? Play a game!
If you notice your party is slowly turning into a snooze fest, then get a game out and bring on the laughs! Obviously we recommend something for multiple players than has lots of replay value, such as Bang! or Ticket to Ride.
And don't forget that you don't NEED to buy a gift for everyone, you can instead give a donation in their name and get good karma points! Check out Scatter Joy for some wonderful E-Cards that will help children get the education they need OR purchase some art to help people affected by the typhoon in the Philippines on Artists Heal PH December pop-up shop
Games, good karma, food. I think we got you covered! Now go enjoy the holidays and have as much eggnog as you can possibly drink.
Happy holidays!