6 DIY Workbench Projects You Can Build in a Weekend
No matter what you make, you've gotta have a place to do it. And while you're dining room table might work for light projects, I say any serious maker, crafter, or artist needs a proper workbench. And while it may seem that most workbenches are more or less the same – a flat surface you can do stuff one – there's a lot of variables to consider. A traditional European style woodworking bench is overkill for a general DIYer, while a lighter bench designed for soldering or sewing might not stand up to the rigors of more adventurous projects.
So, here are six designs, all with free downloadable plans, organized by the task you'll be working on. If you choose to make one, snap a few photos and share them! We'd love to see what you came up with.
1. For the maker/solderer/crafter: This standing-height bench is perfect for those who do a variety of lighter-duty projects – sewing, electronics work, programming, models, etc. It's built from storebought bench legs, and has a plywood top that provides lots of space to spread out different tasks. Plus, the whole thing is on wheels so you can easily move it out of the way for larger projects. Get the full tutorial at Instructables.
2. For the space-saver: This is the one for those who not only need a place to work, but also a spot to store all your tools and materials. This bench was built by ManMade's publisher Bruno, who doesn't have a dedicated workspace in his basement, or a garage. Watch a video and see how he built it for less than $60 in materials here

3. For the apartment dweller: Those in urban areas or smaller spaces might need to integrate a place to work on your projects into your actual living space. So, this sorta of workbench needs to be strong but appear light, and be able to be built inside without a ton of tools. Bre Pettis shows you how in the video above, or at this Weekend Project.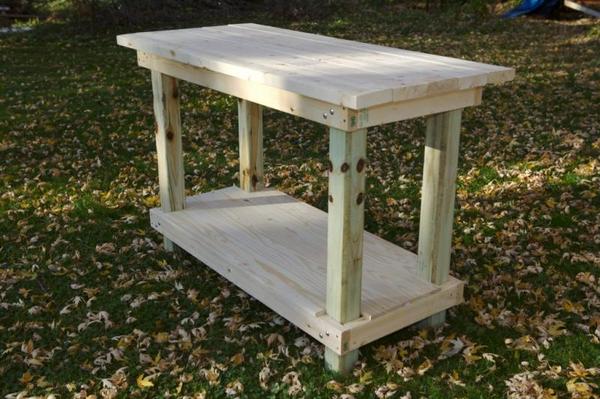 4. For the DIY homeowner: This bench is great for weekend warriors, DIYers, and those willing to get their hands dirty. it features a solid wood top (as opposed to plywood), but is built from inexpensive construction lumber, so you don't have to worry if it gets an extra nail inserted, or some glue drops or a bit of paint or stain. Get the full project from Lee Klancher at Octane Press.
5. For the small shop woodworker: This is the category that I most fall into, and this is the sort of bench I'll build when I upgrade. (My current one is similar to number four above). It has woodworking features like bench dog holes and a front mounted vise, but since it's built from soft and medium density wood from the home center, it's still relatively lightweight and sits on casters so it's moveable around your shop. Get free downloadable plans from The Handyman Club.
6. For the serious (but beginning) woodworker: this is the bench to build for those who are dedicated to learning the craft of fine woodworking. There are far more high-end workbench projects out there, but this one strikes the perfect balance between dedicated shop furniture and an accessible project for those just starting out, and not able to invest $1500-2000 on a huge, heavy, permanent bench. Popular Mechanics says, "Our rough-and-ready work surface visually recalls one of these classic double-trestle benches, but it's a far simpler affair. The bench goes together with ordinary construction lumber, lagscrews, dowels and a top assembled from 1 x 2s joined with threaded rod. It's designed to be a sturdy and unpretentious partner to capably support years of projects. How to Build a Workbench: Simple DIY Woodworking Project

Where do you work on your DIY and craft projects? Share your spaces in the comments below!