ManMade's Submit A Project Series: Front Door Refresh
This post is part of our Submit a Project Series, where our MMDIYers and renovation experts (or amateurs) get the recognition they deserve. Have a project you're particularly proud of? We at ManMadeDIY want to see it!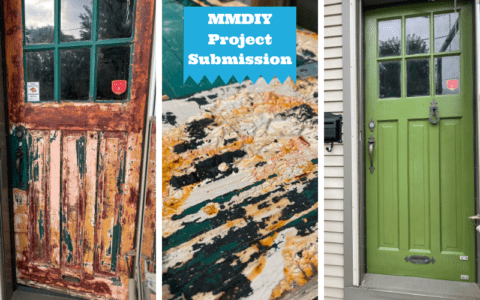 For today we have a submission from Charlie W, who shared their front door makeover with us.
"When I bought my century home it came with the original wood front door that was in rough shape. The paint was chipped and bubbling all over so I finally got around to refinishing the door. I'd done furniture refinishing and paint stripping before but this door was a different beast. I estimate there were 6 different coats of paint and a wood stain on it. The project took about 4 evenings but if I had devoted a weekend it could have been completed from start to finish in 48 hours. The process was relatively easy just a lot of detail work."
Step 1: Stripping the Paint
To start this project I needed to strip the layers of old paint. I swear by the CIRCA 1850 Super D-Solver Gel Stripper so I stuck to what I knew would get the results I wanted. After applying the gel stripper, I used a 3-in-1 scraper to take all the layers of paint off the door—and there were a lot of them!
Step 2: Steel Wool for Stripping the Tough Areas
The most tedious part of the stripping was getting into all the little grooves around the window panes. Steel wool is a blessing for those parts.
Step 3: Sanding It Down
Once all the old layers of part and stain were removed, I sanded down the entire door. I was really happy to see the original wood grain pop out during this process.
At this point, I debated just staining the wood and leaving it as is, but you can see some of the sections around the door handle had deteriorated so I went with paint.
Step 4: Priming the Door
To prepare the door for painting, I primed the wood with a coat of Rustoleum's Zinsser 123 Primer.
Step 5: A Few Coats of Paint
The final step to this project once the door had been stripped, sanded, and primed, was to paint. Two coats of paint later, I reattached the original pewter hardware and it was done!