Knitted Michael Jackson "Thriller" Doll
Dude, I don't know what it is.
I don't have a particular slant towards or against Michael Jackson… I appreciate him perfectly well.
I don't have an enormous interest in knitted celebrity softies…At least, I imagine it to be an average amount.
Perhaps it's the tiny little white socks.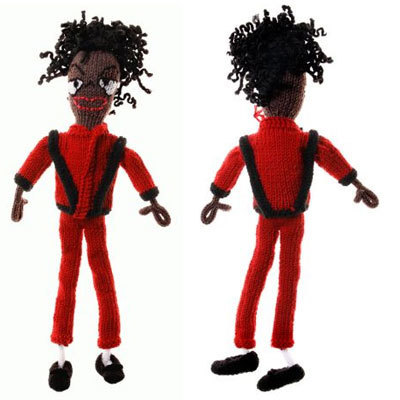 Whatever it is, I can't stop looking at this knitted Michael Jackson doll, decked out in his infamous red leather getup from the Thriller video. (Recently added to the Library of Congress' U.S. Film Registry along with Dog Day Afternoon.)
From Colette.Fr "Michael is back! He resuscitates in the form of doll thanks to Soso creator. In her hands Michael becomes again black, curly! And wear the famous red clothes which he wore in the "Thriller" video clip. Funny and kitsch ! We love you Michael!"
In a limited, numbered edition of…two. Get it here.
[Via Retro To Go]