How to: Make a Minimalist Wood and Leather Key Holder
When Erin discovered Anne Steensgaard's CatchMe keyholder online, she became instantly obsessed. Functional, beautiful, and full of organic textures and charm. Unfortunately, the piece is only sold in Boila stores, which are all located in Denmark or Sweden.
But, she knew she couldn't rest until she had some
adorable wooden spheres and leather tags organizing her keys, so she set out to do what any DIYer wood: she made one.
Armed with some scrap stair tread and its built-in full bullnose profile, she sawed some kerfs, tied up some leather lacing, and mortised in some simple keyhole hangers to get everything on the wall.
She says,
When I'm running out of the house, my last thoughts are usually, "Where are my keys?" and/or "Where the heck is my cell phone?" I'm always wishing I had a designated place for this stuff instead of frantically retracing my steps. I'm not sure how to keep better track of my phone (anyone have tips for this?) but I knew the key problem could be solved with an entryway key holder. Now I just need to train myself to actually hang my keys there.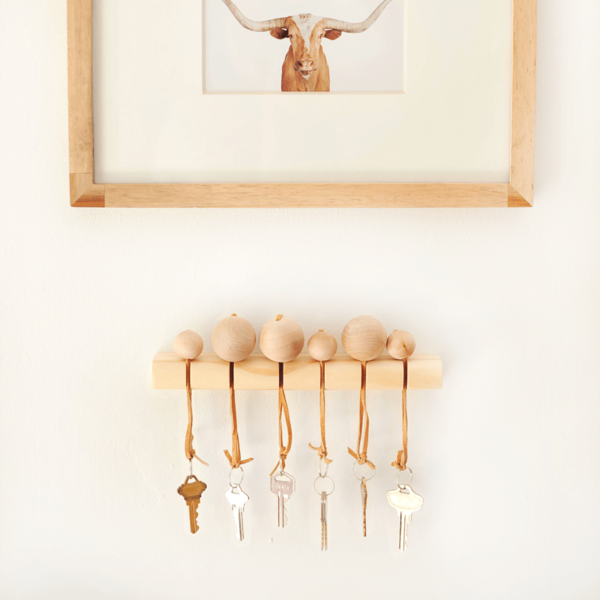 Get the full how-to at NewBlooming.com: DIY Modern Wood Keyholder