You Need to Watch: "Raw Craft" (Free on YouTube)
If you're the type of person who reads ManMade, you're no doubt familiar with the modern genre of the artsy, dreamy behind-the-scenes video that captures the processes of creative types who make cool stuff. They're fun to watch: a bit poetic, a bit inspiring…and hopefully, they include lots of droolworthy shots of cool benches and workshops and tool walls.
But, there are a lot of them, and all that shallow depth-of-field and voiceover is nice, and… sometimes it can be hard to tell the difference between them.
So, I'd seen episodes "Raw Craft with Anthony Bourdain" pop up in that little sidebar recommendation thing on YouTube. But over the weekend, I actually clicked on one, and now I'm totally hooked.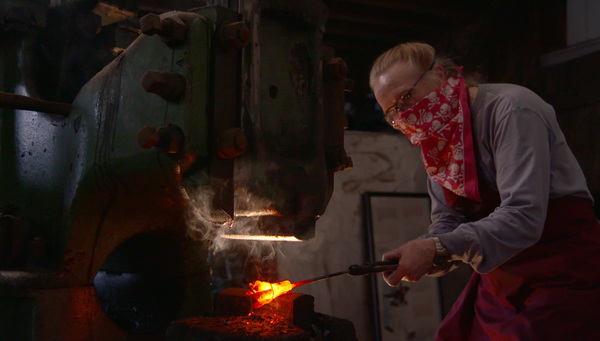 Here's why the series is different from other process videos: it's meant as entertainment. It's edited like a TV show. Not an advertisement, not an instructional video, and not lush, focus-racking tool titillation. They're working with actual filmmakers to create compelling visuals and stories. It's got a bit of the modern PBS vibe, and Bourdain's an asset here.
I appreciate that the show acknowledges that "handcrafted" has become a term used too broadly and by the wrong people, but the series seeks to profile true artists who've figured out how to be full time makers. Bonus points: each episode is exactly long enough for a YouTube video.
The show is sponsored by Scotch whisky makers The Balvenie, whom I applaud for this effort. A lot of brands try for this native advertising, but Balvenie, an independent, family-owned company, has placed themselves in line with craftspeople they want to support and see as their analog in other media and traditions. It's one of those branded setups where everyone wins. Good work, Balvenie. (Also, your whisky is delicious).
If you've never seen an episode, I'd recommend starting with this one featuring guitar and instrument maker Rachel Rosenkrantz. The two have a nice rapport, her workspace is awesome, and she's a great advocate for her craft.
All current episodes are live now on the BalvenieUS YouTube page: Raw Craft with Anthony Bourdain