Guess What, ManMakers. I Bought a House!
This post is brought to you in partnership with Kwikset
My earliest memory is of a pillow fort. Or perhaps, more accurately, a blanket tent. My first post-crib sleeping situation was this great set of bunkbeds, with the top and bottom set perpendicular to each other, in an L-shape. A dresser, twice my height, was nestled in the empty space, creating a sweet three-sided "cave" underneath where I lay my head. A blanket stretched from top bunk to the foot of the bed made a secret lair where I'd snuggle in my Garfield sleeping bag, tape up crayon pictures on the wall, and transport myself to a pirate ship, a space shuttle, a submarine, or a veranda overlooking the Serengeti.
This is just to say: I'm a person who likes to make spaces.
My school-aged days were filled with afternoons in the backyard clubhouse, hand painting "Members Only" signs and rigging up trap doors and rope-and-pulley systems that made simple tasks mechanically complicated, for no other reason than that's what eight-year-old kids' spaces were supposed to look like. (I was correct. They were.)
Later, at ten, I got permission to take over the space under the basement stairs. I outfitted it in the typical style: used license plates, a string of Christmas lights, my library of Boys' Life magazines. In junior high, I eventually staked claim to the whole northeast corner of our basement, and applied all things thirteen-years-old and 1996: psychedelic fractal posters from Spencer's Gifts, an old twin mattress on the floor, and a state-of-the-art desktop stereo with dual cassette decks and built-in CD player (!!!). In time, the mattress and beanbag were replaced by drum kits and microphone stands and the snaking tangle of instrument cables as it became a proper rock and roll rehearsal space, featuring more string lights strung in the joists and "setlists" taped to the walls.
This is just to say: I'm a person who likes to make spaces. My memories are most often connected to where they occurred, and I recall events, both major and minor, based on where I was. What it looked like. How it felt.
My childhood gave way to the college dorm rooms, graduate school apartments, my first (and second…and third) rented places with my wife. Filling our evenings and weekends with painting thrifted furniture, making do in terrible kitchens, building little workshops wherever it was safe to make sawdust. And, mostly: dreaming of the time when I could actually own where I live. Not merely invest financially, but invest myself into a space. To build an environment I could see through to the end. To tear down walls and make changes that were meaningful to me and would last past the terms of a lease. I've always longed to put down roots… not because it's safe or socially expected or a smart financial investment, but because that's what makes me feel human.
We eliminated debt, reduced expenses, and took on side gigs in order to save.
After groceries and two-dollar-movie tickets and "responsible" stuff like our Roth IRA, whatever pennies were left over at the end of the month were saved in the account nicknamed "BUY A HOUSE!" … the first on the list when I logged into my online banking, lest I forget my priorities.
So, buying a house was a big deal. We worked hard to save a down payment that could compete with the market in a major West Coast city (it wasn't anywhere close to 20%). We waited more than ten years after our peers bought their $60,000 houses in the towns where we grew up, and winced when we learned of their $450-a-month mortgage payments (they, no doubt, would wince at ours). We eliminated debt, reduced expenses, and took on side gigs in order to save. We didn't want a starter home. We wanted our forever home, in a neighborhood that we cared about, in a city we loved. A place to spend the rest of our lives.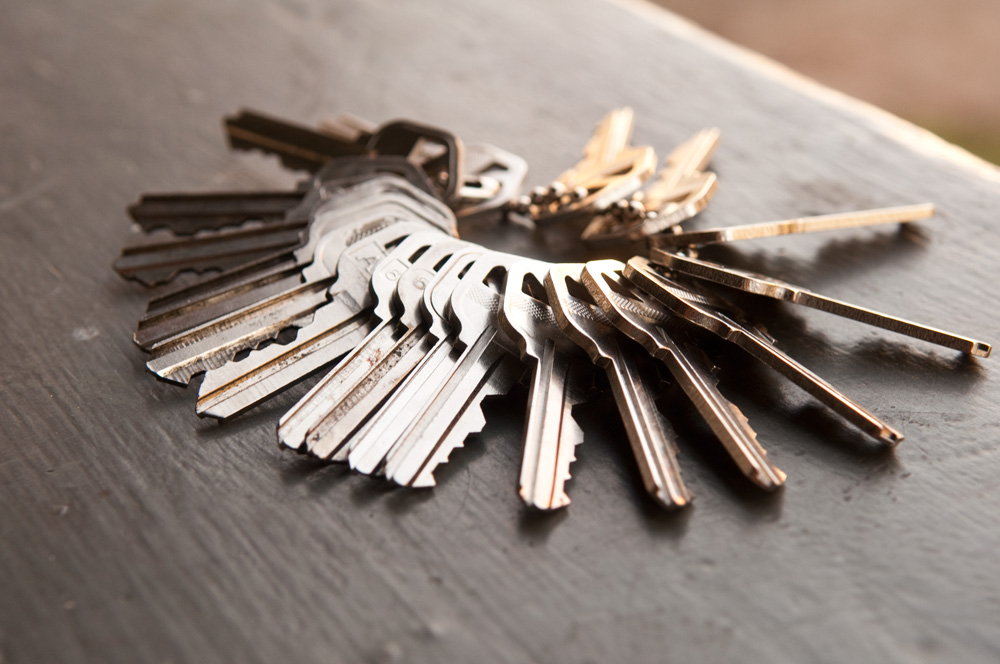 And then, earlier this year, it happened. Somehow, in one of the fastest growing metropolitan real estate markets in the country, we found one we could actually afford. And it wasn't horrible. We made an offer with more zeroes than I thought possible, wrote a heartfelt letter to the current owners, tucked a photo of our smiling faces inside the folder, and – somehow in competition with seventeen other offers, several of which were all cash – we got it.
On the day we closed, we dated and signed our names on at least fourteen thousand pieces of paper at the title office, and then, along with our realtor, caravan-ed to our new address, where a thoughtful gift bag and mini bottle of sparkling wine did their best to calm my still shaking hands. Our realtor handed us our keys, and then, all of a sudden … it was the rest of our lives.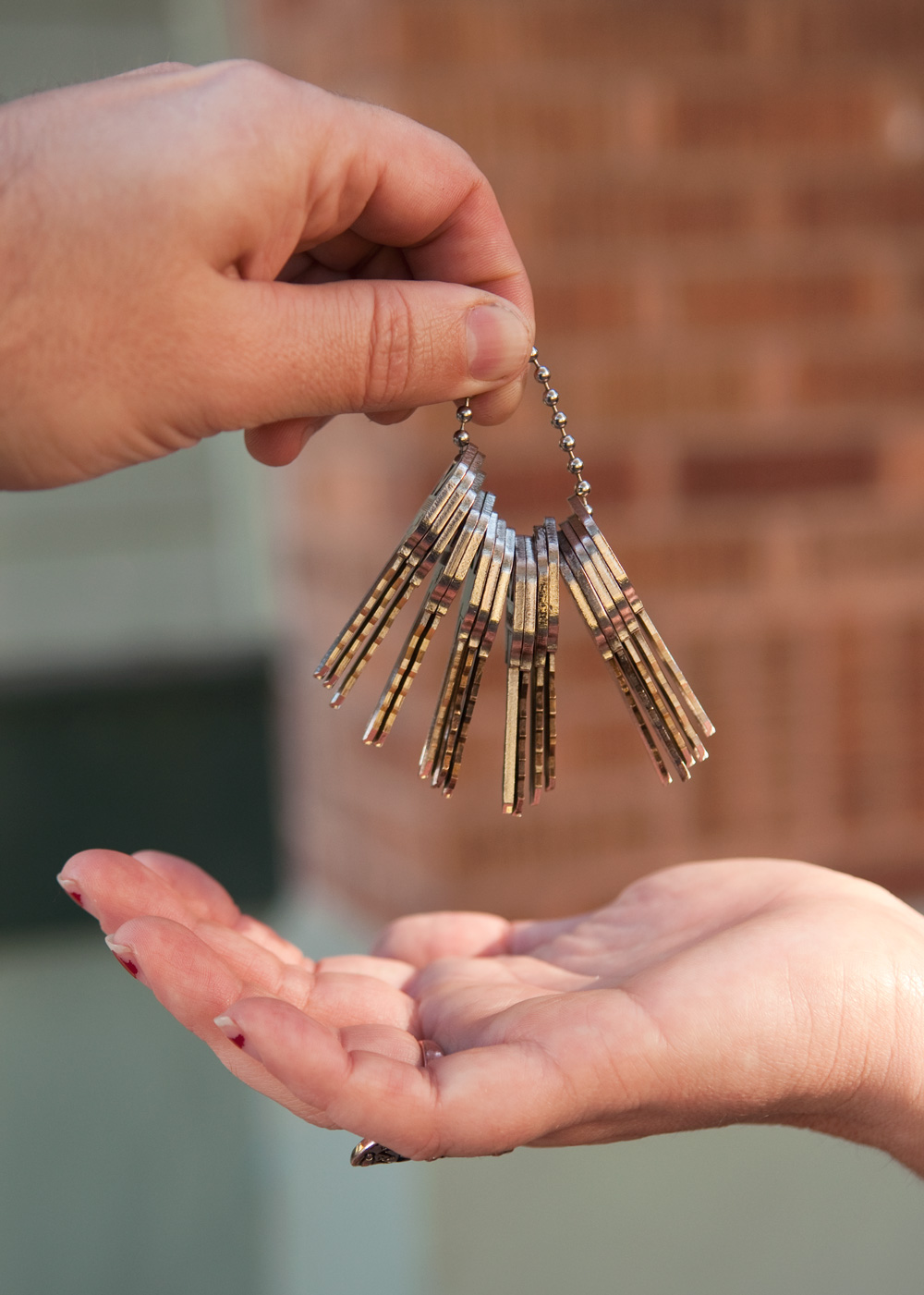 Actually, our realtor handed us a ring of eighteen keys.
That's right, eighteen keys. For one house. Three doors, admittedly, but eighteen keys? They weren't all the same, and we had to try at least nine of them before we could even first cross that proverbial threshold.
As we moved in and got to know our neighbors, we found out why. Our house, unbeknownst to us, has historically been "that house" on our block. The one with the noise. The problematic visitors. The one that causes the parking problems. The trash can indefinitely parked on the curb.
Throughout the whole process, we'd imagined we were buying a house from a family that looked like us. Perhaps one with little girls that cause them to paint the upstairs bedrooms pink, and store the deflated pool toys in the attic.
Turns out, we were entirely, 100% wrong. The previous owner of the house had been an investor who'd never lived there. Our house had been a crashpad for a rotating cast of transitioning young adults in their early 20s and their friends, as many as eight at a time.
Where had they slept? I don't know. It's not a huge house. They must have been two to a bedroom, and stuffed themselves into the unfinished part of the basement. They might have hung sheets and converted the living room and the dining room (and the garage?) into sleeping quarters for all these roommates.
One neighbor estimated our home had housed as many as twenty different people in the last two years, and the girlfriends and boyfriends and couch-surfers that come along with group living.
Hence, the eighteen keys. The ones that went to three different types of locks and deadbolts. So, as we created the master list of projects to tackle over the next two …err, ten… years, we realized that we needed to make our home security a priority, and switch out the locks, deadbolts, and – while we're at it – door hardware. Both for peace of mind (we literally have no idea how many keys to our house are out there), and, honestly, for ease. Who wants to carry three housekeys around?
So, we decided to get some help from the folks friends at Kwikset to do something about it. And in typical ManMadeDIY style, we wanted to do it ourselves, without hiring a locksmith. Actually, it couldn't have been easier.
First, I installed the new, second-generation Kevo Smartlock (a keyless door lock). This brilliant little contraption allows you to unlock your deadbolt with the touch of a finger. It unlocks by sensing the presence of your smartphone, and it's totally awesome. And if you don't have your phone on you, it unlocks like any deadbolt. Just use your key, Luddites.
Installation was super simple, and no more difficult than a typical deadbolt (you can follow the installation video instructions if you're at all confused). I had clear out some space for the new deadbolt (the door is 90 years old), but it was completely straightforward. Once you get your Kevo, you create and account and download the app, and it walks you through the whole process, step-by-step.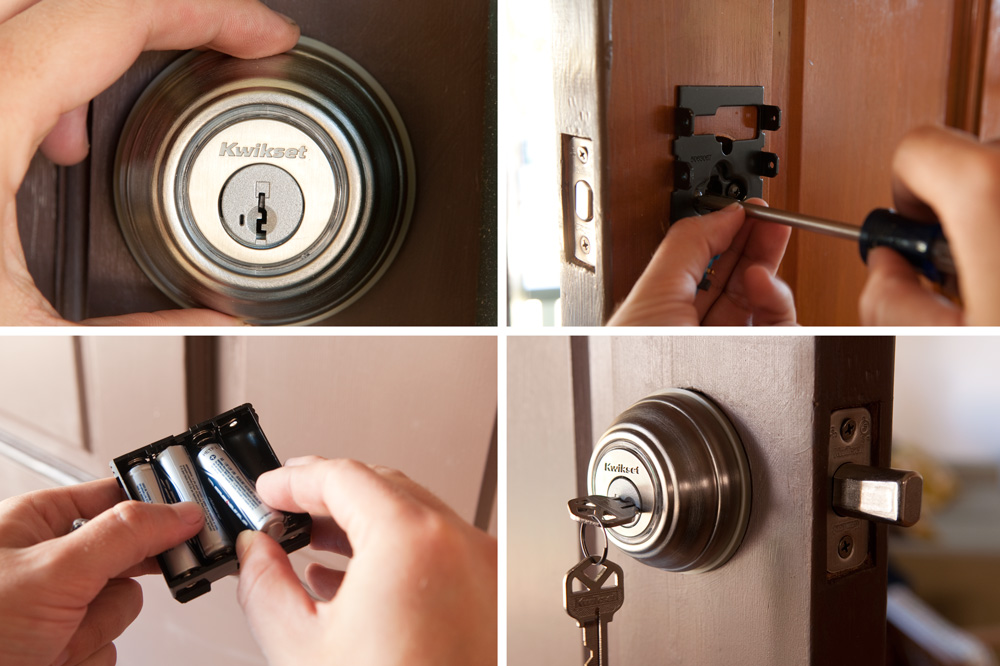 Once the space is clear and everything functioning, just place the parts in the door, plug in the wires, and you're finished.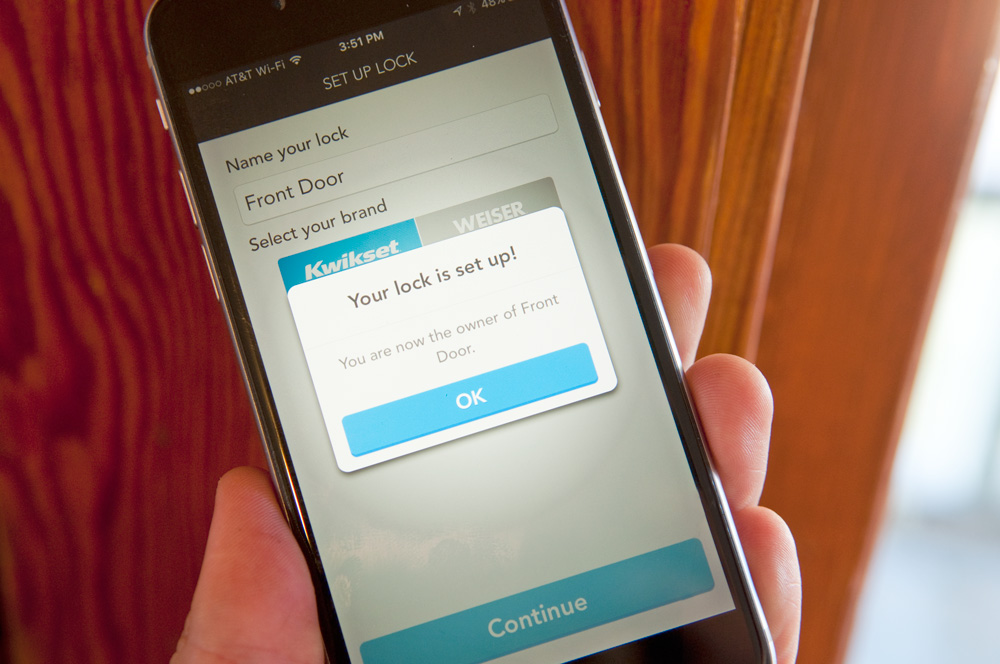 I had admittedly never messed with a door knob, latch, bolt, or lock before in my life, but now that I had tried it, I was up for more. We liked the Kevo on the front door so much, I installed a second one on our back door.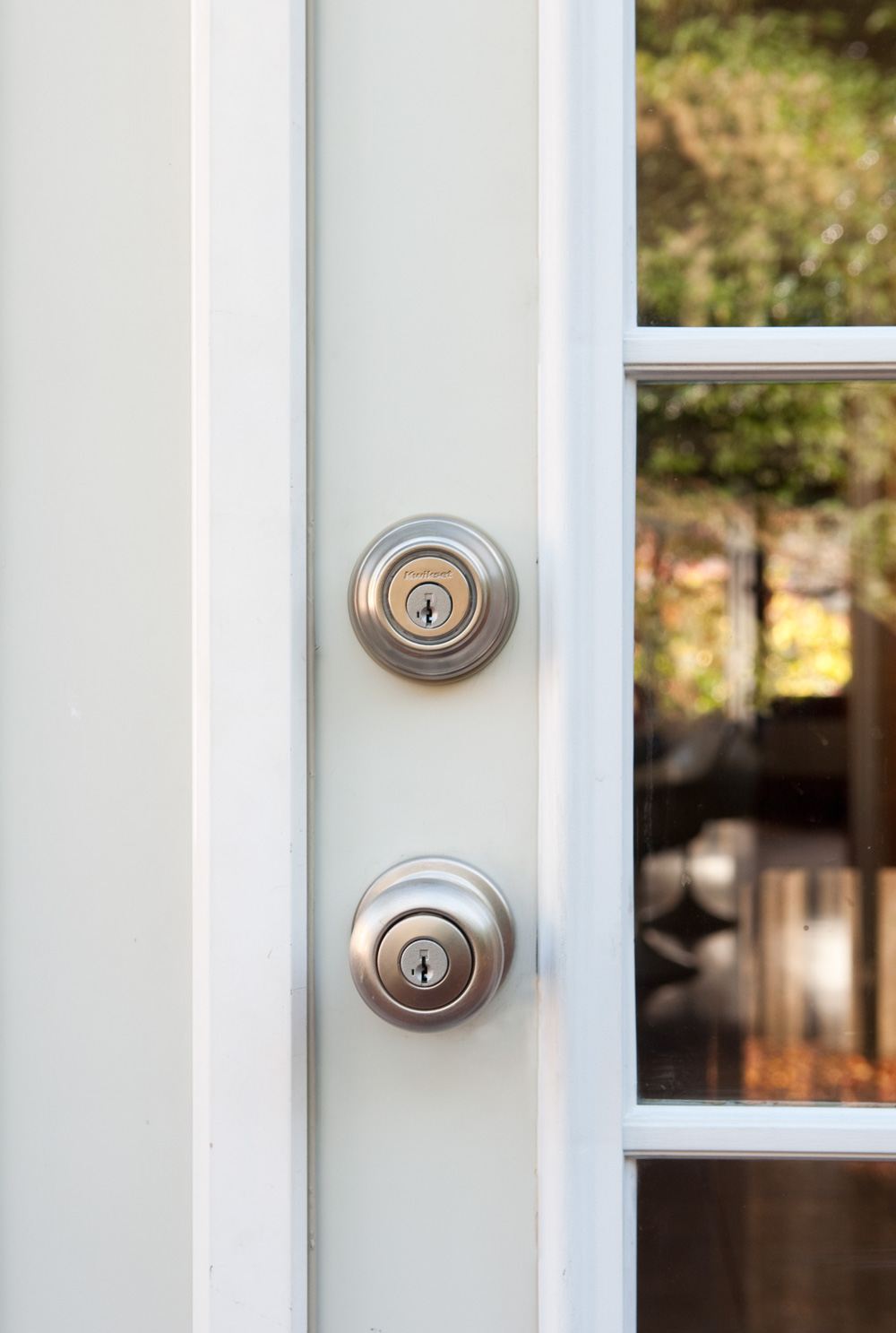 I regularly enter here after working on projects in our garage, or to carry long pieces of lumber or tools into the basement workshop. Not fumbling with keys while straining to carry a stack of hard maple? It's pretty awesome.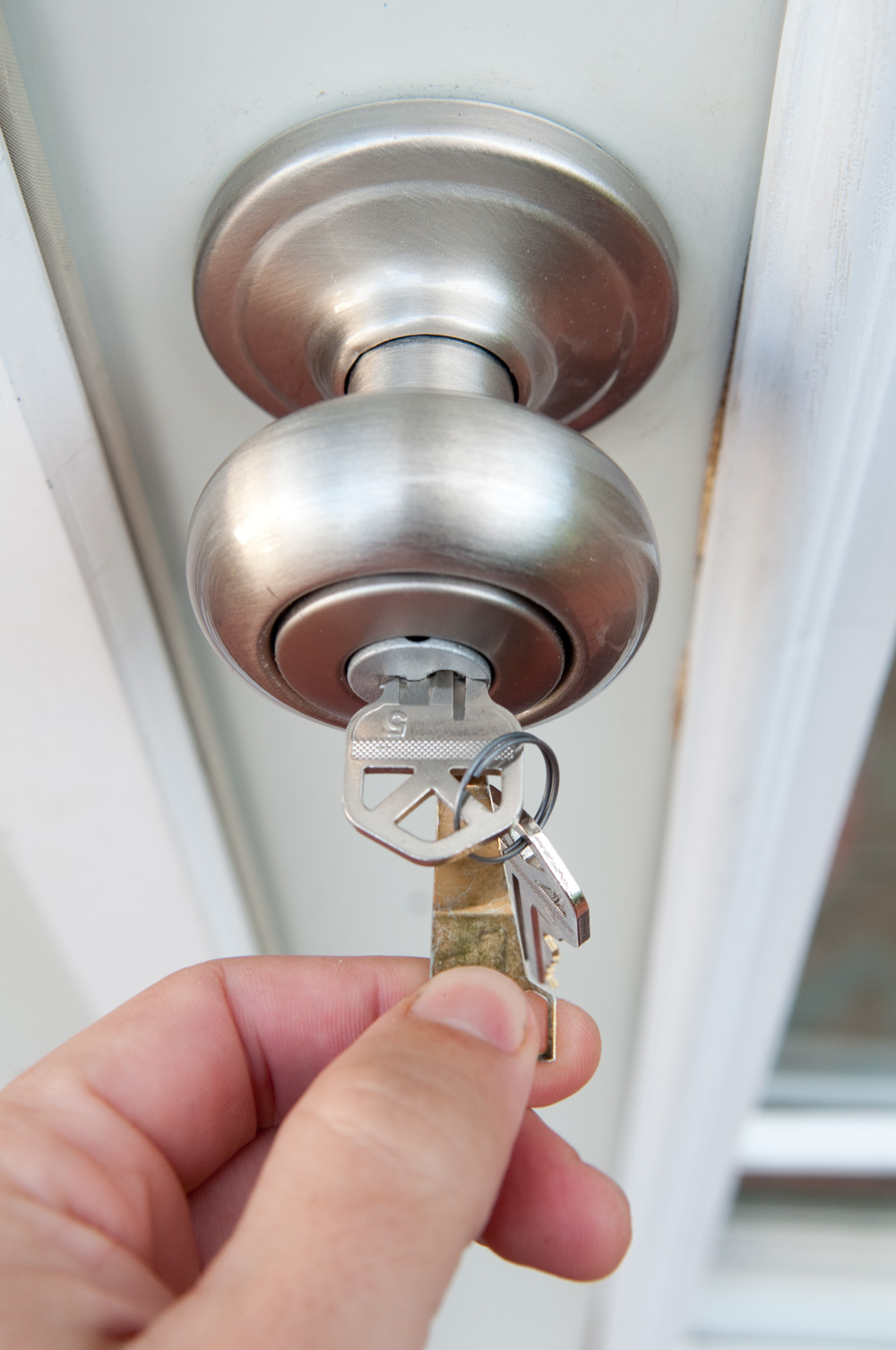 Empowered by my new knowledge, I changed out all six doorknobs, handles, and dead bolts, and then re-keyed them all using Kwikset's SmartKey technology. It takes – literally – five seconds at each lock to get them all aligned, and, just like that, shiny new doorknobs, and only one housekey.
Oh, and it lights up. Check out the video:
If you're wondering why it's better than a typical deadbolt, here are seven reasons it's awesome:
1. We're able to send eKeys to guests who are staying with us. So, when they take the train from the airport during the day, and we're not around, we can simply send them a eKey that will allow them to get settled before we return. My mom loves this.
2. We don't have to take our full set of keys with us when going out for a run or long bike ride. One less thing to worry about. (My wife and I also don't have to check with each other when one leaves while the other is out exercising, to make sure we can get back in the house.)
3. It can sync with other smart devices in your home, like a learning thermostat, to know when you're home and when you're out, saving money and keeping your home secure.
4. We live in a temperate climate, so for three seasons a year, the doors and windows are open. In the middle of home improvement projects, we're regularly going in and out of all three doors to the garage or car for materials and tools. I have an unconscious habit of always flipping the handle to lock whenever I go outside, whether I have my keys on me or not. With several people in and out and so many moving parts, it's awesome to know I'll always be able get back in.
5. No more fiddling with your keys when carrying grocery bags … or 2x4s. Just touch the Kevo with your phone in your pocket or bag, and enter with ease.
6. The Kevo knows whether you're inside or out, so you don't have to worry about whether your phone is too close to the door to allow it to be activated. Neat, huh?
7. Did I mention you won't get locked out of your house ever again?

It admittedly took awhile to get used to the new routine of leaving and coming home. It's amazing how deep those automatic actions become. (Do you ever try to unlock your front door with the key fob from your car and wonder why it doesn't go "boop boop"?) But we've been living with the new scenario, and it has become part of our new home. And that's as meaningful as can be.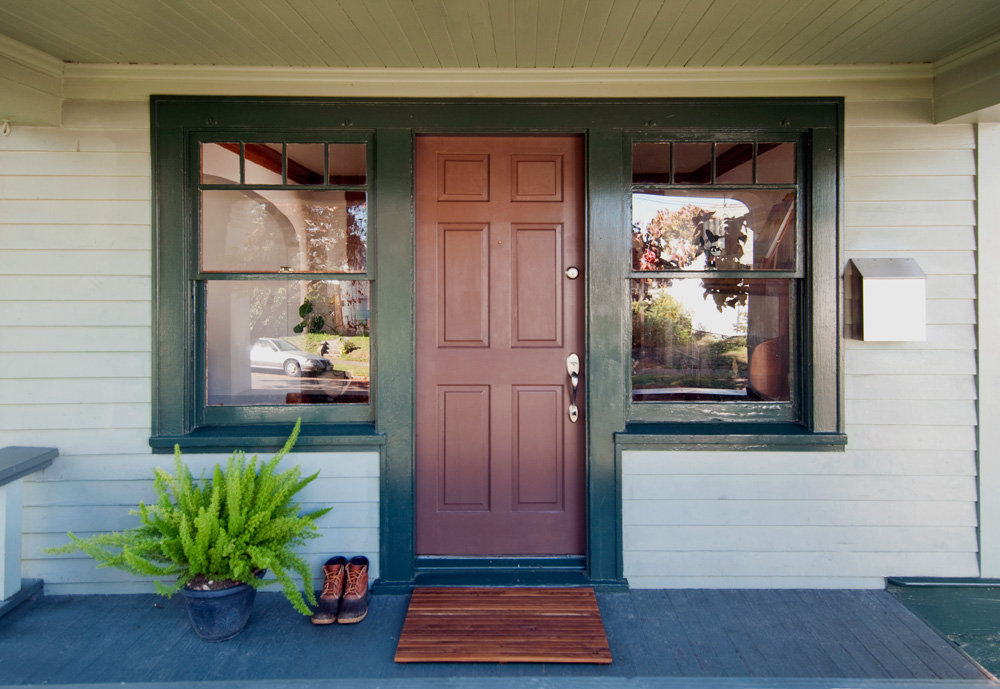 And seriously. Look at those lights!