How to: DIY Large-Scale Graphic Wall Art for Under $25!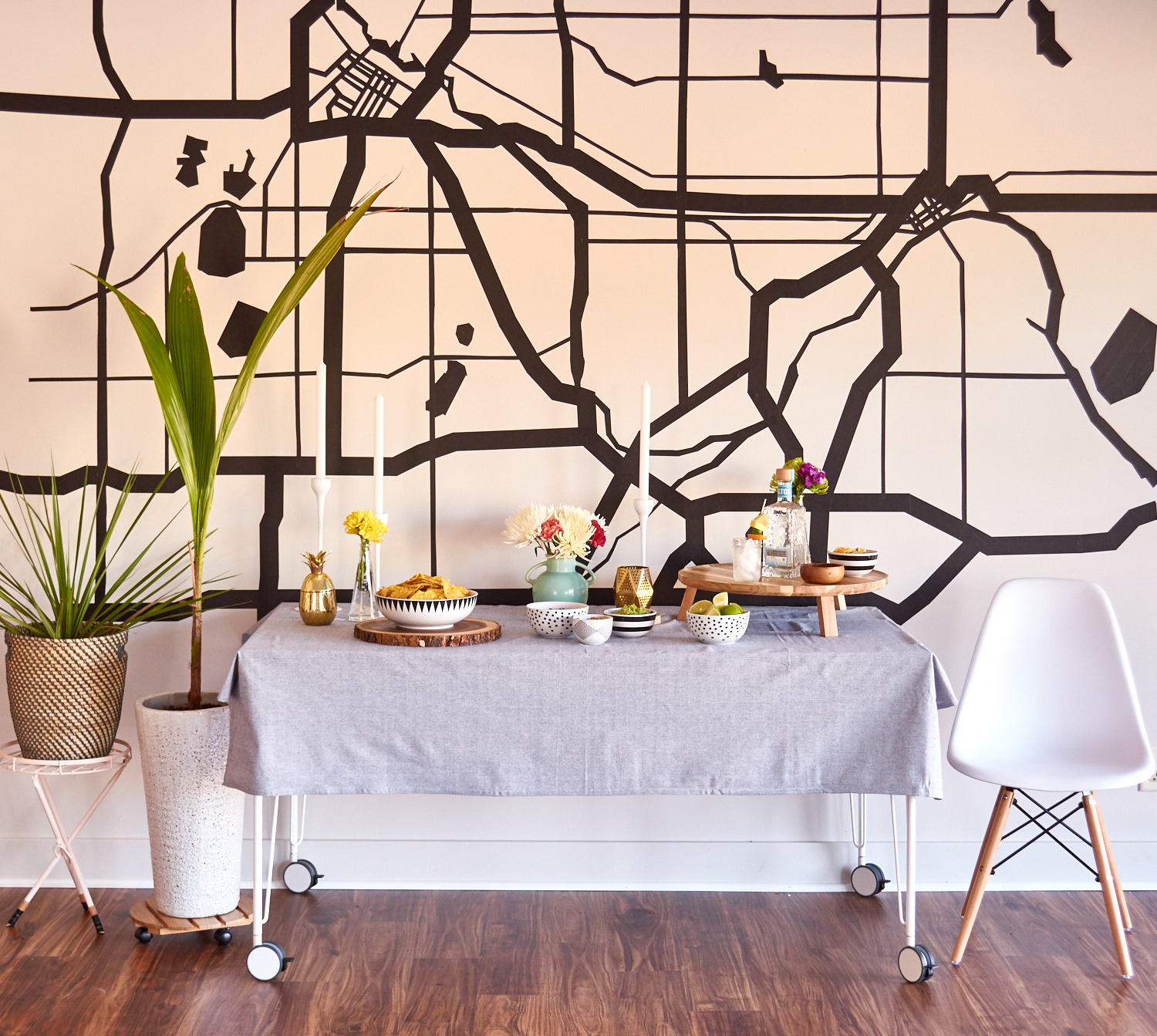 Food for thought: there's an actual small business behind everything you see here on ManMadeDIY (yeah, crazy, I know). And we're pretty little; just three of us: Chris (Portland), Alicia and me (Minneapolis), plus some great regular contributors, David (Redding, CA), and Justin (Los Angeles). And this summer, we passed a really big milestone: we moved into an honest-to-goodness, grown-up office space here in Minneapolis. It's not the Googleplex, by any stretch of the imagination, but to us, it's pretty amazing.
So, we wanted to we throw a big party to inaugurate our new studio. Our purpose was twofold; we wanted to share the new space with friends and family, and we wanted to stretch out the hurrah of the final days of summer with a festive party centered around good food and drink.
We partnered with Olmeca Altos Tequila to create the very best summery party cocktail of the all – the margarita. We crafted them by the batch, so everyone could serve themselves. Our recipe was simple, and it was perfect. We had the party catered by a Mexican restaurant and complimented the flavors by crafting our own margaritas using the simplest ingredients. To top it all off and make it really special, we created a special accent wall featuring a map of the Twin Cities, made out of painter's tape!
Take a look at our favorite classic margarita recipe below, and check out how we created a stunning visual focal point for the party (and how you can do the same for your next party!).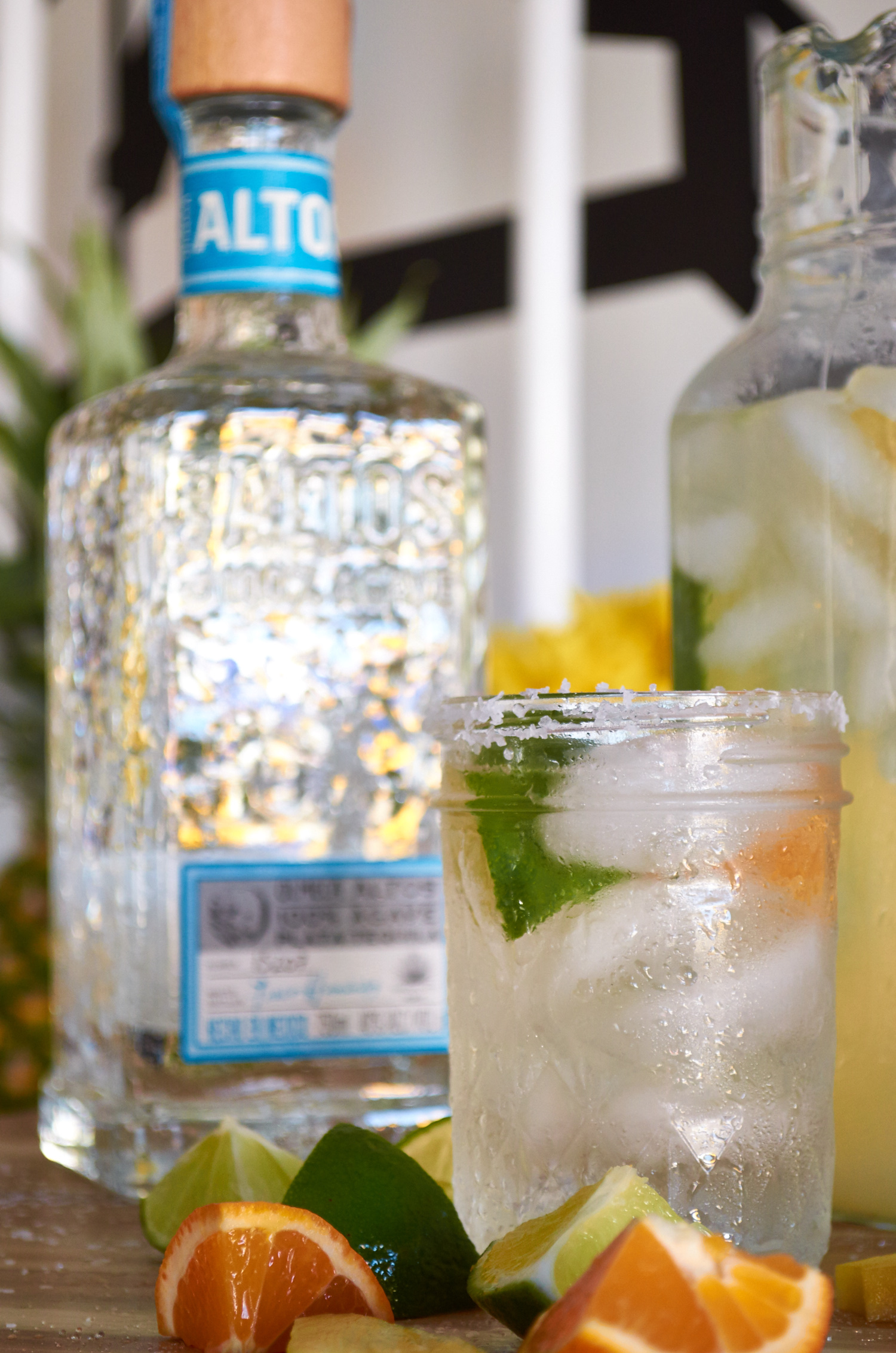 ---
Before we get to the recipes, here's a glimpse into the space.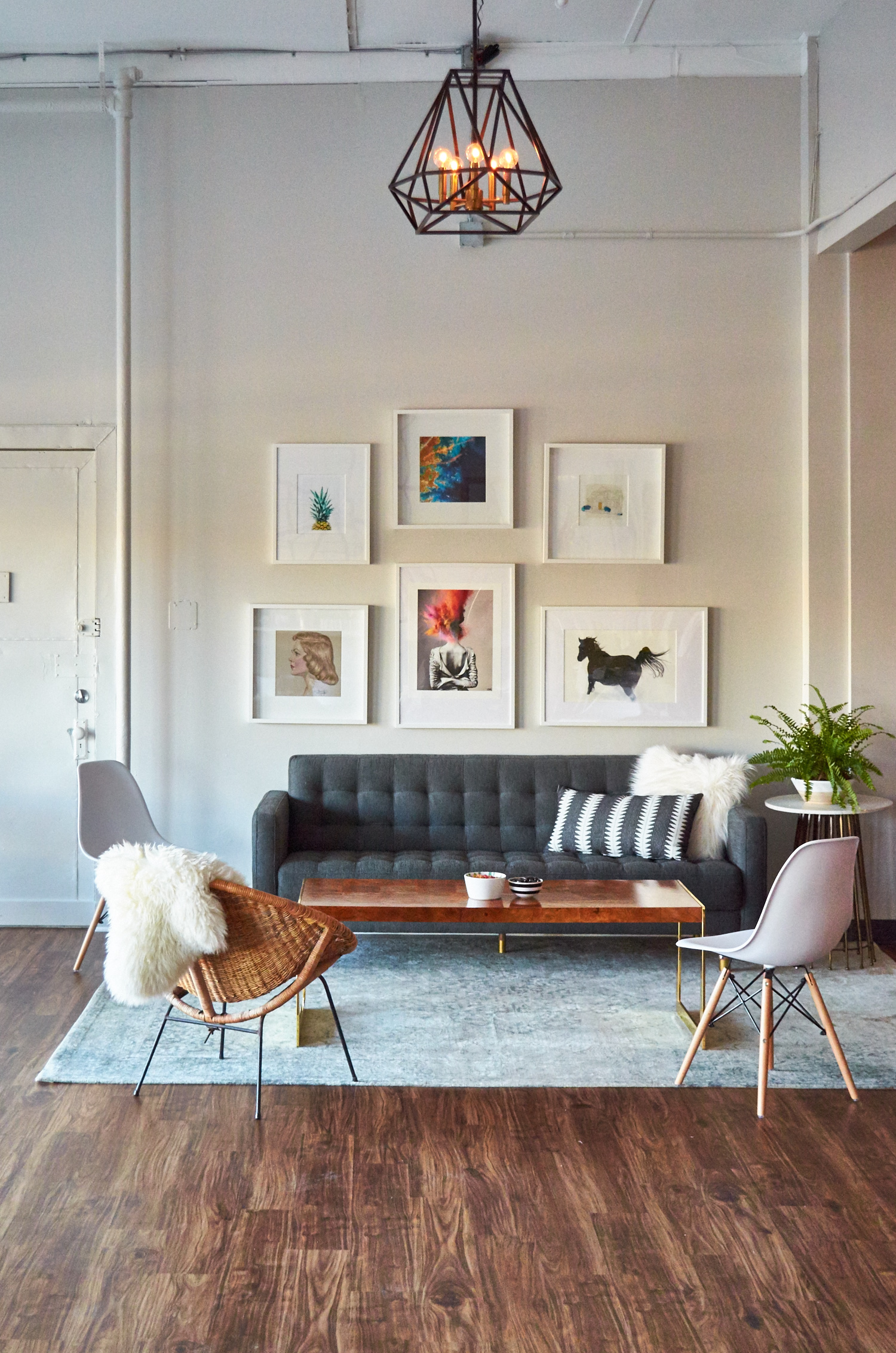 We are smack dab in the center of St. Paul and Minneapolis, and we wanted to create some kind of visual homage to our beloved cities. We created a huge map on one of our walls using a Google Maps, a projector, and several rolls of black painter's tape. The wall was a hit – making a huge visual impact and being a bit of a party game.
Good news is, this is super simple to create, and totally non-permanent, so you can throw one up anywhere. Here's how to do it.
Use Google Maps to choose your design. Play with the zoom in/out features to come up with something nice and square (that fills the space), but highlights the neighborhoods that matter most to you. I really like using a tool called Snazzy Maps; it lets you customize what's shown on the map, so you can hide all the little details you don't want in there. Example:



Get your own city in this style here

Project the image on the wall. You can use a digital projector hooked up to your computer (we like this one), a smartphone projector, or an old-school overhead and transparency.
Use 2″ tape to block off the main streets, rivers, and other predominant features. Scissoring the angle just a bit goes a long way in creating detail.
Add smaller streets an in 1″ tape to develop the grid. This is kind of a 'what-looks-good' judgment call. We decided we didn't want any large, blank areas, so we made sure each one had at least one smaller road going through it.
Later, a friend of ours came up with the idea of giving the guests little sticky notes and markers to place well-known landmarks, their own houses, and other notable spots for a little neighborhood pride.
When it came to the actual party, we wanted to create a celebration that captured a little bit of summer and encapsulated its fleeting last moments. It had to be an environment that felt warm and easy, but also felt like a treat for guests. The Spanish word I'm thinking of is "disfrutar".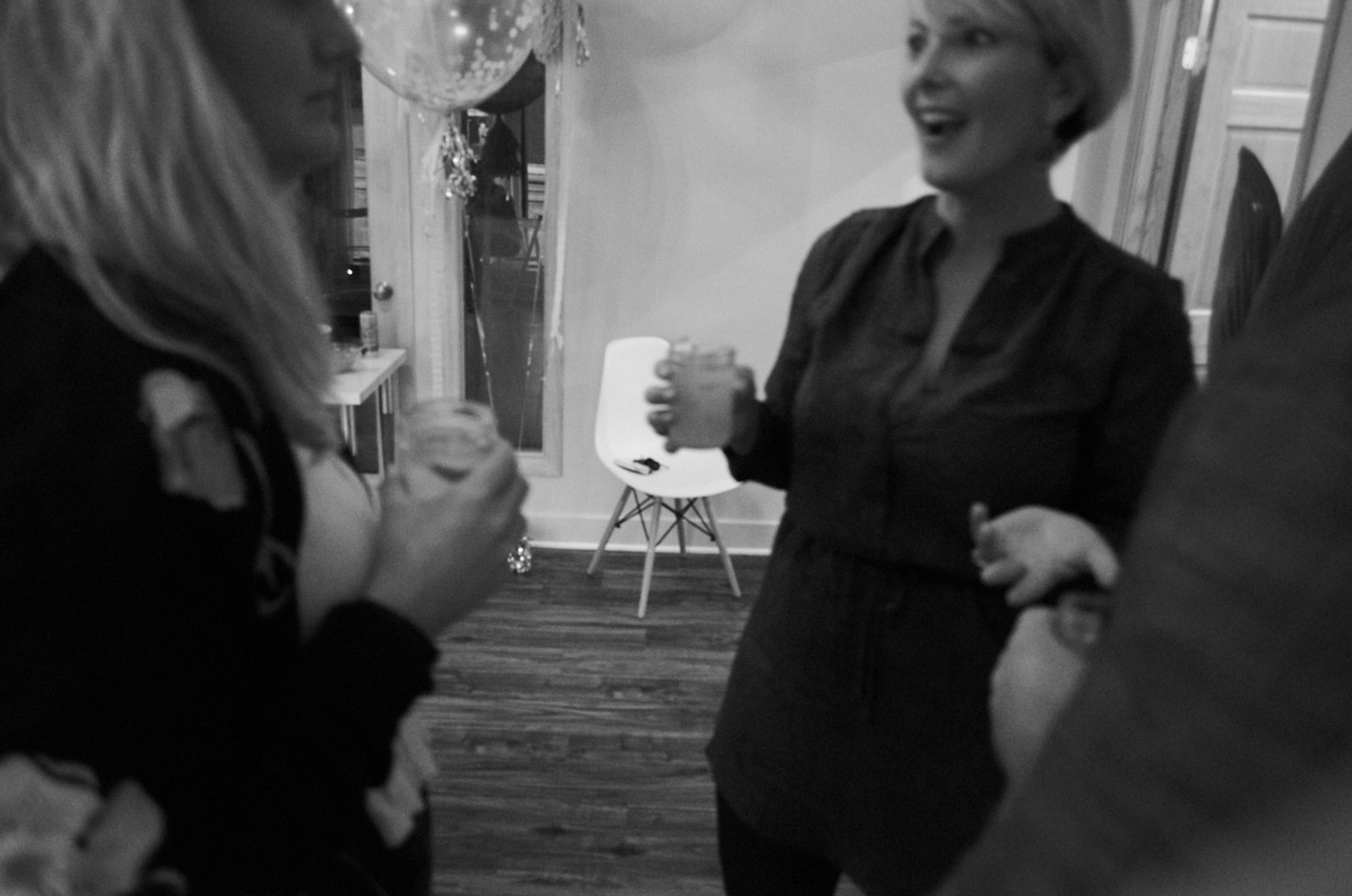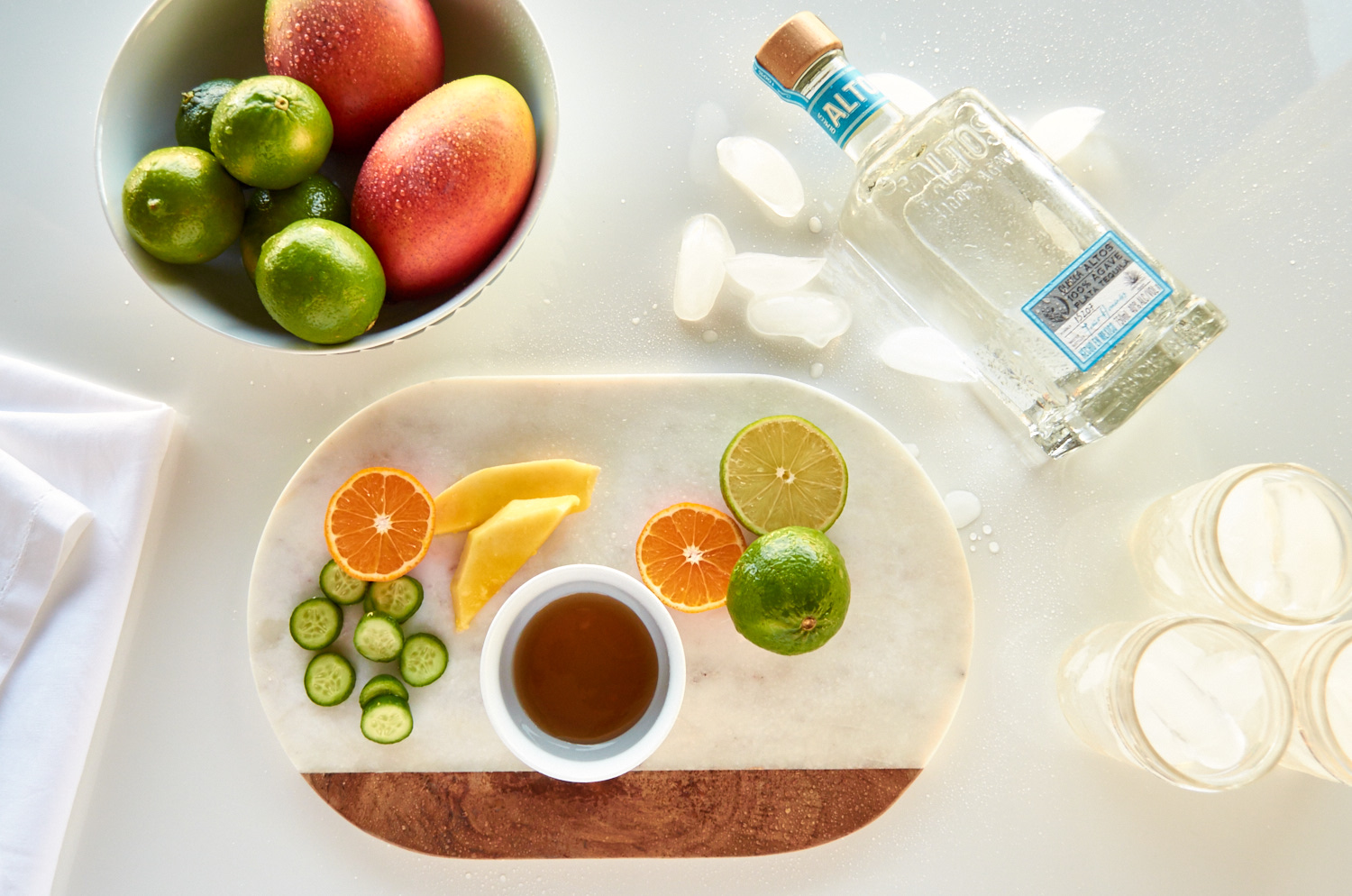 To keep things simple,we had the party catered by a local Mexican restaurant. It made all the food prep unbelievable easy. We simply had to put the serving platters out, light the sternos, and tell people to go eat. Then there was an abundance of warm, delicious, comfort food all night. We filled in with gummy bears, chocolate almonds, licorice, and the like to make snacking informal and easy.
Three Simple Party Tricks
Bowls of snacks (and candy!) on tables give people something to do while chatting.
Get the lighting right: too bright is worse than too dim.
Make signs for everything.

Wayfinding

to the bathroom, WiFi password … don't make people ask.
We knew margaritas would be the perfect compliment to our Mexican meal, and set out to create the perfect batch of pitcher margaritas for the party. Using bags of fresh limes, we juiced about 80 limes to create our base. Good times!
To that we added homemade simple syrup (equal parts water and sugar). Making your own simple syrup is easy and inexpensive. We prefer our margaritas just a little bit sweet. Adding your preferred amount to your lime base is far better than a pre-made margarita mix because it allows you to make your drink just right. We added Grand Marnier, and a healthy dose of Olmeca Altos tequila.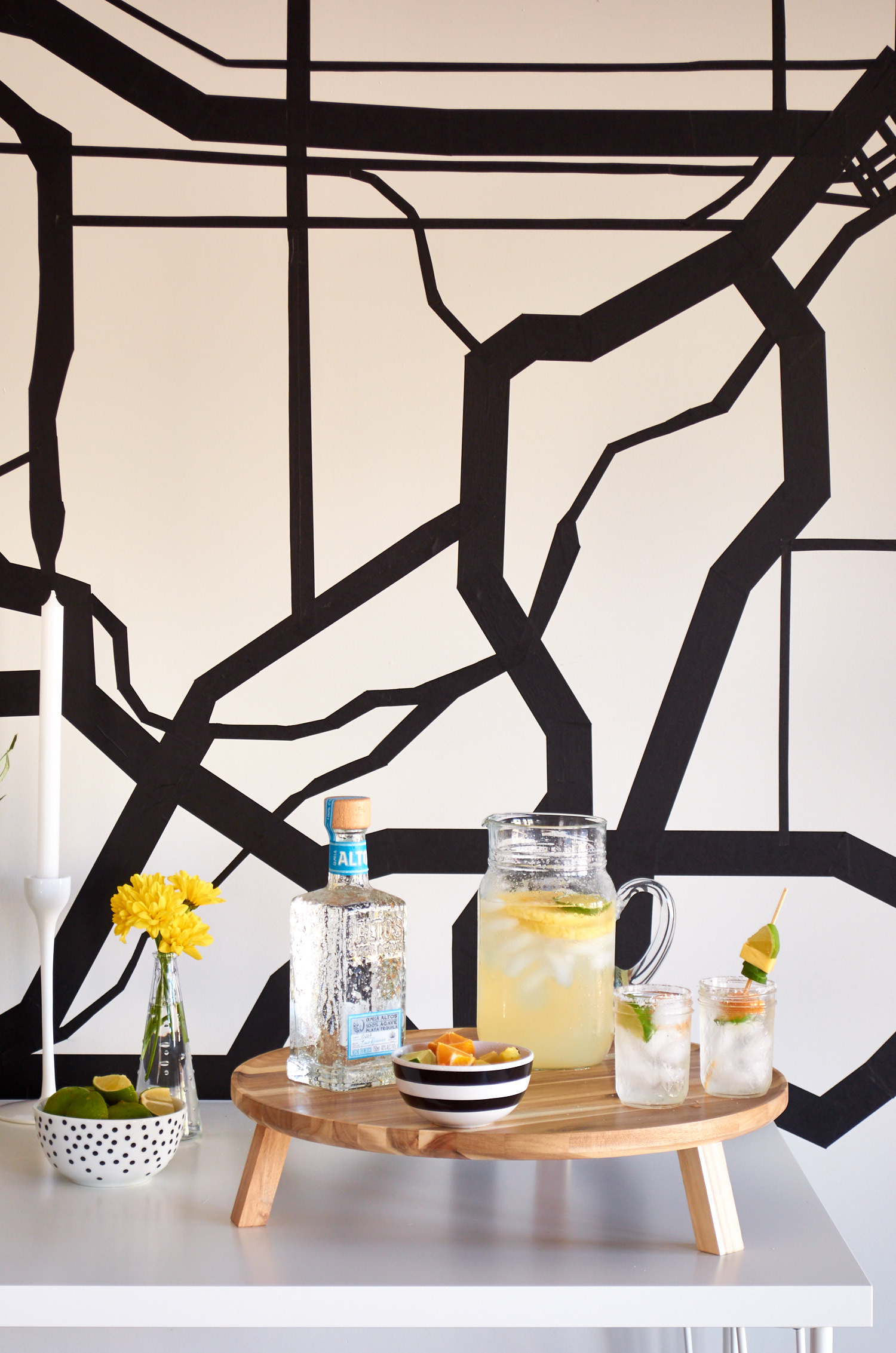 Here's the recipe we followed (amounts are per pitcher):
Ingredients
2 cups fresh lime juice

2 cups Olmeca Altos 100% Agave Tequila

1 cup Grand Marnier

1 cup homemade simple syrup, 1:1 sugar and water (plus more to taste)
Directions
Make simple syrup. Bring equal parts water and sugar to a boil in a saucepan (we mixed 2 cups water with 2 cups sugar). Simmer, and stir continuously until all sugar is dissolved. Remove mixture from heat and let cool. Refrigerate until you're ready to use it.

Squeeze limes using a juicer. We used about 80 limes for our base – creating 4 pitchers.

In a large pitcher combine 2 cups fresh lime juice with 2 cups Olmeca Altos tequila. Then add 1 cup Grand Marnier, and 1-2 cups of chilled simple syrup (depending on how sweet you want your margaritas to be). Stir to combine. Place in the fridge til party time to let the flavors mingle.

Place ice cubes in glass (we used jelly jars) and pour mixture over. Garnish with a fresh lime wedge.

If you like salt on your glass, coat the rims of all the glasses with salt by dipping them in lime juice, then coarse salt, before filling glasses with ice. We skipped this add-on, because they were so tasty and there was plenty of salty balance in the food we served.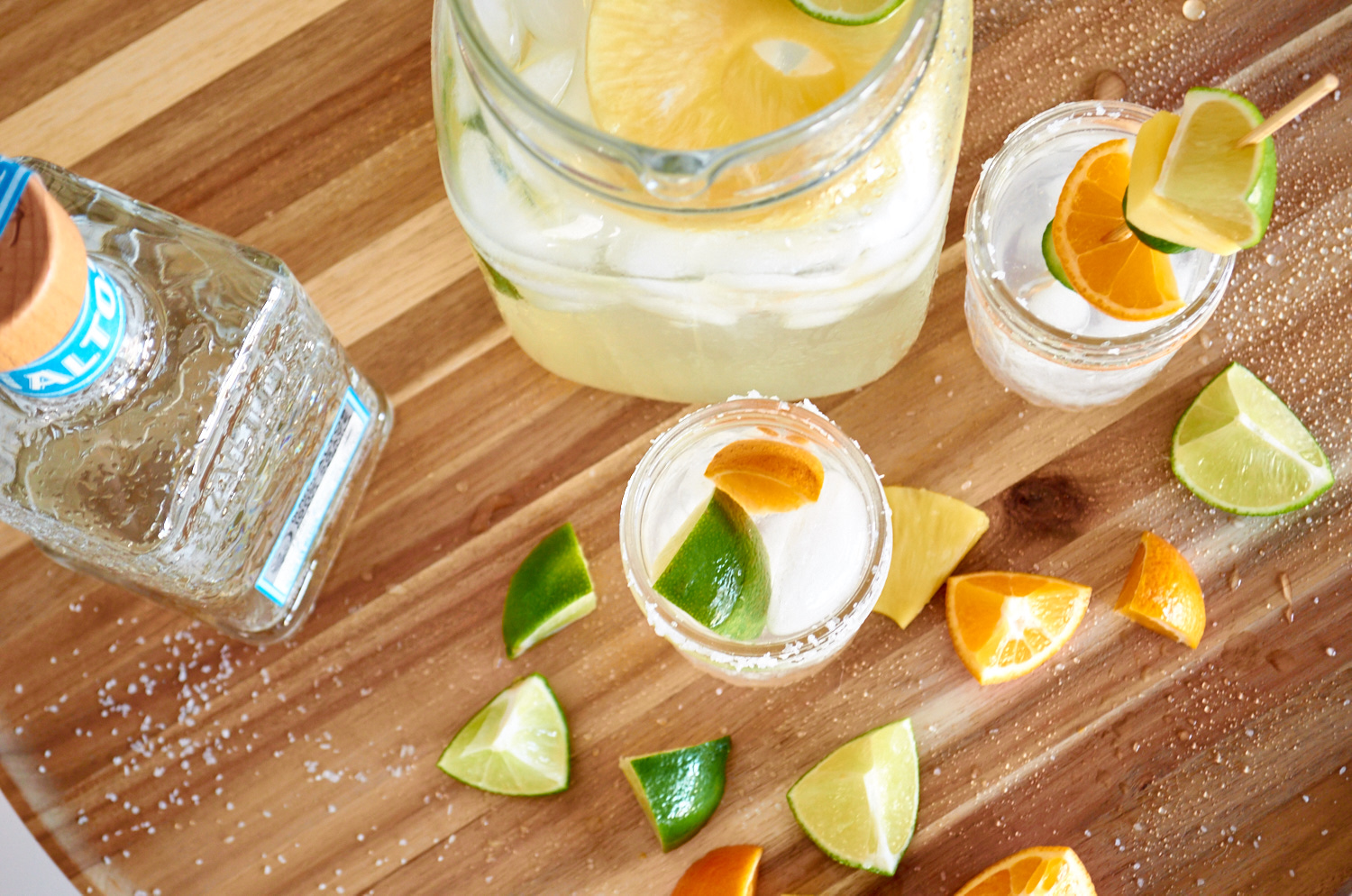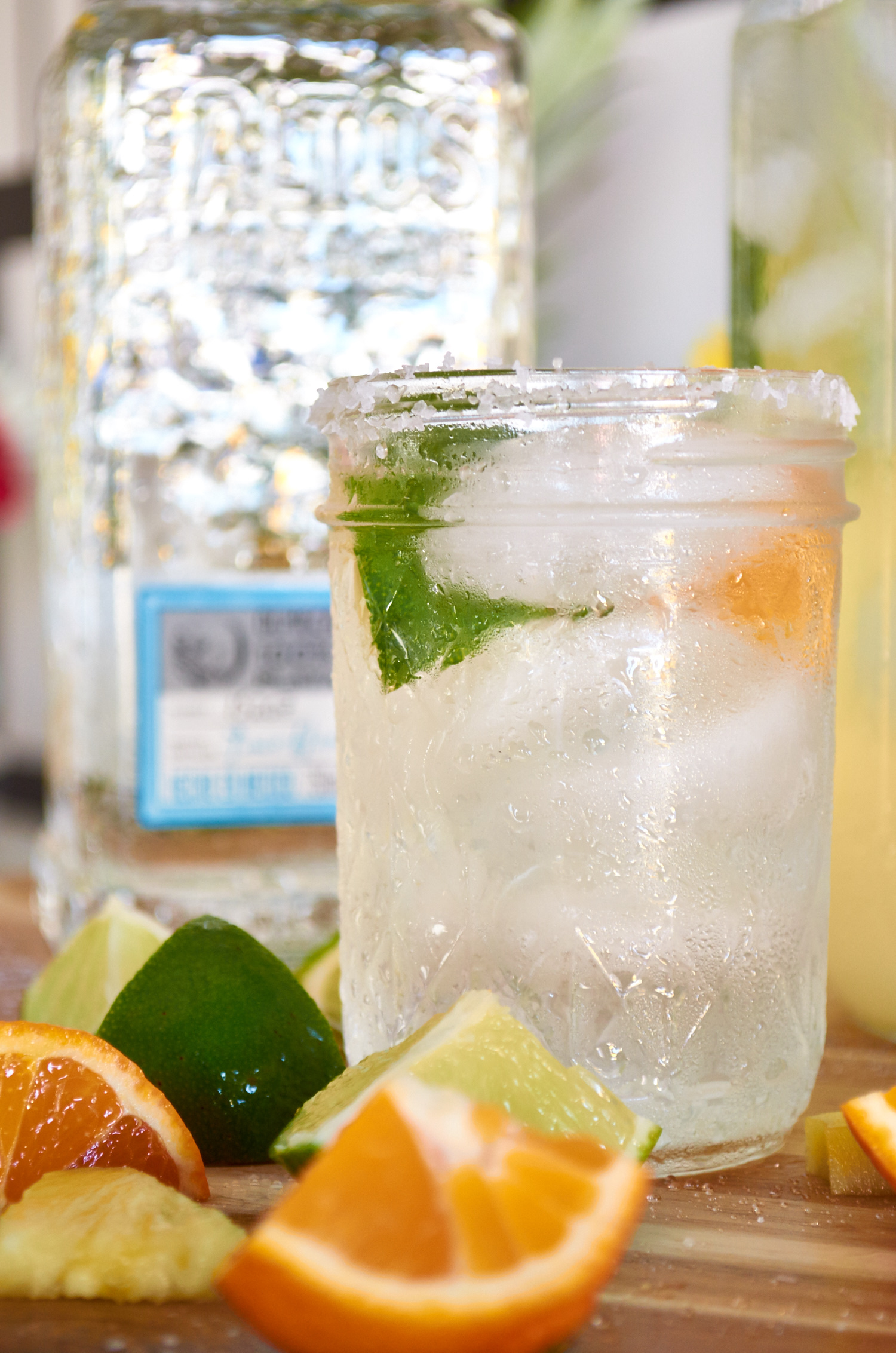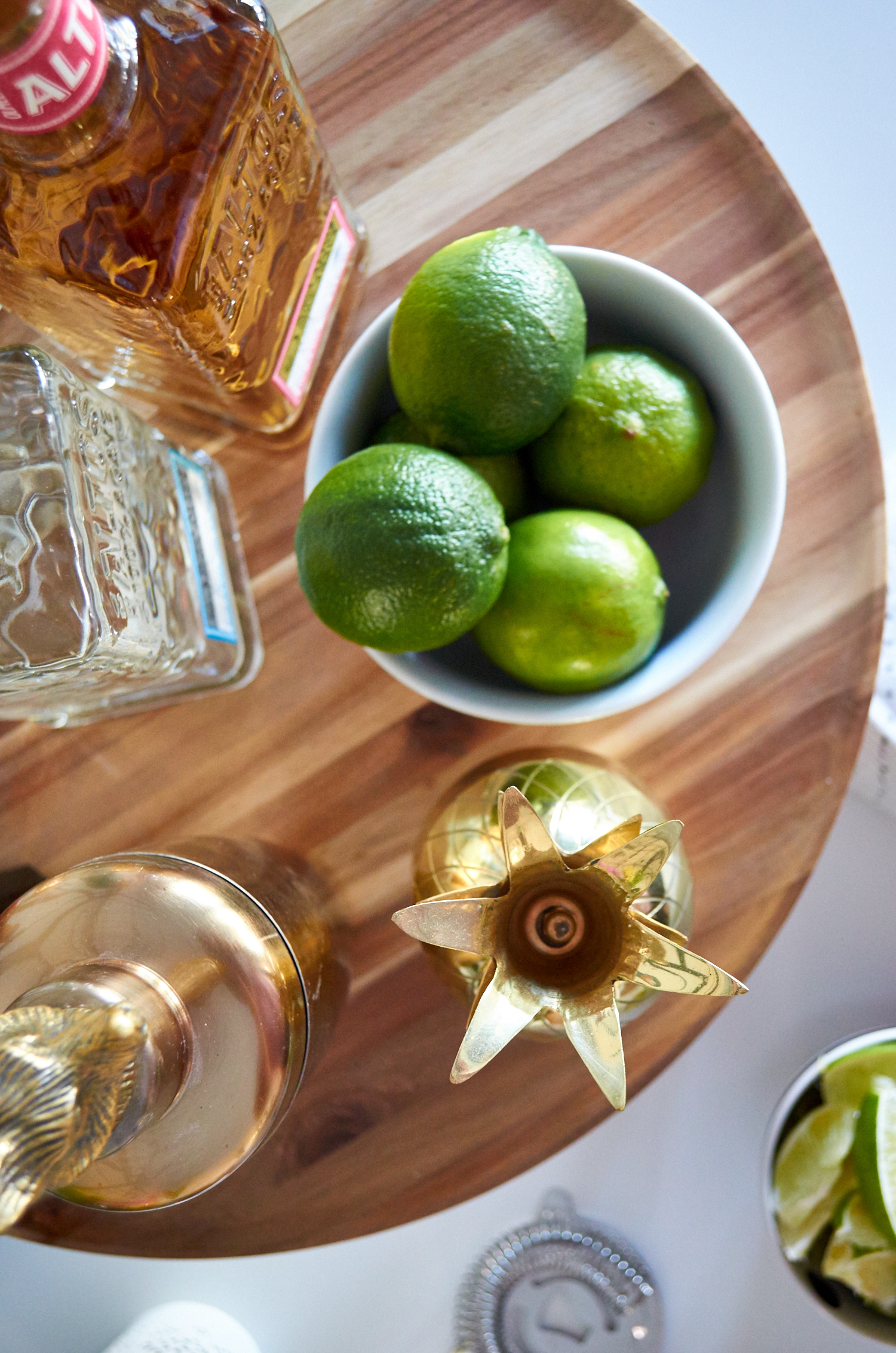 Here's what we learned from this party:
The best

get-togethers

don't require that much planning. You don't have to scrub every surface and cook for days ahead of time. Parties are made by the quality of the interaction, not the complexity of the food or the cleanliness of your coffee table
If you want it to feel like a celebration, decorate. We plan to employ the painter's tape art whenever we get a chance, but a few strings of Christmas lights can also go a long way towards atmosphere
Hosting = not cooking, or serving. Either make everything ahead of time, or order out. Catering is a blessed, blessed thing, and everyone gets to eat what they want.
Pitcher cocktails. No mixers, no bottles. Just glasses, ice, and something for everyone to sip on. No matter the time of year, we think the margarita still holds the crown for the ultimate party cocktails. Everyone likes them, and if they don't, they can drink water. (But they do. Seriously, who doesn't like a margarita?)
Also, coasters. Twice as many as you think you'll need.
Olmeca

Altos Tequila
is grown and harvested in the heart of Los Altos, the highlands region 7,000 feet above sea level in the western part of
Jalisco
.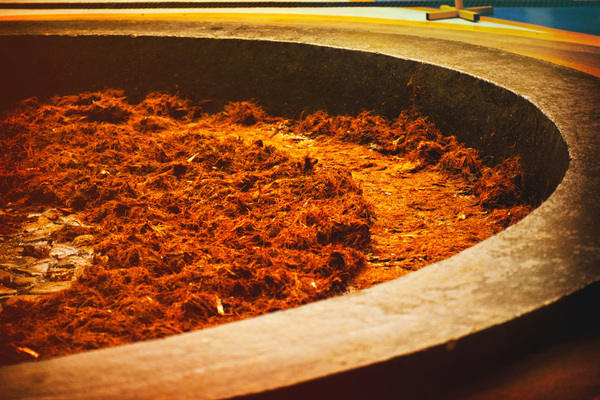 It is one of the few producers still using the 500-year-old traditional Tahona method as part of the process, where the cooked agave are crushed with ancient, and very, very heavy, stone wheel.
We knew we'd hosted a good one when my friend Dominic asked if we could turn our office into our regular hang-out spot (who wants to go to a noisy bar when you get together in a sweet studio space instead?). And that's what getting together and carrying on the summer vibe is all about.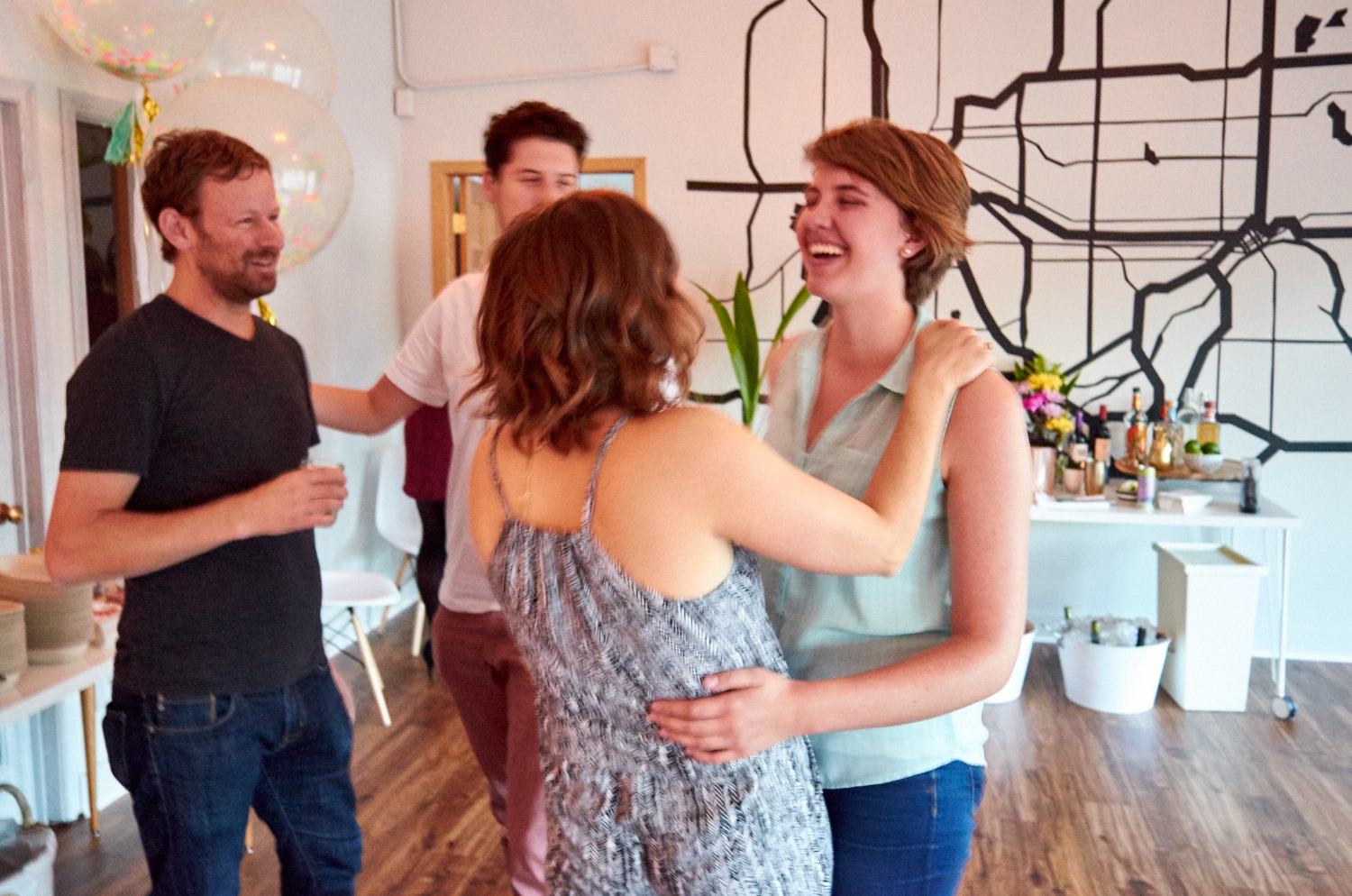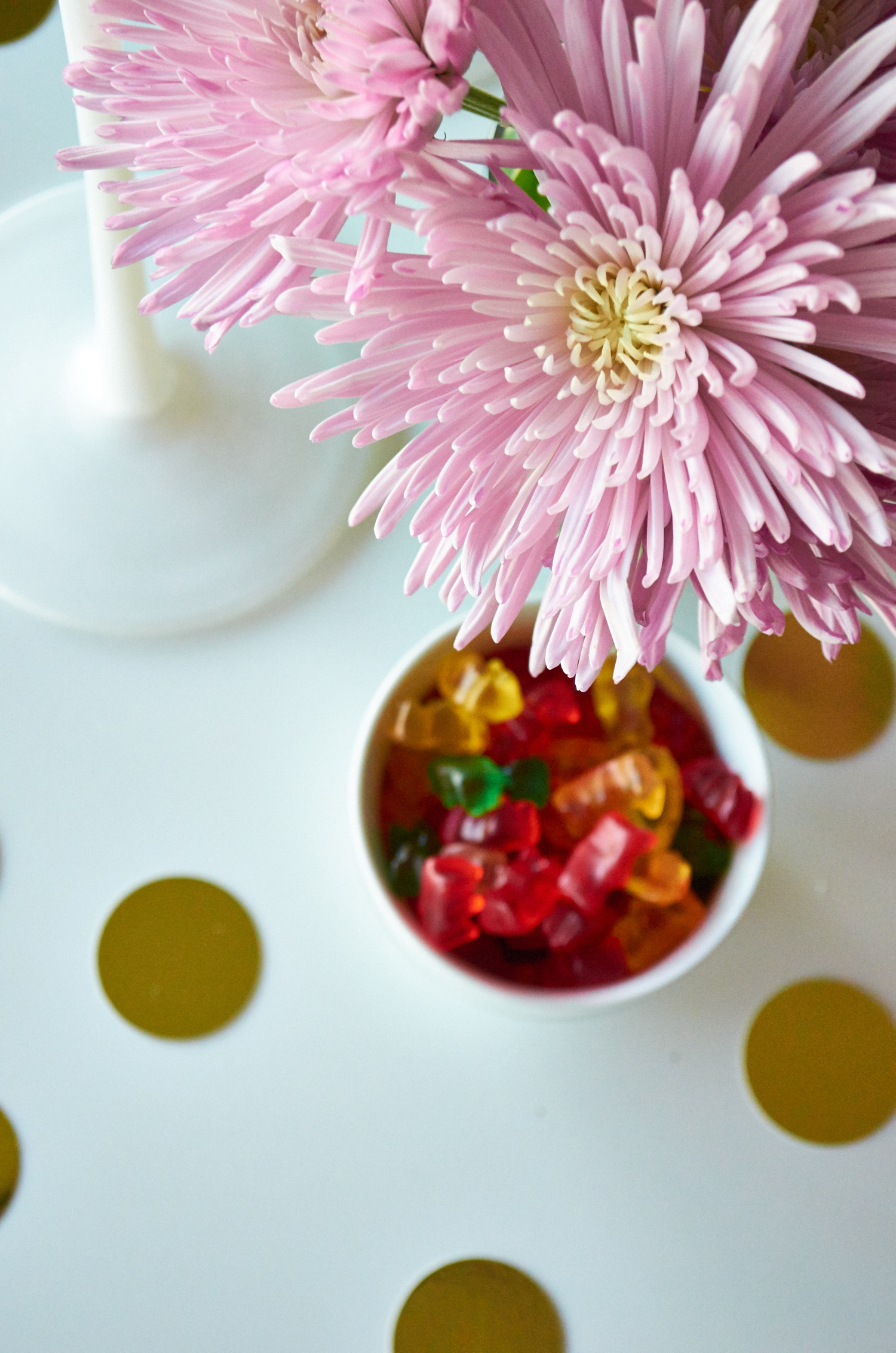 This post is sponsored by Altos Tequila, but all opinions are mine alone. Thanks for supporting the brands that support ManMade.