DIY Inspiration: Make a Custom Stand Up Paddleboard

As summer gives us just a few more weeks of dependable warmth, I've been hitting the water as much as life will allow. But soon enough it will be much too cold for getting wet and so here's a project to get on now so when spring comes back around, we'll be ready to once again enjoy a day on the water.
Here is a great project for the long winter ahead – Build a Stand-Up Paddleboard.
There are a few ways to get started, plans, frame kits, or full kits. Let's start with the most adventurous option first – the plan.
THE PLAN (about $100) – This is by far the most adventurous way to build the project. While the plans are generally very detailed, you still have to cut every single piece and getting it all done accurately is a beast. But if you have the time and love a challenge, get the most out of the build with a plan and a lot of sawdust.
While the plan option is a solid one, a CNC machine goes a long way to boost the accuracy and cut the time on your project. If that sounds good, then consider finding yourself a Frame Kit.
THE FRAME KIT (about $250-$350) – The inner section of the board is made from a lightweight frame that keeps the weight down. This inner section needs to be precise for maximum strength, so getting a CNC kit makes it much easier to snap all the pieces together and get to the fun part – making the outside look awesome. So this option makes the precise part of the project a bit easier but still allows for the craftsman in you to shine. Building the shell still comes from the plan that is included with the kit, but you can pick the woods, patterns, and little embellishments that make it your own.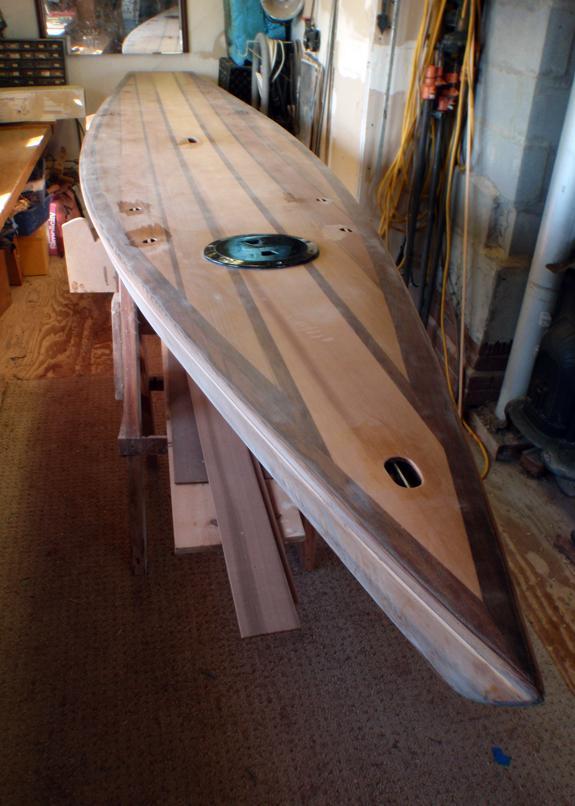 THE FULL KIT (from $650 to $900) – The last option is the full kit, which includes the plans, frame, and all the other pieces to build a fully functional stand-up paddleboard. The kits come with epoxy and fabric, or not, depending on if you have ready access to epoxy and fiberglass and associated hardware. This option is the most expensive up front, but it's not necessarily the most expensive overall once materials are factored into the other kits. While it's a bit easier than making everything from scratch, there is still plenty of skill and time involved to make this into something special.
So start clearing off a space in the shop and start looking into what option you plan on putting together while the weather turns cold.
Here are a few links to places you can find what you're looking for: