5 YouTube Channels Every Woodworker Needs to Watch Right Now
The internet is full of great content. Inspiration for DIYers doesn't get much better than these five excellent woodworking makers.
1. Jimmy Diresta
This talented maker can create absolutely anything and the style of his videos are as close to meditative as a maker can get. I often turn them on with no sound in the background because it's just fun to see the creations materialize. He is a master on the bandsaw and the variety of materials under his control is amazing (check out his bandsaw tips here). I've never seen anyone as obsessed with branding every surface with his name as this guy, and that also becomes a big source of fun as I try to count how many places he's strategically placed it. As Jimmy says though: "these are not how-to videos, they are entertainment" and the lack of safe practices in his shop drive that home repeatedly.
2. I Like To Make Stuff
This guy is a tinkerer at heart and I love to see the massive variety of cool things he comes up with. From Arduino-controlled dust collection to secret-door bookcases, this guy has a blast in his shop and it's fun to watch it all happen.
3. Drunken Woodworker
This guy has some very high quality standards, loves to teach, and also enjoys good beer. Sounds like I'm looking in a mirror so obviously I love to watch his videos. His focus on woodworking comes across as approachable and easy to understand, and the final products are worth bragging about. Check out his curved inlays for a start.
4. Woodworking for Mere Mortals
Steve Ramsey has a huge library of videos gears toward guys like us who love to make but don't have the best tools to work with. His entire approach comes with the attitude that anyone can do it with the right information and he's there to help. Fun projects like the Marshmallow Crossbow and the Router Wood Chain are balanced out by Easy Bookcases and Adirondack Chairs. There is truly something for everyone on his channel.Now you'll have something to do when you can't be in the shop. But with all those great videos, don't forget to get out and make a few things with all that new inspiration.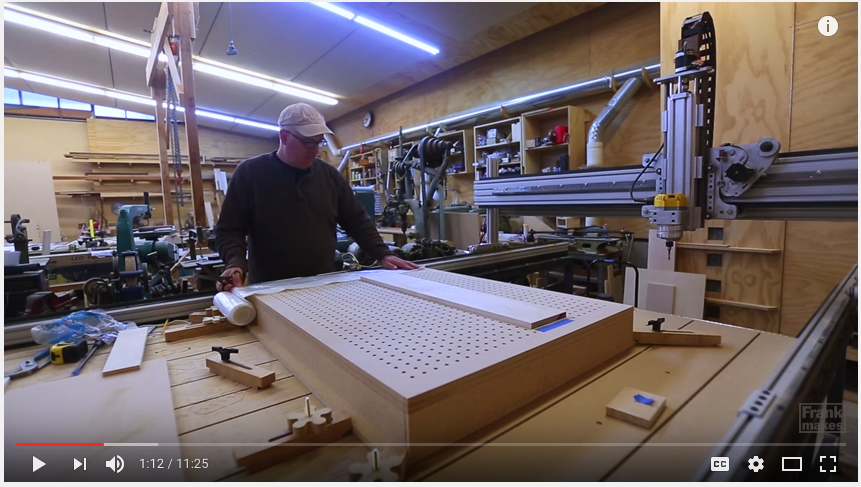 5. Frank Howarth
Of the craftspeople listed here, Frank is perhaps my favorite. He not only creates incredibly innovative projects and approaches them from unique angles (he's a trained architect), but his videos are fascinating to watch. They combine inventive camera techniques, stop-motion animation, timelapse, cool voiceovers, and makes these mini-movies with every update. Plus, his shop is amazing, and it's great to see actual projects being built, not just techniques.