How to: Dress for a Date…Like You Know What You're Doing
Today is Valentine's Day, and couples of all sorts will be headed out on the town to celebrate. Whether such plans are on your radar, or you're generally interested in looking snazzy without seeming like you just came from a sales meeting, we thought we'd share some basic ideas and tips to, well, nail it.
1. Focus on looking stylish, not dressing up. There are two ways to think about non-jeans and t-shirt clothes: looking professional and looking stylish. Dressing professional is what you do for work – tucking your shirt into semi-casual clothes, wearing a dark suit, starched collars, etc. Unless your date also has the ability to offer you a new job, your goal is look snazzy, not dress up. Some clothing pieces you own are good for both, which is awesome. The trick is in how you put them together.
As you assemble an ensemble, ask yourself this: Am I trying to impress my date or my date's mom?
2. Take a shower an hour before you leave. It's important to be clean, but also to appear natural. Your hair needs time to dry, your skin time to return to its actual color, and any scents in your soap or shampoo to stabilize. As always, the goal is to smell like a man, not like chemicals. Use cologne lightly, if at all; deodorant might be all you need.
3. Have options. You wanna match your date and your destination in dressiness. Try to choose clothing that can go a multitude of ways – with a tie/without, with a sweater, under a jacket, etc. Have an idea of the most you can wear, and the least, while still looking put together. If you're picking your date up, keep a jacket or sweater under your arm until you have all the info. If you're getting dressed in the same space, feel free to ask, and be extra careful not to outdress your partner. That'll start things off on a sour note, indeed.
4. Match. This seems obvious, but it's essential if you don't own lots of dressier clothing, and you're looking to make the most of it.
You socks match your pants, not your shirt or jacket.
Your belt matches your shoes, which coordinate with any metal you might be wearing (a watch, buttons on a sportcoat, belt buckle, shoe buckle, jewelry)
5. Don't Look like a Guy. Look like a man, whatever than means for you. For many, it can mean avoiding certain "guy" standards, like:
White socks. Someone will see them, and it'll probably be your date. Don't do it.
Pants should have three or four pockets: two on your hips, and one or two on the back. No cargo pants or shorts. On a date, but preferably ever.
Sandals. Or baseball caps. But you knew that already.
Wear a watch. You don't wanna be pulling out your phone to check the time.
No jewelry, unless you're on a date with your partner and it's your wedding ring.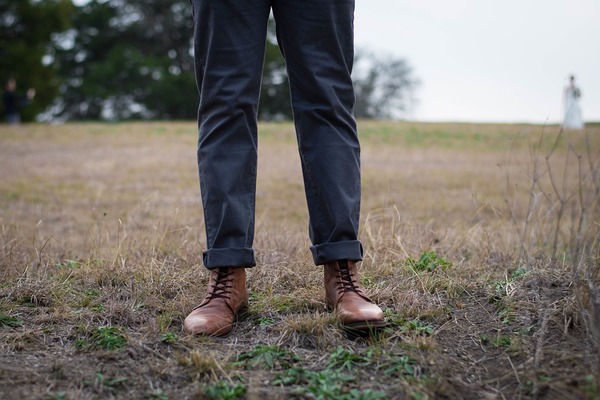 6. Don't Wear Sneakers. Even if you're wearing casual/dressy-casual clothing, at least go the extra bit to wear a dressier belt and shoes. It'll make you feel like you're doing something different, and that'll inform the mood of the date as something special. I promise.
7. Contrast. Be sure that your clothes coordinate, but are not all the same saturation of color or tone. Never wear a white shirt and khaki pants, unless you're going boating, even with a dark/colorful tie. (See #9) You'll look off-balance. If you're wearing lighter pants, balance it with a dark sweater. If you're wearing darker pants, choose a lighter shirt or jacket, and wear brown shoes instead of black.
8. You don't have to shave. Depending on your beard, you might consider not shaving before your date, especially if you shaved that morning, or the night before. One, you'll increase your chances of cutting yourself, which, if you're trying hard not to, you naturally will. But two, totally clean faces can sometime look a bit off with well-cut dressier clothing, and you might come off looking younger than you are. You can consider leaving a day (but no more!) of stubble, especially if you're wearing a jacket or tie. Look at the faces of the guys on the covers of fancy magazines. They didn't shave right before they got dressed, so perhaps you shouldn't either. If you're lucky enough to have a full, balanced beard, use it.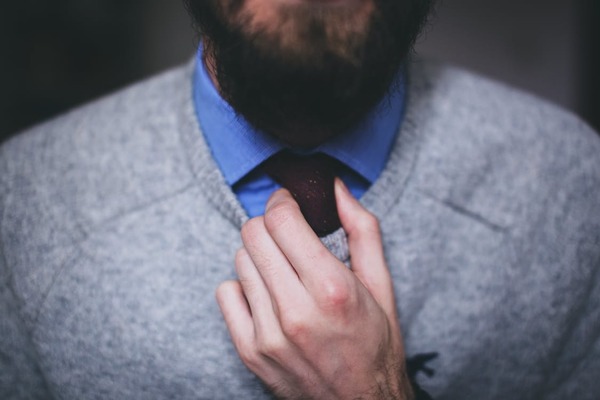 9. Don't wear a tie unless you're wearing a sweater or jacket. You'll look like a temp, or a seven year old at a wedding.
10. Consider jeans. Dark jeans, that is. If you're concerned about over-dressing for your date, the restaurant, or the event, try dark jeans. Coupled with a sweater or a jacket, you'll look plenty dressy, and come off as being put together, like you planned it.
11. If you don't feel confident in what you're wearing, don't wear it. This principle is the mirror of the first – stylish vs. dressing up. If the only jacket you have is big and baggy and left over from college, don't wear a jacket. Just because a shirt has a collar doesn't mean it's dressy. You'd be better off in a well-fitting henley or sweater than a worn out button-up. This is a date, not church. There isn't a dress code…it's an opportunity to make the night special.
For more style and menswear ideas, check out:
And the ManMade "Style and Fashion" and "Modern Manliness" boards on Pinterest!