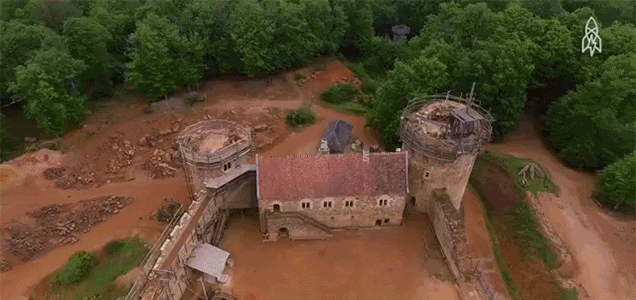 In 1997 a team of roughly 70 historians, archaeologists, and craftsmen set out to build a 13th century style castle in a forest two hours outside of Paris using only period appropriate tools. Every stone, tile, and brick is handmade, every tree is hand-felled, and even the trebuchet-looking construction set-up was hand-crafted.   
In the 1990's Craig Bernhardt came across a pamphlet for Rockwater Ltd., a company that specialized in building gorgeous stone walls and benches. He didn't have a need for either of those things, but for some reason he held onto the brochure, and the idea never left his mind. When his back patio and outdoor shower needed a complete overhaul, he decided to start a journey that would take over two years and a half years and 50 tons of hand-placed stone to complete.   
Meet Nick Olson and Lilah Horwitz, a young couple from West Virginia who built this woodland retreat from (mostly) upcycled materials. Nick, a photographer, and Lilah, a clothing designer, embarked in their DIY adventure after from a desire to be "closer to the elements," and used as many materials found on the property that they could. 
As some of you may know, I live in the concrete jungle of New York. Honestly, it can be overwhelming sometimes. I miss nature, hiking, and all things rustic. Well, I just discovered a Tumblr blog that will help cure those melancholy nostalgic states: Cabin Porn. That's right…nothing but photo after beautiful photo of fantasy-inducing cabins. Please try not to drool on your keyboard...   
Growing up in Iowa, I saw countless abandoned barns and shacks along the roadside that were slowly being consumed by nature. The peeling paint, rotting boards and collapsed roofs were oddly…beautiful. This series of small scale models of neglected buildings by Ofra Lapid reminds me of the same type of surreal beauty.  
No matter how old we get, we can't let go of Legos, those interlocking plastic blocks that can be eternally connected in infinite ways. And many of those infinite ways can actually go way beyond just playful modeling.
Inhabitots has assembled five of those constructions, all of which are real world uses of the popular brick, including an entire home by James May (above), recycled Lego-like blocks for use in developing nations or emergency shelter situations, zoo sculptures of endangered animals, a kitchen counter, and a large boardroom meeting table.