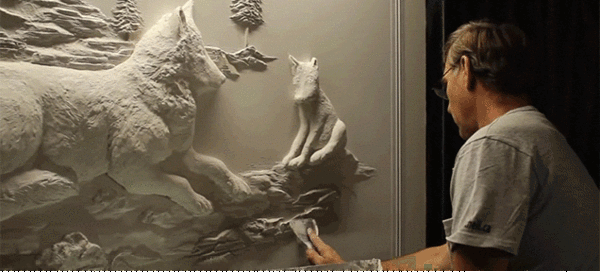 When considering the virtues of hanging art on your walls, you might want to stop and consider if it's worth just turning your walls into art. That's what drywall art sculpture Bernie Mitchell does using nothing more than drywall and basic drywall tools (plus the extra brush and spoon).   
Two of my great loves in life have finally been united: art and sandwiches. Brittany Powell created a whole series of sandwiches inspired by the works of famous artists. The Piet Mondrian piece (above) is definitely my favorite, but the rest are all really cool too.  
I'm really impressed by these incredible oil paintings by German artist Matthew Davis. They remind me of a cross between Monet's impressionist works and some of Chuck Close's pointillism-like portraits.  
I've never really gotten into ceramics before…making ceramics, that is. I've long been a fan and have admired them from afar but the fragility of the material always made me a little nervous (heck, I even panic a bit when I'm looking at plates in Crate & Barrel). These mind-blowing ceramic pieces by Michael Eden, however, look so incredibly delicate that I can barely believe my eyes.  
As a creative person, as with any career or interests, there are lots of limitations: time, space, materials, connections, and all the other external stuff that can hold you back.
Then, of course, there are those other things that keep you down: playing it safe, not advocating for yourself, or having unreasonable goals for yourself.
Artist and illustrator Keri Smith has assembled a top ten list of what not to do, dubbed How to Feel Miserable as an Artist