It's that time of year! And by "that time," we mean: time to start thinking about getting a head start on a quality Valentine's Day gift. Skip the flowers and chocolate nonsense and get your hands to work on this elegant, modern necklace that is sure to stun your special someone.    
If you're on the hunt for last-minute DIY gift ideas - it's definitely not too late to take a whack at these gorgeous wooden rings. They look great and the good news is you can make them without the need for a lathe, drill press or bandsaw!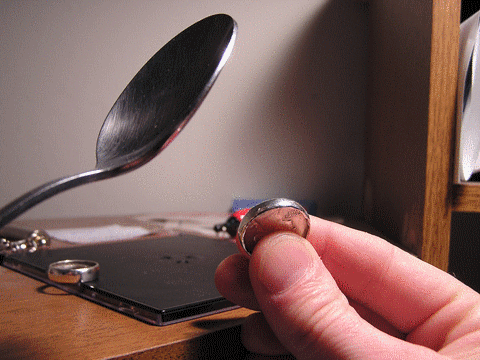 When my mom was a girl, her mother had a special drawer in her dresser that the kids weren't allowed to touch. One day they saw an ice cream truck come by and decided the root around the house for spare change. Lo and behold they found a magnificent stack of quarters in the secret drawer. They pilfered the lusty quarters, gorged themselves on ice cream, and were promptly grounded for weeks when they learned the "special quarters" were all made of silver...   
Caitlin from The Merry Thought shares this awesome tutorial for turning very small pieces or scraps of hardwood into natural wooden rings. 
Interesting fact for Monday, December 6th, 2010: U.S. quarters manufactured before 1964 are made of silver. Huh.
Even more interesting, that quarter can be transformed into a  silver ring, using a spoon!