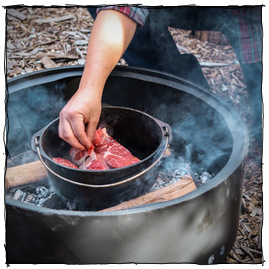 Perfect Your Campfire Cooking Technique
Rare is the craftsperson who couldn't use just a little more workspace. Maybe not more square footage (though I'd certainly take some), but perhaps more work surfaces to spread out projects, or some more storage to keep track of all the bits and pieces that come along with any technique.
Building this custom tool cabinet will certainly help.
I love pegboard. I love organizing my workshop with it, I love using it in our office, I think it's cool when people do the Julia Childs-style pegboard pot rack thing...and I even like seeing it in store aisles, and noting all the clever and and adaptable industrial design things used to display items.
But...But! While pegboard is amazing for hanging stuff neatly on a grid, it does absolutely nothing for items without a hole in them. 
On the side, my wife and I sell some of our handiwork at craft fairs, barn sales and vintage markets. When we got started, we had mostly folding plastic tables and white table cloths. And as you know, nothing, except maybe a grilled hot dog on a paper plate on the Fourth of July, looks its best on a folding plastic table and white table cloth.
A few weeks ago, we had a couple of friends over for dinner, and the husband joined me in the kitchen as I was finishing up some carrots I'd blackened and blistered then finished in the oven.
"Oh, you like your cast iron skillet?" he asked.
"Like it?" I replied. "I have three of them, and I use 'em as much as possible."
He was a little surprised at my response, and me by his. He'd said he and his wife had registered for both a large skillet and a dutch oven for their wedding, and received both. But once they got them home and unboxed, they could really figure out how to season them, how to clean them, or how to care for them. This, of course, broke my heart a bit, and I vowed that if he brought them over sometime, I'd help him get them ready to go, and show him what they could do.
So, whether you're just getting started in the wonderful, flavorful world of cast iron, or you'd like to move beyond special occassion meals and use these as your daily cookware, there's just a few things you should know, and keep around, for smooth, non-stick, generation-lasting success.     
My name is Bryson and I have a problem. Whenever I find myself in a hardware store I have a list and I have a second list. On that second, unwritten list, are the things I always tell myself I need for my shop and I inevitably walk out with a bag full of it.
If you haven't depressed the trigger on a blowtorch and heard the momentary hiss of the gas releasing, followed by the low whoosh of the flame catching, well, my friend, I recommend you try it. There must be some caveman-brain connection with fire that takes place, or maybe it's the six-year-old in me. But either way, the first time I grabbed a blow torch and clicked it on, I was hooked. 
Fortunately, it's also a ridiculous useful tool to have around the shop! It's one of those tools that you don't know you need until the occasion presents itself, but trust me, once you own one, you'll have plenty of occasions to use it. Here are just a few of the ways a blowtorch can make itself useful:
If you're like me your DIY obsession can get so out of hand you have to start selling your stuff to fund more stuff! One of the ways my wife and I do it is setting up a booth at local festivals, barn sales and craft fairs. With a little bit of business savvy and DIY ingenuity, you too can start turning a profit on your passions.
Consider Your Investment
As you're doing research on what fair or festival to do, count the cost of things like booth fees, ticket costs (if any), travel and food. After adding up all those costs make sure you have or make enough product to exceed those costs. If you all of those factors turn out to be a worthy
A few weeks ago I got a text from a buddy. He had just moved and was setting up the new house. He told me "I think this time around I want to make sure my sword has a place."  By his sword, he meant his 1865 Union Artillery Saber that had been with him since the 1st grade. (Talk about high expectations when the parents give you a sword at age nine). But the issue was that he didn't have a good way to display it, and the  cheaply made, $30 online holders just didn't seem fitting. That's why he called me up, and asked if I could help. I gladly accepted the challenge, and came up with this beast. Here's how I did it.   
Turns out, getting fully outfitted is only half the battle. Once you've selected all your gear, it's important to pack it up right for both balance and ease when carrying and access when you need it.    
Hi, my name is Chris, and I'm a hopeless process nerd. Especially when that process is captured in a video with such amazing colors, sound, and cinematography.
Filmmaker Nick Bennett visited