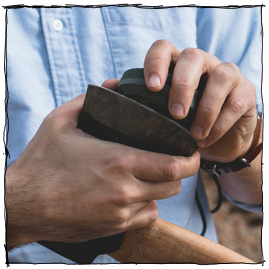 How to Sharpen Your Axe
So, I'm gonna throw down and get controversial for a sec: William Shakespeare was the greatest playwright and poet who ever spoke English, and I'd relish a comment-fight-to-the-death in the comments anyone who disagrees (not really, but I encourage the conversation).
To argue the man's merits feels redundant; the work speaks for itself. The Bard's plays are so influential that he's taught us how we understand storytelling and character development in the modern and post-modern world. His words have become so ubiquitous that I'd bet good money everyone reading this knows unique phrases from at least 4 of the 5 speeches below (also lots of movies take their titles from his phrases). I challenge any man considering himself an educated member of our society read these speeches and attempt committing them to memory. You'll find them helpful in more than a few settings. 
I live in an area of the country that experiences four traditional seasons. Of those four, my favorites are Spring and Fall. I love everything about these transitional seasons—the mild weather, the changing light, the start of garden season on one end and the height of its bounty at the other. (Even if they do only seem to last for about a week here in eastern North Carolina.)
That is, I love these seasons, but my sinuses do not. I've got horrendous seasonal allergies that flood my head with histamines twice a year, to the point where I really should invest in a giant hypoallergenic vinyl bubble to seal myself off in from April to July. Also, the change of seasons seems to kick the butts of everyone's immune systems, and I always inevitably catch what everyone's passing around.
Are you in the same club? I got something for what ails you, and it goes by the name of Head Tea.
Get out your leather hole punch, 'cause sooner or later, you're gonna have to do it. It may be because you lost a little weight, and now it's time to notch over one more, and you're plumb out of holes. Maybe it'll be due to the fact that different pairs of pants sit on your body at different places. Or it may be that you'll simply had that belt for a little while, and the leather has stretched a bit. But, at some point, you're gonna have to make a hole in a belt. And if you do it right, it can look perfectly in line with the others, like it's been there the entire time.
To be honest, we're firmly in the "don't make dinner reservations for Valentine's Day" camp. Save the special evenings for anniversaries, celebrations of achievements or special events, or heck, any random Friday night. Those are guaranteed to be more "romantic," memorable, and special.  
So, if you wanna do something fun on the 14th, make this cocktail...

95% of the time, a tool box is overkill. Whether taking some items to help a friend with a project, or just working on something in my own home two floors above my basement shop, the act of dragging out the toolbox, selecting the items from the pegboard and arranging them appropriately, and then lugging the whole thing around is simply unnecessary. 
A kitchen knife is an unusual tool, in that the point of contact between the tool and the medium upon which it works is actually extremely delicate. Imagine if a wrench were as delicate as an X-acto blade that had to be replaced regularly, or if bar clamps would routinely stop holding things in place because they became all wonky with use. Most non-cutting tools are blunt, hearty and reliable. But blades have to be cared for, stored carefully, and sharpened (somewhat) regularly. 
But if there is an abused and neglected blade in your home that is used frequently but cared for rarely (okay, maybe not YOUR home, Mr./Ms. Attention-to-Detail––but the average home), it is the knives in your kitchen. Unless you are a professional ice sculptor or sword swallower, it is likely that the knives in your kitchen are the ones that get the most daily use. And if you are anything like me, it is way too easy to just grab one, use it, and put it back without special care for these knives. Despite my best intentions, it is easy for me to leave a dirty one on a cutting board, haphazardly toss one into the sink, clean in the dishwasher and store them in less-than-ideal ways (i.e., cluttered together in a drawer. I know. I'm an animal.) 
Many will make resolutions on New Years, vowing to drop the additional pounds leftover from the holidays, and generally making more healthful choices starting January 1st. And while new beginnings can be a helpful motivation, we think the best time to actually get started on new goals is actually now:  late winter and early spring. So, while we hope you made some good progress in the first few weeks of January, the real question is: how's it going come February 1st?   
In the summer, it's easy to get those deep, blackened and charred flavors in your weeknight meals. During grill season, you simply head outside, and cook your meal over an open flame.
And then comes January, where the produce is poor, and everything lacks that certain zing that the warm sun and fire-seared foods provide.   
A few months ago, in the midst of a day full of projects, I had a bit of an a-ha moment. I was in my workshop, using the table saw to slice up some Baltic birch plywood, when a timer on my phone went off, reminding me to take a break and go chop a bunch of vegetables to add to the slow cooked stock I was simmering in the kitchen. 
My journey in leatherworking started with disappointment. Disappointment in a pair of leather boots. I had purchased a pair of Steve Maddens from DSW for about $100. They didn't last long... and I mean, they really didn't last long. After a month of pretty irregular use, the grommets had fallen out, the surface of the leather had started to rip, and the dye was already starting to rub off. And as my shoe angst built, I thought, 'I could make something better than this.'