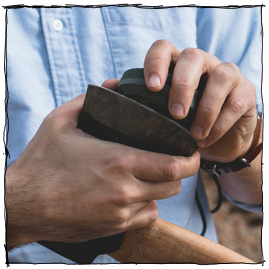 How to Sharpen Your Axe
The cooler months bring boots, jackets, and best of all: sweaters. Worn well, they echo the classic men of yesterday. Investing in one or two quality pieces made from 100% wool is preferable than several from acrylics or blended fabric, as they'll stick around for many falls and winters to come, and look better in the process. (Not to mention keep you warmer.) If you take care of them well, they'll last until your beard goes gray, and you can pull off the weathered fisherman with a warm heart look of Mr. Hemingway here.
1. Don't dryclean or machine wash.  Not only does hand washing keep your wool clean, it'll actually make your sweater
Dirty dishes in the sink. Putting your clean socks away. Replying to that one email that's been sitting at the top of your inbox for longer than you'd be willing to admit out loud.
We all have that small handful of tasks and chores that weigh the heaviest on our souls and our to-do lists. Most often, they're the things that occur multiple times a week, so that when you look at them, you think, "Didn't I just do that? And doesn't it take forever?"     
And that's where our brains lead us astray. Because, although, yes, you did probably just do that – no, it doesn't take forever. 
---
I've wanted to build a boat ever since I sunk my small dingy on the Trinity Lake as a kid. Once I have the space, I will fashion a sea-worthy vessel and take it out to brave the ocean, or at least a sizeable pond.  
Thickness planers are awesome. But I don't have one.
They're an expensive and specialized piece of equipment. A new one starts around $300, and the price just goes up from there. I'd like one, sure, but most of my woodworking projects don't require it, so I haven't made the investment yet. There are a few other tools I'm more interested in before I make the leap to a planer.
But there are times when I have a rough piece of wood that needs to be trimmed down to a consistent thikness or large course areas need to be smoothed out.  Instead of picking up my orbital sander and going to town for 45 minutes to thickness the piece of wood, I turned to my table saw.  While this trick is limited to wood with a width of approximately 6 inches, it can save you a ton of time for small projects. It's a really simple process. 
The random orbital sander is one of the first tools any maker or DIYer should own. In fact, I can't think of another powered tool that I use more, on nearly every project involving wood. The design is simple, and right there in the name - they move, in a random circular pattern, to sand wood.
A huge improvement over its predecessor, the pad or orbit sander, these guys use special shaped sandpaper disc to get your project smooth fast and with minimum swirl marks. Well, at least faster than sanding by hand, and with much less energy. But with great power comes great...opportunity to mess things up. These wondertools work, but there are
I spent solid twenty-five years of my life in school. It began in kindergarten and I then headed straight from high school into undergrad, a master's degree, and then a Ph.D (I know, I know...) One of the things I truly miss now that I'm no longer an enrolled student is the optimism and excitement that comes with shopping for school supplies. Nerd or not, there is something that is just exciting about having fresh notebooks, new pens and pencils, bags, folders––all the "stuff" of school. Adult life may entail the occasional new notebook, but there isn't a season for it in the Fall where everything is potential, and all the success and mistakes are in the future.
That we don't do this as adults is a shame. Because there is every reason for all of us to be ready for school. The longest project in a any maker's life is the constant, endless craft of oneself. And there is no way to make progress on this project without the proper tools. I think most people dedicated to craft have slid into a life of learning whether consciously or not. And there's no reason not to prepare ourselves with supplies to complete this project well. But, of course, a life of learning is not the same as preparing for a school year. It has a different set of requirements and it calls for some different kinds of supplies. 
When I think back to my first office job, I learned two key takeaways: 1) always share your process and thinking with your supervisor, and don't hold out til the end to show them the completed project and 2) drink a bunch of liquids all day long so you'll have to get up to go the bathroom. 
Seriously. Moving about the office gets you up and out of your seat, your eyes off the computer screen, and the ability to mingle a bit with your coworkers. And while we recommend switching to water after 11:00am, it's nice to enjoy a few small personal mugs of coffee vs. a huge thermos. It always stays hot, and remains fun to sip the whole morning
Guys—I love space.
Growing up, I was always the kid with my head in the clouds (I'll admit I've been called a "space cadet" more than once) but my actual interest in the objects outside of our atmosphere didn't launch until I fulfilled my college science credits with two semesters of astronomy. It was one of my favorite classes of all time: learning about different planets and galaxies, observing the moon through powerful telescopes, and—shockingly for an artist—working the calculus of space physics. These days, I dip my toes into the pool of astronomy with a set of apps. 
Read on for our top picks of best free apps for space fans!
Often, when it comes to DIY projects, we create our own circles by starting from a center point. Whether a compass, string guide, or specialized cutting jig, a circle emerges from our pencils or saws precisely because we've created an established and consistent distance from a single origin. 
But, what happens when the shape already exists, and you need to know how to find the center of a circle? You can do it in less than a minute without any specialized math, memorizing a formula, or even knowing what pi is.    
I really should kick this off with a big disclaimer: I'm a book guy.
I grew up in a book house—my dad is a professor and the author of several books, and my mom worked in a library when I was a kid. Bibliophilia is in my genes—my toddler already goes straight to her books immediately on waking up. I love places where books live—I've haunted libraries, bookstores, and free book spots in every town I've ever lived in. I read books in multiple languages—I'm literate in German, with passable French and Spanish skills. I even write books—I've got several novels in progress, including one story with a finished draft that I completely scrapped instead of sending to an agent because it wasn't quite there yet.
But recently, I've ditched at least 300 volumes from my personal library, some of which I had owned for over 15 years.
If you're trying to downsize too, read on for 10 tools to help you winnow the chaff from your personal library. But first, a brief aside to answer the why.