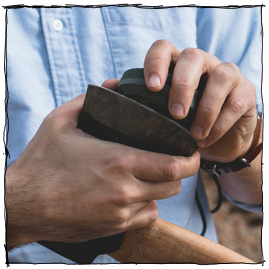 How to Sharpen Your Axe
No offense, but I don't love your grandmother's cookie recipe. I know you do, and that's amazing. And I know it's more about making them that eating them, and that's nice, too. But, if I'm going to go crazy with some unhealthy eats this holiday, I want that extra sugar to be inside something that I care about. Specifically, these cinnamon rolls, baked in cast iron skillet.
Because the season of indulgence is here, and you might as well make sure those calories taste amazing. 
I have a few shirts I just can't seem to part with. They don't really fit me (they're much too big and baggy) and I never wear them. Ever. Some are at least five years old, and barely holding together. 
As far as holiday gifts go, it's hard to beat something to sip. And this year, you can do a little better than swinging by the grocery store and grabbing a bottle of wine. 
This wood-infused project only take a tiny bit more work than buying something from the liquor store, but boosts all kinds of flavor benefits and handmade points, turning the spirits into a proper gift. 
Make some in bulk for everyone you know, and your holiday shopping is done.    
We'll never be the ones to hate on the holiday standards, but sometimes, we need a fa-la-la and sentiment-free movie night this time of year. So, check out this list of classic, masculine films set in the frozen winter months that will really remind you how frightful the weather outside can be.
I've been trying to up my host game lately, especially in the drinks department. Solid glassware, proper bar tools, and better presentation go a long way towards concocting a quality experience. That's why I was excited to come up with a great gift project for those that want to ditch the cheap plastic in their classy mixed drinks. These simple straws are hefty enough to really stand out as a stocking stuffer, or on their own as a solid holiday gift.   
Cooking turkey upside down is the recipe for a juicy, delicious Thanksgiving dinner. Here's how: 
Every season, somebody will inevitably mutter that ugly, and untrue, cliche. "No one actually likes turkey. It just tradition" or "Thanksgiving's only about the side dishes." Honestly, I feel bad for them. For it is only poor souls who have never had a properly cooked turkey who reject it's importance at the centerpiece of the holiday. Because with a properly cooked turkey not only comes slices to fork during the big meal, but better tasting stuffing, the all-important gravy, and options for leftovers that will keep your mouth and stomach happy all four-day weekend long.
You just need a little technique. Here's how to roast a turkey upside down to shut up the naysayers.
I have gone on record, in this publication and elsewhere, about why the hot toddy is the perfect cocktail to be sipping in December. It's warm. It's spiced. And at least according to folk wisdom, and able to heal a nasty wintertime sore throat, it's good for your health, and can help to heal a nasty wintertime sore throat. But, to be honest, until last Tuesday evening, I didn't actually like a hot toddy. 

They were fine, but not delicious, and not really an improvement over a simple glass of neat whiskey. 
In truth, hot toddys (toddies?) always disappointed: never quite hot enough to truly enjoy, and somewhat ... harsh. There was something I never liked about adding acidic lemon juice to a healthy glug of bourbon, then heating the whole thing up. It seemed to bring out all the rough, grain-y flavors, and hid the tasty warm and spicy barrel-aged notes that make whiskey, well, whiskey.  
It happens every year. I'll spend a couple days reading old November issues of my favorite cooking magazines and pouring over the food blogs to come up with our Thanksgiving menu. I'll make a plan, shop way ahead of time, and spread my prep work out over the three days prior. Come Thursday, there will be an established timeline, and it will be executed to a T. And when the sides are ready, the turkey will be out of the oven and well rested to keep the juices in. I'll go to carve it, and inevitably, I'll say to myself:
Crap. I forgot that I do not have a work surface on which to properly take this thing apart.
I have cutting boards. Nice, thick, end-grain hard maple butcher blocks that I made myself. But they were designed for chopping vegetables, which are relatively dry, and not carving a turkey, which (if you cook it right) is very, very moist. Those juices will flow, and saturate any number of kitchen towels, and make a huge mess, covering my hands in poultry drippings to the point that I can no longer safely grip the knife and everything goes slippery, sliding (but flavorful) chaos.
It happens every year. I say to myself, "I really ought to make a proper carving board." And this year, I decided it was finally time.
So, here's how to make a diy cutting board yourself. Once you have the materials, it's only 90 minutes of work, and will last for many, many holiday seasons to come. 
This is the best turkey stuffing recipe ever. There. I said it.
Premise #1: stuffing is the greatest thing on the Thanksgiving table.
Premise #2: My mom's German stuffing is a tradition, and amazing. 
Premise #3: It's also incredibly easy to make and super versatile.
Conclusion: You should make Mom's German stuffing recipe
It's the holiday season here on the show and today we make German Thanksgiving stuffing, a family holiday recipe with Mom. She makes it the best and she's gonna make sure we do it right. This is one of my favorite traditions, and is one of the simplest holiday recipes. You'll be blown away by how tasty it is. Mom and I are happy to share it with you.
Cooking delicious food is the definition of craft: start with curiosity, add in a little practice, mix in the right materials and ingredients, and eventually, you'll nail some basic techniques to make your weeknight meals something worth doing all those dishes. 
But, there are also such things as shortcuts. Maybe not towards making a meal taste acceptable in the first place, but rather, little tips and tricks that take your food from good to holy-cow-that's-great; small works of wonder that make a meal more than just nutrition, and leaves you feeling excited and satisfied.
This is one of those things.