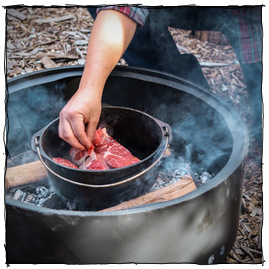 Perfect Your Campfire Cooking Technique
Men wearing aprons seem to be more of a novelty than a practical household item. In popular culture the apron on men seems to only show up on tacky backyard cooks (think Kiss the Cook) and wisecracking chefs and their hyperbolic reality shows, or the hapless dad in the movies putting on a pink ruffled thing when he's stuck with the kids. But it's time to ignore all of those stereotypes and get yourself an apron. Here are a few reasons you need to consider one for yourself.
The solar calendar has finally acknowledged what we've all know for a few weeks: it's summer. And with that most blessed of seasons comes the opportunity to get out of town and see the world in all its sun-soaked splendor.
The trick for making all this happen as easily and frequently as possible. Pack lightly, my brothers and sisters.    
When I finished my basement workshop makeover earlier this year, I couldn't have been more excited, or proud, about how far it'd had come. What was once two dark, dingy rooms full of plumbing pipes, exposed studs, and our family's household junk, was now a bright, clean, inspiring single workspace full of tools and materials. But to get it to that condition was a ton of work, and the truth is, my house still hasn't totally recovered. Examples include, but not limited to, the plywood sheets stored in the guest bathroom, the dust collector in the hallway, and the piles of clamps in our home office.
Oh, those clamps. They've been all over the lower level of our house for nearly six months. I used them for projects, of course, but mostly, they just stood against the wall or inefficiently piled on the floor, falling down every so often, scraping the paint as they went and startling all of us in the process.   
In wintertime, I'll gladly take a complicated cocktail. Something made with rich spirits, amber brown from barrel aging, made more tasty with fortified syrups, flavorful modifiers, and just-so preparation. These drinks are imbibe-abble equivalent of a long simmered soup or stew, designed to make you feel warm inside when the weather is not.
But summer is a whole different beast. It's already warm — too warm — and your drink's job is to cool you down while keeping everything easygoing. You need something that works while standing next to the grill, or for sipping on the deck with your feet up.
Enter the vodka soda. It's deceptively
Proper and accurate measuring and layout are key to a great looking project. When you're dealing in whole numbers, that's easy enough. But the smaller you divide those inches or millimeters, math becomes more complicated, and the likelihood of making a mistake increases. While we can't always avoid finding common denominators and doing sophisticated shop calculations, when you're trying to lay out evenly spaced marks, you actually don't need math at all.    
This is my kind of woodworking project. It solves a practical problem (it's a monitor stand and desk storage unit), and it's built with solid technique and classic materials, treated minimally to show off their natural beauty.   

These are thoughts, the artwork, the news stories, the tools, the food, the conversations, and whatever else we just can't get out of our heads this month.  
There are those basic, essential tools that everyone needs to cook awesome food at home. ManMade thinks there are a solid fifteen, and we've shared them here - The Essential Kitchen: The 15 Tools Every Man Needs to Cook Like a Pro
But then, there are those less obvious tools... The ones that make cooking a real pleasure, and allow you to turn out restaurant-quality food with the charm of homemade.   
Around here, we've moved past the short glass - the whiskey in a tumbler, the shaken 3 oz. cocktails of spring -and opting for the long and tall. With sunshine comes all-day drinks: those mixed with plenty of ice and fresh ingredients to keep you cool.
Of course, it's ice that keeps 'em cool, and when your glass sits around in the heat...well, ice melts. So, this summer, make that a good thing. We're sharing our technique and recipes to allow the ice to actually contribute to the flavor of a drink or cocktail, not just its temperature or dilution. Check it out!   
I've had a generally mobile office for years. What this looks like to me is a laptop, random notebooks, and a mass of cables. While I've set up my "office for the day" in a variety of spectacular locations,  I've always lusted after the campaign desks of old, which adventurers carried along to pen notes, history changing letters, and likely stash a bit of liquid courage.