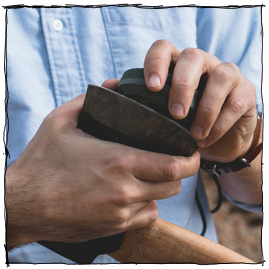 How to Sharpen Your Axe
You can barely imagine what the world was like in the proto-suburbs of the Pacific Northwest for a child who had traveled there––entirely on his own, with his mother at home and his father awaiting him––from a small Tuscan village. This was before "a small Tuscan village" was even a thing on the radar of America at large. And it was before America had its culturally and politically dominating century. It was before anyone knew what the Pacific Northwest would become, foodwise.
And yet, that is where Angelo Pellegrini settled. His childhood of 12 or so years in Tuscany gave him an uncanny experience to bring to pre-depression America, including an adult life that coincided with the Cold War in which his heritage could not have been less relevant. He was born at just the right time to enjoy America in a way that few others had. But he was also born just a bit too early to have been the celebrity he would have been if he had emerged in the age of Alice Waters and the Food Network.    
Guys—I love space.
Growing up, I was always the kid with my head in the clouds (I'll admit I've been called a "space cadet" more than once) but my actual interest in the objects outside of our atmosphere didn't launch until I fulfilled my college science credits with two semesters of astronomy. It was one of my favorite classes of all time: learning about different planets and galaxies, observing the moon through powerful telescopes, and—shockingly for an artist—working the calculus of space physics. These days, I dip my toes into the pool of astronomy with a set of apps. 
Read on for our top picks of best free apps for space fans!
Often, when it comes to DIY projects, we create our own circles by starting from a center point. Whether a compass, string guide, or specialized cutting jig, a circle emerges from our pencils or saws precisely because we've created an established and consistent distance from a single origin. 
But, what happens when the shape already exists, and you need to know how to find the center of a circle? You can do it in less than a minute without any specialized math, memorizing a formula, or even knowing what pi is.    
From every project I've ever made, I always have a small amount of left over lumber or scrap wood from cuts that needed to be make. I have a feeling that I'm not alone in that category. Many times, those small pieces or scraps sit in the bottom of my wood pile for months or even years until I find a need for them.  Eventually, I'll working on a project that needs a small piece of walnut, oak, pine, etc. and that's when I am thankful I kept those small pieces of lumber.  But! Those scraps don't always need to sit on the shelf until you need them for the next big build.
There are also masculine, scrap, and easy projects that make great use of your scrap lumber.  Here are ten of our favorites:
I really should kick this off with a big disclaimer: I'm a book guy.
I grew up in a book house—my dad is a professor and the author of several books, and my mom worked in a library when I was a kid. Bibliophilia is in my genes—my toddler already goes straight to her books immediately on waking up. I love places where books live—I've haunted libraries, bookstores, and free book spots in every town I've ever lived in. I read books in multiple languages—I'm literate in German, with passable French and Spanish skills. I even write books—I've got several novels in progress, including one story with a finished draft that I completely scrapped instead of sending to an agent because it wasn't quite there yet.
But recently, I've ditched at least 300 volumes from my personal library, some of which I had owned for over 15 years.
If you're trying to downsize too, read on for 10 tools to help you winnow the chaff from your personal library. But first, a brief aside to answer the why.
I love watching new things get made. But as equally invigorating? 
Watching old things get repaired and restored.
There are plenty of reasons to fix old things: keeping them out of the landfill, learning how they're made, making a little extra jingle, appreciating the products around us that we take for granted, cultivating the mindset of taking better stewardship of our surroundings.
Thankfully for the world, there are a lot of people doing this for the love of the act, because they spend countless hours in their workshops and upload their process videos for free viewing on YouTube.
Read on for our top picks of tool (and other) restoration YouTube channels!
For my money, this is the best time of year to spend a few nights outdoors. The bugs have died down, but the weather is still sunny and dry. The days are  warm, but the nights are cool enough that you can snuggle down into your sleeping bag and not sweat it out in a roasting hot tent.
Perhaps you'd like to try a few nights backpacking or minimalist base camping, but you don't want to invest a ton of cash on the gear to make it happen. #Understood, friend. 
First came the radio. Turn it on, tune in the dial, and hope you'd have something listenable during the quiet moments. Then came the shop stereo, usually an old bookshelf system we didn't mind getting covered in sawdust. But for the last ten years or so, it's been all about the personal audio player...and for most of us, that means our smartphone. Why blast the tunes throughout a space,  keeping up with loud machines and bugging those around us when you can have literally anything you want playing through your own set of earbuds?
Whether you opt for music, podcasts, audiobooks, or digital radio, most DIYers and woodworkers have a set of earbuds plugged in during most parts of a project. The problem? If you use power tools, you still need to wear hearing protection to 1) take care of your ears and reduce loud exposure to noise and 2) hear your audio over the roar of the motors. 
When I start my garden every spring, I like to kickstart it by heading over to the local nursery and hardware store for some pregrown plants. Seeds can be tricky to deal with, and plants that are already several weeks old are especially helpful if you're busy, don't have a ton of experience, and want to get a jump on the growing season without having a greenhouse.
For the remainder of my garden, it's all about the seeds. I love that thrill of watching those little seedlings cling to the dirt in rain and sun, and I'm ecstatic to see true leaves when they emerge. If you've been doing seed packets for a while, and you're looking to up your garden game and perhaps move into the world of heirloom vegetables, read on for our primer on how to save tomato seeds, seed pods, summer vegetables, and more!
Concrete. It's a universal building material so ubiquitous, we tend to take it completely for granted. Yet it has a fascinating history that stretches back before the time of Roman Empire. No need to fire up the Delorean today, though; we're sticking to the current trend of using industrial materials in domestic interiors with our concrete desktop planter.
We're also giving away a $250 Lowe's gift card that you can use to buy your supplies to make your own concrete desktop planter (and then some). Read on to find out how to enter (giveaway details at the end of the post) ...