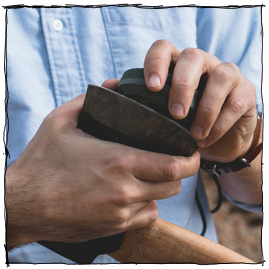 How to Sharpen Your Axe
Podcasts. You know 'em. You listen to 'em. You're moved by them. You laugh and are entertained by them. But are you inspired by them? Do they light a fire under your butt and make you want to get into your work space as fast as possible? Do they make you want to complete your workout faster so you can get home and make stuff? Do they make you thankful for your creative bent, and the creative work of others?   
Here's our thinking: podcasts, as a medium, are great accompaniment for a lot of things. There are certain podcasts you listen to on your commute, specific shows that work best for cleaning the house or cooking dinner, those to
So, I'm gonna throw down and get controversial for a sec: William Shakespeare was the greatest playwright and poet who ever spoke English, and I'd relish a comment-fight-to-the-death in the comments anyone who disagrees (not really, but I encourage the conversation).
To argue the man's merits feels redundant; the work speaks for itself. The Bard's plays are so influential that he's taught us how we understand storytelling and character development in the modern and post-modern world. His words have become so ubiquitous that I'd bet good money everyone reading this knows unique phrases from at least 4 of the 5 speeches below (also lots of movies take their titles from his phrases). I challenge any man considering himself an educated member of our society read these speeches and attempt committing them to memory. You'll find them helpful in more than a few settings. 
Want to make no knead bread in a Dutch oven? It's not nearly as hard as it sounds. 
Gluten is my homeboy. I don't care what the fad-diets say (and apologies to those of you who are truly gluten-intolerant). Paleo-be-damned, I'm grateful our ancestors developed agriculture, so we could stop foraging and eat mostly bread (and also develop science, art, culture, etc.). 
Great bread is easy to make. This is a no-knead recipe! Meaning, you don't, um... knead it. Duh. It's based on the Jim Lahey no knead bread recipe.
Here's how I do it:    
1. Get a sourdough starter from a friend (or make your own, or order one online).
2. In a
Any time of year, gin is a favorite spirit. It mixes well while retaining its character, and its aromatics complement a great range of flavors. But there's something so special, so obvious, about gin and springtime. If flavors had colors, gin's would be green, and it's a perfect chance to start putting ice back in our cocktails because the external temperatures are finally bearable.   
I live in an area of the country that experiences four traditional seasons. Of those four, my favorites are Spring and Fall. I love everything about these transitional seasons—the mild weather, the changing light, the start of garden season on one end and the height of its bounty at the other. (Even if they do only seem to last for about a week here in eastern North Carolina.)
That is, I love these seasons, but my sinuses do not. I've got horrendous seasonal allergies that flood my head with histamines twice a year, to the point where I really should invest in a giant hypoallergenic vinyl bubble to seal myself off in from April to July. Also, the change of seasons seems to kick the butts of everyone's immune systems, and I always inevitably catch what everyone's passing around.
Are you in the same club? I got something for what ails you, and it goes by the name of Head Tea.
I'm sure the original makers of Altoids had no concept of survivalism, let alone having any inkling that they were providing a vessel for emergency lifesaving tools. Yet here we are: this humble, yet curiously strong, breath mint has inspired scores of tutorials for intrepid would-be wilderness warriors.
Rather than reinventing the wheel, we at ManMadDIY have scoured the tutorials, and we've honed in on what we think are the best basics for that quintessential Internet favorite, the Altoids tin survival kit.
Let's dig in!
Get out your leather hole punch, 'cause sooner or later, you're gonna have to do it. It may be because you lost a little weight, and now it's time to notch over one more, and you're plumb out of holes. Maybe it'll be due to the fact that different pairs of pants sit on your body at different places. Or it may be that you'll simply had that belt for a little while, and the leather has stretched a bit. But, at some point, you're gonna have to make a hole in a belt. And if you do it right, it can look perfectly in line with the others, like it's been there the entire time.
Downtime. Or, in same cases, dead times: waiting rooms, lines, traffic, the moments in between appointments. Those places where you get nowhere quickly, but live in effective purgatory, embracing neither productivity or relaxation. To the overly ambitious (or those suffering from some form of adult ADHD), these are the times that try your soul in that special kind of slow-drip water torture way.
Sure, you could kill your dead time by scrolling through Instagram. You may even decide to do something useful with your phone, like one-liner email replies or clearing out your old voicemail. But what if you want to occasionally limit your exposure to the little blue screen that wasn't a crucial part of human existence before 2007?
In lieu of time-killers, here are four suggestions for time-fillers that you can perform with absolutely no equipment other than your mind and your body (as well as one that requires a simple piece of string). These are especially helpful if you're stuck in a situation where you really shouldn't be using your phone, like stop-and-go traffic.

To be honest, we're firmly in the "don't make dinner reservations for Valentine's Day" camp. Save the special evenings for anniversaries, celebrations of achievements or special events, or heck, any random Friday night. Those are guaranteed to be more "romantic," memorable, and special.  
So, if you wanna do something fun on the 14th, make this cocktail...

95% of the time, a tool box is overkill. Whether taking some items to help a friend with a project, or just working on something in my own home two floors above my basement shop, the act of dragging out the toolbox, selecting the items from the pegboard and arranging them appropriately, and then lugging the whole thing around is simply unnecessary.