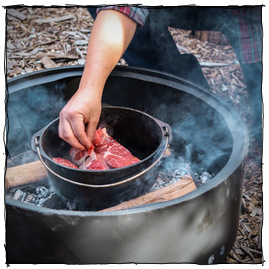 Perfect Your Campfire Cooking Technique
This is the time of year when no one's ever quite sure what's best to wear on any given day. The nights are cool, but the days are still warm, especially in the sun, but then a breeze or the clouds hit and everything changes. Multiple layers are usually overkill, but the sandals are gone, and some flexibility is certainly required to not only look the season, but the feel prepared for the day.
Make it happen with these five summer-to-fall transition essentials.    
A Note to Self: Thursday, August 31, 2017:    
Remember to rest, even when things are going great. 
It's easy to crave time away when you're in a rut, in need of a refresh, or looking for some inspiration. But, right now, I'm actually in a pretty good space.
That doesn't mean there aren't unperceived benefits to stepping away. So, for the rest of this week and next, ManMade is going on vacation.
I'm pretty pumped. I especially like traveling this time of year. Waiting to head out when school is in back in session means the crowds have lightened significantly. But it's also a special time of year. I feel the transition of the
Executing a well-designed project doesn't always have to involve high-end materials, elegant shapes, and complicated techniques. Sometimes, the most affordable wood will do, and to bring it together: just a little math.   
You know the ones. Those classic, advice-supplying stock phrases that might be from Shakespeare but could be a religious text and/or folk wisdom, yet we all seem to absorb nonetheless. Those almost-too-simple lines that are always shared by well-meaning people in sometimes appropriate, but usually irrelevant, situations that don't actually apply.
But, I suspect that we all have a few of these that actually do make sense to us. True, "a penny saved is a penny earned," doesn't really resonate with or motivate me. But I know it's a code that many people organize their lives around. Nor do I agree that you should "never go to bed angry."
Okay, begin witty caption contest for this rugged DIY speaker system...now! "You can play your explosively good music?" "For use only when you really need to blast your tunes?" "Only plays songs that charted number one with a bullet?" "Solder up this stereo, soldier?"
Lately, I've been on a quest to find better breakfast foods. Without getting into much personal, and overbearing, health details, most breakfast foods just aren't all that great for you. Whether it's a pile of dried wheat or a sugary toaster pastry, grabbing something good on the go can be so dang hard! Well, no more! Kolache to the rescue!
Have you ever had to cook dinner at a friend's kitchen only to find out they don't even own a cutting board? Not only have I had that happen for me, I've noticed this kind of thing happening in my friend's workshops. It's easy to get caught up in making things and overlook some essential tools that can really help you get things done right.    I thought I'd share a few tools I use almost every time I work on a new project. Some of these are almost laughable, but I guarantee some of you are going to read through these 6 tools and think to yourself, "Oh yeah, I need one of those."    
For the last couple of years, I've been mostly set on woodworking tools. I've been collecting my large, stationary machines for nearly ten years now, and although I do plan to upgrade a few of them, I've been able to accomplish most of what I've set out to do with a little creativity and patience.
The one standard machine that's been missing from my shop is: the jointer. I knew I didn't want to buy a tiny benchtop machine, or even a too-small 6" model. I told myself I'd wait until I was in my "forever" shop, then get the machine I wanted; one I could use for the rest of my life.
Once we bought our house last year, I started a Craigslist alert, and painfully watched every listing from ubiqituous Harbor Freight tools to overpriced secondhand things from people who have no idea that what things are actually worth.
Over the last eighteen months, only a few 8" models even came up for sale. The woodworking community in my town snatched them up as soon as they were listed, and so I waited. And waited.
And then - enter this Delta DJ20. Built in the 80s when machines were machines. Complete with parallelogram beds, dead flat and coplaner tables, and an awesome fence, this was being offered at less than the price than the new Grizzly it's based on, plus no shipping, no assembly or degreasing, and it came with a mobile base.
I made my offer, went to check it out, and - boom! - I'm now the owner of a vintage 8" Delta jointer.    
These are thoughts, the artwork, the news stories, the tools, the food, the conversations, and whatever else we just can't get out of our heads this month.      
Yesterday, I offered the thesis that if you're only going to learn to tie one knot, it should be the bowline: it's simple, can be easily untied, and is incredibly versatile for all sorts of situations. 
And all that is true. But, it's not the "knot" I employ most often. Because the reality is, most of us don't handle rope on a daily basis. We do, however, in the age of smartphones and podcasts and the entire history of recorded music available at your fingertips, engage with another long, stringy thing that needs to be dealt with on the regular: your headphones.
Or ear buds. Or ear phones. Or whatever you call those wired transducers that deliver all that sweet, sweet audio to your brain. And because you take them with your everywhere, they regularly get knotted and tangled up in your pocket or bag.
This is completely unnecessary. Because there's a five-second "knot" that can completely eliminate this problem, and it doesn't take any longer than other storage methods. So, now, I present to you, the actual most useful knot in the world.