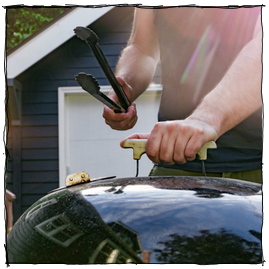 How to Improve Your Charcoal Grill
Turning out perfectly grilled foods in your own backyard requires balancing two important variables: time and temperature. Too hot, and the food gets overly blackened and burnt before it's cooked through. Too short, and the surfaces don't have enough time to caramelize, brown, and develop that characteristic charred flavor that makes grilling worth the effort in the first place.
A solid grill thermometer can help, but here's the bad news: standard bi-metal dial thermometers, the kind present in almost all backyard grills and smokers, can be off by as much as 75° F in either direction. Which, if you're going for low and slow cooked flavors of barbecue, is enough to totally ruin your meal and your day. Here's how to fix it. 
There is a new phenomenon where lonely people have finally found a voice to express their loneliness. And wouldn't you know it - they found it on the internet. Of course, the internet is not the reason we are lonely and it is not the source of loneliness, but it certainly is the vehicle that allows people to talk about how lonely they are. But it is the internet that has turned it into something universal, something memetic. (Though I spare you examples here, the internet abounds with them. You've seen them.)
After I graduated from high school in the early 2000's, I had the privilege of taking a Wanderjahr in Germany before college, spending a year as a foreign exchange student with a host family about an hour's train ride west from Berlin. Two things from that year still stick with me 15 years after packing up my stuff and touching back down on American soil: 1) German, which my firm-but-kind host family helped me learn, and 2) German food. 
I had no idea about German cuisine prior to that year, but I've loved it ever since. Traditional German food is hearty, full of bread, meat, cheese, beer, and hardy vegetables like potatoes. It's the ultimate comfort food. The king of fruit in Germany is the apple, which lends its juice to the delightful, concoction known as Apfelschorle.
Author Seth Godin, in his book We Are All Weird, argues that the Internet era has busted open the starting gate and let the tribes out: information has truly become democratized, so now it's much easier for niche interests to connect and collect. One great example of this is the MoOM, or Museum of Online Museums. Coudal Partners, a Chicago design firm who created the famous Field Notes brand of notebooks with design guru Aaron Draplin, have run the site for about 10 years, which is basically just a big list of links, and in it you'll find the full gamut of niche stuff: from major institutions' virtual presence, like Amsterdam's famous art collection at the Rijksmuseum, to the most overlooked stuff like Manhole Covers of the World, it feels like it's all here. 
If you're a designer looking for visual inspiration, a novelist on the hunt for a random detail to spark a story, or a just fan of vintage eggnog labels, look no further than this treasure trove. I first discovered it way back in college and, though I did waste a lot of time combing through it, I was also able use it to do a lot of research on package design.
Read on for some of my favorites in the collection!
Long time ManMade readers may recall my love of these earbuds, which I have claimed (over and over again), are the best value in in-ear audio supply out there. I had three or four sets going at any given time, and use them everywhere from the workshop and exercising to travel and housecleaning marathons. They work great, sound good enough, and are both durable and affordable that you don't mind taking a few risks with them. (Nearly every pair I have are also covered in paint and wood glue.)   
Spring seems to have arrived overnight, and with it comes the explosion of green as everything wakes up from its winter nap. First up? Time to fend off the weeds. . . and please don't reach for that toxic stuff. It's nasty for you, your yard, and everything around it. Instead, try this safer and super effective recipe.   
I've always loved the feeling of contrasting materials, especially metal and hardwood.  Metal is the yin to wood's yang: cold, crisp, and unforgiving, while wood offers smooth, supple, and organic patterns. When I really want to make a piece stand out, I'll put a bit of effort in mating these unlikely partners to play off each other for visual interest and a little bit of "how did they do that?" My youngest turns 5 this month, and I have been building a keepsake box that I hope she'll have for the rest of her life — an heirloom piece that I want to stand out as timeless, personal, and familiar. I decided a metal inlay of her initial would be a great way to make it her own. 
With the temps warming up, it is most certainly time to get mouths a-watering for barbecue season. Whether gas or charcoal, most of us have a backyard grill, but a dedicated smoker can be a luxury. They take up space, can cost a lot, and while they make sense for true smoked food fans, might not be necessary for the average grill fan.
 
In fact, they're not necessary at all. Cause with a little creativity and DIY ingenuity, you can turn the grill you already own in a smoker that can turn out tender, fall apart food fused with the flavor of fire. 
As anyone who has worked in a high volume coffee establishment will tell you––and I am one of those people––keeping coffee equipment clean is a huge job. And while a professional shop has to maintain its equipment with a daily regimen of daily cleaning, descaling, urnexing and polishing, what I realized when I came home from my coffee shop was that my personal coffee equipment was some of the LEAST attended to items I had in my kitchen. I think for many people, coffee is such a utilitarian part of life, it is easy to lose track of how many brews your machine/grinder/kettle/aeropress may have gone through. And of course, coffee is not
We know you love your mom, but life gets busy and we all fall behind. Luckily for you it's not too late show that incredible woman how much you love her with these unique gifts from Amazon Prime that if you buy today, will still arrive in time for you be the favorite son!