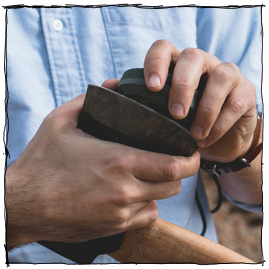 How to Sharpen Your Axe
Okay. It's time to call it. The long days of summer are gone, and with them went the endless opportunity to take on a new project or adventure, no matter the time. For the next few months, the daylight hours will be spent mostly at work, with our free time coinciding with the dark, crisp nights of the season. The perfect time to do a little whittling or carving by the fireplace, or perhaps time to start a pot of your famous chili and cast iron cornbread. Or, when you just have a few spare minutes to yourself, read a great book. 
You want your meat board to be a statement of your ambition. Not as a cook, but as an eater. If you can avoid it, don't just let this be a venue for a dinner plate. You want a board that seems deliberate and larger than life. Wood is good. But so is slate or stone or anything smooth and safe for food. In this moment, when you are putting together a board, you are not a chef, nor even a cook. You are an artist in front of a fresh canvas, but your paints are going to be the foods that you most love. 
Get ready to grab a bucket for all that drool...   
Etymology often helps shape thought: when you're aware of a word's origins, you're in touch with the full context of the words that filter your inclinations. For example, did you know that wilderness comes from the Old English for "wild deer"?
Think about that for a moment: it's a place filled with animals unaccustomed to human contact, where humans have minimized their prints on the world. So when we go out to the wilderness, we're immersing ourselves in the beauty of nature, we're adventuring outside of civilization, and we're escaping from the creature comforts that can dull our sense of connection to the cosmos.
Well... maybe not 100% escape. Because while I love taking a break, I've never been interested in taking vacation from a good cup of coffee. If you're the same, read on for how we at ManMade make decent coffee in the wilderness, and our choices for a great camping coffee maker.
If you do woodworking and DIYing in inches, a solid understanding of fractions is essential. Being able to calculate that half of 4 1/4" is 2 1/8", or that 1 1/2 + 1 3/16 = 2 11/16" is basic shop math that will keep your projects moving quickly.
But often, bringing fractions into the process is, well, completely unnecessary. Let's say you have a board that you'd like to divide into equal parts. You could measure it, then bust out a pencil, paper, and the calculator app, and eventually have to Google a decimal-to-fraction converter to figure out the size of each section. Then, you'd have to find that crazy number on your ruler, and carefully add the units together to mark out your parts. Or... you could just do this.    
Apple pie. For my money, it's the best dessert to grace our tables and slide down our gullets in the past bazillion years. Sweet, tart, warm, gooey, and crumbly... it's no wonder it's an American icon. But why limit this goodness to your oven? Let's take a journey with the recipe, step out of the kitchen, and head into the great outdoors (or your backyard) to create a rustic cast iron apple pie cooked over an open flame.  
Summer is the season of fresh, lively cocktails: Collinses and flips and spritzes and 'garitas. But as the weather chills down, it's time to switch into a more subtle mode. Fall cocktails are all about deep, earthy, and woodsy flavors, those that match the smell outside and the sorts of rustic, homey dishes that taste so perfect on a cool evening. 
It's a big country, the USA. And the myth of the open road remains strong, even if it will be self-driving cars that move us there. A little bit of research about roadside attractions in America will yield a host of unique and bizarre results. So here are a couple unique sites located off the beaten path that are worth visiting in the American Southwest.   
If you ask me, the single best place to get breakfast in NYC is Bubby's. They have incredibly delicious and addictive pancakes. And yet, Bubby's is not a secret, and as it is with the "best" places in any city, getting in often requires a long wait. It's popular with tourists who want a chance to get their forks into this magical creations, and I can't blame them. They're that good.
I, on the other hand, hate waiting, and I so I figured out how to modify the recipe a bit and, instead, I'm making brunch in my own kitchen this weekend.
Here's how to make better pancakes at home. 
Fall means many things. Most important among them: firewood season. Whether building a campfire in a stone ring for cooking, heating your space via a woodstove, or just setting your indoor fireplace ablaze for some warmth, these next six months are all about the cheer that can only come from the presence of an open flame. 
So, as we settle into the new half of the year, let's take a moment to address humankind's most primitive tool: the axe. Whether your splitting whole tree rounds, dividing logs into kindling, or getting creative with woodcarving, the process is simple, and only needs to happen once a year for the average non-lumberjack. Here's how to sharpen an axe.