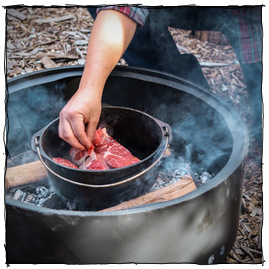 Perfect Your Campfire Cooking Technique
These are thoughts, the artwork, the news stories, the tools, the food, the conversations, and whatever else we just can't get out of our heads this month.        
Can't get into the floral smells and garish artwork of storebought candles? Nope, us either. So  we came up with our very own DIY version to make a reusable rustic candle that any guy can be proud to burn in his home. (Or log cabin?)
Bikes have moving parts...it's precisely what they're designed to do. And things with moving parts need maintenance to keep them moving smoothly. And since a bike's very design is to move forward as its parts move, you either need to a) get your bikes wheels off the ground while maintaining access to gear shifts and break levers and b) grow two more arms and hands.   
Earlier this year, I agreed to complete a woodworking project for my wife. Actually, I offered and volunteered myself to do it. She has a particular storage need in her office, and because of the weird layout, access issues, scale, etc, it's not something that exists anywhere. It has to be custom built, and installed in the space.
The truth is, I've been avoiding it. It's a big project, and it was easy to move to the bottom of the project list when it was the height of summer. We had houseguests coming in and out of our home, and the days were long and full of activity. 
But now, that season is over, and it's time to start building. I realized this week why I've been putting it off: I'm afraid. It's beyond my skill level, and requires a lot of moving parts that need to line up, just so. In any other situation, this wouldn't be something I'd agree to do, because it's too big of a leap; I need to learn to do too many new skills inside the same project. 
There are a couple standard household items where their never seems to be a reasonably attractive option. Tissue boxes are a big one; there, it's always about choosing the least of the evils. I'd also throw paper towel roll holders in that category. Head into any big box or discount store, and you'll be hard pressed to find anything that matches a style other than "I buy all my home decor items at big box discount stores."
So, in that case: you should make one instead. 
So... I realized something over the weekend. I was listening to a podcast that had intended to have a conversation about the new Dark Tower movie, but since it was, apparently, completely boring and not worth discussing, they decided to chat about their favorite Stephen King books, movie adaptations, mini-series, etc. And it hit me:    
I have never actually read a Stephen King book.    
This weekend, I made a mess. A cover-the-entire-room-in-tiny-little-scraps-of-paper and a get-out-every-marker-and-cutting-tool kinda mess. It's still on the floor, on my office chair, on the main work table, on the computer desk, on my cutting mat, and its trail has seeped into the hallway. See, I've always been the kinda of maker that gets all the requisite tools and materials out
I can't say I can recall the ingredients on a basic can of shaving cream. It's pungent smell and pearly white appearance can only make one wonder if you're putting healthy chemicals on your face. Lucky for you, controlling what you put on your face is as easy as this recipe for your own jar of shaving cream.    
The random-orbit sander is one of the first tools any maker or DIYer should own. In fact, I can't think of another powered tool that I use more, on nearly every project involving wood. The design is simple, and right there in the name - they move, in a random circular pattern, to sand wood.
A huge improvement over its predecessor, the pad or orbital sander, these guys use special shaped sandpaper disc to get your project smooth fast and with minimum swirl marks. Well, at least faster than sanding by hand, and with much less energy. But with great power comes great...opportunity to mess things up. These wondertools work, but there are
This post is sponsored by the DIYZ® app.
Composting. Maybe you've heard of it? It's kind of a thing. It's no longer the sole purview of hippies, weirdos, and 7th-grade science teachers Composting has gone mainstream, and that's a good thing. Don't worry, we're sure your 7th grade science teacher will find another weird hobby to call their own.
Anyway, if you've been looking to get into composting, but don't love the look of boring, plastic composting bins, then this is the post for you. We're going to make an elegant, functional, totally-not-weird-looking compost bin. And we're going to have fun doing it! Pay attention, because at