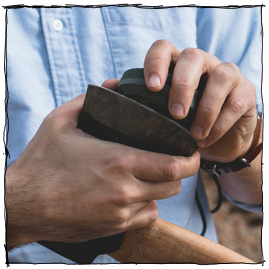 How to Sharpen Your Axe
The sun is out, sleeves are getting short, and that means: it's time to update your look for the season.
We have created two easy DIY projects that will add a nautical touch to your wardrobe without breaking the bank or having to buy a boat. Learn how to make your own knotted bracelet and...come sail, uh, away?
Turning out perfectly grilled foods in your own backyard requires balancing two important variables: time and temperature. Too hot, and the food gets overly blackened and burnt before it's cooked through. Too short, and the surfaces don't have enough time to caramelize, brown, and develop that characteristic charred flavor that makes grilling worth the effort in the first place.
A solid grill thermometer can help, but here's the bad news: standard bi-metal dial thermometers, the kind present in almost all backyard grills and smokers, can be off by as much as 75° F in either direction. Which, if you're going for low and slow cooked flavors of barbecue, is enough to totally ruin your meal and your day. Here's how to fix it. 
I've been keeping notebooks, sketchbooks, and journals pretty much as far back as kindergarten and with daily regularity since my late teens. I've got notebooks for important purposes—a hardcover 5 x 8.25" Moleskine notebook for my bullet journal planner, a big journal for freewriting answers to tough questions when I'm looking for insight, several sizes of notebooks for personal study and random thoughts, a notebook for haiku, and several practice sketchbooks. Notebooks are so commonplace in my life that honestly, I'm more likely to leave my left foot at home.
Occasionally, though, I like to shake the dust off of my mind for a fresh perspective by changing my writing context. This is when I most often turn a tiny notebook that takes a single sheet of paper, one minute, and no tools to make but my hands. Read on for instructions!
You know the phenomenon. No matter how hard your try, eventually, the little plastic tip on the end of your shoelaces (the official term is "aglet") will get crunched up, and slowly, you find yourself with a set of frayed laces. You could do the classic trick of burning the ends with a match to seize the fibers, but that's a temporary solution, and eventually, you'll end up exactly where you started.
Shoelaces are, of course, replaceable, and if you simply need a white or black pair for sneakers, or perhaps the classic golden variagated laces often found in leather workboots, you can switch them out if you like. But, so many pairs of shoes rely on the complement and/or contrast of the laces as a design element, and so often, you can't find a replacement.
So, instead, let's figure out how to fix shoelaces so they stay compact, useable, and fray-free.
Spring seems to have arrived overnight, and with it comes the explosion of green as everything wakes up from its winter nap. First up? Time to fend off the weeds. . . and please don't reach for that toxic stuff. It's nasty for you, your yard, and everything around it. Instead, try this safer and super effective recipe.   
Our love for beer is sincere and it grows stronger every year (and so does our beer belly, but it's so worth it.) Like whiskey or quality tequila, it can be perfect just by itself, in a glass, alongside a meal and preferably outside.
But beer's unique flavor profile - bitter, sweet, acidic, malty - as well as its texture and carbonation also make it a great backbone for cocktails. And in this ManMade Guide, we're giving you the basics to make the perfect beer cocktails.
Now that the days are warming up the thought of a hot latte with milk and cinnamon sure adds a drop of sweat to my brow. It's usually this time of year, I swap my typical addiction to hot coffee to sweet, syrupy iced coffee. I just can't get enough of the stuff!
A few years ago I was driving to a lunch meeting with a publisher for a book project and the conversation turned to old stuff making a comeback. I took her by surprise when I mentioned handkerchiefs, and even more so when I produced one from my back pocket. I had never really thought much of it, because carrying handkerchiefs is my way of classing up a serious problem with allergies, where my sinuses go DEFCON 1 and launch sneezing attacks at a moment's notice. (Like my man Sneezy says... "When you gotta, you gotta.") 
But I'm not the only one looking to supplement tissues with fabric. The resurgence of handkerchiefs is part of the larger picture of kids born in the 80's reaching back into Grandpa's closet and workshop for a feeling of concreteness and authenticity. Regardless of your position on reaching for retro, I'd argue that the handkerchief, far from being a relic relegated to nostalgic millennials, is a useful tool... and not just for catching sneezes.
Here's a list of some of the things you can use handkerchiefs for in your everyday life.
I know it's a small thing, but your choice in writing implements can say a lot about you. Do you carry a simple plastic tube with cheap ink, or do you hold a solid, well-made piece that makes an impression? Or do you not carry anything at all? A pen holds stories and signatures, words and dreams, and you can make one that leaves an impression every time you put some words to that page.
That's why you should carry something impressive, and why you definitely should make your own.
So, I'm gonna throw down and get controversial for a sec: William Shakespeare was the greatest playwright and poet who ever spoke English, and I'd relish a comment-fight-to-the-death in the comments anyone who disagrees (not really, but I encourage the conversation).
To argue the man's merits feels redundant; the work speaks for itself. The Bard's plays are so influential that he's taught us how we understand storytelling and character development in the modern and post-modern world. His words have become so ubiquitous that I'd bet good money everyone reading this knows unique phrases from at least 4 of the 5 speeches below (also lots of movies take their titles from his phrases). I challenge any man considering himself an educated member of our society read these speeches and attempt committing them to memory. You'll find them helpful in more than a few settings.