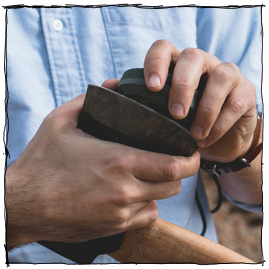 How to Sharpen Your Axe
A food dehydrator is on my list of kitchen appliances I should probably never buy myself. Like its brother, the deep fat fryer, I know I'd just get carried away, dehydratin' and frying stuff left and right.
But, that doesn't mean I don't wanna create my own tasty and natural dried foods every once in a while...particularly: jerky.  Of all kinds. So, I figured out a way to make some without any specialized tools.
Making jerky at home can seem quite complicated, and it can be if you don't follow the right steps. But, here's the ManMade guide to making your own salmon jerky, complete with everything you need to know. Grab some meat and
Hey, ManMade. My name is Stephen Cusato (you can call me Steve), and I'm the host of Not Another Cooking Show. I'm excited to collaborate with the ManMadeDIY.com team to show you how to step your game up in the kitchen. And we're going to start with this specialty of mine right here: the easiest, most practical, most delicious way to make fresh tomato sauce in less than 30 minutes any night of the week.  This is my Weekday Sauce. 
Chances are that somewhere in your town––either far away from the big box stores or in some area that is under-visited or out of the way––there is an amazing Asian market nearby. They exist in towns and cities of all sizes, so don't assume there isn't one near you until you actually look into it. Asian grocery stores are an immigrant's lifeboat, and they are one of the few, authentic cross-cultural locations you can find in most of America that isn't a temple or cultural center. They tend to have an array of products that confuse nearly all shoppers due to the sheer diversity of products that fall under the category of "Asian." 
While the meat offerings and seafood tends to be absolutely exceptional and exceptionally inexpensive, the thing that routinely blows me away at my local Asian market is the produce. My god, the produce! Where your standard grocery store will have a small range of Asian ingredients, an Asian market will stagger you just in its section of radishes. Its refreshingly overwhelming, especially when you see something familiar––a bunch of cilantro or garlic or something––and recognize their exceptional quality. This is a place you should certainly familiarize yourself with, and return often.
And while you're there, you should use some of the wonderful vegetables that are, unfortunately, out of our Western culinary vocabulary. In an effort to help you navigate, here are some of the tastiest ones to look out for. This list is anywhere near exhaustive (we love you, too, ong choy), but a great way to start to learn to use some of the classic produce you just can't find at you local megamart.    
Among the true believers, there's a fair consensus that when it comes to grilling: charcoal simply tastes better than propane. No disrespect to the gas grill; it can turn out great results. But when the true taste of summer is the priority, nothing can beat the smoky, open-flame flavor of food grilled over hardwood coals.
Well, except for food cooked over an actual hardwood fire, with coals freshly made from whole logs that you just ember-ed down yourself. This is easy enough to do in a backyard firepit, or even in the same kettle grill you likely use with your charcoal.   
Sparkling water. It's a thing. Whether a weird normcore love of the dated 90s can design, or an earnest attempt to cut back on sugar and chemical-laden soft drinks, the cool kids have embraced LaCroix. And drink manufacturers, in an effort to capture the energy, are coming out with dozens of their own brightly-colored alternatives. I went to the grocery store yesterday, and spied no less than seven distinct brands of pink and orange-canned flavored waters, all of which basically look the same (and all which include a version of pamplemousse), attempting to capitalize on the trend.
I'm no hater. Live and let sip. If it keeps you hydrated and drinking less sugary soda, or even beer, then enjoy yourself. But, if you truly love the bubbles, then allow me to nominate my lifelong favorite sparkling beverage that never doesn't taste unbelievably delicious and refreshing, and, dare I say, defines effervescence?    
Canned foods are kind of passé these days. And rightly so. If you've ever eaten a real carrot or a fresh green bean, you would never opt for a canned version of either. Canned vegetables somehow end up tasting like boring and extremely soft...pickles: vaguely salty and quickly turn to mush. Canned food has the virtue of being able to sustain your imperial army for part of the distance to Moscow, but they have the downside of basically preserving food that you'd rather not eat unless you are marching across the frozen countryside. (Except for corn. I don't know why, but canned corn is delicious and nearly impossible to re-create from fresh or frozen corn.)
Prevailing wisdom says there are two exceptions for acceptable use of canned vegetables. The first are tomatoes, which seem to have been grandfathered in because of the long availability of really amazing Italian tomatoes like the San Marzano varietal that was so famously grown in Naples and its environs. I'm a big fan of canned tomatoes, but their use as the basis of a nearly ubiquitous kind of sauce makes their role as a canned ingredient unlike other vegetables. No one thinks a canned tomato tastes like a fresh tomato, and no one wants to eat canned tomatoes without doing something pretty aggressive and involved to them. (Or, maybe you do. But why?) 
Let's say you've read up on the merits of woodcase pencils and you've decided to become an inveterate pencil carrier. You've sorted your B's from your HB's, you've picked your favorite finishes and ferrules.  You've bought your dozen (or two) and are scribbling smoothly... until one day you find yourself with a dull point and no sharpener. 
But if you've got your pocketknife, you're just a few minutes from a fresh point! Let's take a look at how to sharpen a pencil by hand.
During spring time, pine, fir, and other evergreen trees grow by producing new tips at the end of each branch. The new growth is a lighter, vibrant green, and you can (and should!) eat it. The tips have a wonderful citrus-y, woodsy flavor that tastes awesome in all kinds of sautes, seafood, and roasted dishes. But the easiest way to preserve their flavor is steep them gently in a syrup, which will last in your fridge for weeks. 
The garden suggests there might be a place where we can meet nature halfway.
— Michael Pollan
If you've never gardened before, but you would consider yourself a DIY-er/craftsperson/maker or what have you, there may be some things about gardening that are very different than other kinds of projects. To build a garden entails some kinds of making that are very ordinary and along the lines of any other plan–>materials–>product kind of project. But in other ways, it requires craft and technique that are completely beyond other kinds of skills. But, to build a garden is not to simply make something. It is to embark on an un-finishable
The power of fermentation: instead of fighting off microbes, you invite the right kind to your party. It doesn't take a lot of culinary know-how to acknowledge that certain fermented foods get better the longer they ferment, like wines and cheeses. The more sourdough starter ages, the more complex its flavors become. Then you've got your fermentation standards like pickles, dairy products like kefir, soy-based miso and natto, and even Russia's beet-based kvass.
But did you know that occasionally tea gets invited to the bacillus party? Welcome to the world of pu-ehr!