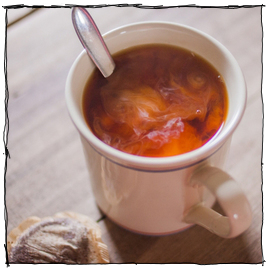 The Greatest Cold Remedy Known to Man
For the sake of this article, let's just assume for a moment that you're convinced of the merits of listening to bluegrass and old-time string music...
If you think of the elements of cooking that feel the most like a chore, cutting vegetables can rank pretty high on the list (just under scraping off blackened cheese from a sheet pan.) But when you're holding your knife correctly, it can be one of the most satisfying parts of the cooking process...second only to eating.
Practically speaking, you'll significantly reduce your kitchen prep time while making sure that all of your digits stay intact. So, more efficient and safe.
Who doesn't want to save minutes and fingertips?
"… my landlady, by the way, doesn't like the Germans because when some playful Nazi pilots lived in her house some months ago, they threw a hand grenade into her chicken coop, and they had to eat the winter's supply of chickens all at once."
This is one of my favorite lines from our family's treasure: my grandfather's back-and-forth correspondence letters during World War II. Frank T. Waters was an editor of the military newspaper, Stars and Stripes. At several instances during the war, he sent correspondence back home to his mother, family, and friends sharing daily life overseas and fighting the biggest war of the 20th century.
Going through these letters is a truly amazing glimpse of a soldier's life during war-time Europe in the 40s. I counted 207 letters, official correspondence, orders, postcards, etc, so far. Reading these, I discover my grandfather was smart, curious, and pretty funny. Here are some of my favorite bits:
There's a great adage in the home decor and organization field...you've probably heard it on one of those room makeover TV shows. The phrasing varies, of course, but the central idea, "When you run out of floor space, you've got to go up."
It happens. Going about your life, you come across memorable sayings. In movies.. books... pasted on top of inspirational images on your friends Facebook feed. And every once in a while, one of them sticks.
If forced to pick one, I suspect my greatest fear is regret. You know the image: an old man sitting in a chair, thinking back over all the the chances he never took. And that's why this quote hit me. It goes like this:   
Last night, my wife poked me in the ribs, and showed me this image. "Guess what that is," she said.
"Oil paint mixed with water?" I guessed.
"No...those are clouds hovering over Jupiter."  

These are thoughts, the artwork, the news stories, the tools, the food, the conversations, and whatever else we just can't get out of our heads this month.     
If you've attended elementary school in the last 30 years, you've heard of haiku: three-line poems with a 5-7-5 syllable pattern, usually about nature, often cutesy. I'm happy to report that despite some grains of truth, you're wrong. Haiku is a lean, muscular form of thinking, and the discipline of writing haiku is a rich addition to a full life.
When I was a kid, my parents' old Mr. Coffee broke. Because money was tight, it wasn't replaced for some time. I remember waking up one morning and finding my mom making a cup for herself by perching the brew basket from the broken maker over a mug and pouring boiling water from a kettle.
For me, seeing this bit of kitchen MacGuyvering became a truly paradigm-shattering moments. Until then, I thought coffee required an electric drip machine — that it was the only way coffee could be made at all. But seeing this patient pouring of water over grounds, it became clear that the machine wasn't necessary. Some things you really can make yourself. 
I'm a huge fan of having a few rows of dog holes in my workbench top. And, more than anything else, I use them to secure a holdfast - an ancient and genius piece of design that secures your work to the work surface with a simple tap from a hammer or mallet. When your ready to release it, just hit the back and it's free. Seriously - it's ten times fast than clamping, and you can fasten your work anywhere across the bench top. Brilliant.
To speed up the process even more, I wanted to come up with a permanent way to protect the wood from the force of the steel being banged into it. You can use a hardwood scrap between the holdfast and the workpiece, but I figured there's reason to spend twenty minutes once and protect my work forever. No digging around for scraps required.