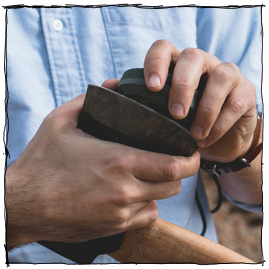 How to Sharpen Your Axe
I don't remember when it happened, but one day I decided to become a journaler. No history, no discipline. I just took a simple notebook and filled it up with my thoughts, dreams and goals. A basic notepad was nice, but after a while something like that became so personal it was only natural to upgrade such a personal item.  
To the non-DIYer, dedicating an entire blog post to this process may seem like overkill. But anyone who wields their cordless drill on the regular can attest: the issue of making an existing hole larger comes up all. the. time. Whether repairing something around the house, replacing a part or piece of hardware, or just because you didn't quite get it right the first time, any maker, woodworker, or generally handy person knows how frequently one needs to enlarge a hole, and how surprisingly difficult it can be to pull off. 

"One does not inhabit a country; one inhabits a language. That is our country, our fatherland –– and no other."    –– Emile Cioran
We're living at a weird time when it comes to the question of learning a new language. On the one hand the world is becoming so globalized, so intercultural, and so communicative, that there has never been a more relevant time to learn Korean or Farsi or Finnish. On the other hand, digital tools for translation––both in written and spoken forms––are becoming so capable and intuitive that language is no longer the high water mark for understanding a culture. 
For centuries of especially European history, learning languages was a crucial part of being an educated and informed person. After all, in a world full of different languages, it was a necessity to be able to communicate. But in a bizarre way, global society has actually made us LESS dependent on learning a foreign language. English has become the internet's lingua franca, and tools like Google translate and other translation software has made navigating multi-lingual spaces easier. And tools like Duolingo give us exactly the amount of language access we need, which seems to be enough Spanish or French or Mandarin for our vacations. Language courses and requirements are disappearing from schools and unless you are born into a family that speaks a language different from the culture around you, its harder and harder to learn.  
Often, when it comes to DIY projects, we create our own circles by starting from a center point. Whether a compass, string guide, or specialized cutting jig, a circle emerges from our pencils or saws precisely because we've created an established and consistent distance from a single origin. 
But, what happens when the shape already exists, and you need to know how to find the center of a circle? You can do it in less than a minute without any specialized math, memorizing a formula, or even knowing what pi is.    
I really should kick this off with a big disclaimer: I'm a book guy.
I grew up in a book house—my dad is a professor and the author of several books, and my mom worked in a library when I was a kid. Bibliophilia is in my genes—my toddler already goes straight to her books immediately on waking up. I love places where books live—I've haunted libraries, bookstores, and free book spots in every town I've ever lived in. I read books in multiple languages—I'm literate in German, with passable French and Spanish skills. I even write books—I've got several novels in progress, including one story with a finished draft that I completely scrapped instead of sending to an agent because it wasn't quite there yet.
But recently, I've ditched at least 300 volumes from my personal library, some of which I had owned for over 15 years.
If you're trying to downsize too, read on for 10 tools to help you winnow the chaff from your personal library. But first, a brief aside to answer the why.
The bowline knot is not just for sailors. Nor anglers, mountaineers, first responders, or anyone else who need to know a huge diversity of knots, their strengths and weaknesses, and what situation calls for each.
This is for the rest of us. Those of us who go through normal life and its adventures, and encounter rope, twine, string, line, paracord, and the like, and when we need to secure it, say "Should I tie this like my shoes, or in a square know that I know will be nearly impossible to get off when I'm done."
The truth is, at this point in our lives, we're probably not going to learn how to tie a complex cavalcade of knots, and even if we did, would probably not have enough opportunity to practice them in real world situations in order to commit them to long term memory.
But, still, we should all know how to tie at least one pro-level option, and so we say to you — if you're only going to know how to tie one kind of knot, let it be the Bowline Knot  
We love our pickles here at ManMade. Whether we're fridge pickling veg or tossing a dill cuke in our beer, we're fans of the vinegary tang of natural food preservation.
Now, tomatoes are no stranger to canning; homemade pasta sauce is one of the handmade life's greatest joys, and pickled green tomatoes are delicious in that check-out-the-awesome-secret-restaurant-in-the-hidden-alley kind of way. But I've barely seen pickled cherry tomatoes register on the pickle scene, and it's a rotten shame.
I got this idea soon after some friends visited and forgot their charger cords for their phones. Since I had my own to use overnight, we had to fish around for other solutions. One day, in my shop I was reflecting on this dilemma when I remembered there were these new USB wall sockets that would be perfect to turn into a portable DIY charging station whenever I need it. 
When I start my garden every spring, I like to kickstart it by heading over to the local nursery and hardware store for some pregrown plants. Seeds can be tricky to deal with, and plants that are already several weeks old are especially helpful if you're busy, don't have a ton of experience, and want to get a jump on the growing season without having a greenhouse.
For the remainder of my garden, it's all about the seeds. I love that thrill of watching those little seedlings cling to the dirt in rain and sun, and I'm ecstatic to see true leaves when they emerge. If you've been doing seed packets for a while, and you're looking to up your garden game and perhaps move into the world of heirloom vegetables, read on for our primer on how to save tomato seeds, seed pods, summer vegetables, and more!
Concrete. It's a universal building material so ubiquitous, we tend to take it completely for granted. Yet it has a fascinating history that stretches back before the time of Roman Empire. No need to fire up the Delorean today, though; we're sticking to the current trend of using industrial materials in domestic interiors with our concrete desktop planter.
We're also giving away a $250 Lowe's gift card that you can use to buy your supplies to make your own concrete desktop planter (and then some). Read on to find out how to enter (giveaway details at the end of the post) ...