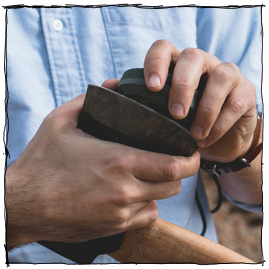 How to Sharpen Your Axe
I knew I had a problem with pickles when I was a kid and the jar of Claussen's or Batampte's in our fridge wouldn't last a week without me finishing it. Something about the perfection of cucumber plus garlic plus the salty-sour of the brine made for something refreshing, savory and just perfect. I craved pickles as the accompaniment to a sandwich, but I also ate them straight out of the fridge, getting through at least a spear or two before the door closed shut. Pickles are, simply put, one of my favorite ways to eat vegetables.  
I'm sure the original makers of Altoids had no concept of survivalism, let alone having any inkling that they were providing a vessel for emergency lifesaving tools. Yet here we are: this humble, yet curiously strong, breath mint has inspired scores of tutorials for intrepid would-be wilderness warriors.
Rather than reinventing the wheel, we at ManMadDIY have scoured the tutorials, and we've honed in on what we think are the best basics for that quintessential Internet favorite, the Altoids tin survival kit.
Let's dig in!
Get out your leather hole punch, 'cause sooner or later, you're gonna have to do it. It may be because you lost a little weight, and now it's time to notch over one more, and you're plumb out of holes. Maybe it'll be due to the fact that different pairs of pants sit on your body at different places. Or it may be that you'll simply had that belt for a little while, and the leather has stretched a bit. But, at some point, you're gonna have to make a hole in a belt. And if you do it right, it can look perfectly in line with the others, like it's been there the entire time.
Downtime. Or, in same cases, dead times: waiting rooms, lines, traffic, the moments in between appointments. Those places where you get nowhere quickly, but live in effective purgatory, embracing neither productivity or relaxation. To the overly ambitious (or those suffering from some form of adult ADHD), these are the times that try your soul in that special kind of slow-drip water torture way.
Sure, you could kill your dead time by scrolling through Instagram. You may even decide to do something useful with your phone, like one-liner email replies or clearing out your old voicemail. But what if you want to occasionally limit your exposure to the little blue screen that wasn't a crucial part of human existence before 2007?
In lieu of time-killers, here are four suggestions for time-fillers that you can perform with absolutely no equipment other than your mind and your body (as well as one that requires a simple piece of string). These are especially helpful if you're stuck in a situation where you really shouldn't be using your phone, like stop-and-go traffic.

If you were to ask an American to picture drinking a cup of tea, it's safe to assume that the mental image wouldn't include work boots, hardhats, bricks, and lumber. But while coffee is standard in the U.S., for thousands of construction workers in Great Britain and Ireland, as well as numerous tradesmen like electricians, welders, and plumbers, a strong cup of tea is the preferred fuel for a day filled with labor.
Here's a basic rundown of how to fortify your work day with the strength of a bricklayer.
Search "bullet journal" in Instagram or Pinterest and you'll see a cornucopia of tricked-out notebooks. The Esteemed Society of Crafters on the Internet has truly created a thing of beauty. But if you're one of the "Ain't Nobody Got Time for That" (ANGTFT) set, don't be fooled by the washi tape, calligraphy, and rococo calendar ornaments: a minimalist bullet journal is, hands down, the most efficient and robust planning tool in your productivity kit.
To be honest, we're firmly in the "don't make dinner reservations for Valentine's Day" camp. Save the special evenings for anniversaries, celebrations of achievements or special events, or heck, any random Friday night. Those are guaranteed to be more "romantic," memorable, and special.  
So, if you wanna do something fun on the 14th, make this cocktail...

95% of the time, a tool box is overkill. Whether taking some items to help a friend with a project, or just working on something in my own home two floors above my basement shop, the act of dragging out the toolbox, selecting the items from the pegboard and arranging them appropriately, and then lugging the whole thing around is simply unnecessary. 
When I'm just cooking for myself (i.e. if my special someone is out of town), I can certainly fend for myself nutritionally, but, I'm probably not going to get too culinarily ambitious. I find I either want to cook for lots and lots of folks (hence my two dinner parties over the weekend), or not really mess with it. I mean, who I am gonna impress and treat? Myself? Nah. Plus, I gotta do all the cleanup myself.
So, while I don't like to get take out every night, I'm prolly not gonna make a big mess in the kitchen with fancy fixings. And, probably at least once, when spending an evening huddled away in the basement working on a project, I'll resort to that single-guy staple: the frozen pizza.
Not that I like frozen pizza, of course. But, it does do in a pinch, requires little effort and clean-up, and sorta feels like a treat. But that bland blagh from a box doesn't have to be all bad. Especially if you take it up a notch with some fresh ingredients and clever techniques.   
Knot tying. It's a thing. If you read any "men's lifestyle" content, you've no doubt seen an exhaustive list of "essential knots every man needs to know." You proceed to read their list of seven, or ten, or fourteen, and by the time you get to the bottom of the list, you can't even remember the name of the first one, let alone how to tie it.