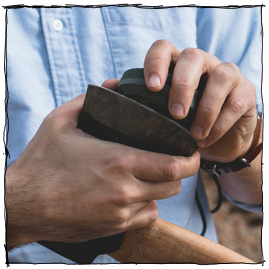 How to Sharpen Your Axe
I've technically lived in five cities so far if we include my college town (Minneapolis, New Haven, London, Brooklyn, and Los Angeles). And I've come to realize that as a creature of habit I eventually start frequenting a couple different venues that all have similar things in common. I think every man should have a couple of these. Let me explain…      
So... I like this project. I really like it, and I'll tell you why. First, it's made entirely from off-the-shelf parts from the home center. Then, because the parts are readily available, the only tool you need to make the entire thing is a cordless drill, which is awesome. And lastly, the attention
Cooking delicious food is the definition of craft: start with curiosity, add in a little practice, mix in the right materials and ingredients, and eventually, you'll nail some basic techniques to make your weeknight meals something worth doing all those dishes. 
But, there are also such things as shortcuts. Maybe not towards making a meal taste acceptable in the first place, but rather, little tips and tricks that take your food from good to holy-cow-that's-great; small works of wonder that make a meal more than just nutrition, and leaves you feeling excited and satisfied.
This is one of those things.   
Mindfulness. It's a buzz word, and we're all after it, even if we aren't totally sure what it is. But, the benefits are obvious — the ability to be wholly present, cognizant of where you are and what you're doing, and not being concerned or overwhelmed by what's going on around you, seems, well, kinda the whole point of  life, right?
Good news. This is something we are all capable of achieving, and like any craft or skill, we'll become better when we practice daily. Here's how to start:     
Have you ever marked out a board, went to cut, and re-checked your measurements after hearing the words "Measure twice, cut once" echo in your ears? It's remarkable how nuggets of shop wisdom can stick with you and save you a ton of trouble on a project.
At ManMade, we're big on collecting aphorisms, witticisms, and maxims that deliver helpful lessons in tidy packages. Sometimes, they're just what we need to stay productive, and get motivated to try something new. So, we're providing a few of our favorite in the form of free downloads: printable artwork to hang in your home, office, or wherever you create your DIY projects. 
For most men, cufflinks are one of those accessories that are seldomly used, but when you need 'em, you need 'em.  You can buy custom cufflinks from anywhere between  $20 to hundreds of dollars…or, you can make your own masculine, custom cufflinks for $5.  This is an incredibly simple project that took about 25 minutes to make and, if I may say so myself, they look pretty great.
Unless you're a millionaire, I always recommend going with used hand tools when getting started in woodworking. (Though, full disclosure, no millionaires have yet to ask my advice.) Vintage tools are plentiful, much less expensive, and depending on their age, usually a better, longer-lasting tool than you can buy at your local big box store. And the best part? Antique tools are more likely to be made in the USA or Europe, where they've been crafted from higher quality steels than modern tools from the home improvement center. 
Over the weekend, I found this nice, broad 1 1/2" chisel at a favorite antique mall, with a mere $7.50 on the price tag hanging from the handle. It was in mostly great condition. The top and back had been coarsely ground a few times, and the bevel wasn't square to the sides, but the steel was in beautiful shape and the handle looks like it's never been pounded on.    
Here's the thing people who don't like spicy food don't really understand: adding heat to your food, whether in the form of fresh chile peppers, their dried counterparts, or any number or cooked, mixed, and fermented chile-based condiments, is not just about upping the Scoville units. What the true piquancy people know is that chiles aren't just spicy, they're full of amazing, floral fruit flavors that you can't get anywhere else. 
Often, the best way to add that can't-stop-eating-it peppery bite is in the form of prepared hot sauces. There are tens of thousands out there, too many of which are characterized only by heat levels and how much devil imagery they can fit on their labels. But hot sauce shouldn't be a dare. It's an invitation to a new world of flavor that can accentuate whatever its added to.
Its the season of nippy evenings and crisp mornings and the smell of leaves gathering over mossy ground. For most of the nation at this point in the calendar, the temperature has finally started tipping toward a chill. It is also the season when the entire world of marketed goods becomes pumpkin spiced, cinnamon sprinkled and otherwise given a taste that makes it seem like you're sucking on a mouth full of allspice berries. And you know what? I love it. I really do. We don't have a lot of big, broad ways in which we all, as a people experience the passage of time. So we might as well let our common appetite for sugar and spice become something that binds us together.
One way to let this explosion of cliché fall flavors come into your world, responsibly, is in your coffee cup. Because why not? Coffee is a daily part of many of our lives. And unless you are the Scroogiest grouch when it comes to the amusements of the months of October through December, why not let the occasional cup get gussied up with the joy of the season and its holidays? So, if you are the kind of person who likes to drink a little whimsy now and then, here's how to bring all of the warmth and cheer of the fall into your morning cup.    
Most of us get into woodworking from a practical point of view: we need to work on something around the house, so we head to the home center and get tools to break down dimensional lumber and bang it back together. So you upgrade from a circular saw to a compound miter saw, and maybe even get yourself a pocket hole jig so you can hide your hardware from sight. 
And then, as it inevitably happens, something changes in your point of view. You're now longer just doing "home improvement" or "building things"... you're now: a woodworker.