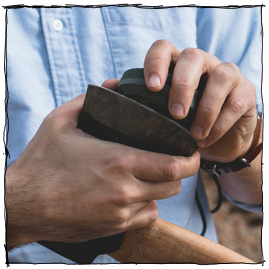 How to Sharpen Your Axe
There's a great adage in the home decor and organization field...you've probably heard it on one of those room makeover TV shows. The phrasing varies, of course, but the central idea, "When you run out of floor space, you've got to go up."
A kitchen knife is an unusual tool, in that the point of contact between the tool and the medium upon which it works is actually extremely delicate. Imagine if a wrench were as delicate as an X-acto blade that had to be replaced regularly, or if bar clamps would routinely stop holding things in place because they became all wonky with use. Most non-cutting tools are blunt, hearty and reliable. But blades have to be cared for, stored carefully, and sharpened (somewhat) regularly. 
But if there is an abused and neglected blade in your home that is used frequently but cared for rarely (okay, maybe not YOUR home, Mr./Ms. Attention-to-Detail––but the average home), it is the knives in your kitchen. Unless you are a professional ice sculptor or sword swallower, it is likely that the knives in your kitchen are the ones that get the most daily use. And if you are anything like me, it is way too easy to just grab one, use it, and put it back without special care for these knives. Despite my best intentions, it is easy for me to leave a dirty one on a cutting board, haphazardly toss one into the sink, clean in the dishwasher and store them in less-than-ideal ways (i.e., cluttered together in a drawer. I know. I'm an animal.) 
Many will make resolutions on New Years, vowing to drop the additional pounds leftover from the holidays, and generally making more healthful choices starting January 1st. And while new beginnings can be a helpful motivation, we think the best time to actually get started on new goals is actually now:  late winter and early spring. So, while we hope you made some good progress in the first few weeks of January, the real question is: how's it going come February 1st?   
In the summer, it's easy to get those deep, blackened and charred flavors in your weeknight meals. During grill season, you simply head outside, and cook your meal over an open flame.
And then comes January, where the produce is poor, and everything lacks that certain zing that the warm sun and fire-seared foods provide.   
A few months ago, in the midst of a day full of projects, I had a bit of an a-ha moment. I was in my workshop, using the table saw to slice up some Baltic birch plywood, when a timer on my phone went off, reminding me to take a break and go chop a bunch of vegetables to add to the slow cooked stock I was simmering in the kitchen. 
My journey in leatherworking started with disappointment. Disappointment in a pair of leather boots. I had purchased a pair of Steve Maddens from DSW for about $100. They didn't last long... and I mean, they really didn't last long. After a month of pretty irregular use, the grommets had fallen out, the surface of the leather had started to rip, and the dye was already starting to rub off. And as my shoe angst built, I thought, 'I could make something better than this.'
If you're looking for a New Year's resolution list to help inspire your personal betterment this year, look no further than this founding father's temperance chart. Read on to see how you can print your own. 
As far as the truly great characters from U.S. History to which we might look for timeless advice, it's hard to beat Benjamin Franklin. (We still love you, Mark Twain!) Franklin was born into a family of very modest means, but he manage to use his basic education (he stopped going to school at age ten) to become a successful author, scientist, statesman, printer, politician, inventor, humorist, civic activist, diplomat, and $100 dollar bill appear-er.
There are plenty of times when a small wooden board is all you need to set out or serve something when entertaining. And it's even better when they look awesome and make whatever you're sharing look that much tastier. If you have a few scraps of hardwood (like walnut) lying around after a project, this is exactly what you should do with them: make a walnut cutting board!
Every holiday season, sites like ManMade spend all kinds of effort doing our best to help you find meaningful, quality gifts that you'll be proud to give someone. Or, at least, that you can add to your wishlist and let those in your life know you'd love to unwrap yourself.
But once the gift guides are published, we never seem to revisit those things until the following year. So, today, during this week after Christmas, I thought I'd ask — Did you get anything cool for Christmas? Or give something that particularly excites you that we should all know about?   
There is lots of scientific research on why setting goals on January 1 never really works out, and why, by March or April, we've all backslid into our old habits. Often, it's because goals aren't specific enough, or we haven't found the best way to track the work we've done. Or, perhaps we don't actually believe we can achieve that new version of ourselves for the long term.