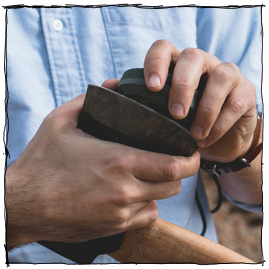 How to Sharpen Your Axe
Search "bullet journal" in Instagram or Pinterest and you'll see a cornucopia of tricked-out notebooks. The Esteemed Society of Crafters on the Internet has truly created a thing of beauty. But if you're one of the "Ain't Nobody Got Time for That" (ANGTFT) set, don't be fooled by the washi tape, calligraphy, and rococo calendar ornaments: a minimalist bullet journal is, hands down, the most efficient and robust planning tool in your productivity kit.
To be honest, we're firmly in the "don't make dinner reservations for Valentine's Day" camp. Save the special evenings for anniversaries, celebrations of achievements or special events, or heck, any random Friday night. Those are guaranteed to be more "romantic," memorable, and special.  
So, if you wanna do something fun on the 14th, make this cocktail...

95% of the time, a tool box is overkill. Whether taking some items to help a friend with a project, or just working on something in my own home two floors above my basement shop, the act of dragging out the toolbox, selecting the items from the pegboard and arranging them appropriately, and then lugging the whole thing around is simply unnecessary. 
When I'm just cooking for myself (i.e. if my special someone is out of town), I can certainly fend for myself nutritionally, but, I'm probably not going to get too culinarily ambitious. I find I either want to cook for lots and lots of folks (hence my two dinner parties over the weekend), or not really mess with it. I mean, who I am gonna impress and treat? Myself? Nah. Plus, I gotta do all the cleanup myself.
So, while I don't like to get take out every night, I'm prolly not gonna make a big mess in the kitchen with fancy fixings. And, probably at least once, when spending an evening huddled away in the basement working on a project, I'll resort to that single-guy staple: the frozen pizza.
Not that I like frozen pizza, of course. But, it does do in a pinch, requires little effort and clean-up, and sorta feels like a treat. But that bland blagh from a box doesn't have to be all bad. Especially if you take it up a notch with some fresh ingredients and clever techniques.   
Knot tying. It's a thing. If you read any "men's lifestyle" content, you've no doubt seen an exhaustive list of "essential knots every man needs to know." You proceed to read their list of seven, or ten, or fourteen, and by the time you get to the bottom of the list, you can't even remember the name of the first one, let alone how to tie it. 
In order to be your best, you need to make the most out of your mornings. More than anything else, how you begin your day sets the template for how the rest of it will go. Here are nine things you can, and should, do every single day to be your most productive self. 
1. Make Your Bed (2:oo)
When this becomes first thing you do after you wake up, you accomplish so much more than flat blankets and straighten pillows. First, you immediately achieve a goal; the very first thing that happens during your whole day is a success. Secondly, though it might sound dramatic, you've ordered chaos. What was a mess is now straight and clear
There's a great adage in the home decor and organization field...you've probably heard it on one of those room makeover TV shows. The phrasing varies, of course, but the central idea, "When you run out of floor space, you've got to go up."
A kitchen knife is an unusual tool, in that the point of contact between the tool and the medium upon which it works is actually extremely delicate. Imagine if a wrench were as delicate as an X-acto blade that had to be replaced regularly, or if bar clamps would routinely stop holding things in place because they became all wonky with use. Most non-cutting tools are blunt, hearty and reliable. But blades have to be cared for, stored carefully, and sharpened (somewhat) regularly. 
But if there is an abused and neglected blade in your home that is used frequently but cared for rarely (okay, maybe not YOUR home, Mr./Ms. Attention-to-Detail––but the average home), it is the knives in your kitchen. Unless you are a professional ice sculptor or sword swallower, it is likely that the knives in your kitchen are the ones that get the most daily use. And if you are anything like me, it is way too easy to just grab one, use it, and put it back without special care for these knives. Despite my best intentions, it is easy for me to leave a dirty one on a cutting board, haphazardly toss one into the sink, clean in the dishwasher and store them in less-than-ideal ways (i.e., cluttered together in a drawer. I know. I'm an animal.) 
Many will make resolutions on New Years, vowing to drop the additional pounds leftover from the holidays, and generally making more healthful choices starting January 1st. And while new beginnings can be a helpful motivation, we think the best time to actually get started on new goals is actually now:  late winter and early spring. So, while we hope you made some good progress in the first few weeks of January, the real question is: how's it going come February 1st?   
In the summer, it's easy to get those deep, blackened and charred flavors in your weeknight meals. During grill season, you simply head outside, and cook your meal over an open flame.
And then comes January, where the produce is poor, and everything lacks that certain zing that the warm sun and fire-seared foods provide.