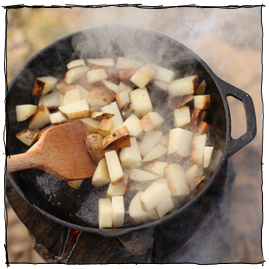 The Best Way to Maintain Your Cast Iron Cookware
My tears. Since I was in my late 20s at least, they've come more easily than ever before. Sad things can bring them on, sure. But mostly, it's the beautiful things. The profound things. And things that are just poignant and stirring. But whatever the cause, they come with frankness and in real earnest. 
Sometimes I wonder if I should listen to Sufjan in public anymore. Always an emotional songwriter, his last few efforts, Carrie and Lowell and Planetarium, have been especially frank, incisively autobiographical and completely leveling (especially when you get clued into his autobiography.) It is inevitable that my eyes will become wells in a coffeeshop. But I guess I believe that it's not reasonable to blubber in public or have a crying fit while I'm at work, there is a deeper sense of shame that, if I'm honest, rests down in the nether regions of my psyche, and it is activated when my tears come. I am brought to tears in public by openness, but then shame comes and closes me up again. 
This October marks my wife's and my 10th wedding anniversary, which means I've managed to keep our cast iron skillets in good working condition for an entire decade (I'm a recovering flake, so our trio of pans definitely had some rough times due to the slow-drip brutality of negligence). Through much trial and error, I've developed a solid method of caring for cast iron that will keep these babies cooking for generations to come.
Read on!        
I love eggs and will eat them just about any way you can possibly imagine: fried in a pan (runny yolks, please), scrambled with cheese, gently poached in water or tomato sauce, structured into an omelet or frittata, emulsified into a perfect egg salad. I quote Michael Ruhlman in The Elements of Cooking:
My reverence for the egg borders on religious devotion. It is the perfect food—an inexpensive package, dense with nutrients and exquisitely flavored, that's both easily and simply prepared but that is also capable of unmatched versatility in the kitchen.
And then there's that wonderful pub concoction, the Scotch egg, which totally sounds like the kind of food a couple of dudes came up with at about 3 in the morning. "Let's wrap an egg in meat and DEEP FRY IT!"
Since it's summer and I'll take any excuse to whip on the charcoal, I took it upon myself to create a simple grilled version.         
There are times I feel trapped by men's clothing. It feels sometimes like my options are, 1.) an imitation of the Brawny paper towel man 2.) a skater pining for the good-ole-days of 2004, or 3.) a retiree who wears primarily golf shorts and pleated khakis. Of course, there are other options than these, but if you are on a budget and don't want to commit a ton of time to meticulously curating your wardrobe, its easy to feel like you are working against your clothes choices rather than embracing them. 
Nothing is as scary as men's clothing in the summertime. In the summer, everything is more brash, more colorful, more dramatically what it is. Skater shorts now come with embroidered dragons, and the golf shirts are somehow incandescently shiny and metallic.
And shoes. Ooph. Shoes are the worst. Because when it is hot and humid, having feet that are sweaty and uncomfortable is particular kind of awful. And if you are looking to be comfortable without completely foregoing a sense of style and taste, shoes can be a minefield. So, with that in mind, here's my take on how to navigate summertime footwear.             
"Beloved, we join hands here to pray for gin. An aridity defiles us. Our innards thirst for the juice of juniper. Something must be done. The drought threatens to destroy us... Children, let us pray." –– Wallace Thurman
Gin has some great quotes attached to it. Thurman's is one. Then there's Churchill's quote about a martini being a drink of cold gin while looking at a bottle of vermouth (Churchill has quite a few gin-specific quotes). Gin is there in the art of the 18th century, its in bathtubs during prohibition and in martini glasses in the roaring 20s. It pairs with tonic and soda, but is supreme in a true martini.            
For me, completing a wood project brings a sense of great accomplishment. I've taken a raw piece of lumber and turned it into something beautiful and functional. However, that pat-on-the-back stops short when I remember that I still need to apply a finish to protect the wood! Applying finish is easily my least favorite part of any project, and an area where I am not as skilled as I'd like to be (everything's a learning process). Still, applying a finish is that important last step that protects the project for years to come. Applying finish is easy enough - it's knowing what type of finish to use that's the bigger battle. There's a wide variety of protective finishes out there, and all those options can easily become overwhelming. Let's start with the basics. Here's a quick guide to the differences between polyurethane, varnish, shellac and lacquer.        
You've built the bookshelf, covered it with great books, but it needs a little something more. Some classic records perhaps? Why not treat yourself to this essential guide to the greatest collection of jazz albums in the history of recorded time – bar none?
Among the true believers, there's a fair consensus that when it comes to grilling: charcoal simply tastes better than propane. No disrespect to the gas grill; it can turn out great results. But when the true taste of summer is the priority, nothing can beat the smoky, open-flame flavor of food grilled over hardwood coals.
Well, except for food cooked over an actual hardwood fire, with coals freshly made from whole logs that you just ember-ed down yourself. This is easy enough to do in a backyard firepit, or even in the same kettle grill you likely use with your charcoal.   
Quick! There are only a few weeks left of summer, and clearly, you're not going to spend money on buying a brand new pair of shorts. So today we present you a super easy, super affordable, super badass way of making your own. This project is awesome (if I do say so myself), 'cause you customize the length to your personal preference, and you don't have to know how to use (or have access to) a sewing machine.
As this point in the DIY movement evolution, no one is surprised to learn that the strength and construction toy-like versatility of plumbing pipe makes it awesome fodder for building all sorts of projects. You've probably even seen it applied to lighting and lamp projects before. But, there's still room to improve on a classic, and we think this piece by Alyssa does exactly that.