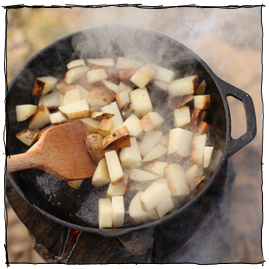 The Best Way to Maintain Your Cast Iron Cookware
The best kind of writing, fiction or otherwise, is the kind that produces a strong mental image of what you're reading about. It's vivid and concrete; it's why metaphors and parables exist. To quote Strunk & White: "The greatest writers—Homer, Dante, Shakespeare—are effective largely because they deal in particulars and report the details that matter. Their words call up pictures."
One of my favorite ways that writers bring their stories closer to reality is when they plop descriptions onto my mental dinner table. Maybe it's because I just love eating, so I don't need a lot of arm-twisting to think about food; maybe it's that I like it when the lines between fiction and reality blur, like Mac Barnett waxes about in his TED talk "Why a good book is like a secret door." Regardless, I'm fascinated with collecting moments of characters interacting with their victuals.
Here are some of my favorite food mentions in books, linked up with recipes.
My wife is out of town this week.
When I'm home alone, I find myself more willing to work late into the evening with projects and activities, because I know I'm not missing out on important family time. When solo, I'd much rather stay out on a long bike ride or keep progressing on a woodworking project until bedtime than just sit by myself on the sofa.
So, such was the case when I found myself with a free evening. I didn't get started until 6:00pm or so, but knowing I had nowhere else to be and plenty of leftovers in the fridge, I set out to complete some shop storage projects for the wall just to the right of my bench. I'd been saving those blank spaces for nearly a year (you can find the clamp rack tutorials here, here, and here), reserving them for a special set of Woodpeckers straight edges and squares. These things are machined to extremely low tolerances, making them crazy straight and square, so making a secure place to store them helps them to stay precise. Plus, the red color matches the handles and jaws of my Bessey clamps, so combining the two was a total no brainer.    
So I have a friend named Dan. I met him through work. Dan is in his early 70's. For the past––I'm not EXACTLY sure on the time here––30+ years, Dan has grown tomato plants from seed beginning in the very early Spring. And when he hears that you have even a passing interest in the garden, he comes by with three plants––one of each of the varietals he grows––along with a laminated sheet of paper with information about each of the plants. Dan is the definition of good people. And I love my three little tomato plants.    
If someone were to ask you what your crucial, go-to, stranded-on-a-desert-island cooking gear includes, how would you reply?
Would you mention a chef's knife and cutting board? How about a large sauté pan and a flat-edged wood spoon, or a large, nonreactive heatproof bowl? (Incidentally, these are Michael Ruhlman's top five in his fantastic comprehensive guide The Elements of Cooking.)
What if I were to add that the addition of two inexpensive pieces of equipment can dramatically level up your cooking game, and that you could actually get these at an office supply store?
Bryan Stevenson is a very quiet revolutionary. His career until recently was very much "on the ground." He worked as a lawyer and advocate among those people whose race, class and the circumstances of their lives had disadvantaged them in the world. It was good work to do and he did it well. He won a MacArthur in 1995 and he gave a groundbreaking TED talk. But what is remarkable is that at the absolute summit of his career he made a move that was truly revolutionary: he looked to the past and made something. 
The something he made is in Montgomery, Alabama––a city that might not be on many peoples' travel itinerary. What Stevenson
"Hey does this go with this?" I probably say this 4 times a week to my long-suffering spouse. I've never been an especially snappy dresser, but I have always tried to be put together. I've also never had to work in an office setting with a strictly professional dress code––I taught college for years. Guys in my field routinely dress in polo shirts or something short-sleeved that matches a pair of khaki pants. I'm the kind of guy who tried to make it work with a dark jean/button down/casual blazer––a sloppy and corpulent imitation of Josh Radnor or other random "nice" guy on TV...
Then I started working a venue where I was surrounded by
Everyday carry: that's, like, the wallet and keys that you shove in your pocket on your way out the door, right? Yes... and no. Sure, your everyday carry (EDC) rotation will include your wallet and keys, but it has the potential to be so much more: a vehicle of personal expression, an art form, a tool to daily sharpen thoughtfulness.
Unsurprisingly, EDC is a Thing on the Internet now, especially on social media—as of the time of this writing, the #everydaycarry hash tag has over 2 million photos associated with it on Instagram. A niche with roots in the military and law enforcement community has truly bloomed into a universal pastime.
Looking to refine your EDC game? I've shaken out hundreds of "pocket dumps" to uncover their most common elements. Let's take a look!
It's impossible not to love the grill, especially in summertime. And at ManMade, there's enough of that love for grills of all kinds: gas grills, kamado cookers, offset cookers, vertical smokers, hibachis, and whatever else helps bring your food that flame kissed flavor. 
But for all-around versatility, our vote goes to the charcoal kettle grill. This design has remained basically unchanged for nearly seventy years, and it has stood the test of time as an affordable, adaptable, and portable way to make dinnertime that much more enjoyable. Kettle grills such as the ubiquitous Weber are, as much as a pair of Ray-Ban Wayfarers or the Eames Lounge, a classic.    
Chances are that somewhere in your town––either far away from the big box stores or in some area that is under-visited or out of the way––there is an amazing Asian grocery store. They exist in towns and cities of all sizes, so don't assume there isn't one near you until you actually look into it. Asian grocery stores are an immigrant's lifeboat, and they are one of the few, authentic cross-cultural locations you can find in most of America that isn't a temple or cultural center. They tend to have an array of products that confuse nearly all shoppers due to the sheer diversity of products that fall under the category of "Asian." 
While the meat offerings and seafood tends to be absolutely exceptional and exceptionally inexpensive, the thing that routinely blows me away at my local Asian market is the produce. My god, the produce! Where your standard grocery store will have a small range of Asian ingredients, an Asian market will stagger you just in its section of radishes. Its refreshingly overwhelming, especially when you see something familiar––a bunch of cilantro or garlic or something––and recognize their exceptional quality. This is a place you should certainly familiarize yourself with, and return often.
And while you're there, you should use some of the wonderful vegetables that are, unfortunately, out of our Western culinary vocabulary. In an effort to help you navigate, here are some of the tastiest ones to look out for. This list is anywhere near exhaustive (we love you, too, ong choy), but a great way to start to learn to use some of the classic produce you just can't find at you local megamart.    
Leatherworking may start out as a hobby, but somewhere along the way, you're going to get hooked. So whether you're just getting started or well into the craft, here are a few free content channels to give you a boost down that well-tanned road.