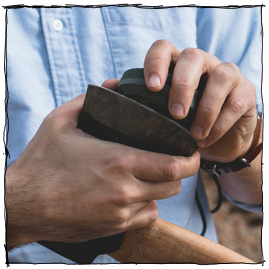 How to Sharpen Your Axe
Podcasts. You know 'em. You listen to 'em. You're moved by them. You laugh and are entertained by them. But are you inspired by them? Do they light a fire under your butt and make you want to get into your work space as fast as possible? Do they make you want to complete your workout faster so you can get home and make stuff? Do they make you thankful for your creative bent, and the creative work of others?   
Here's our thinking: podcasts, as a medium, are great accompaniment for a lot of things. There are certain podcasts you listen to on your commute, specific shows that work best for cleaning the house or cooking dinner, those to
You can buy cold brew coffee at a coffee shop. But, if it happens to be from a certain Seattle-based java-serving monolith named after a Melville character, or an pink and orange East Coast chain known for selling fried rings of dough for, uh, "placing" into your coffee, then what you're actually getting is cold coffee...that is, hot coffee that's been iced down.
Cold brew is an entirely different beast altogether. And with the weather warming up, it's time to cool our coffee down. Or, more accurately, never heat it up to begin with. 
Any time of year, gin is a favorite spirit. It mixes well while retaining its character, and its aromatics complement a great range of flavors. But there's something so special, so obvious, about gin and springtime. If flavors had colors, gin's would be green, and it's a perfect chance to start putting ice back in our cocktails because the external temperatures are finally bearable.   
At its core, a chair is simply a seat with a back. And while they often have legs and arms and complex joinery for strength, sometimes, a little physics can accomplish the same thing.    
Want to make no knead bread in a Dutch oven? It's not nearly as hard as it sounds. 
Gluten is my homeboy. I don't care what the fad-diets say (and apologies to those of you who are truly gluten-intolerant). Paleo-be-damned, I'm grateful our ancestors developed agriculture, so we could stop foraging and eat mostly bread (and also develop science, art, culture, etc.). 
Great bread is easy to make. This is a no-knead recipe! Meaning, you don't, um... knead it. Duh. It's based on the Jim Lahey no knead bread recipe.
Here's how I do it:    
1. Get a sourdough starter from a friend (or make your own, or order one online).
2. In a
In college, my roommate Adam returned from the holiday break with a new alarm clock he'd received as a Christmas gift. (My dorm days were a bit before the smartphone era and we all still used actual bedside clocks to wake up for our 8:00am classes). This particular alarm clock was special; it featured a
Downtime. Or, in same cases, dead times: waiting rooms, lines, traffic, the moments in between appointments. Those places where you get nowhere quickly, but live in effective purgatory, embracing neither productivity or relaxation. To the overly ambitious (or those suffering from some form of adult ADHD), these are the times that try your soul in that special kind of slow-drip water torture way.
Sure, you could kill your dead time by scrolling through Instagram. You may even decide to do something useful with your phone, like one-liner email replies or clearing out your old voicemail. But what if you want to occasionally limit your exposure to the little blue screen that wasn't a crucial part of human existence before 2007?
In lieu of time-killers, here are four suggestions for time-fillers that you can perform with absolutely no equipment other than your mind and your body (as well as one that requires a simple piece of string). These are especially helpful if you're stuck in a situation where you really shouldn't be using your phone, like stop-and-go traffic.

I knew I had a problem with pickles when I was a kid and the jar of Claussen's or Batampte's in our fridge wouldn't last a week without me finishing it. Something about the perfection of cucumber plus garlic plus the salty-sour of the brine made for something refreshing, savory and just perfect. I craved pickles as the accompaniment to a sandwich, but I also ate them straight out of the fridge, getting through at least a spear or two before the door closed shut. Pickles are, simply put, one of my favorite ways to eat vegetables.  
I recently posted a photo of my Aeropress setup to Instagram and had a buddy comment with questions about my process. I've only been using my press casually for the last couple of years, so I didn't feel comfortable saying anything authoritative. That begged the question: who would be considered an authority on the subject of Aeropress recipes? Which led me to: if not the victors of the World Aeropress Championship, then who? 
If you're unfamiliar to the world of Aeropress, if you own one and have no idea what to do with it, or if you're looking to tweak your current routine: read on, friends.
Search "bullet journal" in Instagram or Pinterest and you'll see a cornucopia of tricked-out notebooks. The Esteemed Society of Crafters on the Internet has truly created a thing of beauty. But if you're one of the "Ain't Nobody Got Time for That" (ANGTFT) set, don't be fooled by the washi tape, calligraphy, and rococo calendar ornaments: a minimalist bullet journal is, hands down, the most efficient and robust planning tool in your productivity kit.