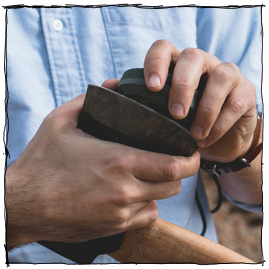 How to Sharpen Your Axe
At its core, a chair is simply a seat with a back. And while they often have legs and arms and complex joinery for strength, sometimes, a little physics can accomplish the same thing.    
In college, my roommate Adam returned from the holiday break with a new alarm clock he'd received as a Christmas gift. (My dorm days were a bit before the smartphone era and we all still used actual bedside clocks to wake up for our 8:00am classes). This particular alarm clock was special; it featured a
Podcasts. You know 'em. You listen to 'em. You're moved by them. You laugh and are entertained by them. But are you inspired by them? Do they light a fire under your butt and make you want to get into your work space as fast as possible? Do they make you want to complete your workout faster so you can get home and make stuff? Do they make you thankful for your creative bent, and the creative work of others?   
Here's our thinking: podcasts, as a medium, are great accompaniment for a lot of things. There are certain podcasts you listen to on your commute, specific shows that work best for cleaning the house or cooking dinner, those to
So, I'm gonna throw down and get controversial for a sec: William Shakespeare was the greatest playwright and poet who ever spoke English, and I'd relish a comment-fight-to-the-death in the comments anyone who disagrees (not really, but I encourage the conversation).
To argue the man's merits feels redundant; the work speaks for itself. The Bard's plays are so influential that he's taught us how we understand storytelling and character development in the modern and post-modern world. His words have become so ubiquitous that I'd bet good money everyone reading this knows unique phrases from at least 4 of the 5 speeches below (also lots of movies take their titles from his phrases). I challenge any man considering himself an educated member of our society read these speeches and attempt committing them to memory. You'll find them helpful in more than a few settings. 
Want to make no knead bread in a Dutch oven? It's not nearly as hard as it sounds. 
Gluten is my homeboy. I don't care what the fad-diets say (and apologies to those of you who are truly gluten-intolerant). Paleo-be-damned, I'm grateful our ancestors developed agriculture, so we could stop foraging and eat mostly bread (and also develop science, art, culture, etc.). 
Great bread is easy to make. This is a no-knead recipe! Meaning, you don't, um... knead it. Duh. It's based on the Jim Lahey no knead bread recipe.
Here's how I do it:    
1. Get a sourdough starter from a friend (or make your own, or order one online).
2. In a
Any time of year, gin is a favorite spirit. It mixes well while retaining its character, and its aromatics complement a great range of flavors. But there's something so special, so obvious, about gin and springtime. If flavors had colors, gin's would be green, and it's a perfect chance to start putting ice back in our cocktails because the external temperatures are finally bearable.   
I live in an area of the country that experiences four traditional seasons. Of those four, my favorites are Spring and Fall. I love everything about these transitional seasons—the mild weather, the changing light, the start of garden season on one end and the height of its bounty at the other. (Even if they do only seem to last for about a week here in eastern North Carolina.)
That is, I love these seasons, but my sinuses do not. I've got horrendous seasonal allergies that flood my head with histamines twice a year, to the point where I really should invest in a giant hypoallergenic vinyl bubble to seal myself off in from April to July. Also, the change of seasons seems to kick the butts of everyone's immune systems, and I always inevitably catch what everyone's passing around.
Are you in the same club? I got something for what ails you, and it goes by the name of Head Tea.
I recently posted a photo of my Aeropress setup to Instagram and had a buddy comment with questions about my process. I've only been using my press casually for the last couple of years, so I didn't feel comfortable saying anything authoritative. That begged the question: who would be considered an authority on the subject of Aeropress recipes? Which led me to: if not the victors of the World Aeropress Championship, then who? 
If you're unfamiliar to the world of Aeropress, if you own one and have no idea what to do with it, or if you're looking to tweak your current routine: read on, friends.
I knew I had a problem with pickles when I was a kid and the jar of Claussen's or Batampte's in our fridge wouldn't last a week without me finishing it. Something about the perfection of cucumber plus garlic plus the salty-sour of the brine made for something refreshing, savory and just perfect. I craved pickles as the accompaniment to a sandwich, but I also ate them straight out of the fridge, getting through at least a spear or two before the door closed shut. Pickles are, simply put, one of my favorite ways to eat vegetables.  
I'm sure the original makers of Altoids had no concept of survivalism, let alone having any inkling that they were providing a vessel for emergency lifesaving tools. Yet here we are: this humble, yet curiously strong, breath mint has inspired scores of tutorials for intrepid would-be wilderness warriors.
Rather than reinventing the wheel, we at ManMadDIY have scoured the tutorials, and we've honed in on what we think are the best basics for that quintessential Internet favorite, the Altoids tin survival kit.
Let's dig in!