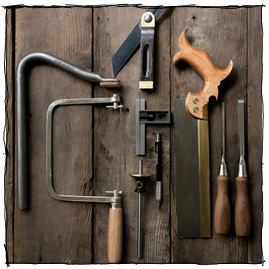 The Best Woodworking on Instagram
Owning your own home has long been considered a big part of the "American Dream", and there's a reason for that…it's a big deal to buy your first (or second) house.  It usually requires months of planning and years of saving money for what is likely the biggest purchase of your life.  In 2014, my wife and I started the process of buying our first house and quickly realized it's not as easy as looking at houses online, finding a house you love, and getting your offer accepted.
Whether you're buying your first house or your fourth house; a fixer upper or your dream home; a rental property or weekend getaway house, the steps are almost
I confess, I'm a shop rat. It doesn't matter what craft—shoemaking, blacksmithing, coffee roasting, even those little watch repair caves with the observation window in jewelry stores at the mall—if there are four walls, some tools, and skilled hands, I'm all over it like white on rice in a glass of milk on a paper plate in a snowstorm.
Other than drawing and writing, I've committed to the handicraft of artisan printing, slinging ink in the letterpress and screen printing arena at my main job. But when I can, I soak up other skills on a hobbyist level to round out my skillset, to apply lessons from other disciplines into my chosen craft, and to just have fun making stuff without the pressure of harnessing it to make a living.
Woodworking is one of those pools that I'm just now starting to wade into, and since I have no idea what I'm doing, I love watching the real deal to see how it's really done. To that end, I've curated the following list of my favorite woodworking accounts on Instagram.
As if pens and Post-Its weren't enough, the smartphone era has provided a plethora of memory aids. Apps designed to store, sort, and spit out information whenever we want it seem to have rendered redundant the need for a good memory.
But I'm of the mind that tools work best when they augment our skills and strengths, and that when we start to allow machines to fully replace human work, we ourselves begin to atrophy. Since having begun the assembling my memorization toolkit and putting it to use in the last year, I've found that I think more clearly, remember things better, and rely on my physical and digital tools much less. (Not to mention, I'd be lying if I said it didn't feel awesome to perfectly recall a 12-digit number after less than 10 minutes' worth of work.)
We've covered one of those big tools, the memory palace, in a guide here at Man Made DIY. One of the main techniques incorporated in the article, specifically used to memorize numbers, is called the Major System; it's such a powerful in itself that it's worth its own guide. 
So, let's dig in to how you can custom-tailor your own major system to help you remember long strings of numbers!
Now that the days are warming up the thought of a hot latte with milk and cinnamon sure adds a drop of sweat to my brow. It's usually this time of year, I swap my typical addiction to hot coffee to sweet, syrupy iced coffee. I just can't get enough of the stuff!
This happens to me way more often than it should––the day has gone longer than expected, I didn't plan carefully enough for what I was going to eat, and now I am home and hungry, without a plan. For much of my life, this has been a recipe to order something, pick up something, or heat up something frozen and in a box. But now I live in a place where few things deliver, the only foods close by are not conducive to living (or sleeping) well, and I have stopped allowing myself to buy things that come in frozen boxes, no matter how lazy I may be feeling.
If I have all the time and money in the world, I love to shop and cook. But my foodie
Second only to my shovel, I count my big rainboots as my most essential yard work possession. Ever since I got them as a gift in 2010, they've kept my feet dry as I've tromped through muddy backyard gardens, turned compost piles, and cleared some seriously weedy rows of peppers on a local farm. (They made a cameo appearance on our article about digging a garden patch using only a shovel.)
Constant use has taken its toll on the natural rubber, though, so it was time to put into practice one of my favorite Depression-era maxims on frugality: "Use it up, wear it out, make it do, or do without."
Let's take a look at how I patched up my leaky wellies.
Have you noticed? It's summer! It's the time of year when we dust off the backyard with friends and linger late into the night. There are so many great conversations I remember around a flickering fire, and I'm looking forward to more this year. But good conversations don't always come easy, so here are a few tips to get into the kind of convos you'll remember for years. 
Among all the items in my shop, the measuring, marking, and layout tools are probably my favorite. Mostly, I love how historic they are: dividers, squares, calipers, rulers, and marking gauges have all been around for centuries, remaining mostly unchanged in their design and intended purpose.  And who doesn't love a clear, crisp, and accurate line to work to?
I'm a firm believer that tools are like personal strengths: the user's attitude determines the outcome. You can take a neutral tool and channel it for good or evil; a candlestick can class up a dining room table, or it can kill Professor Plum in the billiard room. Not only that, but the more power a tool holds, the more care you have to take with it. (It's like the main takeaway from Spider-Man: with great power comes great responsibility.)
The smartphone is a prime example. Sometimes when it's better to leave it off, like we suggested in our article on filling downtime without staring at your phone. But lest you label me a Luddite, let me admit that I use my phone all day: emailing, listening to music (currently: Spotify app, Art Blakey and the Jazz Messengers), shooting and editing photos, keeping in touch with overseas family on Facebook, professional networking on Instagram and LinkedIn, mobile banking, making note of future ManMadeDIY articles, and so much more.
In fact, I use my phone so much that I need to give myself guidelines to help keep me from staring into it all day. Here are some of those tips.
Ramps are magic. It's that simple. They appear of their own free will out of the ground, they bless the landscape with their beauty, their perfect aroma of garlicky-greenness––a combination you might approximate by breathing in deeply a bag of freshly mown lawn clippings while simultaneously crunching down on a double-sized mouthful of sour cream and onion potato chips. And then, just as magically, they disappear after an astoundingly short season, as spring gives way to summer.
A ramp is a kind of wild leek that looks like a cross between a scallion and a flowering weed. The aroma is, to me, something absolutely elemental; once you