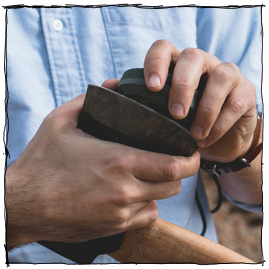 How to Sharpen Your Axe
As I wrote in my post about bow ties, I used clothes as self-expression when I was younger. I was a kid who was self-consciously weird, interested in art, with eclectic tastes; my wardrobe reflected that. I was never sure what to do with socks when wearing shorts, so I did what any self-consciously weird/arty/eclectic kid would do, and chose socks that drew attention to themselves: argyles, stripes, colorful prints of anchors and hamburgers.
I still do wear colorful socks—under jeans to the store, with dress pants and a jacket, and everything in between—but after a recent refresh of my shorts rotation, I started wondering how to truly master sophistication with my summer getup. Read on for the full report!
The sun is out, sleeves are getting short, and that means: it's time to update your look for the season.
We have created two easy DIY projects that will add a nautical touch to your wardrobe without breaking the bank or having to buy a boat. Learn how to make your own knotted bracelet and...come sail, uh, away?
Turning out perfectly grilled foods in your own backyard requires balancing two important variables: time and temperature. Too hot, and the food gets overly blackened and burnt before it's cooked through. Too short, and the surfaces don't have enough time to caramelize, brown, and develop that characteristic charred flavor that makes grilling worth the effort in the first place.
A solid grill thermometer can help, but here's the bad news: standard bi-metal dial thermometers, the kind present in almost all backyard grills and smokers, can be off by as much as 75° F in either direction. Which, if you're going for low and slow cooked flavors of barbecue, is enough to totally ruin your meal and your day. Here's how to fix it. 
I've been keeping notebooks, sketchbooks, and journals pretty much as far back as kindergarten and with daily regularity since my late teens. I've got notebooks for important purposes—a hardcover 5 x 8.25" Moleskine notebook for my bullet journal planner, a big journal for freewriting answers to tough questions when I'm looking for insight, several sizes of notebooks for personal study and random thoughts, a notebook for haiku, and several practice sketchbooks. Notebooks are so commonplace in my life that honestly, I'm more likely to leave my left foot at home.
Occasionally, though, I like to shake the dust off of my mind for a fresh perspective by changing my writing context. This is when I most often turn a tiny notebook that takes a single sheet of paper, one minute, and no tools to make but my hands. Read on for instructions!
Previously, I offered the thesis that if you're only going to learn to tie one knot, it should be the bowline: it's simple, can be easily untied, and is incredibly versatile for all sorts of situations. 
And all that is true. But, it's not the "knot" I employ most often. Because the reality is, most of us don't handle rope on a daily basis. We do, however, in the age of smartphones and podcasts and the entire history of recorded music available at your fingertips, engage with another long, stringy thing that needs to be dealt with on the regular: your headphones.
Or ear buds. Or ear phones. Or whatever you call those wired transducers that deliver all that sweet, sweet audio to your brain. And because you take them with your everywhere, they regularly get knotted and tangled up in your pocket or bag.
This is completely unnecessary. Because there's a five-second "knot" that can completely eliminate this problem, and it doesn't take any longer than other storage methods. So, now, I present to you, the actual most useful knot in the world.    
You know the phenomenon. No matter how hard your try, eventually, the little plastic tip on the end of your shoelaces (the official term is "aglet") will get crunched up, and slowly, you find yourself with a set of frayed laces. You could do the classic trick of burning the ends with a match to seize the fibers, but that's a temporary solution, and eventually, you'll end up exactly where you started.
Shoelaces are, of course, replaceable, and if you simply need a white or black pair for sneakers, or perhaps the classic golden variagated laces often found in leather workboots, you can switch them out if you like. But, so many pairs of shoes rely on the complement and/or contrast of the laces as a design element, and so often, you can't find a replacement.
So, instead, let's figure out how to fix shoelaces so they stay compact, useable, and fray-free.
Spring seems to have arrived overnight, and with it comes the explosion of green as everything wakes up from its winter nap. First up? Time to fend off the weeds. . . and please don't reach for that toxic stuff. It's nasty for you, your yard, and everything around it. Instead, try this safer and super effective recipe.   
Our love for beer is sincere and it grows stronger every year (and so does our beer belly, but it's so worth it.) Like whiskey or quality tequila, it can be perfect just by itself, in a glass, alongside a meal and preferably outside.
But beer's unique flavor profile - bitter, sweet, acidic, malty - as well as its texture and carbonation also make it a great backbone for cocktails. And in this ManMade Guide, we're giving you the basics to make the perfect beer cocktails.
Now that the days are warming up the thought of a hot latte with milk and cinnamon sure adds a drop of sweat to my brow. It's usually this time of year, I swap my typical addiction to hot coffee to sweet, syrupy iced coffee. I just can't get enough of the stuff!
With the temps warming up, it is most certainly time to get mouths a-watering for barbecue season. Whether gas or charcoal, most of us have a backyard grill, but a dedicated smoker can be a luxury. They take up space, can cost a lot, and while they make sense for true smoked food fans, might not be necessary for the average grill fan.
 
In fact, they're not necessary at all. Cause with a little creativity and DIY ingenuity, you can turn the grill you already own in a smoker that can turn out tender, fall apart food fused with the flavor of fire.