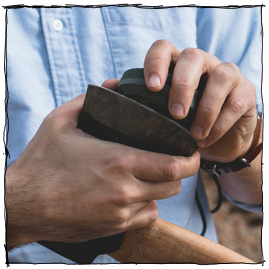 How to Sharpen Your Axe
If your water resistant rain shell doesn't seem as water resistant as it use to be, it's time to give the coating a little revitalization to keep those beads forming, and your body dry.   
One of my all-time favorite aphorisms is that Victorian era gem that shines from its facets of order, efficiency, and thrift:
A place for everything, and everything in its place.
I consistently use this idea to recalibrate the way I see my home and studio. My wife and I are work-from-home freelancers; we're in our house 90% of the week and share it with our very active toddler and three cats, working and playing and cooking three meals a day, so we make a lot of mess. Without direct intervention, entropy reigns supreme, with total anarchy its final goal. Thus I constantly ask myself when I put something down: Is that where it lives? If the answer is no, put it away for real.
Well, let's piggyback off the idea of "a place for everything" to deliberately use our physical space to make good habits.
My entire kitchen-consciousness shifts in the summertime. And I wouldn't have it any other way.
The mindset moves from something that is predominantly focused on the oven and range to one that is all about live fires, crackling wood, and smoke. This usually leads me to the meat and hard veggies side of my pantry and fridge. After all, it can be difficult to cook rice, quinoa, or other grains on the grill without special equipment, and I've yet to find a way to manage cheese over charcoal. But an underrated grill item may be one that coincides with the best that summer has to offer: the explosion
Pocket hole joinery has a lot going for it. An affordable jig makes the process fool-proof, it comes together in less than a few minutes, and the joint itself is super strong.
The Kreg jig itself does most of the work, but a little knowhow makes the pocket hole clean and precise. This is especially important if the pocket hole will be visible, plugged, or filled.
Ready to make nice, sharp pocket holes? Let's go!    
As this point in the DIY movement evolution, no one is surprised to learn that the strength and construction toy-like versatility of plumbing pipe makes it awesome fodder for building all sorts of projects. You've probably even seen it applied to lighting and lamp projects before. But, there's still room to improve on a classic, and we think this piece by Alyssa does exactly that.    
This great project keeps all the basic grilling supplies close at hand, but out of the weather when the fun is done. With a large preparation space and room for the essentials it's a great upgrade for the outdoor chef.  
I spend quite a bit of time setting up for projects on the tools. It's amazing how much time it takes to make a few simple yet complex cuts. For the type of cuts that happen often, it makes sense to make a few go-to jigs to help with those annoying set-ups.  
There are numerous cutting board kits out there that provide you the wood and leave all the gluing, planing and cutting to the consumer.  You can also cut up random pieces to create your own glued up cutting board. Both of those options and can result in a gorgeous cutting board that will be adored by the recipient; however, that also requires buying or making several pieces that need to be glued together, a planer and loads of extra time.  The simple solution – find a beautiful piece of solid wood that you can make into a cutting board.  Using one solid piece of walnut, maple or the hardwood of your choice will be cheaper, less time
Have you ever been substantially complete with a wood project and then accidently dropped it or knocked it off your workbench?  Without a doubt, your box, picture frame, cutting board or whatever you're working on will get dinged or dented.  Despite the fact that those mishaps can often be fixed, it can be incredibly frustrating and require a significant amount of time to remove or hide the blemish.  Instead of sanding, planing or recreating that piece of the project, there is another simple and often less time-consuming option you likely have in your closet. 
Just like how many Americans think they don't have accents, I used to believe I was totally free of regional snobbery... until I moved away from Maryland after high school. 
See, I grew up just between DC and Baltimore, I've got roots in the Chesapeake Bay stretching back at least 4 generations, so I know—Maryland doesn't really have a ton of nationally-recognizable cultural touchstones, except for one thing: the Chesapeake Bay blue crab. Marylanders are also persnickety about preparation methods, of which there are only three acceptable options: deep-fried softshell on a sandwich; fried up as a crab cake with extremely sparse filler; and steamed with Old Bay, hand-picked and dipped in melted butter.
So when I left my hometown and found other crustaceans being touted as "crab," my gut reaction was Man, that's not crab.
You know what, though? I love all kinds of seafood, so I was eventually willing to concede that here are a lot of other types of crab out there, and they were probably delicious. So I took it upon myself to try out Alaska's most famous seafood exports: the Alaskan king crab.