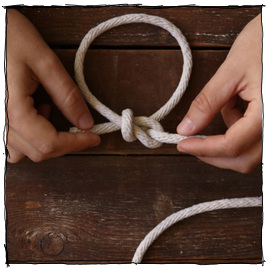 How to Tie the Most Useful Knot in the World
A quality jigsaw is one of my favorite tools, and a seriously good DIY best buy. Armed with the right blade, you can cut all sorts of materials into nearly any two-dimensional shape you please. And most-importantly, do it safely. 
But it's flexibility as a creative tool is also its liability. Like a pencil, it can go in any direction, but in the hands of a human being, those directions will never be without the marks of our innate imperfection. Straight lines can be accomplished with a fence, but a perfect circle. You can't draw one by hand, so don't expect yourself to be able to jigsaw one either. 
At least, not without a little help.    
A few months ago, in the midst of a day full of projects, I had a bit of an a-ha moment. I was in my workshop, using the table saw to slice up some Baltic birch plywood, when a timer on my phone went off, reminding me to take a break and go chop a bunch of vegetables to add to the slow cooked stock I was simmering in the kitchen. 
My journey in leatherworking started with disappointment. Disappointment in a pair of leather boots. I had purchased a pair of Steve Maddens from DSW for about $100. They didn't last long... and I mean, they really didn't last long. After a month of pretty irregular use, the grommets had fallen out, the surface of the leather had started to rip, and the dye was already starting to rub off. And as my shoe angst built, I thought, 'I could make something better than this.'
I'm a lucky guy. My family has allowed me to dedicate half our basement into a dedicated shop space, complete with a custom woodworking bench and a growing collection of tools. It's bright, clean (at least right now), and I'm slowly turning it into a functional workspace that will allow me to be as productive as possible. 
But it took me a long time to get here. For nearly fifteen years, I worked out of dining rooms and back porches and portions of the garage, lugging my tools around in plastic totes and home center toolboxes, setting up shop on the washing machine, folding tables, and 1/2" plywood scraps screwed to 2x4s.
And, in the early days, it was that lack of a proper workbench that prevented me from thinking I could could use hand tools. Without a vise and hold downs, how could I safely secure my work for handplaning, chiseling, or sawing?The answer: a batten, which will take you 5 minutes to make and turns any flat surface into a work bench. Let's make one!   
Okay, friends. This is one of my all-time favorite DIY hacks. I learned it more than fifteen years ago from a book I got from the library, and committed it to memory. I only need it about once or twice a year, but it works every. single. time. I'm always super grateful to have it on hand, and so today, I'm sharing so you too can stop busting your hand and banging your knuckles every time you need to install a hook somewhere.   
Every so often, a new idea is presented to the world that seems to have already belonged there for years. Like a perfect pop song, it's fresh and exciting, yet feels like it's been part of you for your entire life.

The first week of January is often about adding things to our list. "This year, I'm going to do this every day, or execute a hundred of those..." Instead, perhaps 2018 is the year you drop some of the stuff that just isn't serving you well. We have a few ideas.    
As far as the truly great characters from U.S. History to which we might look for timeless advice, it's hard to beat Benjamin Franklin. (We still love you, Mark Twain!) Franklin was born into a family of very modest means, but he manage to use his basic education (he stopped going to school at age ten) to become a successful author, scientist, statesman, printer, politician, inventor, humorist, civic activist, diplomat, and $100 dollar bill appearer.
When you work from home and don't have things like paid time off, it's tough to decide when to take a day off if you're not feeling well. There's no one you actually "call in sick" to, and since you're simultaneously both always and never "at work," there really isn't anything from which to stay home. You're not at risk of infecting any office mates, and, for many of us, not working means not getting paid. 
And then there days like today. When you get up, acknowledge you feel truly terrible, but still manage to open the laptop and pretend like you're going to get something done. And then it's horrible and you're so completely ineffective that you finally admit it would just be better to try to rest, heal up, so you can actually accomplish something tomorrow. Because if you don't, you'll just be muddling through at compromised strength for the next week, which is a much bigger loss than just taking a nap in the first place.    
In the summer, it's easy to get those deep, blackened and charred flavors in your weeknight meals. During grill season, you simply head outside, and cook your meal over an open flame.
And then comes January, where the produce is poor, and everything lacks that certain zing that the warm sun and fire-seared foods provide.