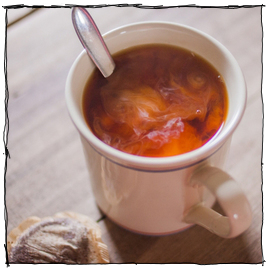 The Greatest Cold Remedy Known to Man
I live in an area of the country that experiences four traditional seasons. Of those four, my favorites are Spring and Fall. I love everything about these transitional seasons—the mild weather, the changing light, the start of garden season on one end and the height of its bounty at the other. (Even if they do only seem to last for about a week here in eastern North Carolina.)
That is, I love these seasons, but my sinuses do not. I've got horrendous seasonal allergies that flood my head with histamines twice a year, to the point where I really should invest in a giant hypoallergenic vinyl bubble to seal myself off in from April to July. Also, the change of seasons seems to kick the butts of everyone's immune systems, and I always inevitably catch what everyone's passing around.
Are you in the same club? I got something for what ails you, and it goes by the name of Head Tea.
I knew I had a problem with pickles when I was a kid and the jar of Claussen's or Batampte's in our fridge wouldn't last a week without me finishing it. Something about the perfection of cucumber plus garlic plus the salty-sour of the brine made for something refreshing, savory and just perfect. I craved pickles as the accompaniment to a sandwich, but I also ate them straight out of the fridge, getting through at least a spear or two before the door closed shut. Pickles are, simply put, one of my favorite ways to eat vegetables.  
All hail the mighty pencil: a powerful and beloved tool with a fanbase as sophisticated as the legions of jazz enthusiasts, yet so ubiquitous and humble that it all but escapes notice. The pencil is an incredibly simple device—essentially, a rock-and-dirt mix smashed together between some cut-up tree pieces—but the iteration that know today is a collaboration between hundreds of pencil makers over the course of 500 years. With their pen cousins, the elegant fountain and the pragmatic ballpoint, pencils are a founding member in the groundswell of interest for tangible, analog tools in an increasingly virtual, digital world.
If all you know of pencils are the Dixon Ticonderogas and plastic Bic mechanical pencils you carted around in your schoolbox, read on for a basic primer and some great resources for further exploration.
What clothing item has something in common with freelance warriors, the Rat Pack, and a famous scientist from a beloved 1990's kid's show? Yep, you're staring at it: the bow tie.
Let's take a few minutes to dive into the fascinating world of this one-of-a-kind accessory.
I am a committed non-cuff-buttoner. I'll do it when I wear a jacket or a sweater atop a shirt, but if it's just me an a button down (oh, and pants), then my sleeves are rolled up 99% of the time. Sure, it makes for a less formal look, but really, it's more practical. I'm a doer, and my hands are constantly doing stuff, and keeping my sleeves out of the way means they won't end up in the garden soil, dishwasher, bike grease, spinning table saw blades, or whatever else I'm digging into that day.    
If you're committed to greatness in your craft, there's no better way to improve than to mimic the masters. But if you need general inspiration to help you keep going in your pursuit of excellence, it's helpful to watch any kind of expert at work.
In 2014, the newsreel archive British Pathé released 85,000 high resolution historic films to YouTube. Among these are a fantastic collection of newsreel footage from postwar factories all around Great Britain. It's mesmerizing and, if you're a maker, a bit humbling to watch these skilled men and women exercise their trade with such aplomb. (Not to mention, the peppy English narrators, using that classic clipped 1950's news reporting style, are really funny.)
Thanks to the wizardry that is the Internet, there are hundreds of them available at your fingertips today.
Move over pegboard. When you've assembled a proper collection of hand tools, the best way to keep them safe, organized, and available within reach is a custom tool wall. Each item gets a designed holder that keeps like pieces together and accessible, allowing you to maximize your storage space.
Plus, let's admit it: they also look super cool.    
 A woodworking bench is more than just a table to lay your tools and project parts on. Used well, your bench is an all-in-one, three-dimensional clamping solution that will allow you to hold your work on any of its edges or faces. The traditional way to increase the work-holding capability is to place "dog holes" in your bench top, and allowing them to work in tandem with a face or end vise to secure parts of any size. 
A few weeks back we talked about some of the basic, essential tools for getting started in leatherworking. Once you're set up, its time to put them into practice. Here are a few projects to hone those skills, and end up with some great practical pieces you can use everyday   
If you were to ask an American to picture drinking a cup of tea, it's safe to assume that the mental image wouldn't include work boots, hardhats, bricks, and lumber. But while coffee is standard in the U.S., for thousands of construction workers in Great Britain and Ireland, as well as numerous tradesmen like electricians, welders, and plumbers, a strong cup of tea is the preferred fuel for a day filled with labor.
Here's a basic rundown of how to fortify your work day with the strength of a bricklayer.