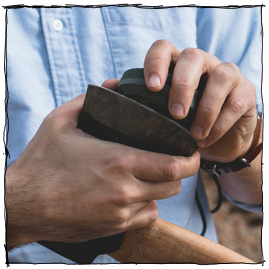 How to Sharpen Your Axe
I am grateful to have a dedicated workshop in our basement. It's a great place to both work on projects, and store tools and materials. And while my shop time is super important, there are a few things even more precious to me. Like my family.
So, I'm interested in learning more about some smaller wood projects that I can do in the evenings during family time. Projects like carving, whittling, and other non-furniture making projects that I can do while we watch a movie or reading time in the common areas.
So, I hit up Craigslist, and found this older model Workmate for a mere $10. And, in an afternoon, I turned it into a portable space to get creative and start making some chips... no noise or sawdust required.
I've wanted to build a boat ever since I sunk my small dingy on the Trinity Lake as a kid. Once I have the space, I will fashion a sea-worthy vessel and take it out to brave the ocean, or at least a sizeable pond.  
Stationary power tools are often the most full-proof way to do a job. They're anchored to the floor or bench, and come with flat tables and fence systems so you can guarantee your cuts, holes, and other bits of shaping are square and straight.
But, besides being expensive, they're not always the right tool for the job. So, instead we turn to handheld tools, both electric and manual, to get things done. And therein lies the rub - human beings are not machines. Try as we might, we often can't do something with our hands as straight or square as a large stationary tool. 
Besides using guides and other accuracy aids, there's a super simple and easy trick you can add to your mental toolbox to help guide the tool to do its best.    
In my house, football season coincides with Bloody Mary season. Really, you say? Fair enough: the two are not necessarily synonymous with each other, but I've always felt that Bloody Marys are better enjoyed in the fall or winter months.  Similar to the complex, tomato-y flavors of a bowl of chili, it just feels right to have a hearty Bloody Mary when the weather starts to turn a little cooler.
Most bars have their ultimate Bloody Mary that they load with bacon, chicken wings, pizza, etc. that look great through a filter on Instagram, but how the Bloody Mary tastes is not the focal point in that situation.  When I'm at home and I want
Says Ernest Hemingway, "it is by riding a bicycle that you learn the contours of a country best, since you have to sweat up the hills and coast down them." 
We couldn't agree more. Nowhere looks more like itself than the way it looks on two wheels. And no matter your pursuit, there's a bike for it. Whether you're looking to spin for miles through country lanes on a road bike, run errands on a stout commuter bike built for comfort on city streets, or zip down tree-lined single track on a mountain bike, at the end of all the fun and adventure, you're going to have to get back to where you started. Safely, efficiently, and, hopefully, comfortably.
I am a defeated knight––noble in my essence (or so I feel), but waylaid and shrunken down while fighting a beast that no man could possibly face undaunted. The beast spits fire, inundates me with dust from its mighty, flapping wings, and seems to pull the very ground from underneath me. I cower behind my shield and do what I can to battle the beast back, but at best I can manage a draw in any of our fights. And day by day, the beast gains more ground. Or that's how I feel. The beast is debt. Random sums of money are my outmatched weapons. And despite my lobbing those missiles as hard and direct as I can, I
I spent solid twenty-five years of my life in school. It began in kindergarten and I then headed straight from high school into undergrad, a master's degree, and then a Ph.D (I know, I know...) One of the things I truly miss now that I'm no longer an enrolled student is the optimism and excitement that comes with shopping for school supplies. Nerd or not, there is something that is just exciting about having fresh notebooks, new pens and pencils, bags, folders––all the "stuff" of school. Adult life may entail the occasional new notebook, but there isn't a season for it in the Fall where everything is potential, and all the success and mistakes are in the future.
That we don't do this as adults is a shame. Because there is every reason for all of us to be ready for school. The longest project in a any maker's life is the constant, endless craft of oneself. And there is no way to make progress on this project without the proper tools. I think most people dedicated to craft have slid into a life of learning whether consciously or not. And there's no reason not to prepare ourselves with supplies to complete this project well. But, of course, a life of learning is not the same as preparing for a school year. It has a different set of requirements and it calls for some different kinds of supplies. 
Rolling up your sleeves. It's a fitting metaphor for getting stuff done because of its roots in literally protecting your shirt during activity. It's a practice reserved for when you're shifting out of the formal occasion that requires a button-up shirt, but you're not yet going to change into casual clothes: dinner after work at a restaurant with family, lunch at the pub with co-workers, traveling on business, in the later hours of a wedding reception.
When you strip it down to its elements, there's really not much to the process of rolling your sleeves. But remember that clothing is nonverbal communication, and when you make intentional decisions about you wear, you project purpose. So if you're going to roll your sleeves, don't just shove 'em up your arm... do it with confidence!
Read on for your three main options for rolling up your sleeves.
Fact: the physical space that we inhabit on a daily basis, especially our homes, is an extension of our minds and attitudes. Your thoughts influence your actions, your actions influence your environment, your thoughts respond accordingly, and so on.
I don't need to offer a strong argument that the passive life—that is, the life where other people and random events have determined your course—is no life at all. Bearing that fact in mind, your surroundings shouldn't be an afterthought, but a map of the deliberate decisions you've made to make the best use of your time, energy, and resources.
I recently wrote about how you can hack your habits by deliberately organize your home; this is one specific application of that precept. The goal here is to reduce clutter, and the tool is a simple, easy-to-memorize maxim:
A few weekends ago, my wife and I went out for a special dinner to celebrate our sixth wedding anniversary. We opted to enjoy a few beers with our meal, but the table next to us had ordered cocktails. They each showed up with the glass half full of color - slanted, with the liquid on top. Initially, I thought it was simply a triangular shaped glass, where the bottom angle was simply solid. But as I looked closer, I realized, in fact: it was a frozen wedge of solid ice, attached to the glass so it maintained the effect. 
I asked the server how it was done, and she told me the bartender had a bunch of little rubber molds that fit the glass, and the whole thing goes into the freezer. She said they were cool, but only fit the certain glass they came with; so only a certain number of cocktail recipes are served in them, and they run out each night.
A few days later, I looked it up to see if I could pick up one or two. I found the product - it's a glass with a custom silicone insert that freezes the ice at a perfect 45° angle, cutting right down the center. They cost about $20 each, and are kinda cool.
But - they're also unnecessary. Because you can achieve the same effect without spending a dime, using any rocks glass you already have. Here's how to do it.