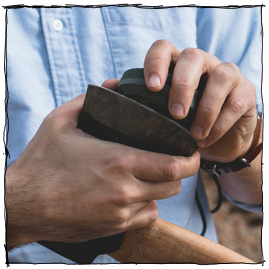 How to Sharpen Your Axe
There aren't too many things I simply won't put in my mouth...but room temperature coffee is on that short list. So, I'm a big fan of reusable coffee sleeves that keep your hands safe and your drink warm.
And I'm a particular fan of handmade reusuable sleeves - knitted ones, felt ones, and corduroy ones with photos inside! The only thing better would be a way to stick it to light poles and fire hydrants and the side of my Vespa.
Alexandra Pulver has done just that - and I think it's brilliant. " [At first] I came up with this magnetic cup-holder. It is made out of polypropylene and folds flat for easy portability.
After I made this I
I don't really know what these are, and I don't care. The website calls them "wooden figures" and the index files them under toys. We'll simply resituate our dropped jaws, and file them under crazy good inspiration.
Okay, lemme try...
"Hey, man, can you whip me up some rockin' flapjacks?"
"How about taking a solo on some face meltin' scrambled eggs?"
"Let's try turning that stir fry up to eleven!"
Nuts. I got nothing.
Here's a fresh take on the fusing plastic bags/DIY Tyvek trick: creating a strong base with opaque white plastic bags for durability, then adding an attractive top layer for some graphic punch!
Materials:
1.5" cotton webbing (or polyester or nylon)
 Plastic grocery bags or other plastic packaging
Fray Check or thread glue
Belt buckle (I took one off an old belt)
3/16" metal eyelets and eyelet tool (make sure your belt prong will fit through this size)
Coordinating thread (and heavy duty thread if you have it around)
Tools needed: sewing machine, scissors, and hammer
Wanna attend Glammer Education Institute? Here's the contact information...now prove your skills.
Designed by Y&R Thailand, the cards feature line drawn faces and a bevy of textured blackspace, allowing the user to create a custom hair style with a pair of scissors. A little bit paper doll, a little bit Wooly Willy, a whole bit awesome.
Dude, I don't know what it is.
I don't have a particular slant towards or against Michael Jackson... I appreciate him perfectly well.
I don't have an enormous interest in knitted celebrity softies...At least, I imagine it to be an average amount.
Perhaps it's the tiny little white socks.
Whatever it is, I can't stop looking at this knitted Michael Jackson doll, decked out in his infamous red leather getup from the Thriller video. (Recently added to the Library of Congress' U.S. Film Registry along with Dog Day Afternoon.)
From Colette.Fr  "Michael is back! He resuscitates in the form of doll thanks to Soso creator. In her hands Michael
So, first, a quick primer. King Robbo was a pioneering graffiti artist in London in the 1980s. He painted this piece at Regents canal in Camden, London in 1985, and it's remained untouched since:
Whether Derek "Bones" Boe intended this sweatshirt hack - an anatomical(ish) skeleton handpainted with bleach - or it began as a mistake, the results are incredible, and exponentially better than a tradtional screen print.
Even if you're not a devoted Nikon disciple, they're offering some great free how-to videos that appeal to anyone interested in digital photography.
My three faves are these by Joe McNally, who's the kinda guy from whom you just wanna learn.   
I haven't quite wrapped my rightbrain around all the math of the wefts and wales of knitting, but when I do, I'll be getting my hands on a copy of this: Hand Knits for Men, spied by Gina of Doe-C-Doe.