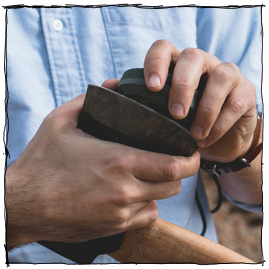 How to Sharpen Your Axe
Ryan and his wife were ready to stop being paper bound in the kitchen, and needed away to let go of recipe cards, printing recipes from the internet, and keeping cookbooks away from sauce splatters. And, being 2010, they turned to accessible digital technology. Their goals - slash - requirements?
must be discrete and look like a digital picture frame when not being used.
must be touchscreen.
must have internet access.
must be easy to use and not crash often (she's used to windows vista)
must have barcode scanner for managing her kitchen database.
the wires and techo stuff must be hidden and out of sight.
should be able to view what's on the lounge TV in the kitchen  
Julia Rothman's "Book By Its Cover" blog regularly features some incredible things bound in book form. But these from German Illustrator Lars Henkel simply leap off the page (screen?) in their pushing the boundaries of what "sketchbook" usually conjurs up.
"Lars Henkel wrote me wondering if I'd be interested in sharing his sketchbook. I am more than thrilled when an incredible artist such as Lars even has heard about the site, let alone wants to contribute to it. Lars work is interesting and impressive in every way.  
January 20, 2010: It's a Thankless Job, and Somebody Gets to Do It.
Sweeping up sawdust
Sucks until you recall you
got to make sawdust.
Got a handmade haiku you'd like to see on ManMade? Email your idea to [email protected]
See!? I knew God liked mashed potatoes.
This unbelievably enjoyable and smile-inducing stop motion short is the first in the series of The Ten Commandments, animated by Chris Mckinlay, Patrick Beechinor and Justin Longoz. They begin with number five, Thou Shall Not Kill.  
This week, I've been pretty affected by a recent article in Good magazine, entitled "Hurry Up and Wait." When I first saw it, it was  the art by Mark Weaver that got me salivating...
But, then, I actually read the article, in which several forward-thinking designers, writers, and scholars explore the necessity of patience and slowness, and how it must be as important to a successful future as speed.  And it's pretty good stuff.
Windall and Lenore from Evil Mad Scientist found themselves in a terrible predicament this winter - 75 pounds of free citrus fruit, and no way to eat it all. So, they opted for the route that many take when they find themselves with a plethora of produce - they canned it by makin' marmalade.
"The first step is to peel the fruit. We've made lemon, lemon-orange, and orange marmalade, but you can use pretty much any citrus fruit.
We looked around a bit and settled on this recipe primarily because of its simplicity. It scales well. For a large batch, just keep peeling and cutting fruit until the pot is full or your hands were tired. You can also scale down--grab a couple of oranges from the cafeteria and you'll make a lot of friends in your dorm kitchen."  
2008 was all about pork bellies and cupcakes, and in 2009, thoughts turned to locally roasted coffee, Peruvian food, and a trillion ways to prep brussels sprouts. And in 2010?
Well, apparently, it's fried chicken. At its best, crispy, juicy, and savory, it very well may be the perfect post-recession dish. And, in the right hands, it can be prepared with much more nuance and technique than just eleven herbs and spices.
Hands down, this is the finest piece of recycled bike part art I've seen. Most just end up looking a bit, well, like hot glued dirty used bike parts, but this clever repurposing of a chain ring actually makes for some surprisingly high design.
Inspired by the Etsy shop 1 by Liz , April from The Hipster Home whipped this up for her mister as a holiday gift. Here's how she did it:
"The first challange was to find a free or inexpensive bicycle chainring. (Ok so the REAL first step was researching and figuring out exactly what the spiky circle  that the chain goes around was called. NOW YOU KNOW TOO.) Since we've got a handful of bike shops
January 13, 2009: My hand is NOT a hashbrown.

To the box grater:
If your job is to shred thumbs
Then you've succeeded.
There's all sorts of geek crafts floating around the blogosphere, but for some reason, these by Sehr Patola stand out amongst 'em. Perhaps it's that the gray matches 1980s Japanese plastic perfectly. Perhaps its the perfectly resourced buttons that make the scale spot-on. But, I'm pretty sure it's that tiny little LED bead on the Gameboy.