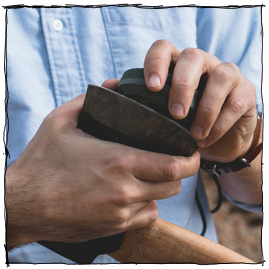 How to Sharpen Your Axe
DO play with your food!
I do love a how-to that's so unique, it gets its own blog... Oh, and check the materials list:
- A lot of fruits
- Some extra time
- One piece of bread
- A very sharp knife
I hope someone makes an iPhone wallpaper soon.  
It's going to come out sooner or later, so I might as well just get it out of the way.
I've never seen Star Wars.
It's not that I'm culturally illiterate, I just haven't managed to get my hands on a copy of any of the films yet. It feels wierd to rent them from the video store (kinda like owning It's a Wonderful Life), and I'm afraid to watch it with most of my superfan friends, cause I'm a bit worried I won't do it properly...or that I might fall asleep.
Still, I do know a bit about the franchise - I know who Lando Calrissian is, and I know that  Boba Fett has become this mysterious cult character adored for his lack of screen time
Vinyl LPs - records, albums, 12"s, whatever you want to call them - maintain a cult-like following, even in 2010. Audiophiles love to collect and actually play them, hipsters like to pretend they own them, hip-hop producers are still sampling them, and all kinds of artists are paying homage to the analog days of yesteryear.
Me? I like to listen to the good ones, and make stuff from the rest. And luckily, so do Anne and Todd. They made this DIY room divider out of used LPs, which sets two spaces apart while still allowing one to see through, maintaining the airiness the room already has.
They don't provide an exact how-to at Apartment
Having worked on how-to publication over the last few months (win a copy here), I've been immersed in the world of DIY mid-century products. There's simply not a ton of these projects out there, and for good reason: The entire mid-century modern design movement emmerged from contemporary manufacturing technologies. These pieces are decidedly difficult to make by hand, in that they use factory techniques like bent plywood, fiberglass molding, and the like. which are innaccessible to most weekend warriors.
So, it's always exciting to see achievable mid-century inspired how-to projects. And these very atomic nightstands from
A reader sent this to me in response to yesterday's spray-paint themed Handmade Haiku. I love how the colors and aesthetics match, but the pattern on each is just a bit different. There's no official how-to, but I'm thinking some empty cans and a few Hemma light cord sets are a great place to start.  
Remember everyone: A ManMade reader is punctuationally-attuned reader.
Tongue-in-cheek art site TheOatmeal wants to help you know the best times to use a semicolon, "the most feared punctuation on earth."  From connecting independent clauses to super-commas and high-fiving dinosaurs, this is one grammar lesson you'll never forget.
Attention iPhone and iPod Touch users: You can now browse ManMade on the go.
Well, you always could, but now it's easier to access from your iPhone desktop. Just go to ManMadeDIY.com in Safari and press the "+" at the bottom, and select "Add To Home Screen" Wait a moment for the nifty new icon thingy to pop up, and you're good to go.
January 27, 2010: The Tough Guy with the Pinking Shears.
Spray paint is the thing
when you want to feel like your
crafts are illegal.
Got a handmade haiku you'd like to see on ManMade? Email your idea to [email protected]
I've said it before, and I'll say it again - I simply prefer my typography-theme pastries to be grotesque and sans-serif.
From artist Beverly Hsu, these homebrewed aluminum and acrylic cookie cutters feature the twenty-six letters (and I hope an ampersand) of  Helvetica - the ubiquitous modern fontset invented by Max Miedinger in the 1950s and seen everywhere from the NYC public transit system to most bathroom signs.  
So...I'm pretty sure this is illegal in every state, but art is supposed to be edgy, and playing with imagery as recognizable as the most common of street signs is pretty effective. As the mind behind StopSignArt says "Because I have a digital camera and bandwidth, and Seattle has a lot of stop signs."
And whether you agree with the act or not, you can't help but be amused and challenged by this collection of stop sign additions assembled by DamnCoolPics.