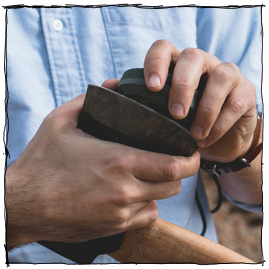 How to Sharpen Your Axe
Sometimes, hand painted just isn't the look you're going for, and you long to add some machine printed accuracy to your latest project. Here's two easy ways to add printed images to canvas, plastic, glass, paper, and whatnot.
Materials:
Image from a magazine or book, or printed via laser printer or photocopier. (Inkjet printers will not work)
Warm water
Large bowl or pie plate
Credit card or bone folder
For Process #1: Clear packing tape
For Process #2: Acrylic Gel Medium (or gesso, paint, or anything which states "polymer acrylic medium")
Paintbrush (a sponge brush will cut down on brush marks)
In November, NPR blogger Jess Ginter posted an illustrated featurette on the men at her local indie craft show, Crafty Bastards.  
"There are few tools that can break the sound barrier while fetching the TV remote. But throw a whip right and its tip can travel 900 mph (producing a sonic boom), then curl back to snare the object of your desire."
Why?
Why not, friends...why not?
In the last decade, many folks have stopped subscribing to cable television, magazines, and the newspaper. We've quit writing down recipes on index cards, sending most letters, using the telephone, and going to the local video store. Many no longer work in a traditional office, as they can do everything they need from home. Because now, you can simply send and recieve all of that information on your computer.
Which means, we spend ALOT of time in front of a computer. And that doesn't make us lazy, necessarily. In fact, it actually means we can be more productive - in concentrating our work and communication into a laptop, we can keep ourselves moving while we get our work done simply by connecting our computers to the average home exercise machine.  
Don't tell my mom, but I don't actually mind wearing a tie...Granted, with my job and social circles, it's a rare occassion when it's appropriate, so when I find my self needing to rock the half-windsor, it's kinda fun.
Every North American man has plenty of connections to the necktie: As kids, we learn to knot them. As teenagers, we learn to hate them. But as grown-ups...as grown-ups, my friends...
Well, we can learn to sew our own.
I refuse to read email forwards and chain letters. Even if they're actually hilarious, or educational, I simply skip past them on principal...sorry, Dad.
Well, except for one. Each year, around this time of year, someone passes along a collection of the macabre snow art of Calvin and Hobbes, and I'm instantly transported back to the heyday of Bill Watterson's excellent work, and I'm thankful to have been a kid in the eighties and early-nineties.
And I'm also thankful for these clever, cold-weather peers, who've taken some inspiration from young Calvin and made their own real life nightmare-ish snowmen.  
I know what you're saying...Really, Chris? This is just some weird she vs. him deal in which partners try to compromise for Valentine's. But, no, it's not about combining these things because beer and chocolate are [traditionally] masculine and feminine, historically, because, as ManMade often argues, those lines simply don't matter anymore. It's about things that taste good...I mean, think about it. The malt and chocolate combination go way back to the days of the phosphate and the soda shop, and microbrews have been creating chocolate stouts and porters for decades.
Beer can be every bit as complex as wine, and aches to be paired with food.  
I do indeed love the sights, sounds, and smells of a razor-sharp sawblade ripping through a two-inch block of hard maple, or a router-bit whizzing at 23,000 rpm creating a perfect 1/4" roundover.
But, for as much as I embrace the strength and speed of power tools, I find myself spending even more time with those tools that DON'T require ear plugs. Of course, you need hammers and screwdrivers and wrenches, but here's a list of ten items you can find in your hardware store that'll help you turn out great work, without the need for batteries or electricity.
1. All Sorts of Clamps. There's an old saying in the woodworking community..."You
First came the bird silhouette, then cupcakes, then vintage owls, and now?
Well, now, we're in the height of moustache season. Which is a very fine thing for the manmaker, since generally, men do have a monopoly in the ability to grow a moustache category. [I was gonna make a joke concerning my second grade teacher, but I'll restrain myself.]
ManMade is not even a month old yet, but we're thrilled to have so many of you interacting with us and letting us know what you think.
So, to say thanks, we're offering a free poster that you can download [PDF] and print off at home!