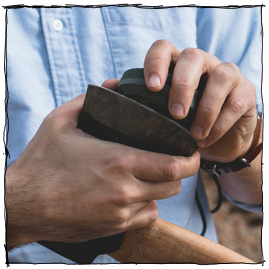 How to Sharpen Your Axe
Fire Up is a campfire do-it-yourself-kit designed by Evelien Stamhuis to help you build a roaring fire in no time. Everything one would need is in the bag.
I have no idea how much it costs, or whether its actually for sale...but I wonder what the functionality is? Are open campfires legal and encouraged in the Netherlands? Can anyone - namely someone who doesn't know anything about building fires - just plop down and set these things ablaze? Or, would someone bring this with them on a camping trip?
I really do get it as a design project, and I'm sure it works wonderfully. But though I'm not sure of the environmental impact of burning
February 17, 2010: A Lesson Learned through a Bendy Straw.
Dude, talk about upcycling...
Jim Jablon was given an alligator carcass after it had been killed by state officials. And, like most creative minds, he thought "Why not put it to good use?"
And by "good use," Jim meant: build a freaking motorcycle out of it.  
Designer Elizabeth Dilk came up with this sleek sewing kit intended for men who just need the essentials: "Unassuming sewing kit packaged in a 3.5" cube. Contains just the essentials, and directions to replace a button, mend a tear and hem pants. In three tiers, the box contains straight pins, safety pins, sewing needles, 7 types of thread, a seam ripper, tape measure and a packet of spare buttons. Directions are printed on the interior so that losing instructions is impossible."
I'm loving the design of the kit...the color and especially the typeface. Anybody know what it is?
man cave, n. A dedicated area of a house, such as a basement, workshop, or garage, where a man can be alone or socialize with his friends. (from mancavesite.org)
I admit, I'm not much into the hunting lodge or sports bar basement approach, but I do completely understand the masculine impetus to create a space of one's own. The same need that had us build forts and club houses as kids still drives us to make special places to simply be.
Contemporary design and architecture site Styleture have assembled several inspiring man cave designs. The common themes? Pool tables, big tvs, and lots and lots of woodtones.
I'm still on the search for the perfect day-to-day bag. I admit, I ask alot: I need something that carries and protect my computer and my DSLR, as well as fits my collection of things I use daily - books, paperwork, notebook, cables, glasses/contacts, multitool, etc, etc - that's carriable when I walk, bike, or ride my scooter.
And I think I've found the almost perfect option - with the almost hinging on the lack of external pocket to carry my water bottle or a drink. But, this quick and easy hanging bottle carrier from Between the Lines seems like a great solution.

Steve Nicholson is a second year Graphic Communication student...and an ace with a hole punch. He created this self portrait in full analog style - one dude, one piece of A1 paper, and ten differently sized single hole punches. The result is pretty impressive display of halftone-like holeyness.
They say the carotene in carrots gets converted into vitamin A by the human body, which aids in eyesights, skin and hair health, and the regulation of blood sugar.  
In the era of smart phones, tablet pcs, and very useful, well-designed computer-based to-do apps, there's still something quite organic and almost human about scraping a pencil across the fibers of a piece of paper. So, even the most wired-up creative set still keep a notebook around - for speed, accuracy, and sometimes, inspiration.
The Moleskine has become the standard, due in large part to a clever marketing approach at the Barnes and Noble superchain, who entice would-be highbrow superstars to use the same notebook used by Picasso, Matisse, and Hemingway. But despite their beauty, Moleskines are ludicrously overpriced. And...we never buy what we can make.  
These knitted meat softies can appeal to everyone: vegetarians can proudly display theirs and say "I prefer my protein purled..." and omnivores can set theirs on a shelf, using it for a bit of culinary inspiration. And no matter what your dietary choices, they're just plain fun.