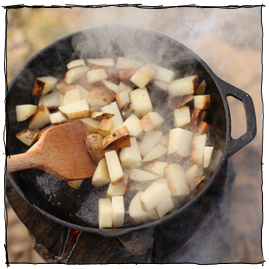 The Best Way to Maintain Your Cast Iron Cookware
Steve Harrington is an L.A.-based illustrator and graphic artist whose works are inspired by the shaggy late 60s, and all the moustaches and geometry of that era.
In particular, I'm digging on these paper tepees, with each facade featuring a different trippy take.
Men's shirts are sized in crazy ways - sometimes its sleeve length and neck dimensions, sometimes they're in chest dimesions (like a suit), and often, just the unpredictable small-medium-large. So, men, too, often have to buy for certain body measurements - length, sleeve, neck sizes, chest girth - and have other aspects not fit. It's why most men's button down shirts are baggy with big sleeves, and that weird muffin-top thing that billows out when we tuck them in.
So, next time you find that perfect vintage buttondown at the second hand shop, but it's flows around you like you're swimming in a gingham plaid Superman cape, pay the .99
February 10, 2010: You Make Me Bleed, and I Don't Care.


Dorodango - 泥 (どろ doro) "mud" and だんご (dango) "rice dumpling" - is a traditional pasttime for many Japanese school children. Dirt is mixed with water, then slowly shaped into a perfect, shiny or textured sphere.  
It not only occured to one, but at least sixteen ambitious knitters. I can only picture the internal dialogue..."This sweater, scarf, hat, and gloves simply aren't enough...I must knit myself an entire get-up! Some purled yarn armor to help me face the day."
The result? A seemingly very hot, VERY itchy cross between Cookie Monster, live action Dr. Seuss films, and that kid from the Christmas movie who can't put his arms down.   
Sometimes, hand painted just isn't the look you're going for, and you long to add some machine printed accuracy to your latest project. Here's two easy ways to add printed images to canvas, plastic, glass, paper, and whatnot.
Materials:
Image from a magazine or book, or printed via laser printer or photocopier. (Inkjet printers will not work)
Warm water
Large bowl or pie plate
Credit card or bone folder
For Process #1: Clear packing tape
For Process #2: Acrylic Gel Medium (or gesso, paint, or anything which states "polymer acrylic medium")
Paintbrush (a sponge brush will cut down on brush marks)
In November, NPR blogger Jess Ginter posted an illustrated featurette on the men at her local indie craft show, Crafty Bastards.  
"There are few tools that can break the sound barrier while fetching the TV remote. But throw a whip right and its tip can travel 900 mph (producing a sonic boom), then curl back to snare the object of your desire."
Why?
Why not, friends...why not?
In the last decade, many folks have stopped subscribing to cable television, magazines, and the newspaper. We've quit writing down recipes on index cards, sending most letters, using the telephone, and going to the local video store. Many no longer work in a traditional office, as they can do everything they need from home. Because now, you can simply send and recieve all of that information on your computer.
Which means, we spend ALOT of time in front of a computer. And that doesn't make us lazy, necessarily. In fact, it actually means we can be more productive - in concentrating our work and communication into a laptop, we can keep ourselves moving while we get our work done simply by connecting our computers to the average home exercise machine.  
Don't tell my mom, but I don't actually mind wearing a tie...Granted, with my job and social circles, it's a rare occassion when it's appropriate, so when I find my self needing to rock the half-windsor, it's kinda fun.
Every North American man has plenty of connections to the necktie: As kids, we learn to knot them. As teenagers, we learn to hate them. But as grown-ups...as grown-ups, my friends...
Well, we can learn to sew our own.