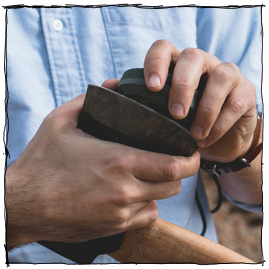 How to Sharpen Your Axe
The magic of printable iron-on paper empowers you to create your own version of this slacker classic. Perfect for Oscar parties or anytime you need to be tongue-in-cheek and a little annoying. 
At ManMade, we feature crafts and projects for men of all kinds, including little, tiny, adorable men.
Dana from MADE came up with this boy's sweater vest tutorial, which repurposes an adult sweater and "[turns] your little man into the gentleman he was meant to be." 
"If you were to take the best engineers in the world and asked them to design a perfect plug for a child's airway, you couldn't do better than a hot dog."
So, the American Academy of Pediatricians have called for the redesign of the hot dog. And since its an entirely processed product, any shape is game. The folks at Fast Company set off to redo the hot dog, with these criteria:
Esophagus-sized cylinders and spheres = bad, very bad
Fit within existing buns for "authentic"-ish experience
Look for opportunities [to] increase sense of play
Enhance condiment-to-hot dog engagement
After thinking through the designs below, they came up with the spiral dog above, and did a mock-up in green Play-doh.
Forget about Cool Citrus Basil and Cocoa Butter...all the cool zombies wash their decaying flesh in cherry-scented o-positive.  "Now you can bathe yourself in true horror movie style, and recreate your favourite scenes from Dracula, Psycho, and Twilight with our ultra realistic bag of blood shower gel."
Every craft and medium requires the right tool for the job. And while most men won't need a Shape-A-Dart for altering patterns to match the proper cup-size, we do love us some gear, and sewing notions are no exception. Here are ten tools - beyond the obvious needle/thread and sewing machine/bobbin combos - you'll never regret buying.
1. Seam ripper. I hate to admit it, but this is the sewing tool I use the most. One doesn't nail every stitch every time, and there's simply no better way to get it out and start fresh. These are also great for ripping apart clothing for fabric hacking and reuse.
2. Tailor's chalk/Marking Pen As a pencil is to woodworking, tailor's chalk is essential to proper seamster-ing. You gotta be able to mark what your doing - where to sew, where to cut, where to pin, and tailor's chalk, in both white (for dark fabrics) and blue (for lighter ones) is my favorite medium, as it rubs right out. They also make markers and pencils for special projects and fabrics - a water soluble pen is handy for special projects (like embroidery) when you need drawing control.
No matter what your medium - art, illustration, sewing, knitting, soldering, voodoo doll making - you gotta have someplace to do it. Many of us work in basement, garages, offices, closets, kitchen tables, and from boxes in couches.
But, as I've advocated before, a designated workspace to store and organize your supplies, whatever they are, can help one be more productive and inspired.
I'm really digging this design by Randofo, which was built, in his words, as a
"simple work table for my home studio so that I could have a surface upon which to work and document projects. I tried to keep the design as simple as possible as I only have a limited arsenal of power tools, a small vehicle for transporting materials and little patience for woodworking."
I especially like the white surface - which is great for documenting and taking step-by-step photos. I wonder if the effect could be recreated with a secondhand, white dry-erase board supported by 3/4" plywood.
Thriller...pshaw. That only required yellow contacts and a bunch of dancing. This, my friends, is the most ambitious music video of the last thirty years.
"When OK Go said they were building a giant Rube Goldberg machine for the new video for 'This Too Shall Pass,' we knew they would have one heck of a surprise in store. Still, the new clip, which debuted Monday evening, went beyond our already lofty expectations. Beginning with a simple toy truck running into dominoes, the nearly four-minute chain reaction is, to put it plainly, astonishingly complex and incredibly fun. "
Pay attention: there's no editing here, at least
As last week's Handmade Haiku intimated, I haven't yet mastered the skill sets to make myself a super - knitter, but when I do, oh, buddy, am I going to make a pair of socks for myself.
Warm, snuggly, and with the moisture - wicking power of wool! I especially love all the details: the contrast color in the toes and heels, the fun 70's racing stripes, and the cuff on the top.  
Take a look at the photo above. Recognize it?
It's the San Francisco skyline, as viewed from Alcatraz. Now taste it.
If you could, it would explode like a fruity rainbow atom bomb, cause it be made of Jell-o.  
Lance Armstrong - the U.S. cyclist who has become a household name for his Tour de France performance and ubiquitous yellow bracelets - has retired into a Spanish colonial outside Austin, Texas. It's pretty gigantic, and contains all the elements of traditionally masculine decor - lots of wood, leather, and warm colors.