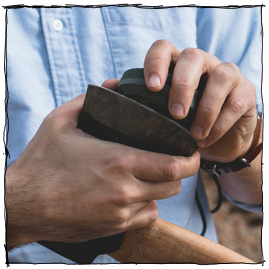 How to Sharpen Your Axe
Nothing tickles my funny bone like some well-concieved and tongue-in-cheek line art. Malaysian illustrator Chow Hon Lam is t-shirt legend, creating clever and unique images that show off his drawing and brains.
""I believe that everything should have a story behind it, no matter if they are an object, an animal or food. I always try to create a story for them. I guess they must have something to say, but they just can't speak. Trust me, I try to communicate with them!"

"Actually all the ideas don't come easy, I hope people can enjoy them and appreciate them. All criticisms are welcome. Thanks from deep in my heart."
I never thought a microwave could produce crispy ANYTHING, let alone the airy crunchiness of of perfectly cooked potato chip.
But I'm happy to admit when I'm wrong, especially when me being wrong equals the ability to make quick and easy homemade potato chips without the mess of deep frying.
Ingredients and Materials:
1 russet potato
Non stick spray
Salt and Pepper
Slicing mandoline or sharp knife or vegetable peeler
Parchment paper or glass plate
Microwave  
If you simply must express your voice on a giant piece of public property, but can't get passed the illegality of defacing something you don't own, try scrubbing your design into the grime that already exists on the wall.
"Offering a refreshing and very welcome take on the contentious art form, is a group of ex Durban Vega Brand and Communications School students, who were inspired by the work of British street artist Paul Curtis (AKA "Moose") who began pioneering his form 'Green' or 'reverse Graffiti' three years ago. Curtis (legend has it) first hit upon the idea while working as a kitchen porter in a restaurant scrubbing mountains of pots and pans. One dreary evening while trying to erase a grease stain on the sink wall before him, he discovered he had cleaned a large white patch onto the grimy surface. It didn't take long before the aspirant street artist began conquering the cityscapes of London, applying his vigorous selective scrubbing to more prominent walls and bridges."
One glass. Two ingredients. One step. Delicious. And its probably healthier than milk, chocolate syrup, and whipped cream....  
As far as your dog is concerned, its a toy, and it feels good between the teeth. But for you, the tongue-in-cheek pet owner? Constant amusement.
Nose-to-tail cooking is a culinary movement dedicated to eating every part of the animal. UK chef Fergus Henderson and a few of his U.S. counterparts, such as Chris Constentino, are "staunch [proponents] of using virtually the entirety of any plant or animal being served up. Harking back to the days when very little went to waste, [they practice] what [they preach] with such victuals as Rolled Pig's Spleen, Duck's Neck Terrine and Roast Woodcock, which is cooked with innards and head intact, the latter providing a bit of "delicious brains." (From Publishers Weekly)
But, as Ian Knauer of the Atlantic points out, "very skinny-jean-wearing hipster with this month's issue of Edible Wherever tucked under his arm can settle into a pork jowl or trotter and take one for the Fergus Henderson team." Those who really commit, the true animal tasters (which, for me, put them way closer to vegetarians than just chicken breast and beef tenderloin eaters), do it all, and that means testicles.
San Francisco-based artist Dan Kenneally has created Lunchbox, a series of 18"x18" sandwich paintings, that each use a minimal colored stripe to represent ingredients.
"Lunchbox presents a curious departure from an ordinary subject matter which is unprecedented in the art community. It communicates volumes though use of complex arrangement of color, and simplification. This ambitious feat achieves harmony through balance and composition."
I like that these are physical paintings with texture and drips, etc, rather than simple stripes drawn on the computer.
The most efficient way to get your creative work done quickly is to keep your tools and gear within an arms reach. And if YOU move around, then so do your arms, so the best soiutions keep your goodies ON your person...like a tool belt.
And if your project is framing a house, then a traditional Bob Vila-style tool belt will do just fine. But if your arsenal involves items other than a hammer and drill, its often tough to find the perfect place to put  your tools.
So, make that perfect place. A tool belt is only as useful as its ability to store the things YOU use on your projects. ManMade went to hang out with fabric master Amy D. to see if we could create a durable, customized tool belt on the cheap.  
10 March 2010: That I Make Always Trumps What I Make
Kristen Swensson of Cheap, Healthy, Good has accomplished an incredible week-long adventure: she created an entire weeks worth of healthy meals for two people with pantry staples, $25.00, and one whole chicken. "The stretchability of a whole chicken is a frequently discussed topic among food and frugality bloggers... [but] here's the thing: sometimes, those dinners aren't the healthiest meals in the world. There tend to be a lot of quesadillas and casseroles whenever these type of posts pop up, not to mention chicken salads drenched with full-fat mayo. Now, there's nothing wrong with this whatsoever (except the mayo - blech), but I wanted to see if I could put a healthier spin on it. In a sentence: I wanted to find out if it was possible to create a gaggle of inexpensive, lower-fat meals with the leftovers from one big ol' chicken."
And she did it! No repeats, and no waste, and only $0.86 over budget.