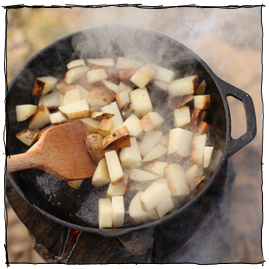 The Best Way to Maintain Your Cast Iron Cookware
Every craft and medium requires the right tool for the job. And while most men won't need a Shape-A-Dart for altering patterns to match the proper cup-size, we do love us some gear, and sewing notions are no exception. Here are ten tools - beyond the obvious needle/thread and sewing machine/bobbin combos - you'll never regret buying.
1. Seam ripper. I hate to admit it, but this is the sewing tool I use the most. One doesn't nail every stitch every time, and there's simply no better way to get it out and start fresh. These are also great for ripping apart clothing for fabric hacking and reuse.
2. Tailor's chalk/Marking Pen As a pencil is to woodworking, tailor's chalk is essential to proper seamster-ing. You gotta be able to mark what your doing - where to sew, where to cut, where to pin, and tailor's chalk, in both white (for dark fabrics) and blue (for lighter ones) is my favorite medium, as it rubs right out. They also make markers and pencils for special projects and fabrics - a water soluble pen is handy for special projects (like embroidery) when you need drawing control.
No matter what your medium - art, illustration, sewing, knitting, soldering, voodoo doll making - you gotta have someplace to do it. Many of us work in basement, garages, offices, closets, kitchen tables, and from boxes in couches.
But, as I've advocated before, a designated workspace to store and organize your supplies, whatever they are, can help one be more productive and inspired.
I'm really digging this design by Randofo, which was built, in his words, as a
"simple work table for my home studio so that I could have a surface upon which to work and document projects. I tried to keep the design as simple as possible as I only have a limited arsenal of power tools, a small vehicle for transporting materials and little patience for woodworking."
I especially like the white surface - which is great for documenting and taking step-by-step photos. I wonder if the effect could be recreated with a secondhand, white dry-erase board supported by 3/4" plywood.
Thriller...pshaw. That only required yellow contacts and a bunch of dancing. This, my friends, is the most ambitious music video of the last thirty years.
"When OK Go said they were building a giant Rube Goldberg machine for the new video for 'This Too Shall Pass,' we knew they would have one heck of a surprise in store. Still, the new clip, which debuted Monday evening, went beyond our already lofty expectations. Beginning with a simple toy truck running into dominoes, the nearly four-minute chain reaction is, to put it plainly, astonishingly complex and incredibly fun. "
Pay attention: there's no editing here, at least
As last week's Handmade Haiku intimated, I haven't yet mastered the skill sets to make myself a super - knitter, but when I do, oh, buddy, am I going to make a pair of socks for myself.
Warm, snuggly, and with the moisture - wicking power of wool! I especially love all the details: the contrast color in the toes and heels, the fun 70's racing stripes, and the cuff on the top.  
Take a look at the photo above. Recognize it?
It's the San Francisco skyline, as viewed from Alcatraz. Now taste it.
If you could, it would explode like a fruity rainbow atom bomb, cause it be made of Jell-o.  
Lance Armstrong - the U.S. cyclist who has become a household name for his Tour de France performance and ubiquitous yellow bracelets - has retired into a Spanish colonial outside Austin, Texas. It's pretty gigantic, and contains all the elements of traditionally masculine decor - lots of wood, leather, and warm colors.
Oded Ezer, an Israeli typographical artist (with whom I first became familiar last spring in Paola Antonelli's A Typographer's Guide to the Galaxy) created this unique headpiece for a lecture at London College of Communication.  
During Valentine's Day season, a whole bunch of craft and style blogs did round-ups of special, handmade ladies undergarments. I kept my eyes open for an article on underwear for the gents, but it never surface.
So I did some research, and this is best of the free how-tos out there.  
In honor of the upcoming 82nd Academy Awards, Photographer David Gartner has created Oscar-food mashups based on this year's Best Picture nominees.
The titles include "A Serious Manwich" and "The Blind Side Salad" as well as "Precious, Based on a Novel by Bombay Saphire,"  and "Avatunatartare."
Here's a different sort of "how to" for ManMade...instead of actually creating something, it's a more of a "what to aim for...:"
But a creative guy has every chance to be a sharply dressed guy, and this very thorough article from LifeHack.org offers some pretty helpful tips, like
Pants should almost touch the ground without your shoes on

Shirts with button-down collars are not dress shirts.
You need more than one pair of shoes, but not too much more.