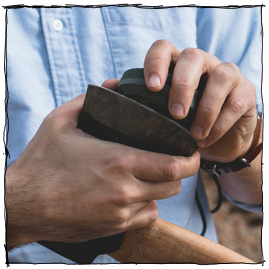 How to Sharpen Your Axe
Whip up an RSS Feed Pillow to show your love of technology and pillows! The colorful and cheeky design is my own, and I'm happy to share it with ManMade-ians everywhere. 'But, Maven', you might be saying, 'I don't know how to crochet!' Oh....poo. Crocheting is easy to learn. (My grandma taught me when I was 8!) Of course, if you don't have a crocheting granny, not to worry. Crafty Daisies has superior FREE crochet tutorials on their website. As for x-stitching, that's even easier. (Here's a quick illustration.) Other than that, all the information you need to make the pillow can be found at this post on my website, diymaven.com.
StarTrek fan Tony Alleyne used his love of arts & crafts and science fiction to turn his 500 square foot apartment into a replica of the Enterprise's transporter room. Two years after he completed his StarTrek makeover, Tony started his own design company, 24th Century Design, hoping to help others bring their sci-fi fantasies to life. Reports suggest that Tony paid about 100K British pounds outfitting his pad with such things as voice-activated lighting. (I hope you have to say 'computer' first.) To see more images, follow this link. And to take a virtual of Tony's TNG creation, click here.
A while back Chris hooked you up with Five Very Manly, DIY After Shave Recipes. Now we take a step back in the process to help you make your shaving experience even more soothing. 
For those of you not
Hello ManMade-ians! I am honored to mind the store as my buddy Chris is off galavanting the world doing good deeds. But now that he's gone, let's talk about him behind his back, shall we? Chris has never seen Star Wars. As a matter of fact, he's never seen any of the Star Wars films. How does that happen?? A man of his age, in this day and age? I don't get it. (Shakes head.) So, just to bust his chops a bit--and to goad him into finally seeing the films--I thought I start my stint on ManMade with something those of us who have seen the films would appreciate: A Death Star Watermelon. It was lovingly made, I'm sure, by flickr user
Hi everyone,
By the time you read this, I'll be off to the U.S./Mexico border to get my hands dirty, flex my service learning muscles, and get crazy constructive with an excellent group of college students. While I'm gone, my friend JoAnn Moser will be keeping her eye on ManMade, and providing some excellent guest blogging posts!
JoAnn is super maker, DIYer, and a master of all things crafty. She inherited the DIY gene from her parents, and was a total tomboy growing up, and still has some latent tomboy tendencies - she'll take tools or photography or electronic equipment over jewelry any day, so she surely gets the spirit of ManMade.
It's my hope that, one day, I'll be able to make every necktie I own, from scratch. Until then, I'm digging on this idea I tripped over at the always awesome Doe-C-Doe: adding a little custom embroidery to a store-bought tie, creating lots of handmade flair and plenty of personality.
IKEA has installed furniture vignettes in four high-traffic metro stations in Paris. [For those in the know - Champs Elysées Clémenceau ligne 13, St Lazare ligne 12, Concorde ligne 8, Opéra ligne 8]. Each display includes several sofas, lamps, and large prints of IKEA interiors. From the looks of it, they totally transform the normally drab subway platforms.
March 17, 2010: Not Even on St. Patrick's Day

U.S. based-architect Bryan Berg set out to beat his own Guinness World Record to create the world's largest structure made solely of playing cards.
Forty-four days, 4,051 decks (218,792c cards), and several near-collapses later, he's recreated a replica of the Venetian Macau, which is on display in its namesake luxury hotel and casino.
No one, regardless of class, age, or gender, should be excluded from the opportunity or access to thick, radiant, and formidable facial hair. And with BeardMe, you can give it to them.
"Icons of wealth and class, beards and mustaches are status symbols of a bygone era. Establish yourself as your generation's Abraham Lincoln by adding an urbane and elegant beard or mustache to your mug with BeardMe, the premier facial hair application for the iPhone and iPod Touch."  
You can select from a variety of styles, shapes, colors, and orientations, then save your results, and easily publish to Facebook, Twitter, Flickr, or send via email.