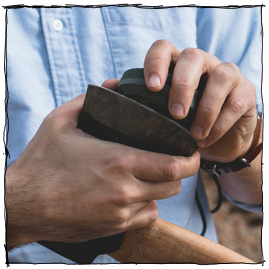 How to Sharpen Your Axe
Often, when it comes to DIY projects, we create our own circles by starting from a center point. Whether a compass, string guide, or specialized cutting jig, a circle emerges from our pencils or saws precisely because we've created an established and consistent distance from a single origin. 
But, what happens when the shape already exists, and you need to know how to find the center of a circle? You can do it in less than a minute without any specialized math, memorizing a formula, or even knowing what pi is.    
I really should kick this off with a big disclaimer: I'm a book guy.
I grew up in a book house—my dad is a professor and the author of several books, and my mom worked in a library when I was a kid. Bibliophilia is in my genes—my toddler already goes straight to her books immediately on waking up. I love places where books live—I've haunted libraries, bookstores, and free book spots in every town I've ever lived in. I read books in multiple languages—I'm literate in German, with passable French and Spanish skills. I even write books—I've got several novels in progress, including one story with a finished draft that I completely scrapped instead of sending to an agent because it wasn't quite there yet.
But recently, I've ditched at least 300 volumes from my personal library, some of which I had owned for over 15 years.
If you're trying to downsize too, read on for 10 tools to help you winnow the chaff from your personal library. But first, a brief aside to answer the why.
The bowline knot is not just for sailors. Nor anglers, mountaineers, first responders, or anyone else who need to know a huge diversity of knots, their strengths and weaknesses, and what situation calls for each.
This is for the rest of us. Those of us who go through normal life and its adventures, and encounter rope, twine, string, line, paracord, and the like, and when we need to secure it, say "Should I tie this like my shoes, or in a square know that I know will be nearly impossible to get off when I'm done."
The truth is, at this point in our lives, we're probably not going to learn how to tie a complex cavalcade of knots, and even if we did, would probably not have enough opportunity to practice them in real world situations in order to commit them to long term memory.
But, still, we should all know how to tie at least one pro-level option, and so we say to you — if you're only going to know how to tie one kind of knot, let it be the Bowline Knot  
We love our pickles here at ManMade. Whether we're fridge pickling veg or tossing a dill cuke in our beer, we're fans of the vinegary tang of natural food preservation.
Now, tomatoes are no stranger to canning; homemade pasta sauce is one of the handmade life's greatest joys, and pickled green tomatoes are delicious in that check-out-the-awesome-secret-restaurant-in-the-hidden-alley kind of way. But I've barely seen pickled cherry tomatoes register on the pickle scene, and it's a rotten shame.
I got this idea soon after some friends visited and forgot their charger cords for their phones. Since I had my own to use overnight, we had to fish around for other solutions. One day, in my shop I was reflecting on this dilemma when I remembered there were these new USB wall sockets that would be perfect to turn into a portable DIY charging station whenever I need it. 
When I start my garden every spring, I like to kickstart it by heading over to the local nursery and hardware store for some pregrown plants. Seeds can be tricky to deal with, and plants that are already several weeks old are especially helpful if you're busy, don't have a ton of experience, and want to get a jump on the growing season without having a greenhouse.
For the remainder of my garden, it's all about the seeds. I love that thrill of watching those little seedlings cling to the dirt in rain and sun, and I'm ecstatic to see true leaves when they emerge. If you've been doing seed packets for a while, and you're looking to up your garden game and perhaps move into the world of heirloom vegetables, read on for our primer on how to save tomato seeds, seed pods, summer vegetables, and more!
Concrete. It's a universal building material so ubiquitous, we tend to take it completely for granted. Yet it has a fascinating history that stretches back before the time of Roman Empire. No need to fire up the Delorean today, though; we're sticking to the current trend of using industrial materials in domestic interiors with our concrete desktop planter.
We're also giving away a $250 Lowe's gift card that you can use to buy your supplies to make your own concrete desktop planter (and then some). Read on to find out how to enter (giveaway details at the end of the post) ...
Remember that old clubhouse in the vacant lot of your childhood neighborhood that the local kids hand-built from scrap wood and castoff rusted sheet metal, with "KEEP OUT" scrawled in red paint on a sign nailed over the threshold, which you could only cross by whispering the secret phrase of the day?
OK, my childhood never really had that, either. But as this millennium's second decade blazes to a close and the tangible machinery of my life increasingly vanishes into the vapory world of binary code, it feels like several new secret forts pop up every month. Not only does each online account demand its own covert entry key, but with cybercriminals stomping on the gas for data breaches every year, it's becoming more and more important to be able to create unique, hard-to-crack passwords for each one. It's a tall order to balance security with memorability—let's explore how to do it!            
Hopefully, you're already a committed safety glass wearer. Grabbing a pair for even the simplest drilling/driving task is good practice, and a part of your DIY routine. Even better, if you use power tools, you're also protecting your hearing from those roaring 85-90 dB motors.
Last in that great triumvirate, and perhaps the most often overlooked, is protection for your respiratory system. Too many of us don't wear a dust mask, respirator, or sealed face shield when working on projects for one simple reason: they are extremely uncomfortable, a total hassle, and more irritating than your second cousin's toddler at the Thanksgiving table
I guess you could put something else other whiskey in a pocket flask. Maybe some nice sipping tequila in summertime, or perhaps a bit of brandy around the holidays. Whatever you fancy.
But whatever goes inside, our vote is: you should own certainly own one. Not because you should be sneaking spirits in places you shouldn't have them (although...) But because its summertime, and you should be headed out on adventures. And once you've achieved whatever goal you set, it's good to celebrate a little.