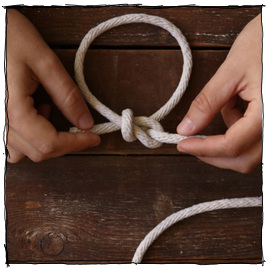 How to Tie the Most Useful Knot in the World
For me, getting into podcasts was like easing into a warm tub on a cold winter's day. At first it seemed uncomfortable and a little too much, and now I can't imagine getting out. I'm in deep. And it might be too deep if I hadn't worked out a way to take control back from the unending feeds of too many good shows. Liberation is possible when we take control of our own podcast destinies and create a program for how to listen––to make podcasts work for you, instead of sitting on your phone or computer like a homework assignment you dread to complete.
Whether you're loading up your podcatcher for the first time or are a seasoned pro, you're familiar with the mass of stuff available. The waves and waves of quality content, the extraordinary, out of the box topics, the brain-tickling, the heart-tearing, and the tear and laughter-inducing episodes that begin to fill your playlists can freeze you in your steps.
Many will make resolutions on New Years, vowing to drop the additional pounds leftover from the holidays, and generally making more healthful choices starting January 1st. And while new beginnings can be a helpful motivation, we think the best time to actually get started on new goals is actually now:  late winter and early spring. So, while we hope you made some good progress in the first few weeks of January, the real question is: how's it going come February 1st?   
When I was younger, my mom always gave us a list of chores to do before we left town for an extended weekend.  At the time, I didn't fully understand why my clothes needed to be put away or why all the dishes needed to be washed if we weren't going to be home, I just wanted to get to the hotel so I could jump in the pool.  Luckily for me, my older brother is an absolute neat freak and he would get up early and finish most of the tasks on the checklist before I even got out of bed.  Fast forward 20+ years, and I completely understand why my mom always made us complete that list of chores before we left town.  Being older and slightly wiser than my 8-year old self, now I make sure to always do these 11 things before departing for my next adventure:   
For the sake of this article, let's just assume for a moment that you're convinced of the merits of listening to bluegrass and old-time string music...
If you think of the elements of cooking that feel the most like a chore, cutting vegetables can rank pretty high on the list (just under scraping off blackened cheese from a sheet pan.) But when you're holding your knife correctly, it can be one of the most satisfying parts of the cooking process...second only to eating.
Practically speaking, you'll significantly reduce your kitchen prep time while making sure that all of your digits stay intact. So, more efficient and safe.
Who doesn't want to save minutes and fingertips?
"… my landlady, by the way, doesn't like the Germans because when some playful Nazi pilots lived in her house some months ago, they threw a hand grenade into her chicken coop, and they had to eat the winter's supply of chickens all at once."
This is one of my favorite lines from our family's treasure: my grandfather's back-and-forth correspondence letters during World War II. Frank T. Waters was an editor of the military newspaper, Stars and Stripes. At several instances during the war, he sent correspondence back home to his mother, family, and friends sharing daily life overseas and fighting the biggest war of the 20th century.
Going through these letters is a truly amazing glimpse of a soldier's life during war-time Europe in the 40s. I counted 207 letters, official correspondence, orders, postcards, etc, so far. Reading these, I discover my grandfather was smart, curious, and pretty funny. Here are some of my favorite bits:
There's a great adage in the home decor and organization field...you've probably heard it on one of those room makeover TV shows. The phrasing varies, of course, but the central idea, "When you run out of floor space, you've got to go up."
It happens. Going about your life, you come across memorable sayings. In movies.. books... pasted on top of inspirational images on your friends Facebook feed. And every once in a while, one of them sticks.
If forced to pick one, I suspect my greatest fear is regret. You know the image: an old man sitting in a chair, thinking back over all the the chances he never took. And that's why this quote hit me. It goes like this:   
Last night, my wife poked me in the ribs, and showed me this image. "Guess what that is," she said.
"Oil paint mixed with water?" I guessed.
"No...those are clouds hovering over Jupiter."  

These are thoughts, the artwork, the news stories, the tools, the food, the conversations, and whatever else we just can't get out of our heads this month.