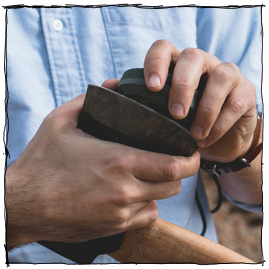 How to Sharpen Your Axe
Now that the days are warming up the thought of a hot latte with milk and cinnamon sure adds a drop of sweat to my brow. It's usually this time of year, I swap my typical addiction to hot coffee to sweet, syrupy iced coffee. I just can't get enough of the stuff!
With the temps warming up, it is most certainly time to get mouths a-watering for barbecue season. Whether gas or charcoal, most of us have a backyard grill, but a dedicated smoker can be a luxury. They take up space, can cost a lot, and while they make sense for true smoked food fans, might not be necessary for the average grill fan.
 
In fact, they're not necessary at all. Cause with a little creativity and DIY ingenuity, you can turn the grill you already own in a smoker that can turn out tender, fall apart food fused with the flavor of fire. 
A few years ago I was driving to a lunch meeting with a publisher for a book project and the conversation turned to old stuff making a comeback. I took her by surprise when I mentioned handkerchiefs, and even more so when I produced one from my back pocket. I had never really thought much of it, because carrying handkerchiefs is my way of classing up a serious problem with allergies, where my sinuses go DEFCON 1 and launch sneezing attacks at a moment's notice. (Like my man Sneezy says... "When you gotta, you gotta.") 
But I'm not the only one looking to supplement tissues with fabric. The resurgence of handkerchiefs is part of the larger picture of kids born in the 80's reaching back into Grandpa's closet and workshop for a feeling of concreteness and authenticity. Regardless of your position on reaching for retro, I'd argue that the handkerchief, far from being a relic relegated to nostalgic millennials, is a useful tool... and not just for catching sneezes.
Here's a list of some of the things you can use handkerchiefs for in your everyday life.
You can buy cold brew coffee at a coffee shop. But, if it happens to be from a certain Seattle-based java-serving monolith named after a Melville character, or an pink and orange East Coast chain known for selling fried rings of dough for, uh, "placing" into your coffee, then what you're actually getting is cold coffee...that is, hot coffee that's been iced down.
Cold brew is an entirely different beast altogether. And with the weather warming up, it's time to cool our coffee down. Or, more accurately, never heat it up to begin with. 
I know it's a small thing, but your choice in writing implements can say a lot about you. Do you carry a simple plastic tube with cheap ink, or do you hold a solid, well-made piece that makes an impression? Or do you not carry anything at all? A pen holds stories and signatures, words and dreams, and you can make one that leaves an impression every time you put some words to that page.
That's why you should carry something impressive, and why you definitely should make your own.
At its core, a chair is simply a seat with a back. And while they often have legs and arms and complex joinery for strength, sometimes, a little physics can accomplish the same thing.    
In college, my roommate Adam returned from the holiday break with a new alarm clock he'd received as a Christmas gift. (My dorm days were a bit before the smartphone era and we all still used actual bedside clocks to wake up for our 8:00am classes). This particular alarm clock was special; it featured a
Podcasts. You know 'em. You listen to 'em. You're moved by them. You laugh and are entertained by them. But are you inspired by them? Do they light a fire under your butt and make you want to get into your work space as fast as possible? Do they make you want to complete your workout faster so you can get home and make stuff? Do they make you thankful for your creative bent, and the creative work of others?   
Here's our thinking: podcasts, as a medium, are great accompaniment for a lot of things. There are certain podcasts you listen to on your commute, specific shows that work best for cleaning the house or cooking dinner, those to
So, I'm gonna throw down and get controversial for a sec: William Shakespeare was the greatest playwright and poet who ever spoke English, and I'd relish a comment-fight-to-the-death in the comments anyone who disagrees (not really, but I encourage the conversation).
To argue the man's merits feels redundant; the work speaks for itself. The Bard's plays are so influential that he's taught us how we understand storytelling and character development in the modern and post-modern world. His words have become so ubiquitous that I'd bet good money everyone reading this knows unique phrases from at least 4 of the 5 speeches below (also lots of movies take their titles from his phrases). I challenge any man considering himself an educated member of our society read these speeches and attempt committing them to memory. You'll find them helpful in more than a few settings. 
Want to make no knead bread in a Dutch oven? It's not nearly as hard as it sounds. 
Gluten is my homeboy. I don't care what the fad-diets say (and apologies to those of you who are truly gluten-intolerant). Paleo-be-damned, I'm grateful our ancestors developed agriculture, so we could stop foraging and eat mostly bread (and also develop science, art, culture, etc.). 
Great bread is easy to make. This is a no-knead recipe! Meaning, you don't, um... knead it. Duh. It's based on the Jim Lahey no knead bread recipe.
Here's how I do it:    
1. Get a sourdough starter from a friend (or make your own, or order one online).
2. In a