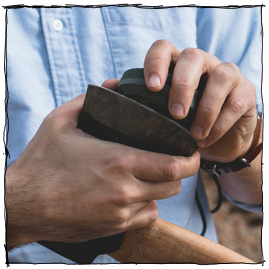 How to Sharpen Your Axe
I'm a huge fan of having a few rows of dog holes in my workbench top. And, more than anything else, I use them to secure a holdfast - an ancient and genius piece of design that secures your work to the work surface with a simple tap from a hammer or mallet. When your ready to release it, just hit the back and it's free. Seriously - it's ten times fast than clamping, and you can fasten your work anywhere across the bench top. Brilliant.
To speed up the process even more, I wanted to come up with a permanent way to protect the wood from the force of the steel being banged into it. You can use a hardwood scrap between the holdfast and the workpiece, but I figured there's reason to spend twenty minutes once and protect my work forever. No digging around for scraps required. 
Okay. It's time to call it. The long days of summer are gone, and with them went the endless opportunity to take on a new project or adventure, no matter the time. For the next few months, the daylight hours will be spent mostly at work, with our free time coinciding with the dark, crisp nights of the season. The perfect time to do a little whittling or carving by the fireplace, or perhaps time to start a pot of your famous chili and cast iron cornbread. Or, when you just have a few spare minutes to yourself, read a great book. 
Etymology often helps shape thought: when you're aware of a word's origins, you're in touch with the full context of the words that filter your inclinations. For example, did you know that wilderness comes from the Old English for "wild deer"?
Think about that for a moment: it's a place filled with animals unaccustomed to human contact, where humans have minimized their prints on the world. So when we go out to the wilderness, we're immersing ourselves in the beauty of nature, we're adventuring outside of civilization, and we're escaping from the creature comforts that can dull our sense of connection to the cosmos.
Well... maybe not 100% escape. Because while I love taking a break, I've never been interested in taking vacation from a good cup of coffee. If you're the same, read on for how we at ManMade make decent coffee in the wilderness, and our choices for a great camping coffee maker.
You want your meat board to be a statement of your ambition. Not as a cook, but as an eater. If you can avoid it, don't just let this be a venue for a dinner plate. You want a board that seems deliberate and larger than life. Wood is good. But so is slate or stone or anything smooth and safe for food. In this moment, when you are putting together a board, you are not a chef, nor even a cook. You are an artist in front of a fresh canvas, but your paints are going to be the foods that you most love. 
Guys—I love space.
Growing up, I was always the kid with my head in the clouds (I'll admit I've been called a "space cadet" more than once) but my actual interest in the objects outside of our atmosphere didn't launch until I fulfilled my college science credits with two semesters of astronomy. It was one of my favorite classes of all time: learning about different planets and galaxies, observing the moon through powerful telescopes, and—shockingly for an artist—working the calculus of space physics. These days, I dip my toes into the pool of astronomy with a set of apps. 
Read on for our top picks of best free apps for space fans!
Mid-century modern is an umbrella term that describes the popular industrial design taste ranging from the mid-1940's to the mid-1970's across all disciplines—architecture, interior design, product design, and graphic design. It was huge shift in its time, orbiting around the desire to strip away excessive ornamentation and get things down to their most basic shape elements. Despite the changing aesthetics of the 1970's onward, it continues to endure—in the words gallery owner Patrick Parrish, "It's been the new cool thing five times in the last 50 years."
Of course, no design era is the pinnacle of perfection. Elements of mid-century interior design can oversaturate our eyeballs—does anyone else completely overlook the Eames chairs placed in the corner of perfectly-styled rooms on Pinterest—and after living in post-Soviet East Germany for a year, I gotta say that the stark minimalism of Brutalist architecture can get really depressing in a snowless winter. (I also have to admit that sometimes even the word "design" is so overused that it feels like a gnat swarm to the face on a muggy day in August.)
Yet, I can't help but love the work of French-born, NYC-based designer Raymond Loewy (1893–1986). You probably don't know the name, but the guy was so prolific that unless you've been living in a cave, I guarantee you've seen his work. Let's take a look at some of his greatest hits.
If you do woodworking and DIYing in inches, a solid understanding of fractions is essential. Being able to calculate that half of 4 1/4" is 2 1/8", or that 1 1/2 + 1 3/16 = 2 11/16" is basic shop math that will keep your projects moving quickly.
But often, bringing fractions into the process is, well, completely unnecessary. Let's say you have a board that you'd like to divide into equal parts. You could measure it, then bust out a pencil, paper, and the calculator app, and eventually have to Google a decimal-to-fraction converter to figure out the size of each section. Then, you'd have to find that crazy number on your ruler, and carefully add the units together to mark out your parts. Or... you could just do this.    
Apple pie. For my money, it's the best dessert to grace our tables and slide down our gullets in the past bazillion years. Sweet, tart, warm, gooey, and crumbly... it's no wonder it's an American icon. But why limit this goodness to your oven? Let's take a journey with the recipe, step out of the kitchen, and head into the great outdoors (or your backyard) to create a rustic cast iron apple pie cooked over an open flame.  
Summer is the season of fresh, lively cocktails: Collinses and flips and spritzes and 'garitas. But as the weather chills down, it's time to switch into a more subtle mode. Fall cocktails are all about deep, earthy, and woodsy flavors, those that match the smell outside and the sorts of rustic, homey dishes that taste so perfect on a cool evening. 
The cooler months bring boots, jackets, and best of all: sweaters. Worn well, they echo the classic men of yesterday. Investing in one or two quality pieces made from 100% wool is preferable than several from acrylics or blended fabric, as they'll stick around for many falls and winters to come, and look better in the process. (Not to mention keep you warmer.) If you take care of them well, they'll last until your beard goes gray, and you can pull off the weathered fisherman with a warm heart look of Mr. Hemingway here.
1. Don't dryclean or machine wash.  Not only does hand washing keep your wool clean, it'll actually make your sweater