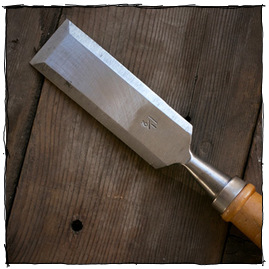 How to Restore a Vintage Chisel
Unless you're a millionaire, I always recommend going with used hand tools when getting started in woodworking. (Though, full disclosure, no millionaires have yet to ask my advice.) Vintage tools are plentiful, much less expensive, and depending on their age, usually a better, longer-lasting tool than you can buy at your local big box store. And the best part? Antique tools are more likely to be made in the USA or Europe, where they've been crafted from higher quality steels than modern tools from the home improvement center. 
Over the weekend, I found this nice, broad 1 1/2" chisel at a favorite antique mall, with a mere $7.50 on the price tag hanging from the handle. It was in mostly great condition. The top and back had been coarsely ground a few times, and the bevel wasn't square to the sides, but the steel was in beautiful shape and the handle looks like it's never been pounded on.    
There are occassions to spend a little more on an investment bottle. But there's absolutely nothing wrong with looking for something to enjoy that cost less than an Andrew Jackson. None of these second-to-the-bottom shelf bottles are going to blow your mind and or cause you to use the word "revelation," but you know that already.
Though,  seriously, if you're having fun and the evening is more about the conversation than what's in the glass, twelve servings of anything palatable for less than twenty bucks is money well spent.    
You know those little pumpkins you practically trip over in the supermarket this time of year? It turns out: they're good for more than just Instagram props. With, like, no work, they make a really tasty pumpkin butter you'll want to have in the fridge all year long. I'm talking about pumpkin butter with the magical spice flavor of pumpkin pie, but simple, less sweet and much more, well, pumpkin-y.
Hello to all our favorite people out there in ManMade land. We have a pretty exciting announcement to share:
ManMade is currently looking for new contributors. Kaboom.   

I love a tool whose common name indicates its purpose. Oh, what's a screwdriver do? A citrus squeezer? How about a box cutter? The function is all right there in the name. 
In many ways, a speed square falls right into the category. It tells helps you determine "square" – that is, when one edge or line is exactly 90° to another – and it helps you do it quickly. Done. Right? Wrong. 
Sharpening a blade at home - whether a pocket knife, a chisel, a kitchen knife, a hand plane blade, a pair of scissors - is a relatively simple process. In theory. In practice, it can be a bit difficult, since the essence of sharpening a blade is less about the ability to remove material and create/straighten a new edge. Rather - the trick is removing that material at the right angle to create the bevel that makes up a blade's sharp edge. 
These are thoughts, the artwork, the news stories, the tools, the food, the conversations, and whatever else we just can't get out of our heads this month.     
Your kitchen stove is a recent development in human cultural evolution. For millenia, all cooking was live fire cooking. From traveling groups building beds of coals in the wilderness, to stone and earth homes centered around the hearth, the use of wood as fuel for food represented what it meant to be human for tens of thousands of years.
These days, cooking over an open flame makes a meal an event. Live fire cooking is portable, sure, but more importantly, it adds flavor and ambience your electric oven can never achieve. Whether grilling over glowing hardwood or slow roasting in a cast iron pan, cooking with real fire makes the meal the point of the evening.   
The phrase "greater than the sum of its parts" is trite and overused, but sometimes, there's simply no better way to describe why something so straightforward becomes unforeseen level of amazing: The Beatles, a perfectly made PB&J, or the memories formed of an epic vacation with someone you love. 
To that classic canon, allow me to submit a new nomination, something so simple yet je ne sais quoi-y that it's a wonder we haven't been doing this for decades already.   
This was the year I finally outgrew IKEA. There's still several pieces in my house, but I'm ready to move on from them as soon as possible. I imagine its the byproduct of being a new homeowner, and knowing that I can finally buy intentional pieces to fit in specific spaces, and that – when I do – they'll work there for as long as we decide to keep them.
It's not IKEA's fault. And I still think that their attractive, clean-lined particleboard furniture is better than the faux-Tuscan and laserprinted woodgrain particleboard furniture from the discount store. But, while it worked in my twenties, I'm ready to surround myself with things that will last.