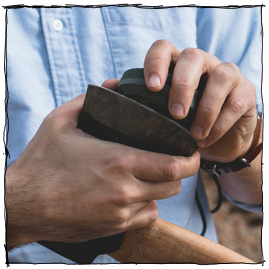 How to Sharpen Your Axe
The next time you have a subterranean, cathartic bro-battle, and you need to clean your wounds, don't reach for just any pink bar of soap. Go for the real (replicated) thing.
"Replica Fight Club Soap bar cast in useable soap and colour matched with safe soap dye.Absolutely not made in the same way they were in the film."
Hubblesite.org is offering three awesome, free how-tos to recreate model Hubble telescopes. There's excellent instructions and lots of free printable parts and decals "These models aren't working telescopes – you can't peer at the sky with them. But they can give you an up-close look at the telescope's structure and a challenging project to engage your model-making skills."
The first is the easiest to make, and uses a short length PVC pipe to support the main structure. The other two save you a trip to the hardware store, and are pure paper, created without special materials (though you'll need a few supplies from your stash).
The cupcake craze may be oh-so-2007, but still, those little guys are delicious.
And according to David Arrick, they no longer only belong in the realm of princess birthday parties, feminine tastemaking blogs, and episodes of Sex in the City. " 'One day I was walking in the West Village by a cupcake place. There was a dad sitting with his little girl at this princess table, all girly and pink. The dad looked at me through the window and just rolled his eyes,' he says. 'That was my 'ah-ha' moment. Who says cupcakes have to be feminine?' "
They seem pretty intense, too - many are soaked in spirits, and each come topped with a masculine pattern. And they're sold in "rounds" of four, six, and twelve.
With all of the eggs located (and re-hid and found again) and the baskets torn apart, the pinnacle of the Easter season passed us sometime yesterday in the early afternoon. But we still have the warm thoughts of new birth and spring time in our hearts, and tables and baskets and countertops full of seasonal candy.
And you could slowly pick away at it, one jelly bean at a time: or, you could improve on the simple pickout, unwrap, munch, regret formula that usually comes with post-holiday sugar bombs. Here's a few ideas:
Cadbury Creme Eggs Benedict
A very, very, VERY sweet take on the savory breakfast classic involving a cake doughnut base, a brownie slab, and oozing Cadbury creme egg, some buttercream Hollandaise, served with a side of poundcake homefries. Whoa.
NOTHING fills up a blank wall like a large scale art piece. And nothing can cost more than... a large scale art piece.
Unless you're hip to this sweet sweet idea by Nerissa and Pete from the New Domestic. With the help of a bit of extra thin painter's tape, they were able to translate a digital design into an abstract painting with a huge impact.  
Marshmallow peeps - those eternal reminders of the Resurrection (and by eternal, we mean standing alongside Jesus, cockroaches, and Twinkies in their outlasting the Armaggedon) - happen to be sized just right to be sugary-squeezed into dollhouse furniture.
Which makes them perfect fodder for endless entertaining dioramas featuring bold yellow bunnies and cruchy cyan chicks. For the last four years, the Washington Post has been hosting a contest, calling for all sorts of creative scenarios to place these neon sugar-coated 'shmallows.

"Our annual Peeps diorama contest is a cultural barometer -- a three-dimensional essay on the state of the nation's collective consciousness, a sticky finger on the pulse of what's popular. This year's 1,100-plus entries told us what's on your minds once again, and we sifted through that flood of submissions, painstakingly narrowing the contenders in our fourth annual contest down to 50, then down to five, and finally down to one"
That "one" this year is "Eep," a homage to "Up" which recreates Carl's house from popsicle sticks and the thousands of balloons in Peep parts.
When is an iPad not just a giant iPhone? When it's a giant iPhone inside a sweet vintage-looking arcade game wooden casement and includes a joystick-and-two-button-combo controls. "To use the iCade, gently slide the iPad into the docking cradle. The docking cradle uses a standard 30 pin connector to link the iPad to the professional-grade arcade controls. Once the iPad is in place, launch the iCade App (available free in the App Store April 3rd) and it's game on! We didn't want to take any chances you'd run out of juice during your favorite game, so we included a 10w USB power adapter so you can charge the iPad through any electrical outlet. Now you're all set to make an uninterrupted run on the Dig Dug World Record!"
31 March 2010: Sometimes, Handmade Festivities Can Overshadow Their Original Intent
Nylanan is currently building a full scale R2D2 from scratch, and thus has lots of R2 on the brain. So, when he noticed the $8.99 TERTIAL work lamp while walking through IKEA, he couldn't help notice the similarities. So, with a bit of blue vinyl, he took a break on his robo-build and created this great, inexpensive R2D2 lamp.
As he notes, "The great thing about R2 is that he has such a an iconic look that you really only have to capture a few bits and pieces to make him look right: the main eye, the stripes and the top sections."
Philip Levine was going bald, and rather than hide it under a combover or (swallow...) hairpiece, he embraced his new bare dome, and put some art on it.
From Phil's bio: "London born Philip started using his head as a canvas for creativity back in 2006 when he began to go bald. He did not want to conform to shaving his head like everyone else so started using it as an art form to express....His designs are...reaching abroad including Japan and China, and he is leading the way to becoming an original expression of creativity in the 21st century in what is becoming known as the 'Head Art' scene.
Philip teams up with professional body painter Kat Sinclair, continuously creating a wealth of designs that have ranged from his 1000-Swarovski crystal headpiece, to homages of such artists as Roy Lichtenstein and Hokusai painted on his head. "