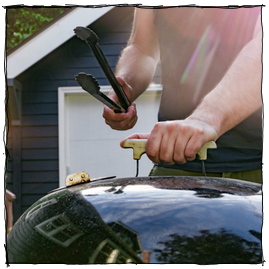 How to Improve Your Charcoal Grill
John Coker loves rockets, and couldn't help but notice the similarities between a rockets aerodynamic shape - long skinny body, pointed nose cone, etc - and a classic Crayola crayon.
So he got to thinking...And after ten years, he finally figured it out.
I love thinking about the lab instructions for this knitted biology project: "Okay now find the mesentary and the pancreas...use your scapel to cast on, and then your number 5 needle to lift up the purled oviducts."  
Graphic design giants Pentagram have built an impressive, European-accent fueled exploration of determing one's typesetting based on personality...a typography typology, if you will.  
Michael Johansson is a Swedish artist who works with recognizable found materials and secondhand objects, but rather than welding and gluing items together, simply organizes items with a natural, Tetris-like connectable affinity for each other into geometric shapes.
Some experts from his artistic statement:
"I am fascinated walking around flea markets finding doubles of seemingly unique, though often useless objects I have already purchased at another flea market...
Ever wondered what your website SOUNDS like?
CodeOrgan analyzes the content of a website, and then uses a complex algorithm to select synth lead, chord, and drum loops to match.
Nothing says brand loyalty like some full scale embroidered logo art.
Sriracha, or "Rooster sauce" (as the servers in my favorite local Vietnamense joint love to call it) is a hot condiment made from ripe, red chiles, garlic, sugar, salt, and vinegar, and has achieved a  cult-like status in the U.S., and in Christ(ine)'s house, who "[eats] it on pretty much everything."
Fashion retailer French Connection have launched an ad campaign made up of 60-second spots that will air before feature films in the cinema. These commercials are divided into two efforts - one for women, and one for men. Those for men will air before films which will most likely appeal to men, and those for women before those films.  
Whittling \ˈhwit-liŋ, ˈwit-; ˈhwi-təl-iŋ, ˈwi-\ trans. verb.
a. to pare or cut off chips from the surface of (wood) with a knife.
b. to shape or form by so paring or cutting
c. One of those cool old school dude things that should totally come back into fashion.
Knife wielder Kyle Stetz offers some tips on the gentlemanly craft of yore: wood whittling.
The IKEA Fira drawer unit - the awesome little wooden box deal that everyone loves to customize - has been cancelled...like, already. Like there's no longer any mention of it on their website.
Lame. Sure, they were among the most difficult of Ikea products to assemble [read: nearly impossible], but they were crazy useful, and could be made to match nearly any room or function.