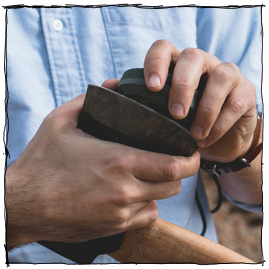 How to Sharpen Your Axe
The reason pizzeria pizzas taste have such an amazing texture? They employ special super-high heat ovens that can reach temperatures of around 800-degrees. Your home oven simply can't keep up.
But your grill can. Unlike your oven, grills aren't interested in keeping a consistent temperature, so they won't shut off when they reach 500-degrees. MEANING, you can recreate pizzeria-like crust at home, you just gotta head outside.  
Hello, ManMade land! Last week, I mentioned I'd participated in a new publication,Make It! Secondhand Chic. I also mentioned that this week, we'd be doing the first of what I hope to be many ManMade giveaways, in which we'd give away five FREE PDF-versions, and so here we are!
To be entered, all you have to do is say hi in the comments below, making sure you enter a valid email address, so we can let you know if you win! And you can increase your chances by sharing the goodness on Facebook or Twitter. Just use the easy buttons below!
Below are the intro pages to two of the five projects I wrote and and photo'd. It's all about repurposing and reviving thrift-store and flea market pieces to make 'em fresh again, and I must admit, it's pretty cool.
Urban Threads' Niamh O'Connor has made a keen observation: "For some reason the embroidery industry hasn't much tried to cater to dudes, and likewise they don't seem to be too crazy about the idea of cute applique bunnies sewn onto their shirts. So, largely they have been ignored."
Ignored, indeed. So she created this great how-to, complete with some hardcore embroidery, bleach stenciling, patches, and some super easy scrappy-stitch adornments.
When you're pushing the conservation and restoration of the environment, rather than some new product or service, the inspiration must just keep on coming.
Whoever the WWF (World Wildlife Fund or the World Wide Fund for Nature, depending on where you live) has on their ads, they best keep them around. This is advertising at its finest.
"When Zenith Interiors celebrated the opening of its Melbourne showroom with a top-hat-themed party this month, the staff of architectural firm ClarkeHopkinsClarke made an entrance with pleated toppers they cleverly assembled from their invitations with zero excess scrap."
Thankfully, the fine folks at Ecouterre have posted their very step-by-steps and shared it so we can recyclo-party down too. This design is extra cool in its pleated approach, which allow it to expand and contract to fit the donner's head exactly.
14 April 2010: Fire Makes Androgyny A-Okay!

When Noah was at Brown University, a large, historic tree in East Providence succumbed to Dutch Elm disease. "The giant tree's death was unfortunate and sad, but the loss of the tree ultimately led to the birth of something else: The Elm Tree Project.  The joint venture between Brown University and The Rhode Island School of Design produced a set of classes, exhibitions and specially designed studios, all built specifically to explore and produce various forms of art that could be made from the deceased tree. "
Noah's participation in that project were these tree bough speakers, created from solid 14" sections of the great elm. "Using actual tree rounds as speaker enclosures is beneficial to the overall speaker design because it results in an almost seam-free cabinet, thick and acoustically dead enclosure material, and non-parallel internal sides which help to reduce unwanted frequency amplification and reverberation."
There was a time I thought the embossed petunias and tiny blue birds on my grandma's thank you notes were the scariest things I'd ever seen printed on stationary.
And then this morning, I stumbled upon the letterheads of 13th Street, Germany's premier horror and crime channel, designed by Jacques Pense. Each sheet of paper, envelope, and note are emblazened with zombies who interact with the office supplies that are place upon them - staples through the face, a binder ring in the eye, or peeled off flesh from an envelope pull tab.
The BEST thing about cooking shrimp (and other crustaceans) is they tell YOU when they're done. They'll curl and turn an opaque pink/orange throughout, like Mother Nature's own little temperature gauge, or God's built-in egg timer.
The WORST thing about cooking shrimp, especially on a high-heat surface like your backyard grill, is that you've got to pay attention to get them just right, as they can char and overcook VERY easily.
I just can't help it - unless it's one of the few snail-mail-only bills I still pay (God bless you, online bill pay option), I can't just push a plain white envelope through the mail. It just seems like such a wasted opportunity to not adorn that thank you note or whenSometimes, its just a little extra time spent on the lettering, others a quick doodle or a full on four-pane comic, or, if I'm feeling particularly glam-ish, I rock the inside-out security pattern option.
But these (Beta-only) Google Maps emails, printable directly from the Gmail interface, include an illustration all in their own.
"Designers Rahul Mahtani & Yofred Moik from the Industrial Design program at Syracuse University came up with this concept called Google Envelopes. Wouldn't it be great to be able to map the course of mail and how it can tell a story? They came up with Google Envelopes, which can be sent through G-Mail itself. It's only a concept, but totally viable and something people can immediately understand."