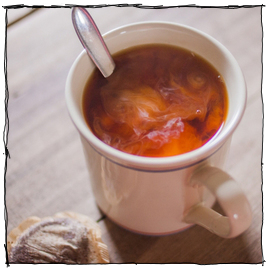 The Greatest Cold Remedy Known to Man
This week, I've been pretty affected by a recent article in Good magazine, entitled "Hurry Up and Wait." When I first saw it, it was  the art by Mark Weaver that got me salivating...
But, then, I actually read the article, in which several forward-thinking designers, writers, and scholars explore the necessity of patience and slowness, and how it must be as important to a successful future as speed.  And it's pretty good stuff.
Windall and Lenore from Evil Mad Scientist found themselves in a terrible predicament this winter - 75 pounds of free citrus fruit, and no way to eat it all. So, they opted for the route that many take when they find themselves with a plethora of produce - they canned it by makin' marmalade.
"The first step is to peel the fruit. We've made lemon, lemon-orange, and orange marmalade, but you can use pretty much any citrus fruit.
We looked around a bit and settled on this recipe primarily because of its simplicity. It scales well. For a large batch, just keep peeling and cutting fruit until the pot is full or your hands were tired. You can also scale down--grab a couple of oranges from the cafeteria and you'll make a lot of friends in your dorm kitchen."  
2008 was all about pork bellies and cupcakes, and in 2009, thoughts turned to locally roasted coffee, Peruvian food, and a trillion ways to prep brussels sprouts. And in 2010?
Well, apparently, it's fried chicken. At its best, crispy, juicy, and savory, it very well may be the perfect post-recession dish. And, in the right hands, it can be prepared with much more nuance and technique than just eleven herbs and spices.
Hands down, this is the finest piece of recycled bike part art I've seen. Most just end up looking a bit, well, like hot glued dirty used bike parts, but this clever repurposing of a chain ring actually makes for some surprisingly high design.
Inspired by the Etsy shop 1 by Liz , April from The Hipster Home whipped this up for her mister as a holiday gift. Here's how she did it:
"The first challange was to find a free or inexpensive bicycle chainring. (Ok so the REAL first step was researching and figuring out exactly what the spiky circle  that the chain goes around was called. NOW YOU KNOW TOO.) Since we've got a handful of bike shops
January 13, 2009: My hand is NOT a hashbrown.

To the box grater:
If your job is to shred thumbs
Then you've succeeded.
There's all sorts of geek crafts floating around the blogosphere, but for some reason, these by Sehr Patola stand out amongst 'em. Perhaps it's that the gray matches 1980s Japanese plastic perfectly. Perhaps its the perfectly resourced buttons that make the scale spot-on. But, I'm pretty sure it's that tiny little LED bead on the Gameboy.
Some might call them gadgets, others utensils, some are even appliances. These ten kitchen tools, in addition to some quality cookware, can turn whatever equipment you have into a functional multitasking culinary workspace.
1). Spring-loaded tongs. Hands down, this is the tool I grab everytime I'm in the kitchen. The rule in my house is that these don't go in the dishwasher, not because they'll get ruined, but because I'm going to need them before it gets run and emptied again. Once you learn to trust the tool - and you can as long as long as you don't skrimp and get the .99-cent option - these things basically become a heat-resistant
Traditional pizza ovens feature stone or brick floors, which retain heat and redistribute it evenly across the cooking surface. The intense and immediate heat from the preheated stone surface allows the dough to become crispy while maintaining a delightfully chewy texture.
     To replicate this at home, one could spend $2,000-13,000 and buy a proper wood burning pizza oven, il forno di pizza. A more popular route is to purchase a "baking stone" or "pizza stone", a flat, rectangular or circular slab of ceramic designed for the home oven.
    Unfortunately, unless you purchase a top notch stone, which are about $70 dollars for a medium sized
How, you say? It starts like most good projects - with cardboard and duct tape. "I wanted to try something that required the minimum amount of disassembly of expensive components (i.e. no warranty voiding!), as well as being cheap and relatively easy to assemble...I already had the lenses and phone, so the project cost me less than US$10."
But then WHY, you'll say. A couple of reasons stand out. One, the effect is pretty cool. It allows for the depth of field of 35mm lenses, as well as some crazy colors and lens distortion, and sometimes some Holga-like vingettes.
Also, I think the likelihood of being able to do this on the cheap is