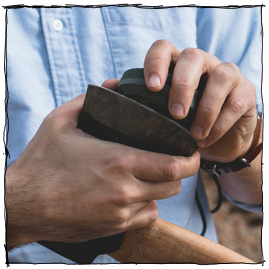 How to Sharpen Your Axe
28 April 2010: Even My Shiniest Scissors Seem Dull in Sun Like This

Helvetica, the world's most popular typeface, will always do what it promises - convey written information that seemlessly blends into its environment. Think about it - in the American Apparel logo, it looks engaging and sexy, and on the Wal-Mart facade, it's soulless and trashy.
As Indra Kupferschmid, co-author of Helvetica Forever puts it "Helvetica is often described as the tasteless white rice among typefaces: satisfies easily, cheap and fast. But the good thing is, you can take the design into different directions with the sauce and side dishes (the typefaces you pair with Helvetica)."
Kupferschmid has written this excellent how-to for FontShop, which shares how to use Helvetica (or another neo-Grotesque) in contrast to transitional or slab-serifs.
Mythbusters is a show that most ManMakers can get excited about. Sure, it's pretty science heavy, but they're always careful to detail the building of the gear, explaining the special tools and materials, and it usually ends in an explosion.
Some clever Mythbusters fan created this hilarious looping GIF that highlights the personae of the show's host - Adam Savage is quite silly, and Jaime Hyneman, well, looks like a walrus in a beret.

What do four pencils, tape, ball point pen, rubber bands, and a bamboo skewer equal? An obligatory safety warning, that's what.
Actually, it equals a mini-crossbow built from office supplies that COMES with an obligatory safety warning, which is simply this: don't be an idiot. Now to the fun part.
Straight from John Austin's Mini Weapons of Mass Destruction: Build Implements of Spitball Warfare, this office supply crossbow seriously looks like something that can actually stand up to some repeated (safe!) firings.
With a product name this good, you don't really need a tagline... But, just for fun, let's see what we can come up with.
1. Sacral stick 'um?
2. Dorsal duct tape?
3. Crud. That's all I got. Your turn: post 'em in the comments.
Over the last few years, there's been a trend in filmmaking and commericial work towards using frame-by-frame stop motion techniques to animate, well, animated objects, namely human beings. And I say great! It looks cool, adds an element of humor, and provides for wacky situations to place persons without the need for CGI.
"Drive on Chairs," produced by Nissan to share their hope for a zero-emissions vehicle, has all of those features, plus a bit more, like a blinking orange as a turn signal.
No matter how old we get, we can't let go of Legos, those interlocking plastic blocks that can be eternally connected in infinite ways. And many of those infinite ways can actually go way beyond just playful modeling.
Inhabitots has assembled five of those constructions, all of which are real world uses of the popular brick, including an entire home by James May (above), recycled Lego-like blocks for use in developing nations or emergency shelter situations, zoo sculptures of endangered animals, a kitchen counter, and a large boardroom meeting table.
Thousands of shutters all over the world will be released at the same moment, creating "A Moment in Time," a global art project that captures an instant across the planet.
The project is organized by Lens, the photography, video, and visual journalism blog of the New York Times. The magic hour will occur THIS Sunday, May 2nd, at 15:00 Coordinated Universal Time, which is 11:00 a.m. here in Eastern Standard Time, 10a Central, and 8a on the west coast.
"[In] our initial invitation, "A Timely Global Mosaic, Created by All of Us," ... we asked everyone, everywhere, to join in making this worldwide photographic mosaic, with each photographer submitting their one best picture. As guidance, we suggested a few broad topics like arts and entertainment, community, family, money and the economy, nature and the environment, play, religion, social issues and work. And we also suggested that you might find the experience even more rewarding if you do some planning in advance, taking into account how best to represent yourself, and your community, with a single image."  
As the personal army of Emperor Palpatine, Stromtroopers have plenty on their plates: attacking Jedi generals, keeping the Death Star secure, and wearing white, functionally ineffective armor. But even the most devoted soldiers can't be on duty twentyfour hours a day.
So, Stefan took on a year long project: StormTroopers365, which catalogs all the things a Stormtrooper might do in a year, one photo a day. The project began in April 2009, and the final photo posted on April 4, 2010.
Some things are just plain fun.
"Sharky is a floating tea-infuser that looks like a shark fin marauding through the dangerous waters of your tea mug that simultaneously releases streamers of steeped tea that look suspiciously like the detritus after a nasty shark attack."