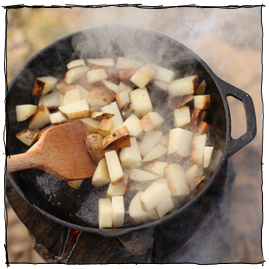 The Best Way to Maintain Your Cast Iron Cookware
"When Zenith Interiors celebrated the opening of its Melbourne showroom with a top-hat-themed party this month, the staff of architectural firm ClarkeHopkinsClarke made an entrance with pleated toppers they cleverly assembled from their invitations with zero excess scrap."
Thankfully, the fine folks at Ecouterre have posted their very step-by-steps and shared it so we can recyclo-party down too. This design is extra cool in its pleated approach, which allow it to expand and contract to fit the donner's head exactly.
14 April 2010: Fire Makes Androgyny A-Okay!

When Noah was at Brown University, a large, historic tree in East Providence succumbed to Dutch Elm disease. "The giant tree's death was unfortunate and sad, but the loss of the tree ultimately led to the birth of something else: The Elm Tree Project.  The joint venture between Brown University and The Rhode Island School of Design produced a set of classes, exhibitions and specially designed studios, all built specifically to explore and produce various forms of art that could be made from the deceased tree. "
Noah's participation in that project were these tree bough speakers, created from solid 14" sections of the great elm. "Using actual tree rounds as speaker enclosures is beneficial to the overall speaker design because it results in an almost seam-free cabinet, thick and acoustically dead enclosure material, and non-parallel internal sides which help to reduce unwanted frequency amplification and reverberation."
There was a time I thought the embossed petunias and tiny blue birds on my grandma's thank you notes were the scariest things I'd ever seen printed on stationary.
And then this morning, I stumbled upon the letterheads of 13th Street, Germany's premier horror and crime channel, designed by Jacques Pense. Each sheet of paper, envelope, and note are emblazened with zombies who interact with the office supplies that are place upon them - staples through the face, a binder ring in the eye, or peeled off flesh from an envelope pull tab.
The BEST thing about cooking shrimp (and other crustaceans) is they tell YOU when they're done. They'll curl and turn an opaque pink/orange throughout, like Mother Nature's own little temperature gauge, or God's built-in egg timer.
The WORST thing about cooking shrimp, especially on a high-heat surface like your backyard grill, is that you've got to pay attention to get them just right, as they can char and overcook VERY easily.
I just can't help it - unless it's one of the few snail-mail-only bills I still pay (God bless you, online bill pay option), I can't just push a plain white envelope through the mail. It just seems like such a wasted opportunity to not adorn that thank you note or whenSometimes, its just a little extra time spent on the lettering, others a quick doodle or a full on four-pane comic, or, if I'm feeling particularly glam-ish, I rock the inside-out security pattern option.
But these (Beta-only) Google Maps emails, printable directly from the Gmail interface, include an illustration all in their own.
"Designers Rahul Mahtani & Yofred Moik from the Industrial Design program at Syracuse University came up with this concept called Google Envelopes. Wouldn't it be great to be able to map the course of mail and how it can tell a story? They came up with Google Envelopes, which can be sent through G-Mail itself. It's only a concept, but totally viable and something people can immediately understand."
Modern technology can often make us crazy, but lends itself to some pretty increased productivity if you can get it figured out.
And beyond keeping track of your calendar, contacts, and best score on some Tetris rip-off, your smartphone can actually help you improve your craft, art, and all around DIYness.
DIYLife has assembled a collection of iPhone apps - both free and low-cost (the most is $4.99). "Whether you're painting a wall or building a piece of furniture, it always helps to have an assistant. But an assistant who fits in your pocket and can go anywhere? Now that's a DIYer's dream.With that desire in mind, we scoured Apple's iTunes App Store for the handiest and most innovative iPhone applications. Below are our eight favorite apps, each under $5. Think of each one as your very own pocket-sized assistant." 
So, over the last few months, I've been co-authoring the second publication in the Make it! series from the Curbly Library (I was also a part of the first, Make It! Mid-Century Modern).
It's called Make It! Secondhand Chic, and it's all about repurposing and reviving thrift-store and flea market pieces and make 'em fresh again. I authored five of the fourteen how-to projects, which are organized by rooms, so you'll find budget-friendly makeover projects for every space in your home.
It's available as of this morning, in both download-able PDF form and in print. Next week, we'll do a ManMade Giveaway, offering five free copies, so be sure
Diem Chau is quite an accomplished artist, working in media such as ceramic and silk thread, porcelin bowls and toothpicks, and... crayons. But rather than scraping them waxily across construction paper, she carves them into the likeness of people and animals.
Most recently, she's tackled the signs of the Chinese Zodiac, a twelve-year cycle that relates each year to an animal and its reputed attributes.
From Diem's "About" page: "Chau combines common mediums and common means to create delicate vignettes of fleeting memory, gesture and form, resulting in works that combine egalitarian sensibility and minimalist restraint. Her work touches on the value of Storytelling, Myths and its ability to connect us to each other through cultural and humanistic similarities. Chau's current work drifts into new territory by exploring the periphery of the narrative, moments forgotten and faded, or too brief to retain."  
As I always say, a ManMade man is a well-behaved man. More or less. And, I've probably never actually said it, but it sounds like something I would.
Regardless, ManMade is for people that pay attention, and people that pay attention know how to behave at meal times and in social situations. "Whether dining with a 4 star general, toasting with a Medal of Honor recipient, or sitting with friends and family on Christmas Eve, an understanding of dining protocol makes time spent with others around a table more enjoyable.  When you know the rules there is no awkwardness or questions about how things should be done; instead there is only opportunity to spend quality time with the company present."