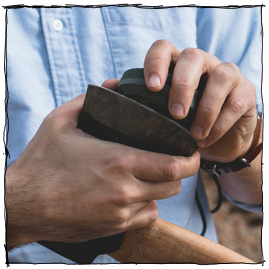 How to Sharpen Your Axe
The Old Fashioned, in many ways, sets the standard for cocktails. It may be the first drink ever actually called a cocktail, since that word's oldest written use references a recipe using whiskey, water, sugar, and bitters. It's name lends itself to an essential piece of drinkware, the old-fashioned (or rocks) glass, an 8 oz tumbler that house thousands of short, mixed drinks. And its very name, which comes from the Pendennis Club in Louisville, Kentucky in the 1880s, certainly posits it at the head of the cocktail table.
And they're fun, and quite easy to make. Here's how:
Old Fashioned
1 teaspoon sugar (or one sugar cube)
2 dashes
Unless you're a millionaire*, or a seriously, seriously committed enthusiast, your home bar won't ever rival the levels of underlit top-shelf spirits and specialized glassware of your local upscale martini bar. And to this, we say "good." Making cocktails at home is totally different than heading out on the scene. And, thankfully, with a few key wares and tools, you can make quality cocktails that'll make you think twice about whether or not you need to go out at all. And with that in mind, here's a ten home bar essentials tools that, with some glassware, ice, and spirits, are really all you'll need. AND, stay tuned, cause at the end of the month,
we're gonna give away this entire Top Ten, plus lots of extra goodies!
1. Cocktail shaker. 
In order to mix a drink, you've gotta have something in which to mix it. The object of choice here is the classic cocktail shaker. There are two styles: the common
three-piece Cobbler shaker,
which includes the capped strainer and a lid, and
the Boston shaker,
which is a two-piece set consisting of a metal beaker and a mixing glass. Our vote here is for the latter, as it's certainly what the pros prefer, and offers much more versatility.
Having a bit of trouble distinguishing the personalities of various typefaces? Perhaps this will help a bit - "FontStaches" (which should really be typefacestache, but we'll forgive).
It's amazing how much a simple 90-degree rotate gives a character we rarely use so much vibrance and distinctiveness.
I admit it...I've been known to grab a toaster tart or two and a piece of fruit when I haven't left myself enough time to grab something less portable, especially on days when I'm taking two-wheeled transportation.
I don't particularly like the way they taste, but I do like not being hungry and having a portable treat. So, I was pretty pumped to find this DIY Pop Tart how-to from the Smitten Kitchen. Not only are they certainly more healthful and bound to taste better, but since you're starting from scratch, you can put ANYTHING you want inside: all kinds of fruit purees and jellies, honey and nuts, way better cinnamon-and-sugar combos, Nutella, and of course, SAVORY TARTS.
I've been honest in the past about my lack of Star Wars experience in the past, and a few have said to me, "How can you post Star Wars crafts if you've never seen the movies?" "Well," I usually say, "I post about houses I've never been in, designs and artwork I've only seen pictures of, and link to how-tos I've never followed myself."
Retorts aside, last night, I watched "A New Hope" for the first time. (Rather, finished it for the first time...I'd seen the first half hour once or twice). And, wouldn't you know it, TODAY, May 4, is official Star Wars Day - "May the Fourth Be With You"...get it?
Rachel Hobson has assembled a fine collection
If you've ever made any sorta of beverage - a cocktail, iced tea or coffee, lemonade, etc - you've learned some basic science - sugar does NOT dissolve in cold liquid with a simple stir. It takes either 1) LOTS of agitation or 2) a warmer liquid. Sometimes, this is a good thing, as granular sugar is often a key ingredient to a drink that involves crushing or muddling, like a mint julep or a mojito. And sometimes, it's really annoying and inconvenient.
So, the beverage-world has long used a liquid sweetener known as "simple syrup" to incorporate sugar into drinks. It uses a basic "simple" ratio of 1 part sugar to 1 part water. Some approaches call for as much as 2:1 sugar to water, which increases efficiency, but I'd keep it 1:1, or at most 1.5:1. See, simple syrup provides not only sweetness to a drink, but also volume. AND, most cocktail recipes will presume a sugar level of 1:1, so it's best to stick with what the pros use.  
Cocktail parties are often just as much about flair as they are about gatherings, but most of us aren't skilled enough (or willing) to start flipping shakers and bottles and catching limes in our teeth.
So, instead, try one of these five options for opening a corked wine bottle WITHOUT using a corkscrew. Some are pratical, some are just for show, and none are really classy, but all will certainly show off your mad hostin' skills.
1. Use a screw. The Wired How-To Wiki offers this technique using a screw and a claw hammer. (pictured above)
2. A drill bit and pliers. Simply drill in a 1/4"-or-so drill bit, then grab with a pair of pliers,
"Now tell me, which one of these dogs would you want to have as your wide receiver on your football team?" - Buck Laughlin, Best in Show
PinkCoyote.net is the home of Sandy Paws, a creative pet grooming outfit in Yuca Valley, California. Their crowning achievement is Cindy the poodle, whom they've made up to be a Ninja Turtle, a chicken, a shark, a camel, a dragon, a peacock, as well outfitted in a  Pac-Man and Grateful Dead theme.
Hello, and greetings from the ManMade Space Age Bachelor Pad! With a clink of our martini glasses, we're officially declaring May 2010 "Cocktail Party Month." Throughout May, we'll be  featuring classy cocktail recipes, tips to stock your home bar, techniques, and all the food, fun, and ambience that goes into creating a classic cocktail party.
And we want YOU to throw your own cocktail party, so we're gonna help out. The week of May 24-29, we'll be hosting a ManMade Giveaway and supplies all the goodies you need to start becoming a master mixologist. So, stay tuned.
To start things off, let's pretend it's still two days ago, and make a
Sometimes, in the midst of the workday, you just need a minute. Not a two-hour lunch, not an off-site appointment, just five minutes to take your eyes off your computer and projects and do something that accesses a different part of your brain.
Then, might I suggest building a mini-skeeball game to keep off to the side for occassions such as these? Assembled from a bit of corrugated cardboard, a recycled coffee cup, and hot glue, it's built to use 1/3" ball bearings, making the project around 1/9th scale. Instructable-r Fungus Amungus even provides a pattern so you can easily make your own over your lunch break.