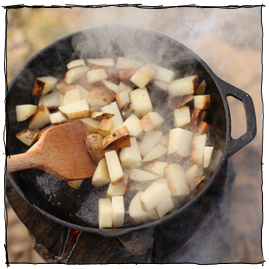 The Best Way to Maintain Your Cast Iron Cookware
So, over the last few months, I've been co-authoring the second publication in the Make it! series from the Curbly Library (I was also a part of the first, Make It! Mid-Century Modern).
It's called Make It! Secondhand Chic, and it's all about repurposing and reviving thrift-store and flea market pieces and make 'em fresh again. I authored five of the fourteen how-to projects, which are organized by rooms, so you'll find budget-friendly makeover projects for every space in your home.
It's available as of this morning, in both download-able PDF form and in print. Next week, we'll do a ManMade Giveaway, offering five free copies, so be sure
Diem Chau is quite an accomplished artist, working in media such as ceramic and silk thread, porcelin bowls and toothpicks, and... crayons. But rather than scraping them waxily across construction paper, she carves them into the likeness of people and animals.
Most recently, she's tackled the signs of the Chinese Zodiac, a twelve-year cycle that relates each year to an animal and its reputed attributes.
From Diem's "About" page: "Chau combines common mediums and common means to create delicate vignettes of fleeting memory, gesture and form, resulting in works that combine egalitarian sensibility and minimalist restraint. Her work touches on the value of Storytelling, Myths and its ability to connect us to each other through cultural and humanistic similarities. Chau's current work drifts into new territory by exploring the periphery of the narrative, moments forgotten and faded, or too brief to retain."  
As I always say, a ManMade man is a well-behaved man. More or less. And, I've probably never actually said it, but it sounds like something I would.
Regardless, ManMade is for people that pay attention, and people that pay attention know how to behave at meal times and in social situations. "Whether dining with a 4 star general, toasting with a Medal of Honor recipient, or sitting with friends and family on Christmas Eve, an understanding of dining protocol makes time spent with others around a table more enjoyable.  When you know the rules there is no awkwardness or questions about how things should be done; instead there is only opportunity to spend quality time with the company present."
"Have you ever wondered what Dark Side of the Moon would sound like if Pink Floyd had written it for [Nintendo] instead of for a rock band?" Of course you haven't, but Brad Smith did.
So, he created "Moon8," which is the entire album sequenced, arranged, and then played on the original Nintendo Entertainment System.  I've never been much into Dark Side of the Moon, and don't know much about chiptune music, but I've got heaps of respect for this one.
But props aside, I have no idea what I'm talking about, so I'll leave the proper critique to G4's Rick Damigella. "Not only does MOON8 sound good, it transcends sounding like music done for a video game. Sure, the tones are undeniably old-school NES, but nothing has been done to tweak the music to sound like it actually came from a game. This is a chiptunes recreation in its purest sense...
Jason Grube is a designer and illustrator from Tacoma, Washington, whose work finds great balance between clean digital logos and fun, handdrawn textures. His sketches have a healthy dose of precision, and his computer-based work have a wonderful sense of playfullness and movement.  
If I bought a $600 gadget with a giant glass screen that's intended to be mobile, I'd wanna protect it, and do so in way that doesn't scream "I just bought a $600 gadget with a...etc, etc"
And so did Matt Silver, so he whipped up this gem: a simple, low-cost iPad case made from a recycled composisiton notebook.
Sometimes, there are those works that just capture everything you love, and for me, "Couch Surfing" by Tim MacPherson gets it right. Its playfulness is supported by its mundane surrounding, its cleverness is a strong as any, and it (presumably) existed just long enough to get the perfect shot. And I don't care if I sound mushy and nostalgic - on a warm spring day, its just right.
The next time you have a subterranean, cathartic bro-battle, and you need to clean your wounds, don't reach for just any pink bar of soap. Go for the real (replicated) thing.
"Replica Fight Club Soap bar cast in useable soap and colour matched with safe soap dye.Absolutely not made in the same way they were in the film."
Hubblesite.org is offering three awesome, free how-tos to recreate model Hubble telescopes. There's excellent instructions and lots of free printable parts and decals "These models aren't working telescopes – you can't peer at the sky with them. But they can give you an up-close look at the telescope's structure and a challenging project to engage your model-making skills."
The first is the easiest to make, and uses a short length PVC pipe to support the main structure. The other two save you a trip to the hardware store, and are pure paper, created without special materials (though you'll need a few supplies from your stash).
The cupcake craze may be oh-so-2007, but still, those little guys are delicious.
And according to David Arrick, they no longer only belong in the realm of princess birthday parties, feminine tastemaking blogs, and episodes of Sex in the City. " 'One day I was walking in the West Village by a cupcake place. There was a dad sitting with his little girl at this princess table, all girly and pink. The dad looked at me through the window and just rolled his eyes,' he says. 'That was my 'ah-ha' moment. Who says cupcakes have to be feminine?' "
They seem pretty intense, too - many are soaked in spirits, and each come topped with a masculine pattern. And they're sold in "rounds" of four, six, and twelve.