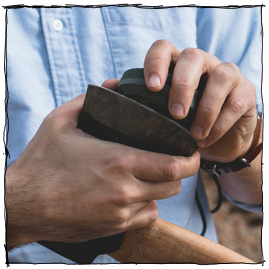 How to Sharpen Your Axe
There's been a trend in home blogs lately to show the large modern mansions in Hollywood films - the Cullens' home in Twilight, the actual Amityville Horror House , so this recent article about the multi-billion dollar home of Tony Stark.
'Cept, the house doesn't really exist. "The film's director Jon Favreau explains that the exterior shots of the house are keyed in on, 'a bluff called Point Dume in Malibu that is a National Park, so people in Los Angeles will recognize it. It's sort of like the best spot and nobody is allowed to build there, but we put a digital house there.' "
The pairing of wine with food is a classic tradition. Sommeliers - wine stewards - spend years training their palattes to not only recognize the subtle differences between wine vintages, but also learn how each of wine's qualities interact with different foods to make a explosive tastebud experience.
But, the complexity and diversity of beer can also match the variety of flavors in your meals. Craft brewers exercise great care to create subtlety and nuance in their brews. So, sure, ambers will always go great with pizza and cheeseburgers, but don't stop there.
I can always count on my friend Gina from Doe-C-Doe to come up with the choicest vintage patterns and retro-crafts from the depths of the secondhand shops.
She's come through again with "Sweaters for Men," featuring pleather pants, a banjo, and plenty of patterns named after car models from the 1970s.
Thanks, Gina. Keep up the great work.
Yesterday's choice find from Nathan Pyle  inspired me to check out more of the artist's clever work, and I just had to share this one. Though they've become a bit retro-cliche, Ninja Turtles still warm the heart of anyone near my generation.
Margaritas are simple drinks, though most of us wouldn't know it. We've been weaned on the sweetened, frozen, bright green slushies that replaced the classic margarita in Tex Mex restaurants in the 1970s.
But a real margarita, made not from a mix but 100% pure agave tequila, orange liqueur, and fresh lime juce, is all about brightness and freshness. As such, use a silver or blanco tequila, so the oak-aged flavors of a reposado or an añejo don't interfere with the high-end crispness of the Cointreau and the kick of fresh-squeezed lime. If you do need a little sweetener, dissolve just a touch of sugar in the lime juice before shaking...but try the original, at least once, and see what you think.
ManMade wants you to throw your own cocktail parties, and we'd like to help.
So, during the two weeks of May 17 - 30th, we're giving away a Home Bar Essentials gift kit that includes over $100 of great tools to make it happen. All you'll have to do is grab some glassware and bring the spirits.
The goodies include EVERYTHING on ManMade's Top Ten Essential Bar Tools, plus plenty of extra stuff thrown in for fun. If you win, you'll recieve:
Professional-grade Boston shaker set

  28 oz metal beaker
  16 oz mixing glass

Hawthorne strainer
Long bar spoon
Bartender's bottle opener
Two refillable squirt bottles
Jigger
There are millions of computers produced each year...let's hope the cursors are harvested with sustainable practices.
And don't even get me started on the emissions of the spinning beach ball of death factory.
The Bellini was invented in the 1940s at Harry's Bar in Venice, the famous destination spot for elite tourists and celebrities, like Ernest Hemingway (Much of Across the River and into the Trees is set there), that was also the birthplace of beef carpaccio.
Bellinis used to only be made during the summer months, when fresh peaches were in season, but thanks to modern technology, flash-frozen peach purees are available, allowing Bellinis to stay on brunch menus everywhere.
These make great pre-lunch starts, and somehow works equally well on the backside of a meal as a dessert. And if you do it well, it becomes an interactive experience
Botropolis has assembled this massive collection of papercraft robots that you can download, print, cut and assemble. I love projects like this because they're active and crafty, but the inspiration is built-in and they don't require tons of materials and time.
Bots include everything from retro atomic imagery to characters from classic sci-fi movies to contemporary takes on mechanical mans - there's even one featuring President Obama!
Cocktails - like all fine things - have a culture, style, and traditional all their own, some of which is flair, but most of which comes from praticality and serving the best drink possible.
There are hundreds of styles of glasses, making it completely impractical for any home bar to stock all the options. Thankfully, that's a good thing - cause you only need five, which you can add as get excited about different styles of cocktails. The first three are absolute essentials, and the latter two are designed for specific classes of cocktails that are important to their enjoyment.
1. The Martini [or Cocktail] Glass: Traditional v-shaped