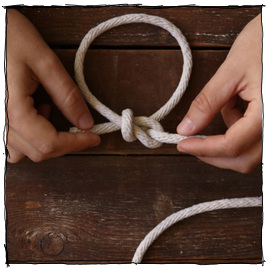 How to Tie the Most Useful Knot in the World
I do indeed love the sights, sounds, and smells of a razor-sharp sawblade ripping through a two-inch block of hard maple, or a router-bit whizzing at 23,000 rpm creating a perfect 1/4" roundover.
But, for as much as I embrace the strength and speed of power tools, I find myself spending even more time with those tools that DON'T require ear plugs. Of course, you need hammers and screwdrivers and wrenches, but here's a list of ten items you can find in your hardware store that'll help you turn out great work, without the need for batteries or electricity.
1. All Sorts of Clamps. There's an old saying in the woodworking community..."You
First came the bird silhouette, then cupcakes, then vintage owls, and now?
Well, now, we're in the height of moustache season. Which is a very fine thing for the manmaker, since generally, men do have a monopoly in the ability to grow a moustache category. [I was gonna make a joke concerning my second grade teacher, but I'll restrain myself.]
ManMade is not even a month old yet, but we're thrilled to have so many of you interacting with us and letting us know what you think.
So, to say thanks, we're offering a free poster that you can download [PDF] and print off at home!  
February 3rd, 2010: My Dearest 109 Lb. Circuit Overloader
I mean it. At least once a week, I find myself out and about and in the need of a screwdriver. I keep a multitool in my on-the-go bag, but I simply never seem to have it when the need strikes.
I have a key that will fit in most flat-slots, but a good old #2 Phillips head has come to be a must. I looked around, and found these for $10.00, but they're out of stock everywhere, and cost $6.95 to ship, I thought I could come up with a cool DIY solution for much less.
I started with the plan to simply attach a driver bit to my keys, but that failed for two reasons: one, there's not much torque available through spinning between my fingers; and two, these things are made of titanium, and after four broken drill bits, I realized there's no way I was going to get through one.
But, eventually, I came up with a solution that works quite well, and isn't much a burden to have in my pockets.  
I love any craft project that involves breaking stuff AND miniature things, so this tiny terrariums housed in a lightbulb are right up my alley.
Julie Melton from TinyTerra shares her technique for creating these diminuitive biospheres on The Hipster Home. Apparently, once you're able to remove the filament from the lightbulb, it's pretty smooth sailing from there.   
New improvements in special consumer paints have openned up all kinds of opportunities for  projects and home customization.
Chalkboard paint allowed Kate to create a whole new take on tablescapes:
And magnetic paint on the back of this bathroom door turned it into a helpful storage solution:
But, there's a new kind on the special paint block, and it may be the best one yet: Phosphorescent paints that make anything they cover GLOW IN THE DARK!
PaulBo from Fangleelectronics used this amazing stuff to create an art wall, that's eternally reusable...like a giant glow-in-the-dark Etch-a-Sketch. "We isolated a good amount of wall with
So, just before the end of 2009, I had the pleasure of collaborating on a publication with the writing team at Curbly.com. The outcome is Make It! Mid-Century Modern: a how-to manual for creating items that echo the era of Mid-Century Modernism, a design movement from the mid 1940s- 1960s that took advantage of changes in processes and manufacturing after World War II. One of the reasons this book is unique is that most of these pieces are decidedly difficult to make by hand, in that they use factory techniques like bent plywood, fiberglass molding, and the like. The book includes material and tool lists, and step-by-step photos, that
DO play with your food!
I do love a how-to that's so unique, it gets its own blog... Oh, and check the materials list:
- A lot of fruits
- Some extra time
- One piece of bread
- A very sharp knife
I hope someone makes an iPhone wallpaper soon.  
It's going to come out sooner or later, so I might as well just get it out of the way.
I've never seen Star Wars.
It's not that I'm culturally illiterate, I just haven't managed to get my hands on a copy of any of the films yet. It feels wierd to rent them from the video store (kinda like owning It's a Wonderful Life), and I'm afraid to watch it with most of my superfan friends, cause I'm a bit worried I won't do it properly...or that I might fall asleep.
Still, I do know a bit about the franchise - I know who Lando Calrissian is, and I know that  Boba Fett has become this mysterious cult character adored for his lack of screen time