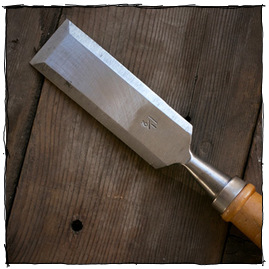 How to Restore a Vintage Chisel
Remember everyone: A ManMade reader is punctuationally-attuned reader.
Tongue-in-cheek art site TheOatmeal wants to help you know the best times to use a semicolon, "the most feared punctuation on earth."  From connecting independent clauses to super-commas and high-fiving dinosaurs, this is one grammar lesson you'll never forget.
Attention iPhone and iPod Touch users: You can now browse ManMade on the go.
Well, you always could, but now it's easier to access from your iPhone desktop. Just go to ManMadeDIY.com in Safari and press the "+" at the bottom, and select "Add To Home Screen" Wait a moment for the nifty new icon thingy to pop up, and you're good to go.
January 27, 2010: The Tough Guy with the Pinking Shears.
Spray paint is the thing
when you want to feel like your
crafts are illegal.
Got a handmade haiku you'd like to see on ManMade? Email your idea to [email protected]
I've said it before, and I'll say it again - I simply prefer my typography-theme pastries to be grotesque and sans-serif.
From artist Beverly Hsu, these homebrewed aluminum and acrylic cookie cutters feature the twenty-six letters (and I hope an ampersand) of  Helvetica - the ubiquitous modern fontset invented by Max Miedinger in the 1950s and seen everywhere from the NYC public transit system to most bathroom signs.  
So...I'm pretty sure this is illegal in every state, but art is supposed to be edgy, and playing with imagery as recognizable as the most common of street signs is pretty effective. As the mind behind StopSignArt says "Because I have a digital camera and bandwidth, and Seattle has a lot of stop signs."
And whether you agree with the act or not, you can't help but be amused and challenged by this collection of stop sign additions assembled by DamnCoolPics.
There's something about men and special places...club and treehouses when we're kids, cars and hangouts as teenagers, and garages, basements, studios, gyms, bars, etc as adults.
So, every guy can be touched by the nostalgic twinge (and by touched, I mean crazy excited) by the Daily Shelter - the dining table that, though seemingly innocuous during meal time, transitions into a fort, big enough for grown ups.
A fort! Like, ohmygoshthisthingisasfreakingcoolasthebatcave!  And there's no bedsheets or sleeping bags required.
A proper aftershave does three important things post-razor: 1) it contains an antiseptic agent to keep your newly vulnerable skin germ free; 2) It helps soothe the skin and 3) it helps close the pores (openned from the warm water and the blade) to keep out dirt and oil.
And, like all good things - it can be made at home. Here's five options to check out, with lots variation in difficulty, complexity, and, of course, scent.
1. Bay Rum Aftershave - The Art of Manliness recently offered these two recipes for a classic Bay Rum. "West Indies bay leaf, spices, and Jamaican rum, combine to give the bay rum fragrance its distinctive woody
I do love me a thought out, well-designed typeface. And while I love learning to recognize and properly use the classic, modern alphabets, I like veering away from the standards with some lesser known options.
Unfortunately, inexpensive, attractive typefaces are hard to come by. The League of Moveable Type offers not only inexpensive, sharp options, but a heap of FREE tasty fonts.
I have nothing to add to what Shoeburger creator Olle Hemmendorff has to say, so I'm gonna let him finish -
"8 creatives/designers/photographers/artists/fraaaaaahhhh were asked to interpret 8 different Nike Sportswear icons. I got the Air Max 90.  
If IKEA had an impulse buy section, the Plastis ice tray would be in it. You've seen it, it makes long ice tubes to slip into the not-so-wide mouths of reusable water bottles.