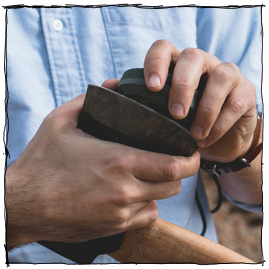 How to Sharpen Your Axe
"I Fly Like Paper Get High Like Planes" is an installation by artist Dawn Ng. She remarks, "[It's] core to my ongoing study of home. Having spent the past 8 years away, I have become obsessed by the notion of home and particularly intrigued by the origin of the word nostalgia which from two Greek roots, nostos, "returning home" and algos "pain."...Symbolic of travel, each paper plane carries this universal desire to leave or return home." [sic]
It seems to be a series of rows of paper airplanes that are not suspended from the ceiling, but attached like a horizontal garland of sorts from a single point of origin.
I'm sure standing in
The Pacific Pinball Machine Museum just openned in Alameda, California. The museum is a non-profit organization that features 90 fully playable historic pinball machines, hosts the world's largest pinball gathering (the Pacific Pinball Expo), and creates travelling exhibits featuring the games and the science behind them.
The space has an awesome, classic Coney Island feel, and once you're in, you can play all day for free. "Our new front entrance at 1510 Webster Street, Alameda, CA is open 6 days a week with extended hours on weekends. We now offer 15 woodrails and 20 wedgeheads from Larry Zartarian's collection and additional
Whether you're stuck without the appropriate tools, or just want an opportunity to show off some cool parlor tricks, there are plenty of ways to open a beer or other capped bottle without an manufactured bottle opener. Since we got such a great response for our Five Ways to Open a Wine Bottle Without a Corkscrew, we thought we'd assemble five of these beer bottle tricks.
Oh, and yes, it is possible to do this with your teeth, but please, please don't. It's not worth it, and people aren't really laughing with you...
1. With a lighter. Check out this classic simple machine principle at work from the Wired wiki. Also works with a spoon
There must be tens of thousands of free typefaces online - everything from schoolteacher cursive to graffiti scripts to famous movie fonts can be downloaded for use in personal projects. But, as usual, you get what you pay for, and the majority of these don't have staying power, and only work in specific settings.
Not so, however, with this great collection assembled by Smashing magazine. It's a list of fine free typefaces (outside the free standards, Arial, Verdana, Calibri) that look mighty fine and would fit in a variety of applications.
There's a really weird origin story that surrounds the Collins. And by really weird, I mean some sort of hoax that I'm not quite sure I get. The Wikipedia article leaves me quite confused, but this post at Mental Floss explains a bit better:
"The Great Tom Collins Hoax of 1874...begat The King of Cooling Drinks, the Tom Collins. The hoax kicked off with a prankster telling a group that they were being talked about by the loose lipped Tom Collins, and then sending them on an angry goose chase to find him. 
In 1874, the Steubenville Daily Herald reported that the hoax "belong[ed] to New York, where it was played with immense success
The greasy breakfast is a classic post-imbibe trick, and as it turns out, there's scientific data to prove it. The BLT is a perfect food to help your body break down the effects of alcohol faster. The protein and aminos in bacon and the carbohydrates in bread are exactly what you need - in addition to LOTS of water - to begin to get your toxin levels down to normal.
The same study also proved something else we all know - Cooked bacon is nearly irrestible...
" 'The smell of sizzling bacon in a pan is enough to tempt even the staunchest of vegetarians. There's something deeper going on inside. It's not just the idea of a tasty snack
In the days of streaming Netflix, Hulu, iTunes, and the ability to watch feature films on your mobile phone, your computer's CD and DVD drive doesn't get as much play as it used to. But you certainly WILL still use it, so you don't want to ax it altogether.
This how-to by Tim Schiesser combines the best of both worlds - he's created an iPod dock that sits in your computer's rarely used CD/DVD tray, but is easily removable for when the time comes.
Tim says: "I noticed recently that my DVD drive wasn't getting much love, but my iPod Nano was getting loads of use and needs charging all the time. An idea came to me suddenly one day that I
There's no clever, charming story to detail the history of the Sidecar - no one really knows where it was invented, or by whom, though the Ritz hotel in Paris claims it was invented there in the late 1910s.
Regardless, this is a fun one that'll make you feel like you're back in the post-prohibition swing days. It's usually served up, in a chilled martini glass with a sugared rim, but might also be served in a rocks glass with ice. 
If you like hip hop, even the tiniest bit, you like the Get Em Mamis. Those of us outside Baltimore that have heard the female duo Roxzi and Symphony probably did so via two singles included in Season 4 and 5 of The Wire. In the fall of 2009, the group released their lastest mixtape, TerAwesome, for free.
Baltimore hip hop goes is self-described by its creation of rhythms that are hard to dance to, and TerAwesome proves the rule - wild shuffles and stutters, slinky and busy percussion and honeycomb synth lines provide the bed for some of the most innovated lyrical flows in years.
Deke McClelland - master media lecturer - has done the impossible...or at least the ambituous. He's made this amazing how-to video that features nearly every Photoshop shortcut and excess-click-avoiding tip, all in five minutes and to a tune that mimics mid-90s bizarro hit "Popular" by Nada Surf.