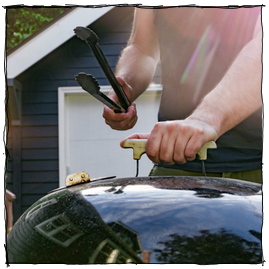 How to Improve Your Charcoal Grill
Over the last few years, there's been a trend in filmmaking and commericial work towards using frame-by-frame stop motion techniques to animate, well, animated objects, namely human beings. And I say great! It looks cool, adds an element of humor, and provides for wacky situations to place persons without the need for CGI.
"Drive on Chairs," produced by Nissan to share their hope for a zero-emissions vehicle, has all of those features, plus a bit more, like a blinking orange as a turn signal.
No matter how old we get, we can't let go of Legos, those interlocking plastic blocks that can be eternally connected in infinite ways. And many of those infinite ways can actually go way beyond just playful modeling.
Inhabitots has assembled five of those constructions, all of which are real world uses of the popular brick, including an entire home by James May (above), recycled Lego-like blocks for use in developing nations or emergency shelter situations, zoo sculptures of endangered animals, a kitchen counter, and a large boardroom meeting table.
Thousands of shutters all over the world will be released at the same moment, creating "A Moment in Time," a global art project that captures an instant across the planet.
The project is organized by Lens, the photography, video, and visual journalism blog of the New York Times. The magic hour will occur THIS Sunday, May 2nd, at 15:00 Coordinated Universal Time, which is 11:00 a.m. here in Eastern Standard Time, 10a Central, and 8a on the west coast.
"[In] our initial invitation, "A Timely Global Mosaic, Created by All of Us," ... we asked everyone, everywhere, to join in making this worldwide photographic mosaic, with each photographer submitting their one best picture. As guidance, we suggested a few broad topics like arts and entertainment, community, family, money and the economy, nature and the environment, play, religion, social issues and work. And we also suggested that you might find the experience even more rewarding if you do some planning in advance, taking into account how best to represent yourself, and your community, with a single image."  
As the personal army of Emperor Palpatine, Stromtroopers have plenty on their plates: attacking Jedi generals, keeping the Death Star secure, and wearing white, functionally ineffective armor. But even the most devoted soldiers can't be on duty twentyfour hours a day.
So, Stefan took on a year long project: StormTroopers365, which catalogs all the things a Stormtrooper might do in a year, one photo a day. The project began in April 2009, and the final photo posted on April 4, 2010.
Some things are just plain fun.
"Sharky is a floating tea-infuser that looks like a shark fin marauding through the dangerous waters of your tea mug that simultaneously releases streamers of steeped tea that look suspiciously like the detritus after a nasty shark attack."
Unless your a complete hermit and/or man craft blogger (ahem...), you come across people you don't know everyday. And it's likely that at least half of them will be men, and half of that group will have facial hair. This, it turns out, is a good thing, as the key to judging both character and sinister lies in one's beard.
So, simply print out this handy reference chart by Matt McInerney for your easy reference.
Just remember, it goes left to right.  
I know what you're saying: to make this work, you have to have access to dried sea urchins and know abit about LEDs.
Or, maybe its an excuse to GET some sea urchins (.95 a piece here) and learn that all you need to make an LED "Throwie"  is a two-pin diode and a battery.
"Last week we came across these tiny sea urchin shells at a beach shop, thin and light as eggshells. What to do with them? Light them up with LEDs, of course! We've seen sea urchin lamps before, but they've always been made with large (i.e., sturdy) and colorful ones. In contrast, these tiny ones might be better to hang around christmas lights like little paper lanterns. Just a throwie sans magnet (Urchie?), tucked into the shell. Each one has a hole in the bottom large enough to fit a pretty good size LED, although not necessarily the battery as well."
Before the days of pixels and vinyl printers and lots and lots of waterproof glue, there were hand-painted advertisements, scaled with care and painted by hand on the facades of buildings. A few handpainted ads still go up each year in New York and L.A., and "Up There" catalogs a bit of their experience.
It's a lilting film, with lots of super shallow depth of field, plenty of color processing, and a evolving soundtrack by The Album Leaf, and there's no hiding the involvement of Stella Artois. But its commercial overview is handled quite well, really, and it's kinda of nice to see a major corporation sponsor a piece of art that at least SEEMS like its not totally meant as an ad itself. And it clocks in at just under 13:00, which makes it perfect for an inspiring, mid-day distraction.
Hi all - I've had some medical tests today that have left me feeling pretty rotten, so please allow me a "low content" day.
That said, this "So You Need a Typeface" flowchart image by Danish design student Julian Hansen is, at once, both hilarious and quite helpful.
From Julie Anderson, Julian's teacher, of Inspiration Lab : "I never usually feature my students but I'm going to make an exception, we had such a brilliant critique today that I just want to say "Thank god for passionate students like mine!". You guys rock!! (in spite of our verbal whupping; better to have tried and failed than not to have tried at all). So let's end the week with a student project, an info graphic related to the job we do as graphic designers. Julian did a flowchart of the choices we go through choosing fonts, with a humerous approach. A brilliant job on such a short project."
Knits Men Want is a knitting pattern book, written by a fellow, but subtitled "The Ten Rules Every Woman Should Know Before Knitting for a Man."
ManMades appreciates that it recognizes that guys are interested in handmade goodies, but aren't terribly excited about its presumed audience.
Though, politics aside, this is a good one. Really. I spent almost an hour with it today, and it's got the goods. The patterns are awesome, easy to follow, and account for different sizes and gauges. The photos are great, and it contains lots of sharp tips for creating things for men's bodies.