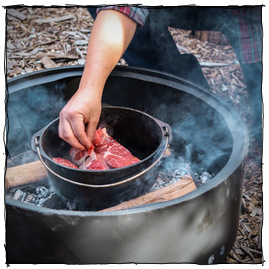 Perfect Your Campfire Cooking Technique
There's something about men and special places...club and treehouses when we're kids, cars and hangouts as teenagers, and garages, basements, studios, gyms, bars, etc as adults.
So, every guy can be touched by the nostalgic twinge (and by touched, I mean crazy excited) by the Daily Shelter - the dining table that, though seemingly innocuous during meal time, transitions into a fort, big enough for grown ups.
A fort! Like, ohmygoshthisthingisasfreakingcoolasthebatcave!  And there's no bedsheets or sleeping bags required.
A proper aftershave does three important things post-razor: 1) it contains an antiseptic agent to keep your newly vulnerable skin germ free; 2) It helps soothe the skin and 3) it helps close the pores (openned from the warm water and the blade) to keep out dirt and oil.
And, like all good things - it can be made at home. Here's five options to check out, with lots variation in difficulty, complexity, and, of course, scent.
1. Bay Rum Aftershave - The Art of Manliness recently offered these two recipes for a classic Bay Rum. "West Indies bay leaf, spices, and Jamaican rum, combine to give the bay rum fragrance its distinctive woody
I do love me a thought out, well-designed typeface. And while I love learning to recognize and properly use the classic, modern alphabets, I like veering away from the standards with some lesser known options.
Unfortunately, inexpensive, attractive typefaces are hard to come by. The League of Moveable Type offers not only inexpensive, sharp options, but a heap of FREE tasty fonts.
I have nothing to add to what Shoeburger creator Olle Hemmendorff has to say, so I'm gonna let him finish -
"8 creatives/designers/photographers/artists/fraaaaaahhhh were asked to interpret 8 different Nike Sportswear icons. I got the Air Max 90.  
If IKEA had an impulse buy section, the Plastis ice tray would be in it. You've seen it, it makes long ice tubes to slip into the not-so-wide mouths of reusable water bottles.
Ryan and his wife were ready to stop being paper bound in the kitchen, and needed away to let go of recipe cards, printing recipes from the internet, and keeping cookbooks away from sauce splatters. And, being 2010, they turned to accessible digital technology. Their goals - slash - requirements?
must be discrete and look like a digital picture frame when not being used.
must be touchscreen.
must have internet access.
must be easy to use and not crash often (she's used to windows vista)
must have barcode scanner for managing her kitchen database.
the wires and techo stuff must be hidden and out of sight.
should be able to view what's on the lounge TV in the kitchen  
Julia Rothman's "Book By Its Cover" blog regularly features some incredible things bound in book form. But these from German Illustrator Lars Henkel simply leap off the page (screen?) in their pushing the boundaries of what "sketchbook" usually conjurs up.
"Lars Henkel wrote me wondering if I'd be interested in sharing his sketchbook. I am more than thrilled when an incredible artist such as Lars even has heard about the site, let alone wants to contribute to it. Lars work is interesting and impressive in every way.  
January 20, 2010: It's a Thankless Job, and Somebody Gets to Do It.
Sweeping up sawdust
Sucks until you recall you
got to make sawdust.
Got a handmade haiku you'd like to see on ManMade? Email your idea to [email protected]
See!? I knew God liked mashed potatoes.
This unbelievably enjoyable and smile-inducing stop motion short is the first in the series of The Ten Commandments, animated by Chris Mckinlay, Patrick Beechinor and Justin Longoz. They begin with number five, Thou Shall Not Kill.  
This week, I've been pretty affected by a recent article in Good magazine, entitled "Hurry Up and Wait." When I first saw it, it was  the art by Mark Weaver that got me salivating...
But, then, I actually read the article, in which several forward-thinking designers, writers, and scholars explore the necessity of patience and slowness, and how it must be as important to a successful future as speed.  And it's pretty good stuff.