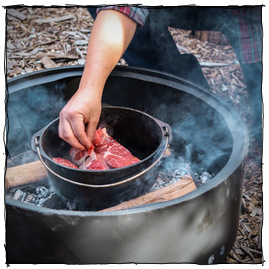 Perfect Your Campfire Cooking Technique
Nothing says brand loyalty like some full scale embroidered logo art.
Sriracha, or "Rooster sauce" (as the servers in my favorite local Vietnamense joint love to call it) is a hot condiment made from ripe, red chiles, garlic, sugar, salt, and vinegar, and has achieved a  cult-like status in the U.S., and in Christ(ine)'s house, who "[eats] it on pretty much everything."
Fashion retailer French Connection have launched an ad campaign made up of 60-second spots that will air before feature films in the cinema. These commercials are divided into two efforts - one for women, and one for men. Those for men will air before films which will most likely appeal to men, and those for women before those films.  
Whittling \ˈhwit-liŋ, ˈwit-; ˈhwi-təl-iŋ, ˈwi-\ trans. verb.
a. to pare or cut off chips from the surface of (wood) with a knife.
b. to shape or form by so paring or cutting
c. One of those cool old school dude things that should totally come back into fashion.
Knife wielder Kyle Stetz offers some tips on the gentlemanly craft of yore: wood whittling.
The IKEA Fira drawer unit - the awesome little wooden box deal that everyone loves to customize - has been cancelled...like, already. Like there's no longer any mention of it on their website.
Lame. Sure, they were among the most difficult of Ikea products to assemble [read: nearly impossible], but they were crazy useful, and could be made to match nearly any room or function.
Brian Vann is a master steamster from San Francisco who makes [mostly] handbags and totes out of vintage fabric. He recently reorganized his studio, and took lots of photos. ReadyMade mag's Make Nice blog recently highlighted his creative space.
A vintage soap dish, magentized to catch pins, and Brian's platter collection:
Fire Up is a campfire do-it-yourself-kit designed by Evelien Stamhuis to help you build a roaring fire in no time. Everything one would need is in the bag.
I have no idea how much it costs, or whether its actually for sale...but I wonder what the functionality is? Are open campfires legal and encouraged in the Netherlands? Can anyone - namely someone who doesn't know anything about building fires - just plop down and set these things ablaze? Or, would someone bring this with them on a camping trip?
I really do get it as a design project, and I'm sure it works wonderfully. But though I'm not sure of the environmental impact of burning
February 17, 2010: A Lesson Learned through a Bendy Straw.
Dude, talk about upcycling...
Jim Jablon was given an alligator carcass after it had been killed by state officials. And, like most creative minds, he thought "Why not put it to good use?"
And by "good use," Jim meant: build a freaking motorcycle out of it.  
Designer Elizabeth Dilk came up with this sleek sewing kit intended for men who just need the essentials: "Unassuming sewing kit packaged in a 3.5" cube. Contains just the essentials, and directions to replace a button, mend a tear and hem pants. In three tiers, the box contains straight pins, safety pins, sewing needles, 7 types of thread, a seam ripper, tape measure and a packet of spare buttons. Directions are printed on the interior so that losing instructions is impossible."
I'm loving the design of the kit...the color and especially the typeface. Anybody know what it is?