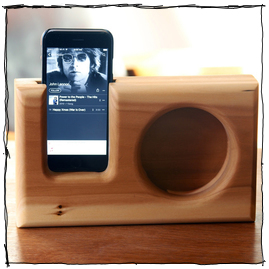 How to: DIY Wooden Smartphone Speaker
Hello ManMade-ians! I am honored to mind the store as my buddy Chris is off galavanting the world doing good deeds. But now that he's gone, let's talk about him behind his back, shall we? Chris has never seen Star Wars. As a matter of fact, he's never seen any of the Star Wars films. How does that happen?? A man of his age, in this day and age? I don't get it. (Shakes head.) So, just to bust his chops a bit--and to goad him into finally seeing the films--I thought I start my stint on ManMade with something those of us who have seen the films would appreciate: A Death Star Watermelon. It was lovingly made, I'm sure, by flickr user
Hi everyone,
By the time you read this, I'll be off to the U.S./Mexico border to get my hands dirty, flex my service learning muscles, and get crazy constructive with an excellent group of college students. While I'm gone, my friend JoAnn Moser will be keeping her eye on ManMade, and providing some excellent guest blogging posts!
JoAnn is super maker, DIYer, and a master of all things crafty. She inherited the DIY gene from her parents, and was a total tomboy growing up, and still has some latent tomboy tendencies - she'll take tools or photography or electronic equipment over jewelry any day, so she surely gets the spirit of ManMade.
It's my hope that, one day, I'll be able to make every necktie I own, from scratch. Until then, I'm digging on this idea I tripped over at the always awesome Doe-C-Doe: adding a little custom embroidery to a store-bought tie, creating lots of handmade flair and plenty of personality.
IKEA has installed furniture vignettes in four high-traffic metro stations in Paris. [For those in the know - Champs Elysées Clémenceau ligne 13, St Lazare ligne 12, Concorde ligne 8, Opéra ligne 8]. Each display includes several sofas, lamps, and large prints of IKEA interiors. From the looks of it, they totally transform the normally drab subway platforms.
March 17, 2010: Not Even on St. Patrick's Day

U.S. based-architect Bryan Berg set out to beat his own Guinness World Record to create the world's largest structure made solely of playing cards.
Forty-four days, 4,051 decks (218,792c cards), and several near-collapses later, he's recreated a replica of the Venetian Macau, which is on display in its namesake luxury hotel and casino.
No one, regardless of class, age, or gender, should be excluded from the opportunity or access to thick, radiant, and formidable facial hair. And with BeardMe, you can give it to them.
"Icons of wealth and class, beards and mustaches are status symbols of a bygone era. Establish yourself as your generation's Abraham Lincoln by adding an urbane and elegant beard or mustache to your mug with BeardMe, the premier facial hair application for the iPhone and iPod Touch."  
You can select from a variety of styles, shapes, colors, and orientations, then save your results, and easily publish to Facebook, Twitter, Flickr, or send via email.
Artist Antonio Scarponi remarks, "A hoodie is not just a hoodie. In a world full of stuff, smart items should be transformable, editable. They should engage the possibility to be transformed into something else. We do not need a new object. We  rather need to get rid of some of them, to reduce the complex network of things around us."
So, he's introduced Just undo it - a collection of reversible objects that can be made from a hooded sweatshirt. 
The series includes a laptop bag, baby carrier, pillow, backpack and strap bag. Talk about a party trick!
Popular Science, the oldschoolest of how-to magazines that continues to capture the mind of manmakers and lay tinkerers, has assembled their entire archives -that's 137 years - and made them available for free browsing. "Each issue appears just as it did at its original time of publication, complete with period advertisements. It's an amazing resource that beautifully encapsulates our ongoing fascination with the future, and science and technology's incredible potential to improve our lives."
Says RetroThing: "It's stunning to recall what a huge impact Popular Science had in the pre-internet days. I remember pouring over the "What's
Nothing tickles my funny bone like some well-concieved and tongue-in-cheek line art. Malaysian illustrator Chow Hon Lam is t-shirt legend, creating clever and unique images that show off his drawing and brains.
""I believe that everything should have a story behind it, no matter if they are an object, an animal or food. I always try to create a story for them. I guess they must have something to say, but they just can't speak. Trust me, I try to communicate with them!"

"Actually all the ideas don't come easy, I hope people can enjoy them and appreciate them. All criticisms are welcome. Thanks from deep in my heart."