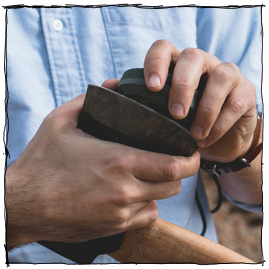 How to Sharpen Your Axe

Look, I love making furniture. I love sourcing the materials, planning out parts, and executing the joinery. But lately, I find myself increasingly drawn to the "other" things you can do with wood. What are the smaller, craft level projects that show off the beauty of working with natural materials, but can be completed in a weekend, or even a single sitting?   
"See I'm all crooked feet, Saint Valentine" – Gregory Alan Isakov 
Valentine's Day sometimes feels like a conspiracy. It's a holidays front loaded with expectations that are onerous, distracting and just waiting to be disappointed. And all the while — with you and your partner/spouse/significant other/whomever are running around trying to meet these expectations by spending money and time and creative thinking — it is supposed to be a chance to pause and really appreciate the most important person in your life. If that isn't a setup for a cruel joke, I don't know what is. 
In a world of clichés, Valentine's Day is supposed to involve
If you're not familiar with SpaceX by now, maybe Tuesday's launch of the SpaceX Falcon Heavy will spark your interest. SpaceX, a private company that builds and launches rockets/spacecraft, will test-flight their most powerful rocket yet (and one of the most powerful rockets period) - the Falcon Heavy. Success or failure, it will be an awesome and potentially historical launch....
We don't ask much from our safety glasses. Their primary purpose is right there in the name: they protect you when performing activities that create and project debris that could damage your eyes... woodworking, scrapping paint, anything dealing with rust or metal shavings, and the like. The most important thing is that they be handy and ready to go, so you don't hesitate to grab them when execute a potentially dangerous task. Here's the best way we've found to deal with it.    
The White Russian cocktail. This drink has been around almost as long as Jeff Bridges has, but you, and I, and everyone born after 1965 identify it with cult classic comedy, The Big Lebowski. It's the go-to drink for Bridges' character, The Dude, and for good reason: three ingredients, easy to make, cheap, and tastes totally awesome, man. So, whether you're chilling out in your bathrobe or having an after-dinner drink with friends, let's relax and make our own White Russian...
I'd wager that when most people first pick up a mortar and pestle, their first thought is something like, "you can't be serious!" Very rarely is there a tool that you can buy at, say,  Williams-Sonoma––perched alongside the electric pepper mills and the seasonally-themed waffles irons––that has not really changed since the invention of the wheel. A gigantic, blunt mineral rod and a heavy rock bowl is, quite literally, stone age technology. And for anyone who has not yet seen the magic and serious power that this tool puts into your hands, there is an instinct to look for electrically-powered appliances that can replace it: A food
Years ago, I'd meet mine a friend at a bar in New York's Upper East Side that was between our two apartments––just close enough for each of us that we could walk home safely while being substantially into our cups. When we would stay late, the bartender would get friendlier and friendlier with free drinks and generous pours. It was jovial and warm and a fine place to spend some time with good company. When we were ready to pay our tab, the bartender––who was well past friendly at that point––poured us a trio of shots to send us on our way. Inevitably, as with bars throughout the U.S. (unless you are from the very South and West), he was pouring from a bottle of Jameson's. By and large, that is how whisky works in America. If you mean to order Scotch or Bourbon or Rye, you name those specifically. But if you just order "whisky" there's a good chance it'll be Irish.     
Your socks. You probably rarely think about them. They spend most of the day completely hidden. And yet, they can be the crucial ingredient that gets us through so many important moments: a brutal hike that seems to go nowhere but straight up, or a particularly harsh winter week where you feel so cold and wet you imagine you might never be able to be warm again.   
Making a bandsaw box is a great starter project for learning how to expand your talents in the shop. Just a few steps transforms a block into a great desktop or nightstand box. I had a used block sitting around from another project, and this just seemed like a natural way to make it into something useful.  
Like many hirsute men in the world today, I am privileged by a culture of men's style that has embraced the beard. Because not only do I think it's a bit more flattering of my face, but the beard is a style of convenience – shaving daily is certainly much more work than not shaving. All the bearded man needs are some plug-in clippers that allow you to keep it at a neat length and shape it to your liking, a beard balm and some moisturizer. On paper, at least, there's nothing else essential.
Unfortunately, even if you prize simplicity in your routines, there is this lingering problem for maintaining a neat beard. Unless you are a genetic